Lately I have been trying to find good homeschooling ideas that would involve my one and three year old. I hate having to have so much stuff for each of them. The one big problem with that is they are at very different educational levels and that is how I came up with the ABC monster. It takes the same items but how they play with it makes it different for there levels. The great part is they both can play at the same time! Normally my one year old is screaming for attention while I try to teach my three year old. My three year old had so much fun decorating our monster before we were able to play.
ABC Monster DIY Kids Educational Game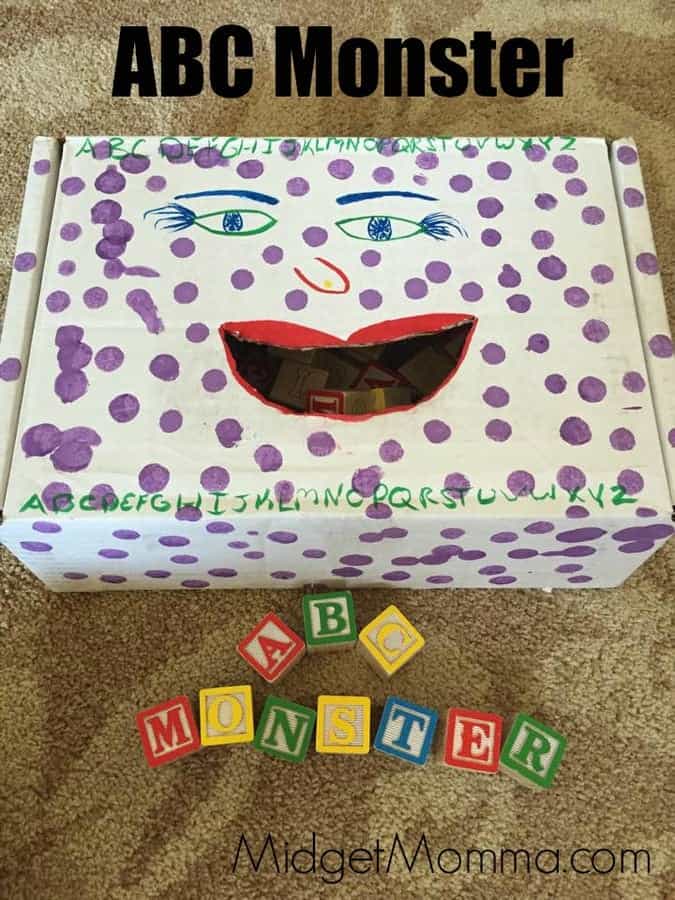 ABC Monster DIY Kids Educational Game Supplies
Empty box
Knife
Markers
Bingo markers
Alphabet blocks or magnets
ABC Monster DIY Kids Educational Game Box Directions:
Cut a smile hole large enough to fit your blocks through it. Let your imagination go wild and draw your monsters face. Give your monster lots of spots with the bingo markers.
How to play ABC Monster Game
Babies: Let them figure out how to fit the blocks into the monster mouth. Dump them out and let them play again.
Toddlers: Hold up a flash card with a certain letter, ask them to feed the monster that letter. Repeat until your monster is full of knowledge.
Kids: Have your child spell out a certain word like cat or dog than they have to feed the monster that word.
Join the newsletter
Subscribe to get our latest recipes right in your inbox every time we post a new one!