We wish you a merry baba we wish you a merry baba we wish you a merry baba and a baba baba! These Minion Cookies are the perfect addition to your family movie night!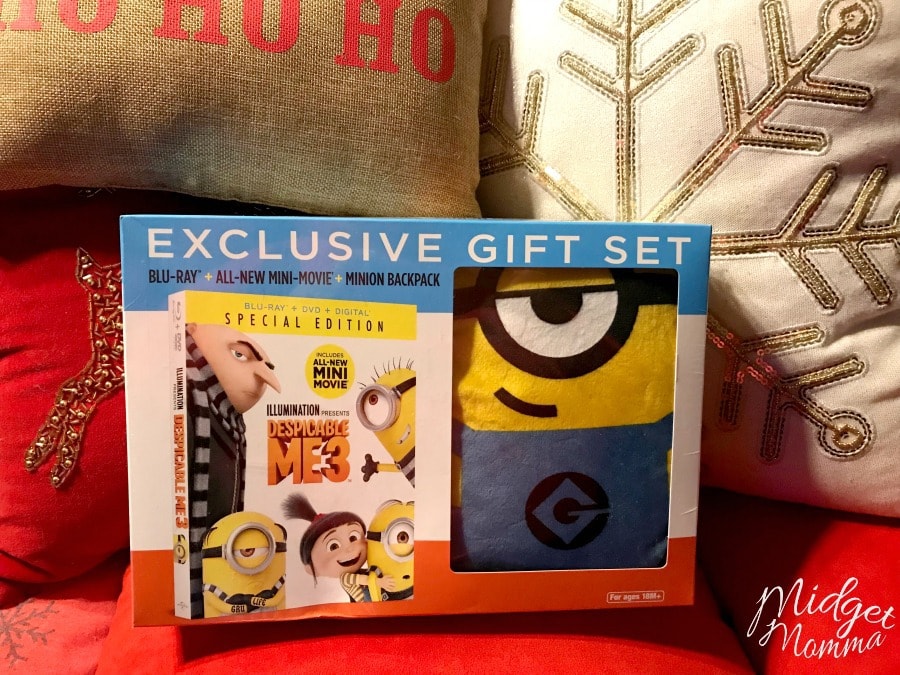 This post is in partnership with Universal Pictures Home Entertainment
Despicable Me 3 Special Edition is now available on Blu-ray & DVD TODAY! If you have a Minion fan then you are going to want to grab the Walmart exclusive that has a limited time gift set with a super soft, PLUSH Minion backpack!
Nothing beats some adorable minion Christmas cookies when you are settling in to hang out with the characters that are loved by everyone! Gru, his wife Lucy, their three adorable daughters—Margo, Edith and Agnes—and the Minions provide hours of family fun in this heartwarming comedy.
I used my favorite no spread sugar cookie recipe and my favorite royal icing recipe and to make these minion cookies come to life.
If this is your first time making sugar cookies, check out everything you need to know about making sugar cookies for some awesome tips! You don't even have to have a special cookie cutter to make these cookies you just need a sharp paring knife or pizza wheel.
It is important to always work with cold dough when you're working with the sugar cookies or the dough will start to spread.
Minion cookies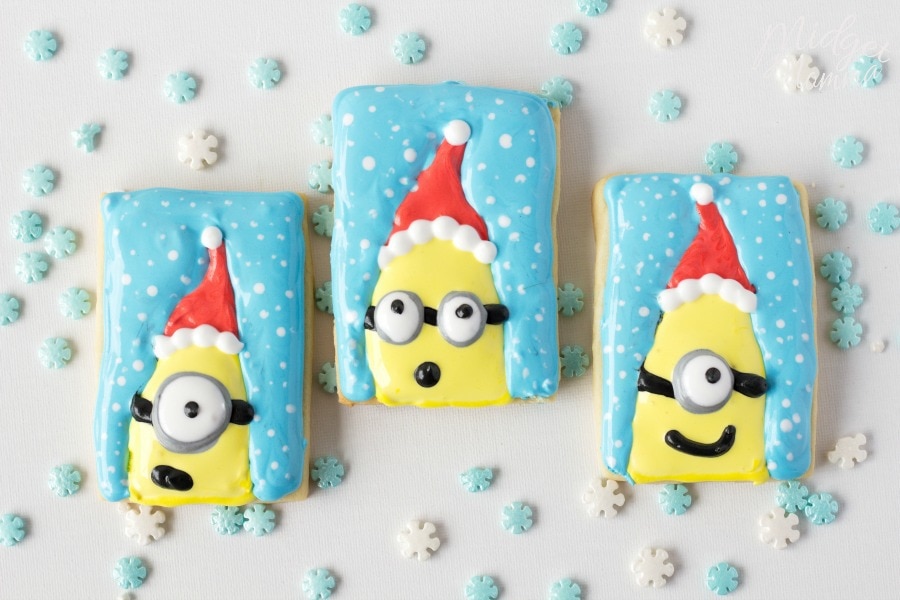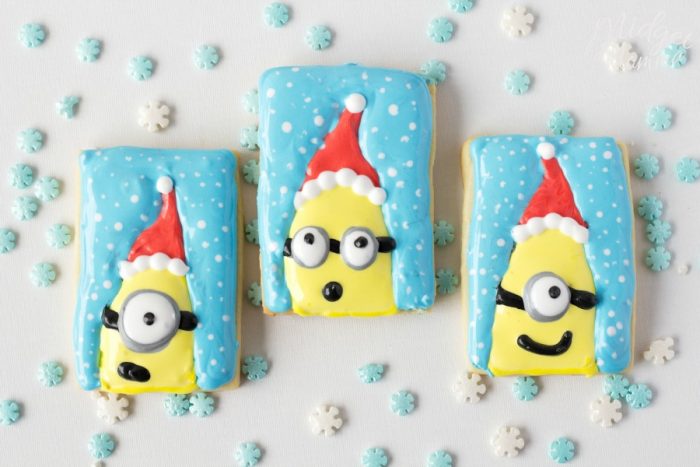 Minion cookies Ingredients
No spread sugar cookie dough
Royal icing
Food coloring
Minion cookies Supplies
Number three piping tip
Pastry bag
Rubber spatula
Mixing bowls
Minion cookies Directions
After your dough has been rolled out and refrigerated for half an hour cut 2×3 inch rectangles from the dough.
Place the rectangles onto a sheet pan lined with parchment paper or a silicone mat, bake at 350 for 8 to 10 minutes or until the cookies have browned on the edges.
Move the cookies to a cooling rack and allow them to completely cool.
When your cookies are cooling prepare your royal icing.
You will need to divide the royal icing into six different bowls with a larger amount of icing in two of the bowls. The two larger amounts of icing one needs to be colored blue and the other needs to be colored yellow. The four smaller amounts of icing need to be colored 1 black, 1 grey, 1 red and 1 white. Place your icing into separate pastry bags with straight #3 tips.
With your yellow icing add the minions had to the bottom two-thirds making sure to close off the bottom of its body with the royal icing repeat this with each cookie. Remove the yellow icing from the pastry bag and thin it out to a six-second icing. Flood the minion shape with yellow thinned icing and use a toothpick to move the icing around to fill in any holes.
Using the red icing add a Santa hat to the top of each minion hat. Remove the icing from the pastry bag and thin it out to a six-second icing and flood in each Santa hat with this icing.
Using the blue outline the whole outer edge of the cookie. Fill the royal icing to a three-second icing and flood in the rest of the blue area using a toothpick to move the frosting around to fill in any holes. While the icing is still wet place small dots of the white icing into the blue to make a little snowflakes.
Add the rim and the top cotton ball of Santas hat with the white royal icing.
Take the gray royal icing and pipe on the minions glasses.
With the black royal icing add the sides to each of the glasses.
Thin out your white royal icing to a six-second royal icing consistency and fill in each minions eyeball.
With the black royal icing at the pupils of the minions eyes. Allow the cookies to dry for an hour.
Approximately 9 Weight Watchers SmartPoints per cookie on the Freestyle Program
If you are looking for another fun activity to do with the kids on family movie night while watching Despicable Me 3, check out this AWESOME Minions Gingerbread house! It is totally awesome!
Check out the awesome Trailer!
Cookie Making Supplies
Want delicious cookies that come out perfect every time? Check out some of our favorite tools to make super easy cookies with fun decorations!
More Christmas Cookies to check out:
More Sugar Cookies to Check out:
More Holiday fun to check out!
If your kiddos love Santa then be sure to check out How to Facetime Santa! Plus you can also call Santa on the FREE Santas Phone Number!
If you do Elf on the Shelf, then make sure you check out all the Elfy fun we have for you!
Elf on the Shelf Letter – Perfect Elf on the shelf printable letter that you can print out and have your elf on the shelf bring with him or her when he comes to visit! Plus this Elf on the Shelf Rules printable is awesome to print out and hang on the wall for the kids!
If you are stuck on Elf Names, Check out this awesome list of 110 Elf on the shelf names! We have girl elf names and boy elf names!
You should also check out these funny elf on the shelf ideas! There are over 135 Elf on the Shelf Ideas that kids will love! If you are running short on time, then make sure you check out this list of Quick Elf on the Shelf ideas! Plus we have Elf on the Shelf Ideas for Toddlers, Reasons Elf did not move, Elf on the Shelf Ideas calendar, Easy Elf on the Shelf Ideas, and How to put Elf in a Water bottle!
Looking for Christmas cookie recipes? Check out our 12 Days of Christmas cookies and our 25 Days of Christmas cookies.
Of course you probably need some Christmas treats for the kids to, so make sure you check out the 16 Christmas treats for kids, for some really fun and tasty kids Christmas treat!
If you are looking for crafts to do with the kids check out the awesome list of Christmas Crafts for kids. There are some really awesome handprint and foot print crafts that are perfect for gifts and keepsakes!
This post is in partnership with Universal Pictures Home Entertainment. All opinions are 100% my own.