Chocolate Chip Cookie Dough Brownie Sandwich Cookies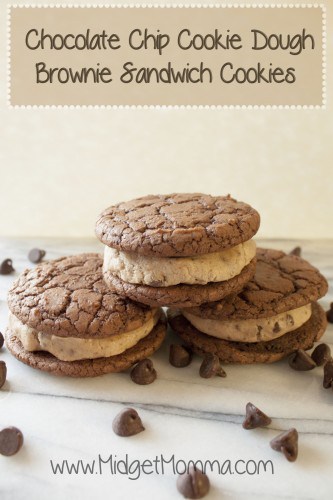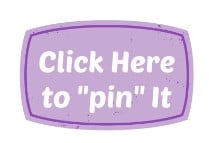 Ok so these Chocolate Chip Cookie Dough Brownie Sandwich Cookies were completely a pregnancy craving I'm not going to lie! I had to make a desert for my friend dinner and I couldn't decide if I wanted chocolate chip cookies or brownies. So I though why not make both! My brownie cookies and eggless cookie dough has been a hit at past parties so this recipe combines both into a mega cookie, the Chocolate Chip Cookie Dough Brownie Sandwich Cookie! These cookies were such a hit!
 Chocolate Chip Cookie Dough Brownie Sandwich Cookies Ingredients
Brownie cookies ingredients
1/2 cup unsalted butter

12 oz semi sweet chocolate chips
1 1/2 cups all-purpose flour
1/4 cup unsweetened cocoa powder
1/2 tsp baking powder
1/4 tsp baking soda
1/2 tsp salt
1/2 cup packed light brown sugar
1/2 cup granulated sugar
3 large eggs
2 tsp vanilla extract
Cookie Dough Filling ingredients
3/4 cup butter, softened
3/4 cup firmly packed brown sugar
3/4 cup sugar
3 tablespoons milk
1 1/2 teaspoons pure vanilla extract
1 1/2 cups flour
1 1/2 cups chocolate chips
 Chocolate Chip Cookie Dough Brownie Sandwich Cookies Directions
Brownie Cookies Directions
Add the butter and semi-sweet chocolate chips to a medium saucepan and melt over medium heat, stirring frequently. Remove from heat and allow to rest until cool for 10 – 15 minutes. In a mixing bowl, whisk together the flour, cocoa powder, baking powder, baking soda and salt and set aside. In the bowl of a mixer, whip together the light-brown sugar, granulated sugar, eggs and vanilla on medium-high speed until pale and fluffy, about 1 minute. Using a rubber spatula stir in melted chocolate mixture. Working in 3 separate batches, add 1/3 of the flour mixture and fold just until combined. Chill dough about 45 minutes. Preheating oven to 325 degrees during the last 10 minutes of chilling. Scoop a tablespoon of the dough out and shape into balls. Place onto Silpat or parchment paper lined baking sheets, spacing them 2 inches apart. Bake in preheated oven 12 – 13 minutes, then remove from oven and allow to cool on baking sheet 5 minutes before transferring to a wire rack to cool completely.
Cookie Dough Frosting Recipe Directions
In a mixer bowl, cream together the butter and sugars until its smooth. Mix in the milk and vanilla until combined. Mix in the flour until just combined. Then stir in the chocolate chips.
Scoop the filling on to a cookie and sandwich another cookie on top. Enjoy!