If you have a sweet tooth and are looking for the perfect dessert that is quick and easy to make then you totally want to make this fudgy chocolate brownie that is cooked in a mug in the microwave. This easy Microwave Mug Brownie recipe is the perfect quick and easy to make recipe when you are wanting a sweet treat and to hit a chocolate cravings. This delicious brownie recipe is made with simple ingredients that you probably already have in your pantry.
Microwave Mug Brownie Recipe
I love chocolate desserts, brownies are my specific favorite chocolate dessert. As much as I love them I don't always want to wait for the time it takes for a whole pan to bake. I also don't always want to leave evidence for my kids to see that I had a special treat at night while they were sleeping. My solution is this easy to make, perfectly chocolaty, Microwave brownies in a coffee mug.
Of course, I could always make a batch of homemade brownies, but sometimes I am just not in the mood to wait for a whole pan of brownies to be made and then cooled. When that happened my go to is making myself a single serve brownie. I can whip up this Microwave Mug Brownie recipe and have a tasty chocolaty brownie in just a few minutes including the cook time.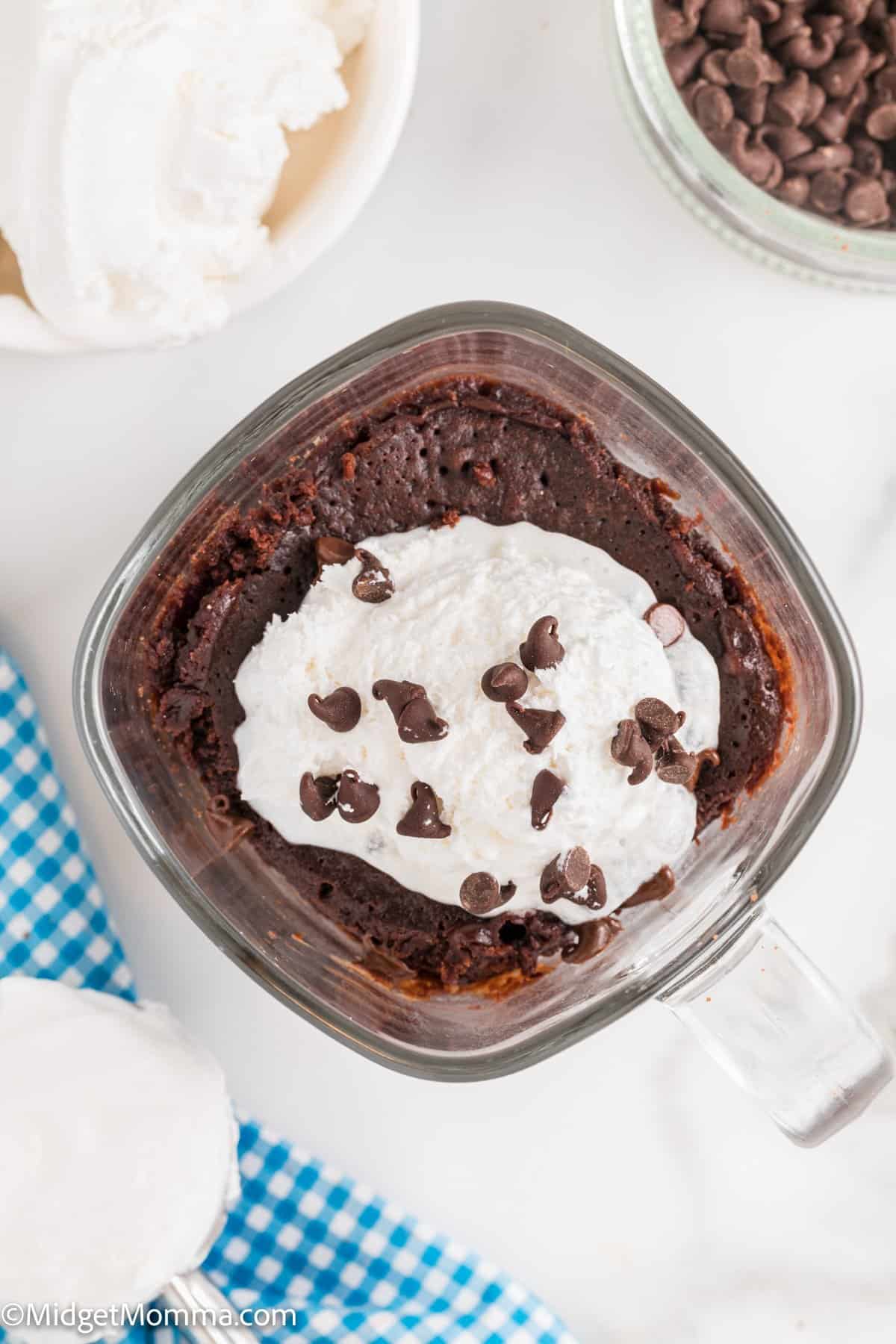 This single-serve chocolate brownie is made in a coffee mug in the microwave and it is perfect for a quick fix when you are wanting a chocolate brownie. This microwave brownie recipe has all the flavors of a rich chocolate brownie and the gooey brownie texture that you love with the ease of being made in a mug in the microwave. It is the perfect recipe to make when you have a brownie craving but don't want to do all the work of making a large batch of brownies.
This single serving brownie is perfect easy recipe for a quick late night snack, a treat for the kids learning how to cook and those college students who only have a microwave in their dorm.
Easy Brownie Recipes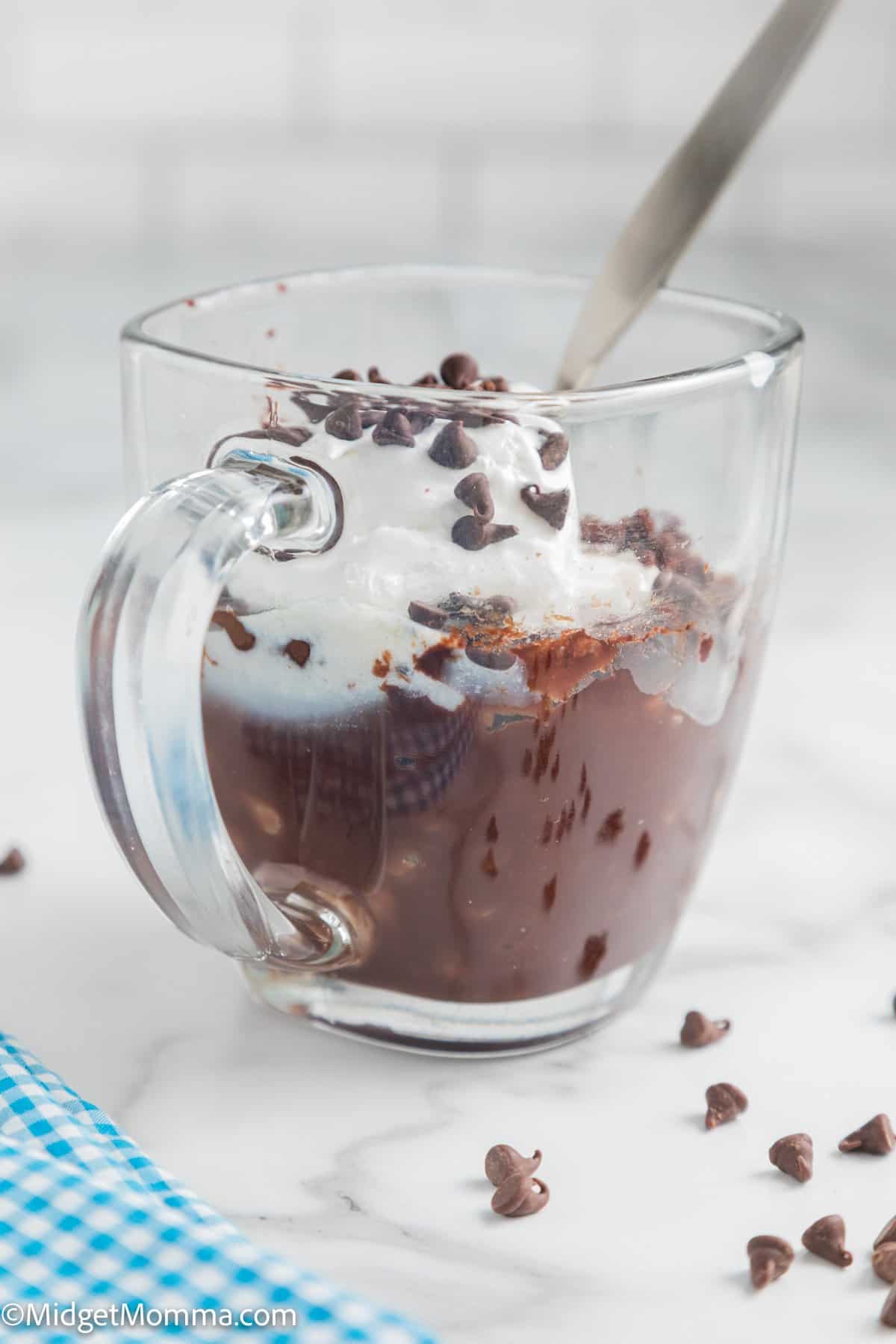 Tips for Making this recipe
Use a quality cocoa powder. Using a quality cocoa powder will give you the best rich chocolate brownie flavor.
Use a large mug. You want to use a mug that is at least 14 ounces when you are making this recipe to give room for the brownie to cook.
Let the brownie cool before eating. The mug will be hot when you take it out of the microwave so be sure to let it cool a bit before eating.
Do not over mix. When mixing everything just mix and stir until everything is combined.
Use a microwave-safe mug. Be sure the mug you are using to make this fudgy brownie is safe to use in the microwave.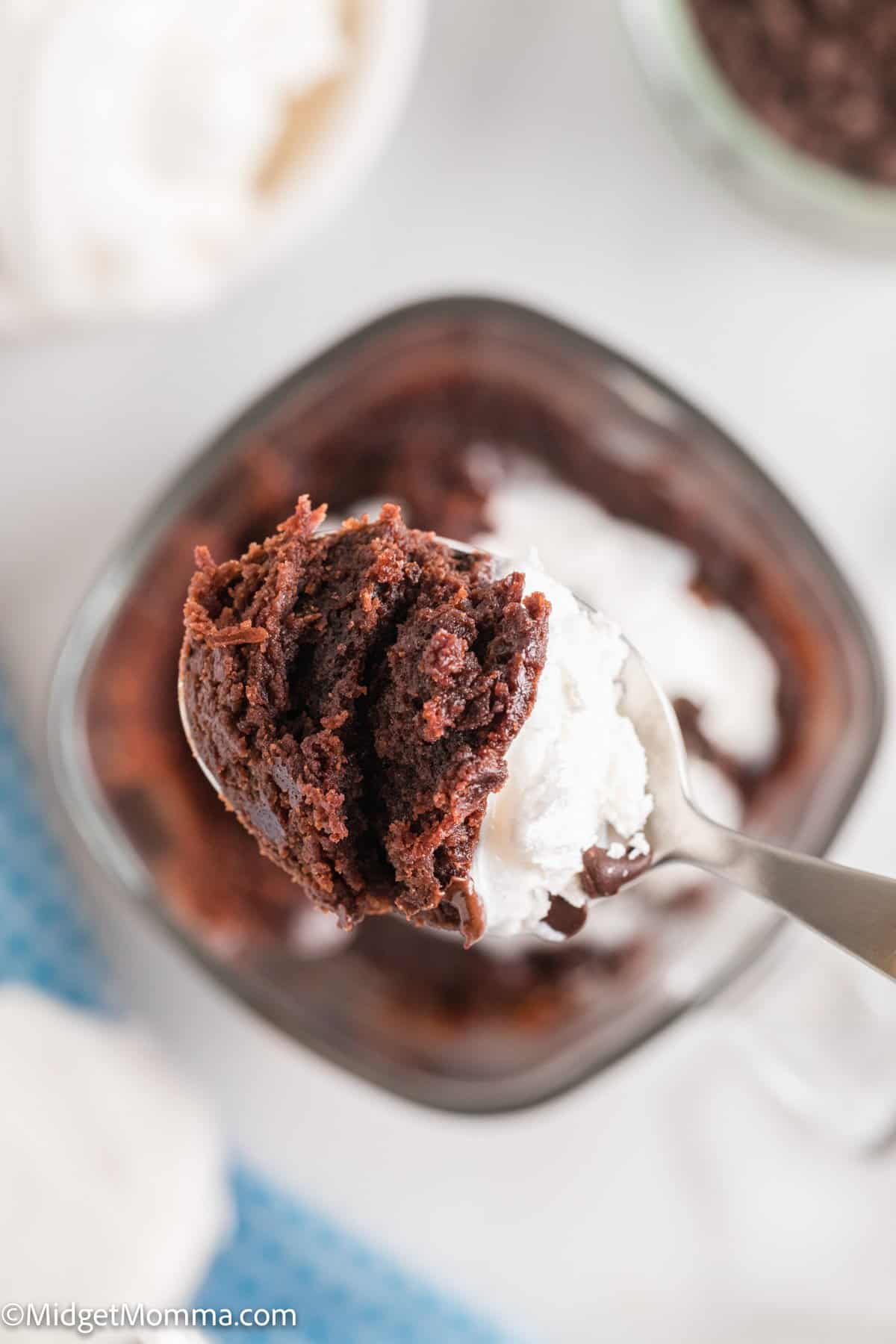 Variations of this recipe
Add Chocolate chips. You can add chocolate chips if you want to, and add 2 tablespoons at most. You can use milk chocolate chips, semi-sweet chocolate chips,, white chocolate chips or even peanut butter chips.
Water or milk. You can use water or milk in this recipe. Using milk will give it a stronger chocolate flavor.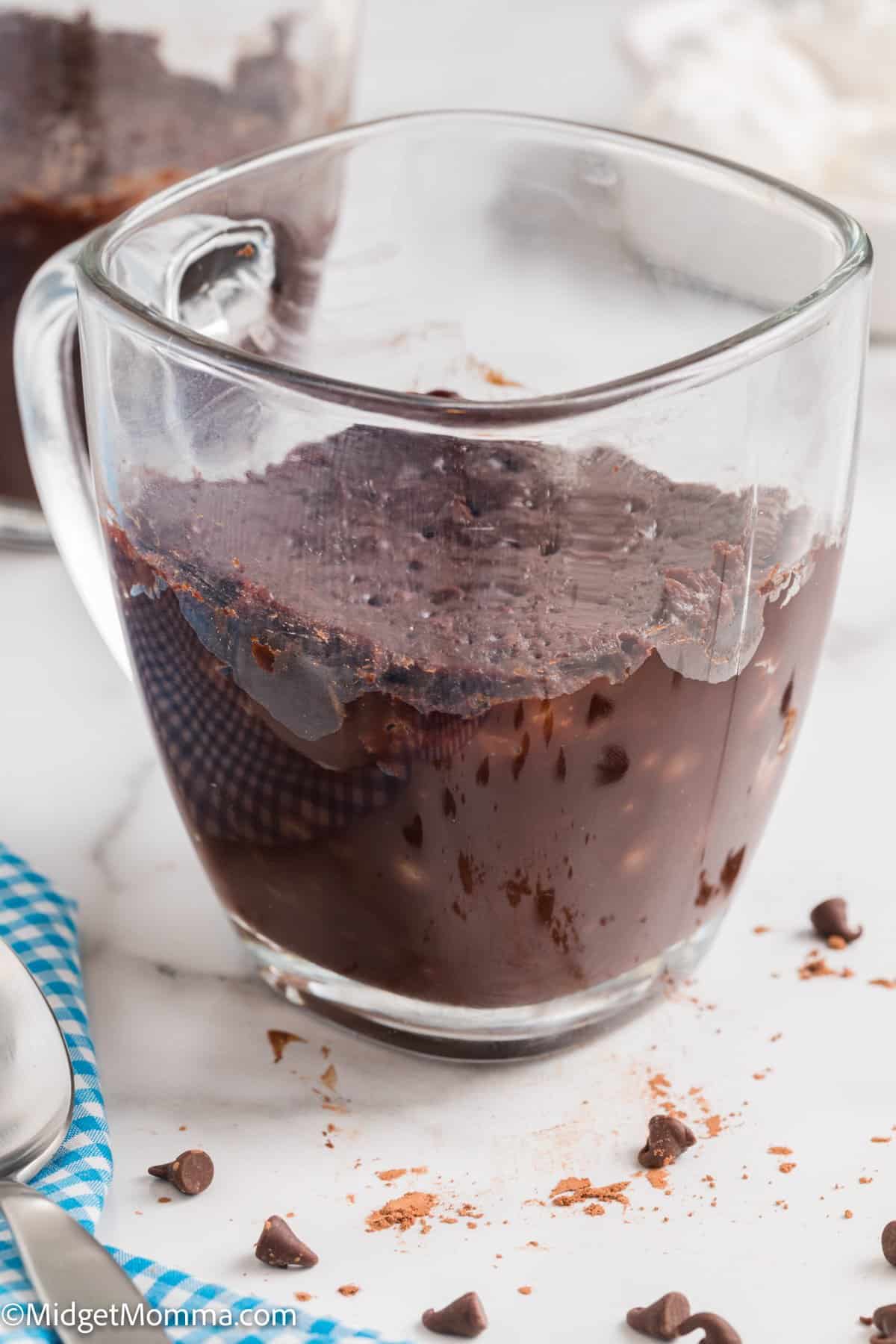 How long do you cook a Microwave brownie?
When you are cooking this easy mug brownie recipe you will have to play with the cook time a bit as all microwaves are different. For mine, it takes 1 minute and 40 seconds, but depending on your microwave it can take up to 2 minutes to cook. Start with 1 minute and 40 seconds and add 10-second increments to the cook time until it is cooked all the way through.
It only takes a max of 2 minutes to make after mixing up your ingredients, until you can enjoy the amazing sweet fudgy brownie!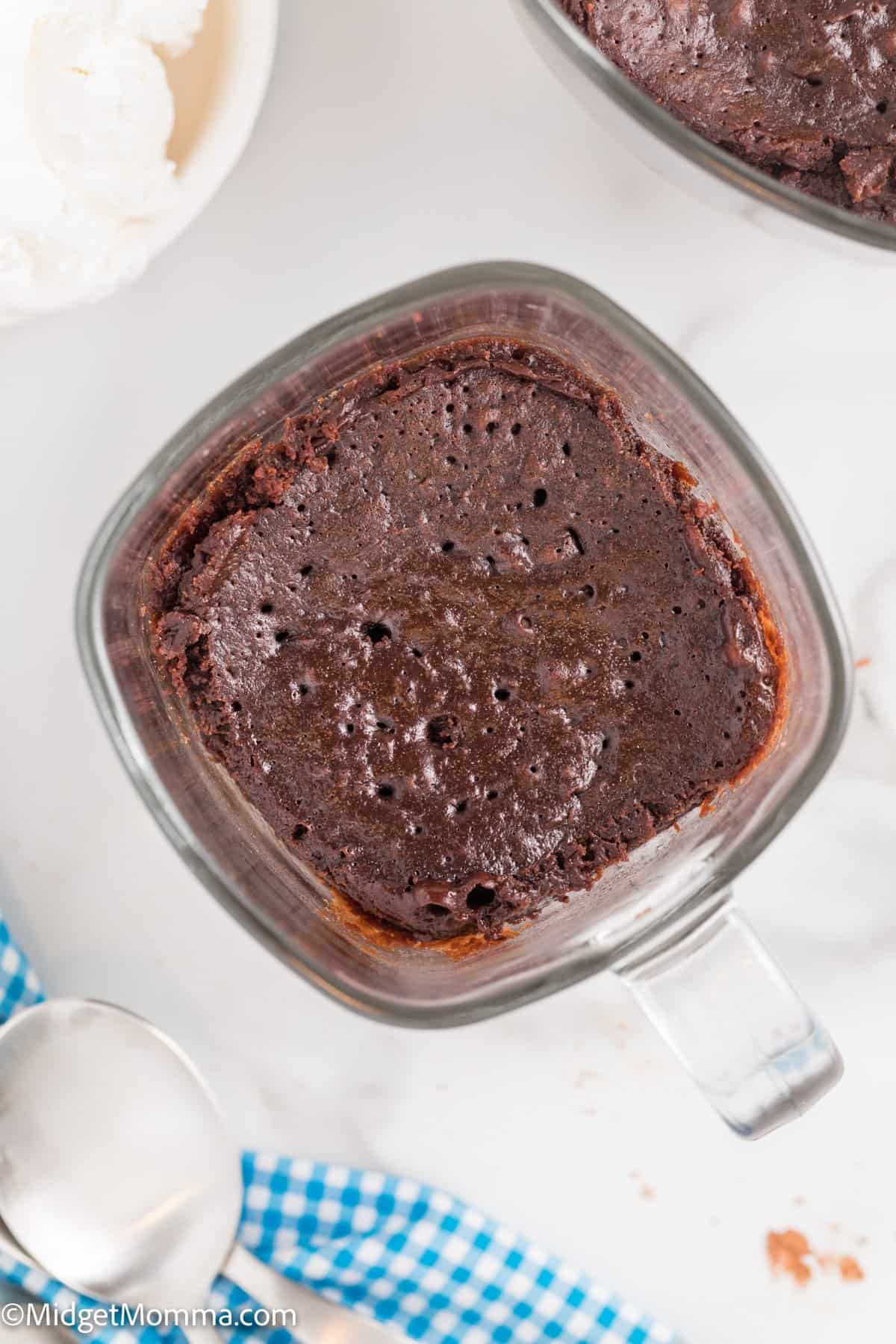 How to Serve Microwave Brownie
You can eat the Microwave Brownie in a Mug as is but the my favorite way to enjoy a chocolate mug brownie is with a scoop of vanilla ice cream. You can also use it to make a brownie ice cream sundae using any flavor ice cream you enjoy. If you really want a sweet treat to add some hot fudge or chocolate syrup, ice cream, whipped cream, and some sprinkles for a fully loaded fudgy mug brownie ice cream sundae.
If I really want to get fancy I add a scoop of ice cream, sometimes a little bit of hot fudge, sprinkles and a cherry on top, and enjoy an easy chocolate brownie ice cream sundae that is perfect.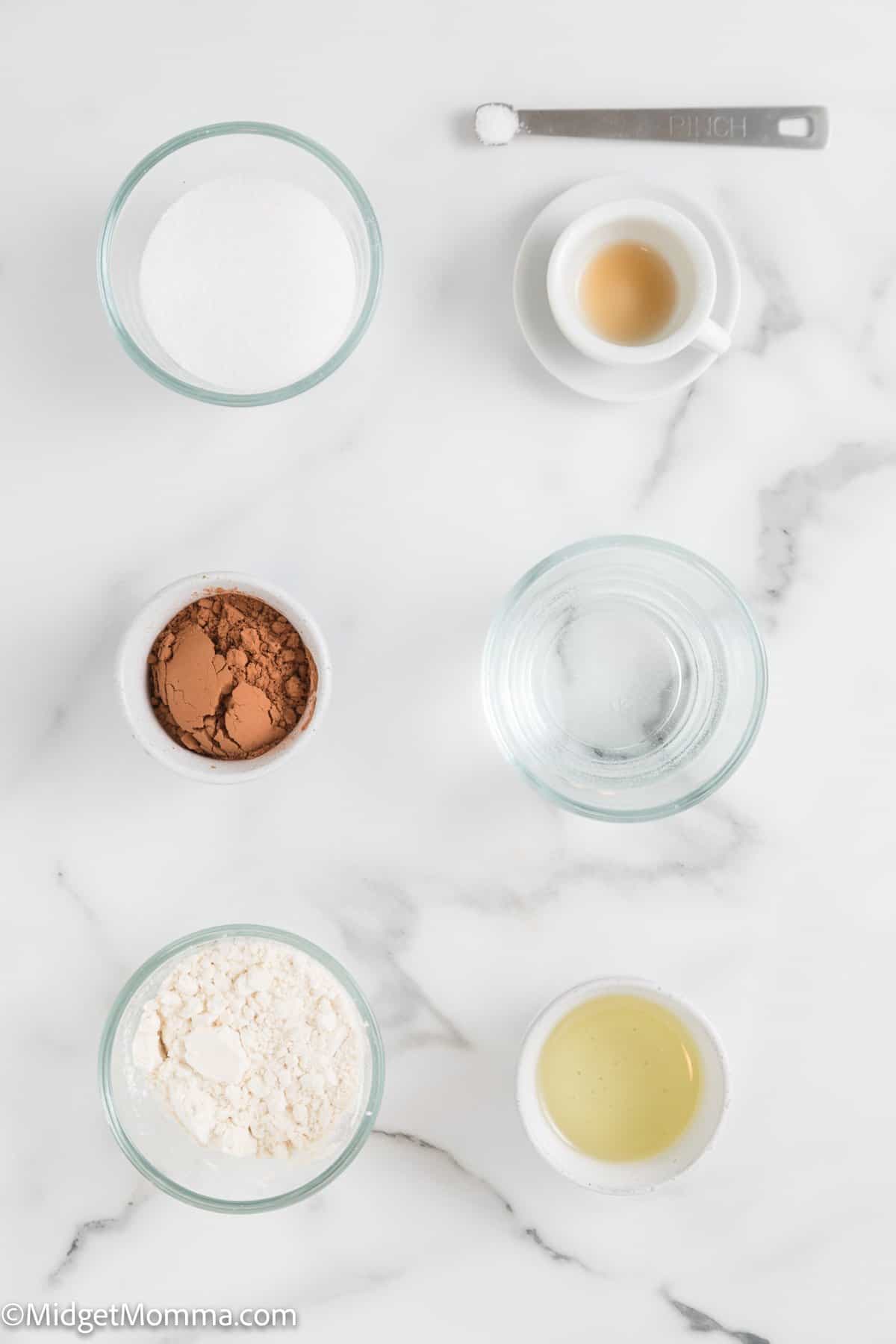 Microwave Mug Brownie Ingredients
1/4 cup All purpose flour
1/4 cup white sugar
2 tablespoons unsweetened cocoa powder
pinch of salt
2 tablespoons vegetable or canola oil
1/4 cup water
1/8 teaspoon vanilla extract
How to Make Microwave Mug Brownie
In a heatproof mug stir together the dry ingredients, flour, sugar, cocoa powder, and salt.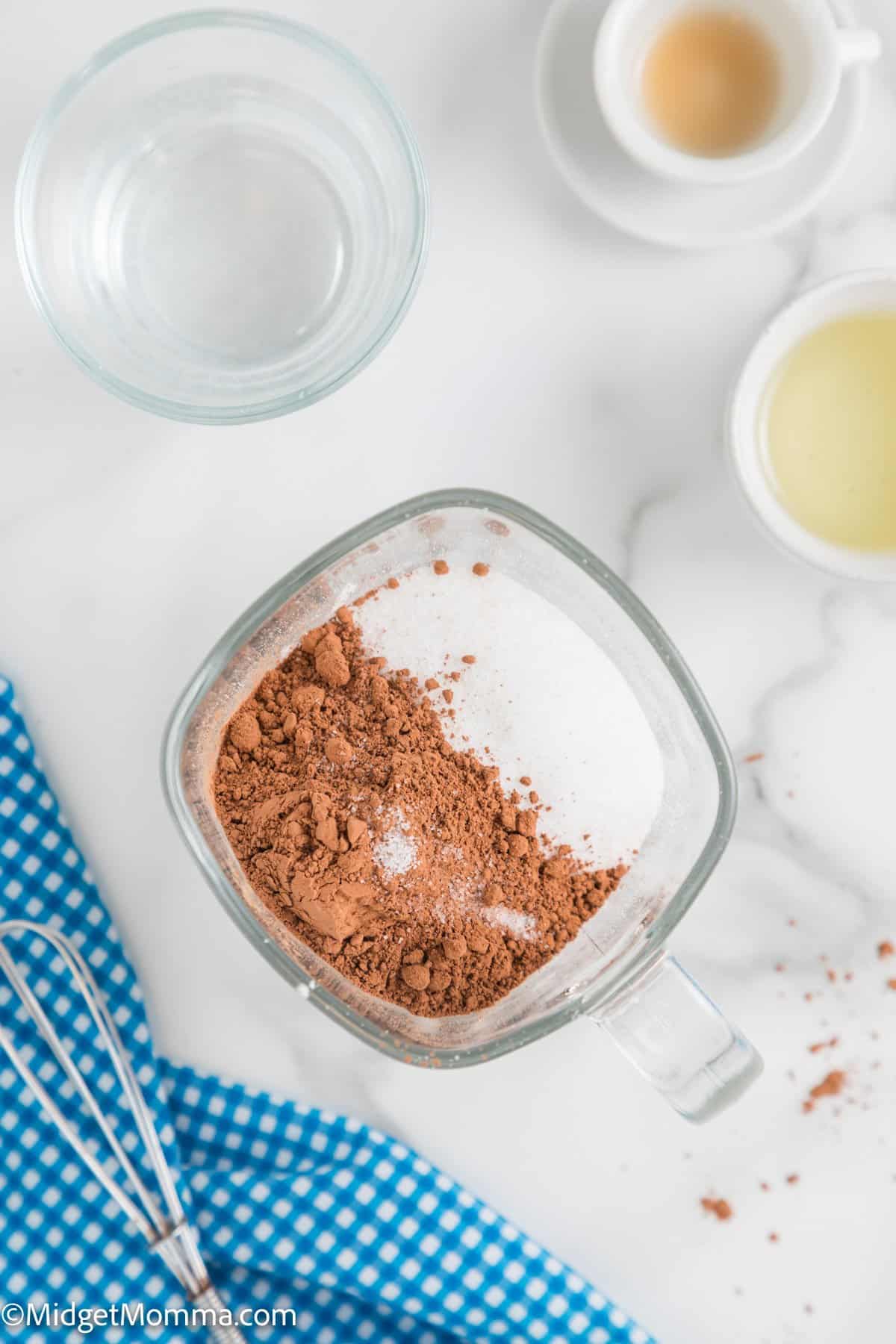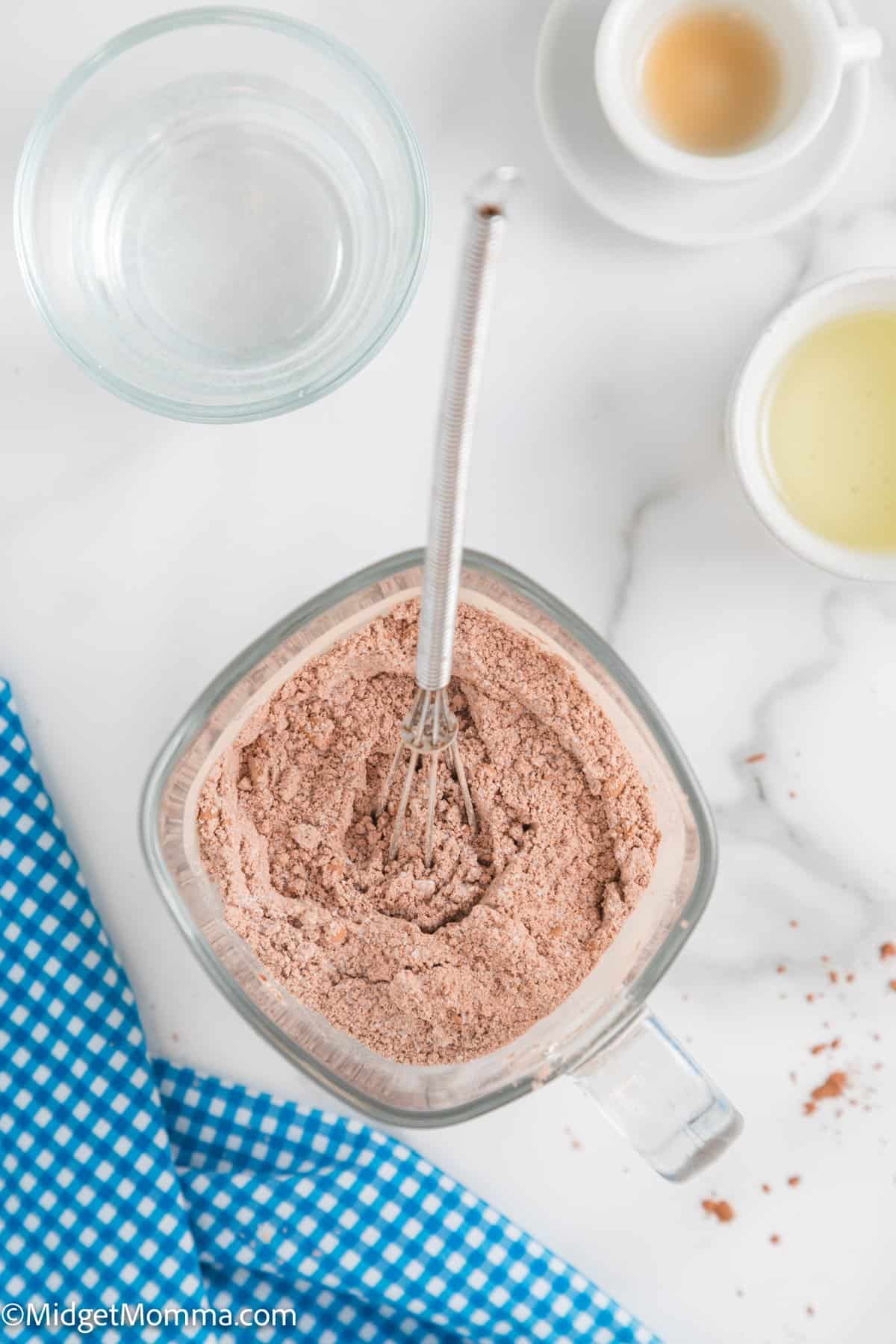 Stir in the oil and water until the wet ingredients are well combined with the dry ingredients.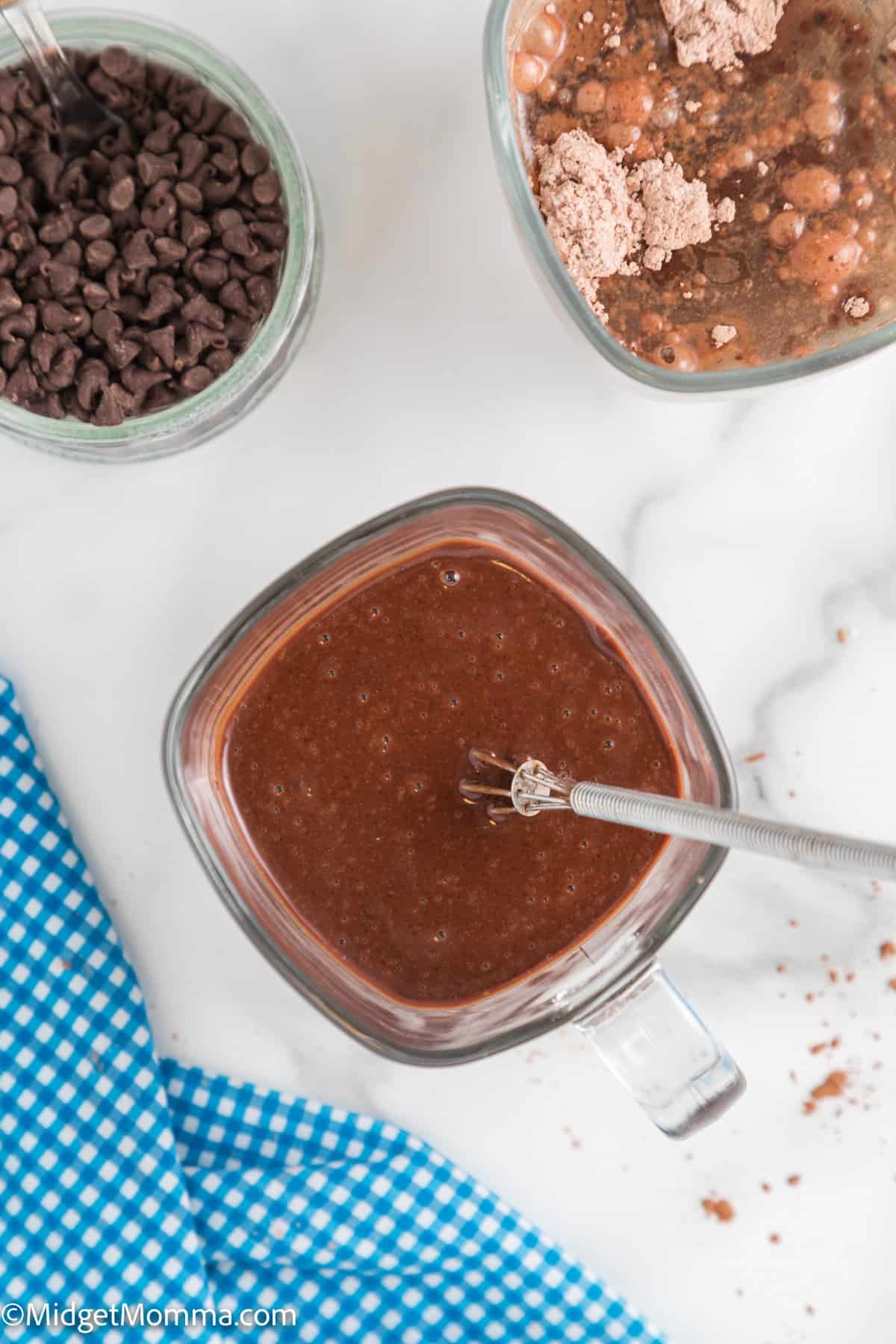 Place the brownie batter in the mug into the microwave and cook for one minute and 40 seconds to 2 minutes.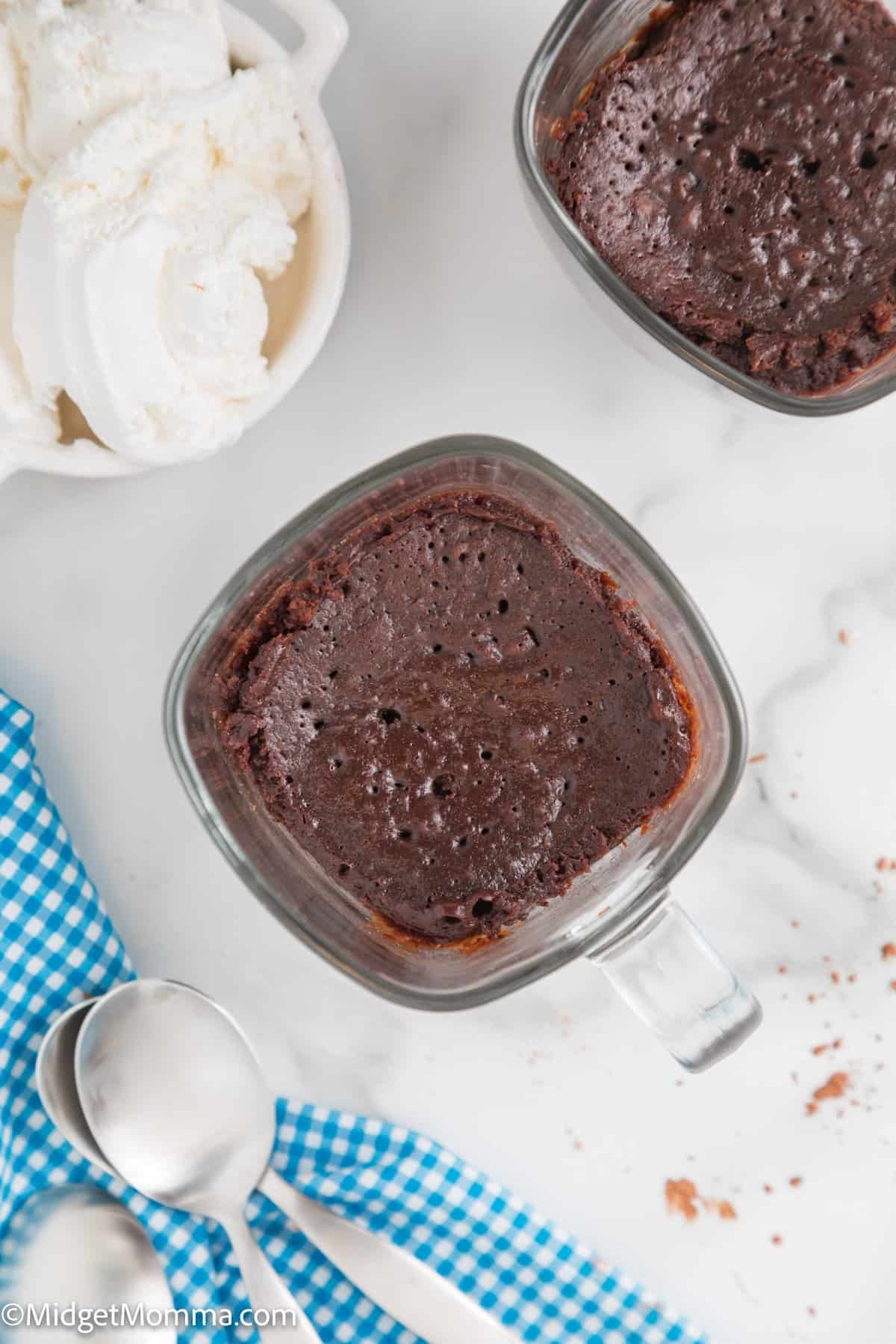 Enjoy the warm brownie as is or turn it into a brownie sundae with a little ice cream on top.
Easy chocolate Desserts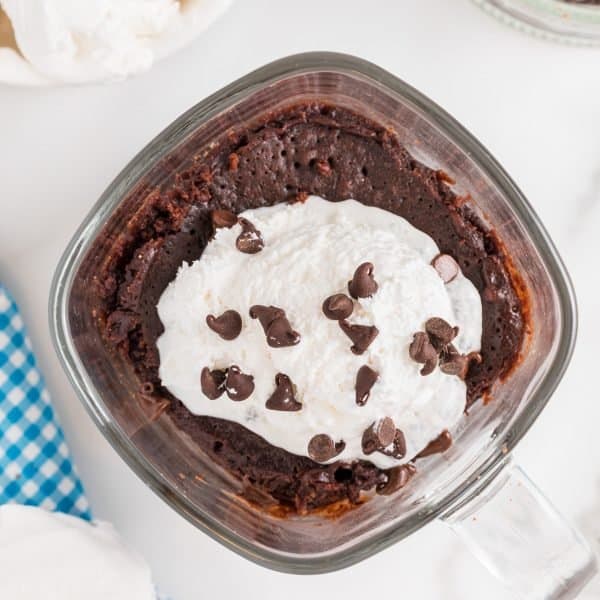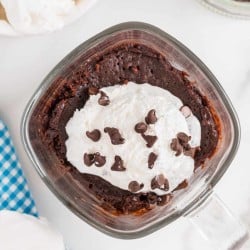 Microwave Mug Brownie
Servings
This 2 Minute Microwave Mug Brownie recipe is the perfect quick and easy to make recipe when you are wanting a sweet treat. Only takes 2 minutes to make until you can enjoy the amazing sweet chocolaty brownie!
Instructions
In a heatproof mug stir together the flour, sugar, cocoa powder, and salt.

Stir in the oil and water until it is well combined.

Place in your microwave for one minute and 40 seconds.
Calories: 573kcal | Carbohydrates: 80g | Protein: 5g | Fat: 30g | Saturated Fat: 24g | Sodium: 6mg | Potassium: 188mg | Fiber: 4g | Sugar: 50g | Calcium: 20mg | Iron: 3mg
Dessert
23 Weight Watchers Smart Points per mug on the Freestyle Program
Join the newsletter
Subscribe to get our latest recipes right in your inbox every time we post a new one!