This Quick & Easy Kid Approved English Muffin Pizza Recipe is one of the quickest and easiest recipes to make. English muffin pizza is a totally kid friendly recipe, that I am sure is going to give any adult a flash back to their childhood.
English Muffin Pizza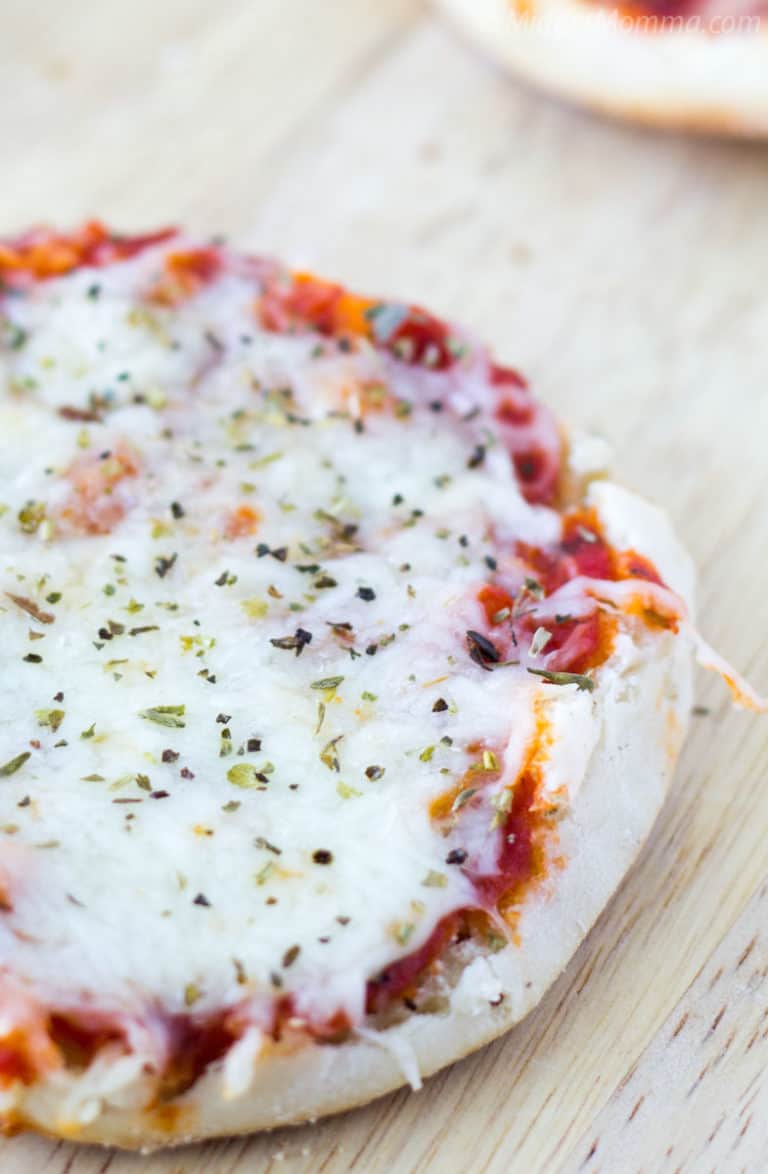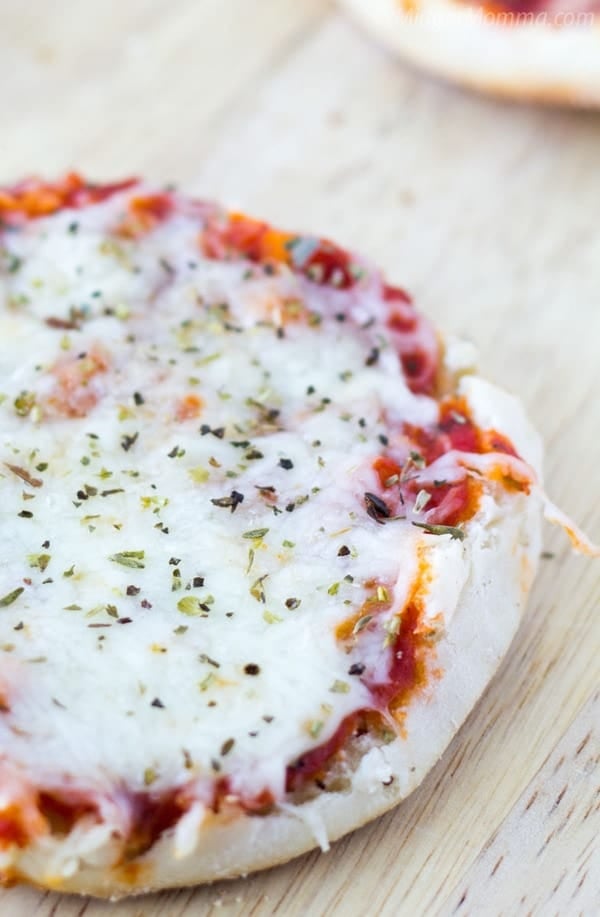 Mini Pizzas with English Muffins
If you are looking for a quick and easy kid friendly lunch or snack idea then this is it! They also make a fantastic meal idea for a kids party or on a busy night when you are wanting something quick, easy and kid friendly. You can have these English muffin Pizzas done in under 15 minutes!
I do also have to say that I am not sure if this one fully counts as a recipe, because it is so easy to make. You are essentially making mini pizzas out with English muffins! However if you are asking yourself How does one make English muffin pizzas? We have everything you need to know about making them here for you!
Normally when we are planning pizza night in our house I make pizza with my Easy Homemade Pizza Dough and we tend to make homemade pepperoni pizza.
If you are looking for an easy recipe have the kids help with this is it! When we make mini pizzas with english muffins the kids have the ability to customize them however they want them. It is a win win, the kids get to pick what they are eating and they get to make their meal themselves.
This is a great kid friendly meal to make if you have picky kids. I am thankful my kids are not picky eaters at all and they will eat or at least try anything that we make. But helping make the food is a good way to get kids to try new things since they were included in making it.
There are times that my kids have made these ahead of time and then packed them in their lunch boxes. If you are looking for more lunch ideas be sure to check out 101 Lunch Ideas for Kids!
If you are eating low carb, you can use these keto bagels instead of english muffins or instead you can make Portobello Mushroom Pizza.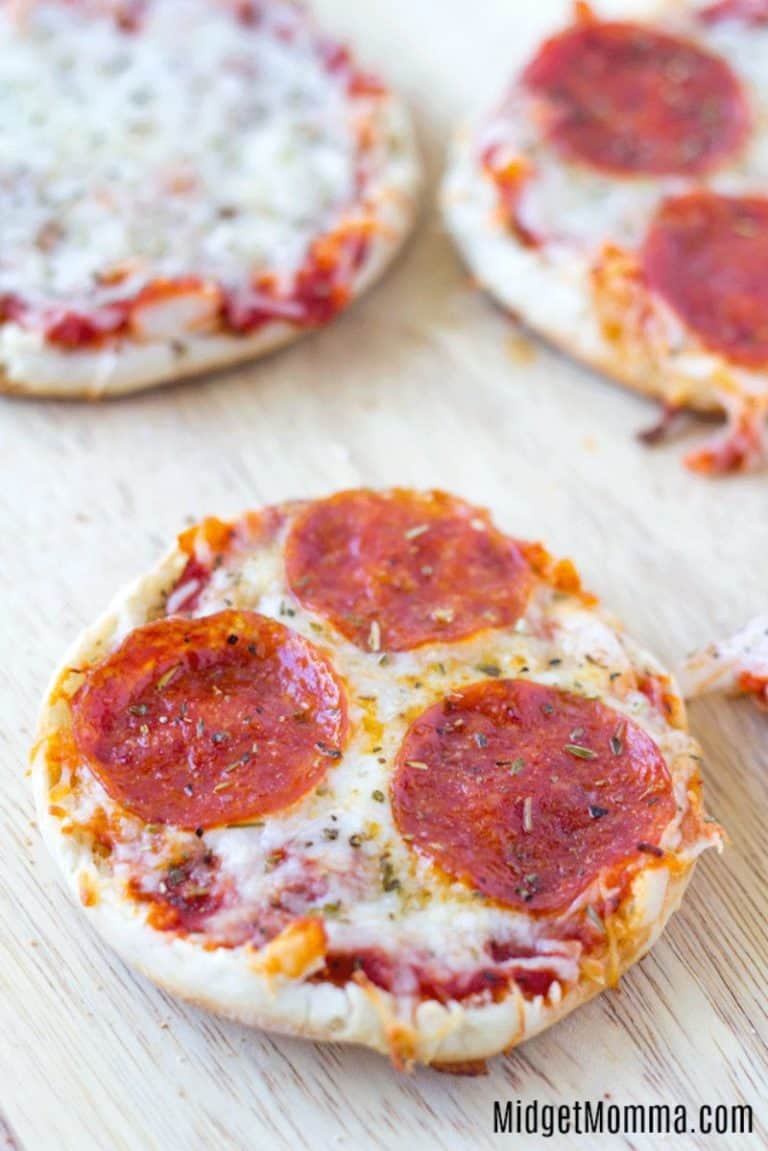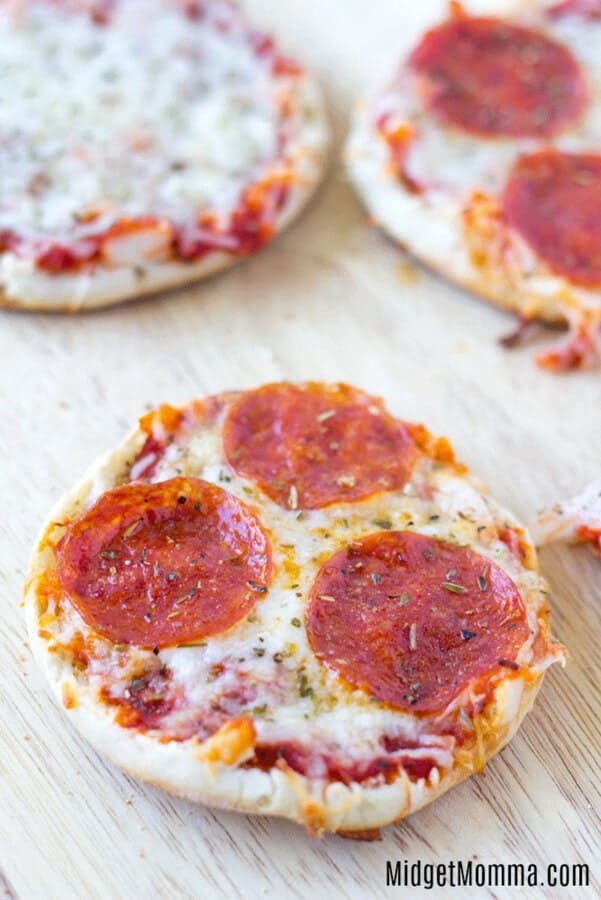 Toppings for English Muffin Pizza
When making your English Muffin Pizza you can use what people consider to be classic pizza toppings, or get creative with what you are putting on your mini pizzas.
We love adding veggies on top of our english muffin pizzas along with things like ham and pineapple. You can totally customize these, which is one of my favorite things about making pizza with english muffins.
If you are stuck on pizza toppings ideas here are the ones I normally pull out when we make mini pizzas with english muffins.


bacon
green peppers
ham
sausage
onions
pepperoni
mushrooms
spinach
Turkey Pepperoni
Sauce for English Muffin Pizzas
If you are making these as a quick last minute idea for dinner then using jarred pizza sauce is going to be the easiest thing. However I like to keep homemade pizza sauce on hand for the times we are going to need it.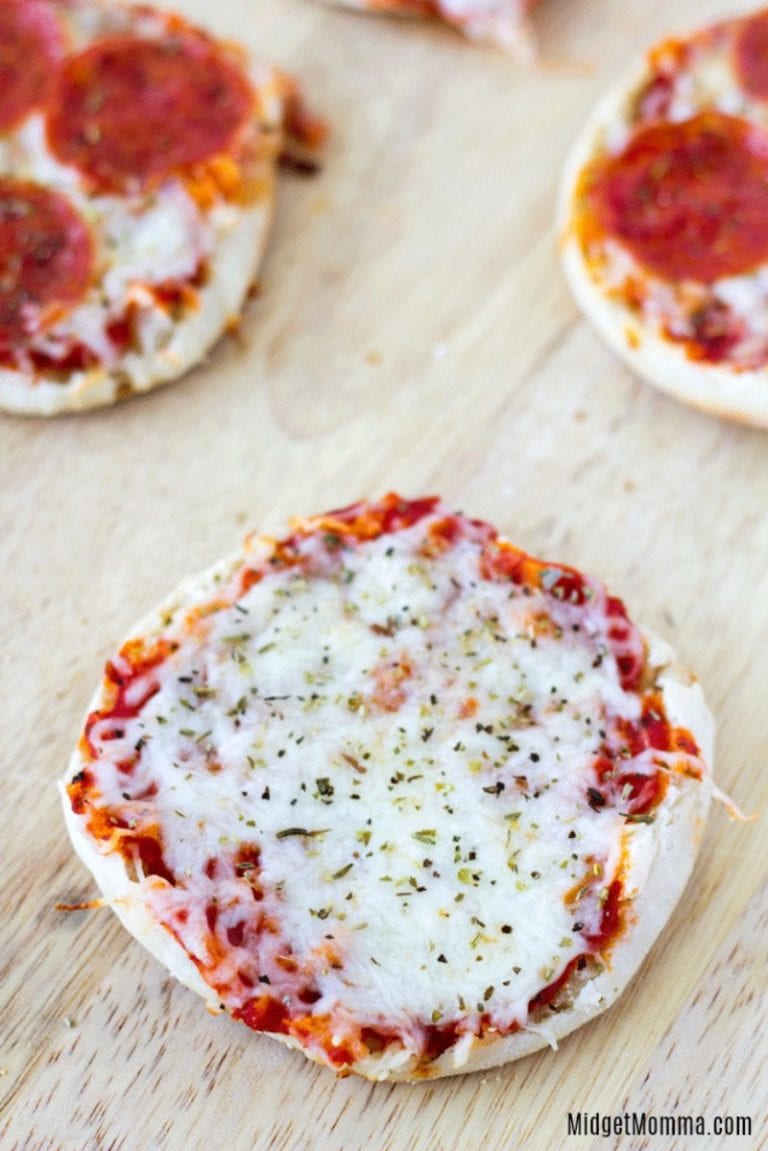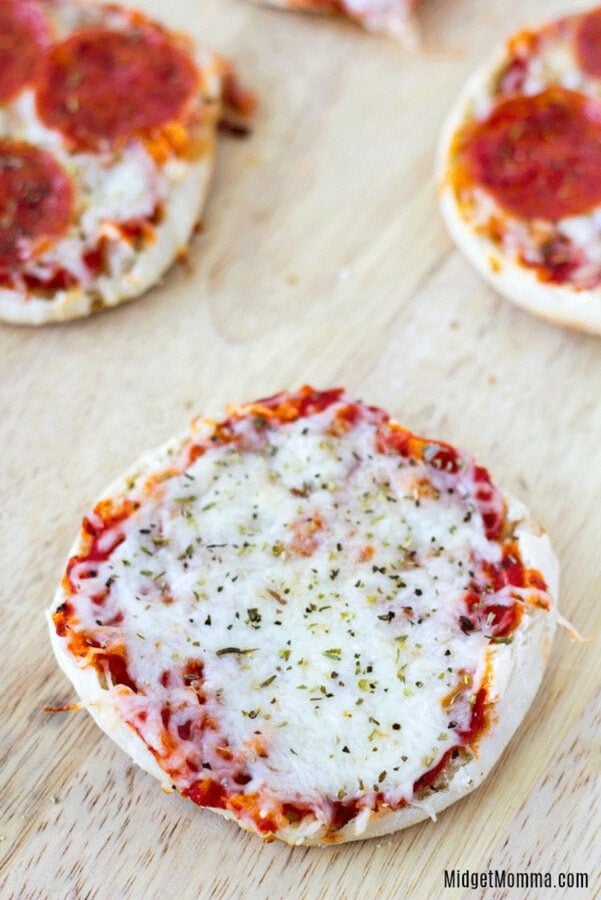 Easy Pizza Bar for a Kids Party
These are the perfect meal to make for a kids party, like our Ninja Turtles Pizza party!
To set things up set it up as stations. Have one station set up where the english muffins are. Then place the different toppings on plates or bowls. Let the kids put the sauce, cheese and toppings on. Then have an adult bake them in the oven.
If you are going to make them for a pizza party then I suggest using a toaster oven (This is the one we have that I love!) vs the regular oven so you can have the kids be more involved and learn how to use an oven.
You can keep the pizza fun going when you are having a party by also making S'Mores Cookie Pizza and Fruit Cookie Pizza!
Can you make pizza in a toaster oven?
You can bake this pizza recipe in a toaster oven or a regular kitchen oven. If you are using a toaster oven, depending on your toaster oven you may or may not need to preheat it.
If you are looking for other pizza recipes that are kid friendly check these out!

English Muffin Pizza Ingredients
Whole Grain English muffins
Tomato sauce
Shredded Mozzarella Cheese
Toppings
How to Make English Muffin Pizza
Making these mini pizzas is so easy. All you have to do is preheat your oven. While the oven is heating up split each of the muffins so you have 12 english muffins halves.
Spread the pizza sauce on top of the english muffin. Top the english muffins with the shredded mozzarella cheese. Put your toppings of choice on top of the cheese.
Place the mini pizzas on a baking sheet and bake in the oven. You will know they are done baking when you see the cheese melted on top of them.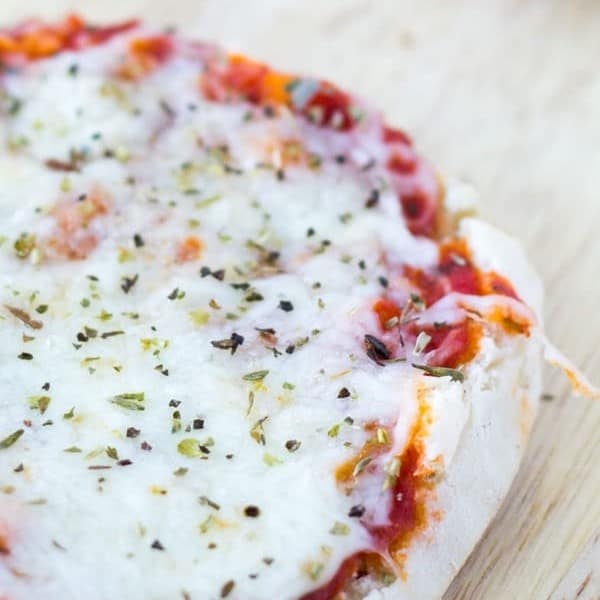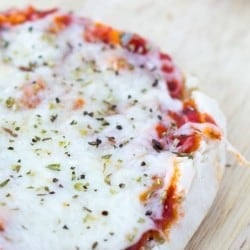 English Muffin Pizza
Servings
Here is a quick and easy lunch idea that the kids can help make too. English Muffin Pizza is a favorite in our house and I am sure will become one in yours too!!!
Ingredients
6 Whole Grain English muffins
15 ounces Pizza sauce
8 ounces shredded Mozzarella Cheese
Instructions
Break apart English muffins and put inside part facing up on a baking sheet

Spread a spoonful of tomato sauce on top

Sprinkle shredded mozzarella cheese on top

Bake at 400 degrees for 15 minutes or so until cheese is melted
Calories: 123kcal | Carbohydrates: 14g | Protein: 7g | Fat: 5g | Saturated Fat: 3g | Cholesterol: 15mg | Sodium: 408mg | Potassium: 192mg | Fiber: 2g | Sugar: 4g | Vitamin A: 281IU | Vitamin C: 2mg | Calcium: 176mg | Iron: 1mg
english muffin pizza, mini pizzas
Main
1 Muffin with 2 tablespoons sauce, and 1/8 cup mozzarella cheese, 3 turkey pepperoni slices = 1 serving
5 SmartPoints on Weight Watchers FreeStyle. You can add turkey pepperoni, olives, ham, onions, bell pepper, or any other toppings you prefer, just make sure to count points if you are using Weight Watchers.
More kid friendly Recipes you will love!