If you are looking for how to make a Balsamic Reduction you are going to love this simple Balsamic Reduction recipe.
There is only one ingredient, and a few minutes of time needed for this easy recipe. This recipe will then give you an amazing Balsamic Reduction that is perfect for using to make so many tasty recipes, including meats, veggies, salads and more.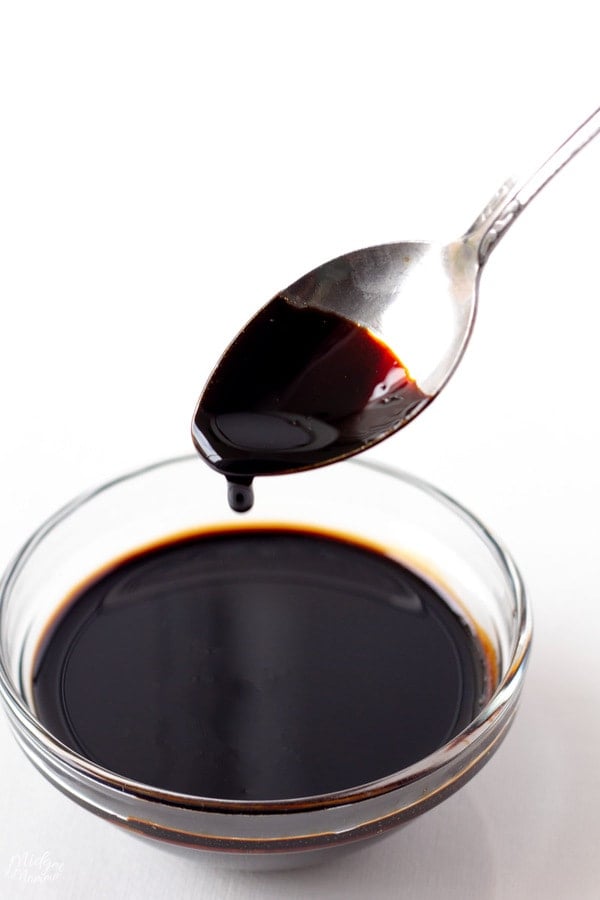 Balsamic Reduction
I love the flavor of Balsamic Vinegar. I use it when I make my Balsamic Salad dressing and my Balsamic Roasted Red Pepper Pasta Salad and with many other things.
However Balsamic Vinegar is to runny to use on a salad, meat or veggies by itself. But the Balsamic flavor tastes amazing with them. The solution is Balsamic reduction, also sometimes called Balsamic Glaze.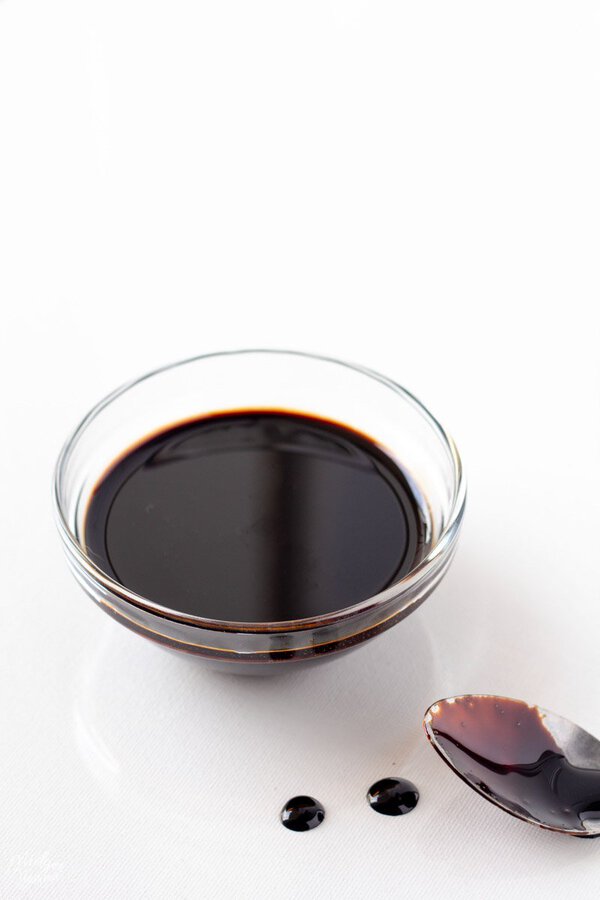 What is Balsamic Reduction?
Balsamic Reduction is a sweet, tangy syrupy sauce that is made by cooking down Balsamic vinegar. Turning it into a concentrated form that reduces the liquid amount by cooking the vinegar and water out. By doing this the balsamic flavor will become more intense and the consistency will become thicker.
Balsamic vinegar doesn't have a really sweet flavor on its own, however when you cook it down you get an amazingly sweet flavor without anything being added to it. It is the perfect easy way to take a simple dish to the next level of flavor.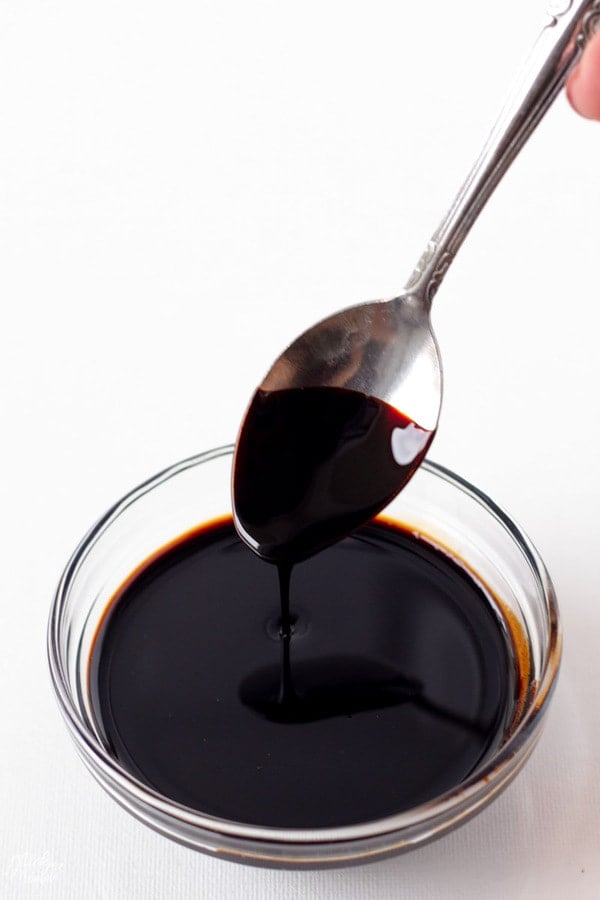 Why make Homemade Balsamic Reduction Instead of buying it in the store?
You may wonder why you should even bother making your own Balsamic Reduction, when you can buy it in the store. Well not only is homemade always better flavor wise, you don't have to worry about any additives being in it. Many times in the store bought balsamic reductions you will find ingredients like caramel colorings, glucose syrup, corn starch, and sugar. Those items are so not needed in balsamic reduction.
You also have the ability to make your balsamic reduction exactly the way you like it when you make it homemade. The longer you let it simmer the thicker it is going to get, so you can easily make a thicker reduction if that is the way you like it.
If you would like a sweeter reduction you can make balsamic reduction with honey or maple syrup by adding a tablespoon of either one before you start cooking it. However if you are sticking to low carb or keto you do not want to do that. I do not think that balsamic reduction needs to be made sweeter then it becomes naturally when you cook it, but not everyone agrees.
It is important that you use a quality Balsamic vinegar when you are making Balsamic reduction. You do not need to use the most expensive bottle of Balsamic vinegar, the moderately priced ones will do just fine. But you really do not want to go with the cheapo stuff.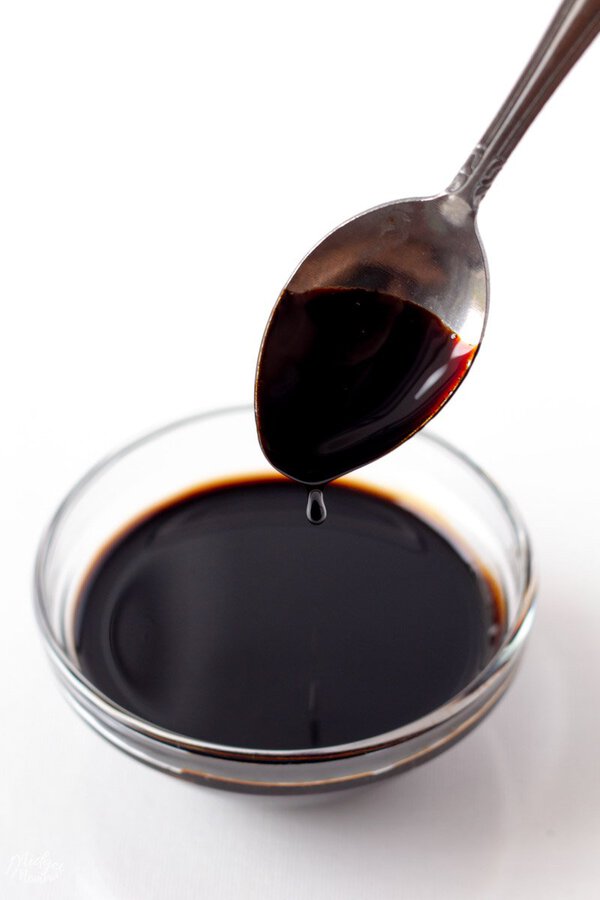 What is Balsamic Reduction used for?
Balsamic Reduction is the perfect way to take a simple dish and make it amazing. It is really my secret weapon to giving a huge burst of flavor to something that otherwise would be kind of boring.
I am sure many of you have enjoyed a Caprese Salad, that dark drizzle on top is Balsamic Reduction. And oh is it GOOD! But caprese salad is only the starting point of using this amazing sauce. It tastes amazing drizzled on just about any grilled meat, from chicken to steak to seafood. Seriously, grill some chicken on the grill and then add a drizzle of Balsamic Reduction and the flavor will wow you!
You can easily turn a boring salad into a salad bursting with flavor just adding a little drizzle of this amazing sweet and tangy goodness on top! If you want to, you can even add a little bit of olive oil too… OH YUM!
I love roasting veggies in the oven. It is the easiest way ever to make a tasty veggie for dinner. When I want to explode the flavors, I add a drizzle of this Balsamic Reduction recipe on top after they are done cooking.
If you enjoy dipping bread in olive oil and vinegar then you will LOVE dipping bread in this homemade Balsamic Reduction recipe, it is even better!
If you are having a party and need an amazing appetizer, Caprese Salad Skewers are super easy to make and then add a bowl of Balsamic Reduction for everyone to dip them in!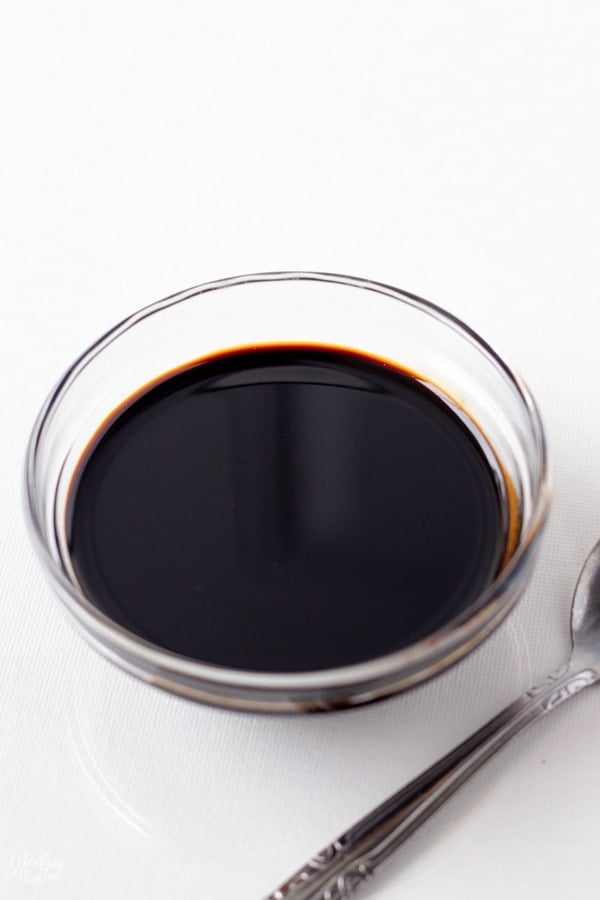 How Long can Balsamic Reduction be kept?
Once you have made your Balsamic Reduction you can store store at room temperature for up to a week or in the fridge for up to 2 months. All you have to do is store it in an airtight container, personally I like to make sure I am storing my amazing sauce in a drizzle bottle so it is easier to drizzle.
If your Balsamic Reduction hardens while in the fridge, all you have to do is put the container of it, it in a bowl of warm water to make it have more liquid flow to it.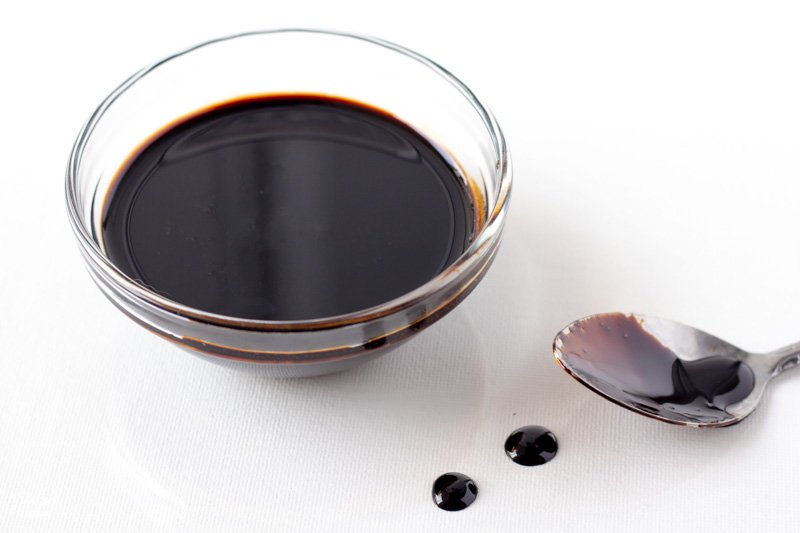 How to make Balsamic Reduction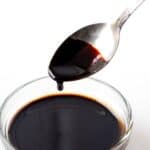 Balsamic Reduction
With only one ingredient needed, and a few minutes of time, you will have an amazing Balsamic Reduction that is perfect for many tasty recipes.
Pin Recipe
Print Recipe
Instructions
Pour the balsamic vinegar into a small saucepan over medium heat.

Bring it to a boil over medium heat for 15-20 minutes or until it has reduced in half for a thinner reduction and 3/4 for a thick reduction.

As soon as the balsamic reduction reaches the consistency you prefer, remove it from the heat, and let it cool to room temperature.
Nutrition
Serving:
1
tablespoon
|
Calories:
28
kcal
|
Carbohydrates:
2.7
g
|
Sodium:
7
mg
|
Potassium:
35
mg
|
Sugar:
4
g
|
Calcium:
0.9
%
|
Iron:
1.3
%
Keyword
Balsamic Reduction, Balsamic Reduction Recipe, How to make Balsamic Reduction
Other Recipes you will love!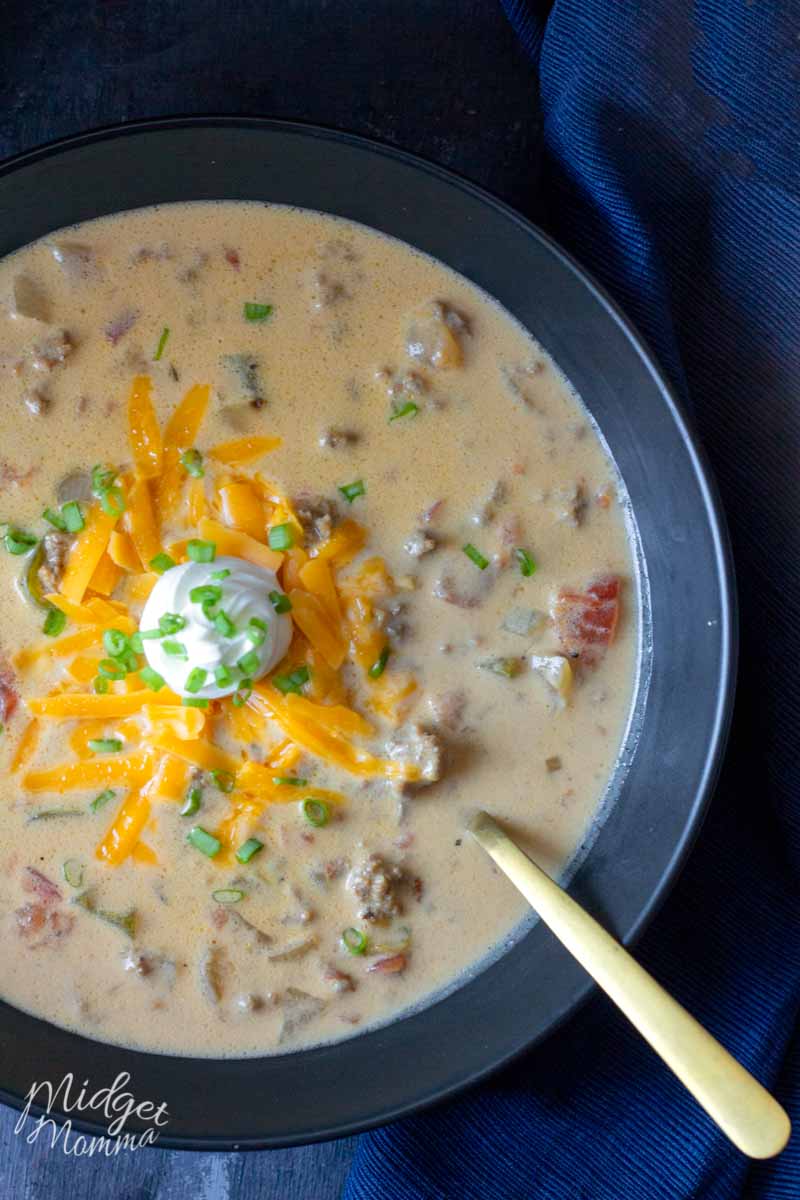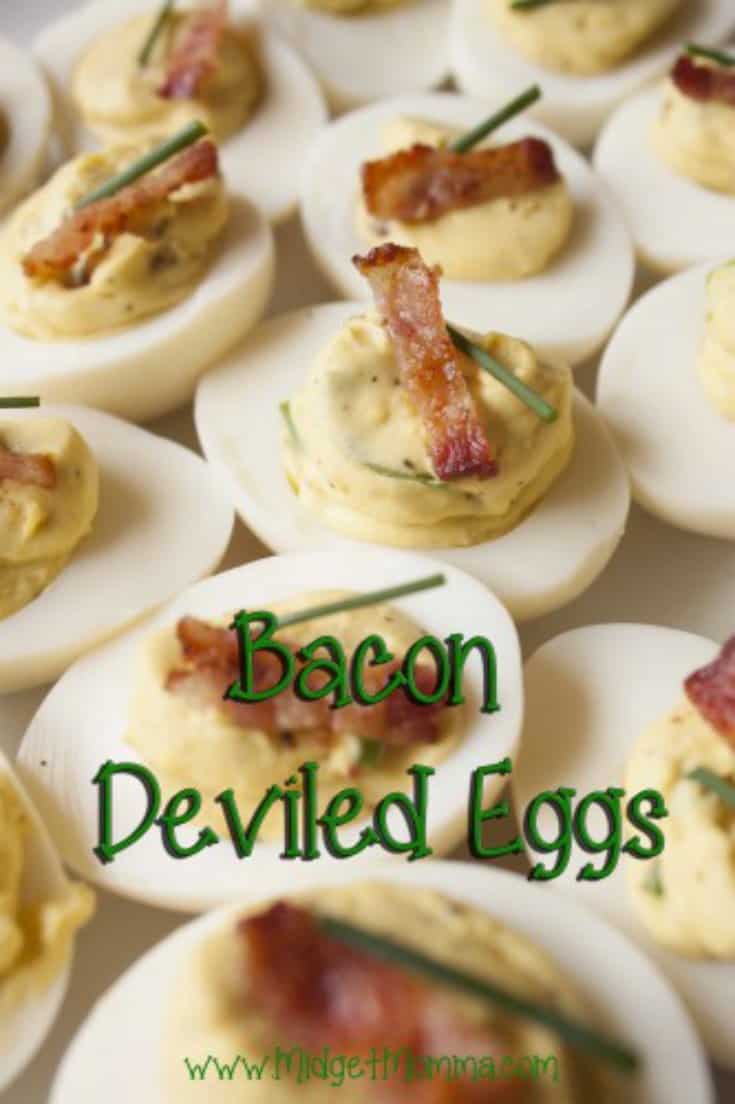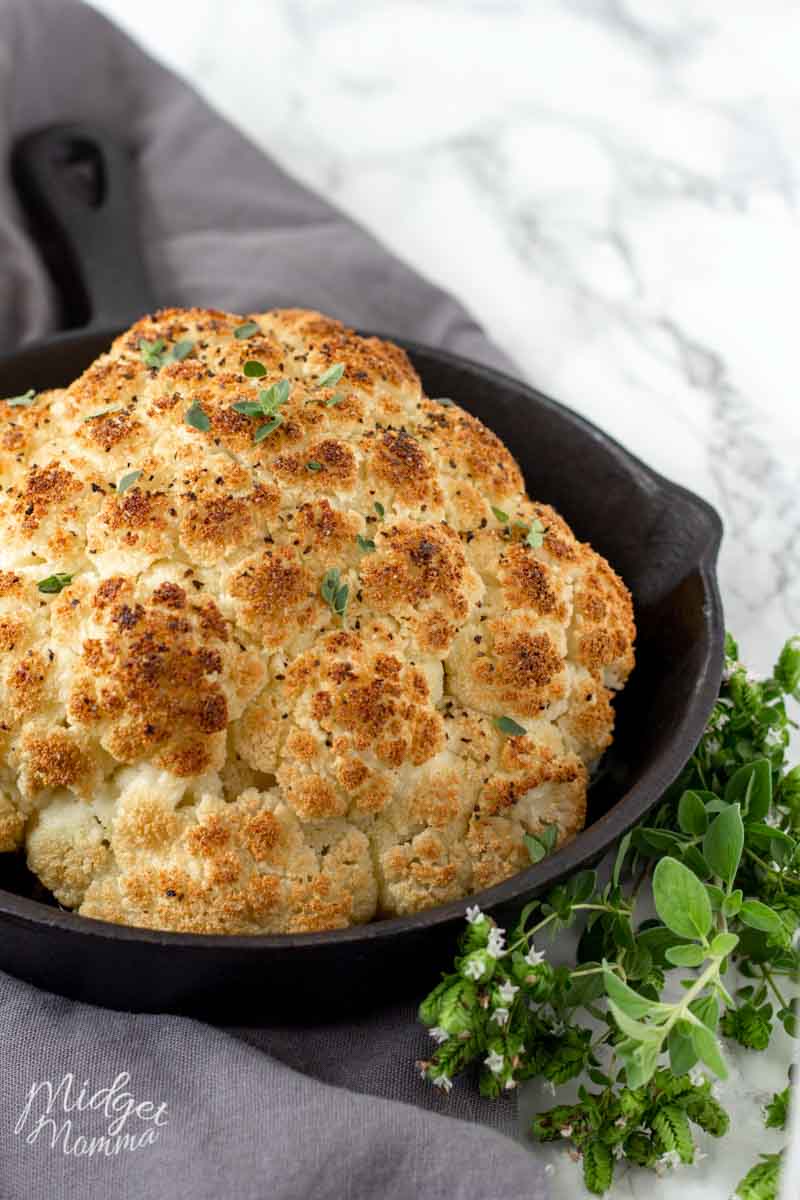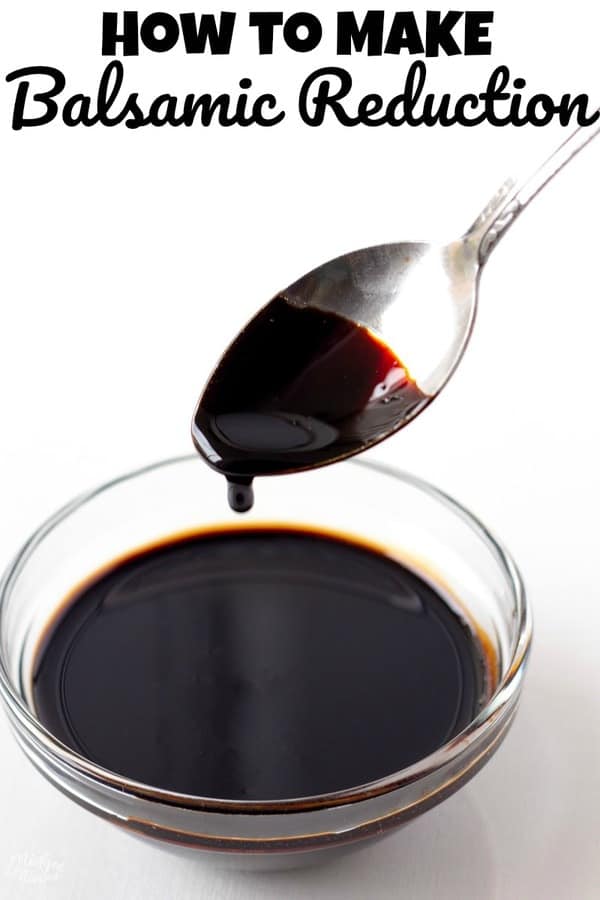 This post may contain affiliate links. Please read my disclosure policy here