If you are looking for something fun to do with the kids this Puffy Sidewalk Paint is a TON of fun! With household items you can make a kid safe sidewalk paint that will have the kids playing for hours! My kids love this sidewalk paint!
Puffy Sidewalk Paint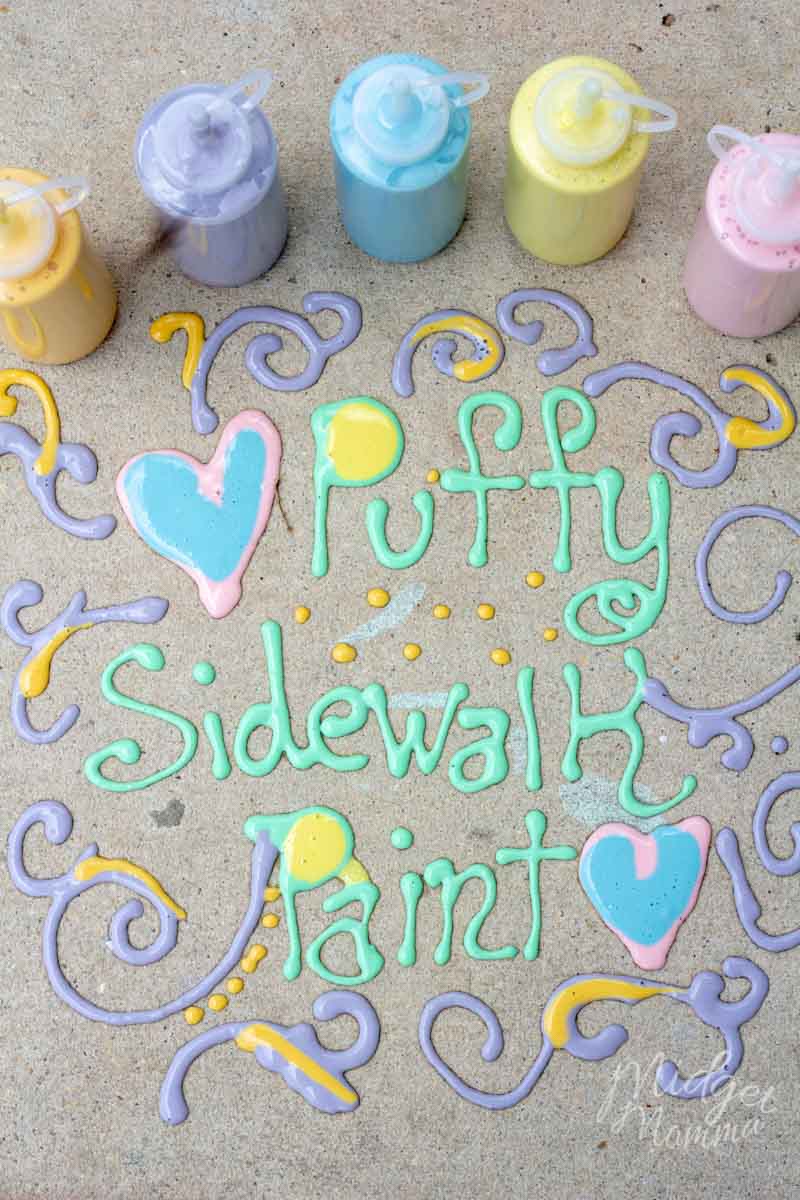 Sidewalk Paint
This puffy side walk paint, is a fun spin on the traditional coloring with side walk chalk that kids love, but even more fun! You probably already have all of the ingredients to make this diy side walk paint already in your pantry!
My kids had a blast creating splatter art pieces on the sidewalks with this sidewalk chalk. The fun thing about this diy outdoor chalk paint is that when the kids squirt it to draw with it, it stays puffy. Kids can easily draw or write with this liquid chalk paint and it looks so cool on the sidewalk or driveway!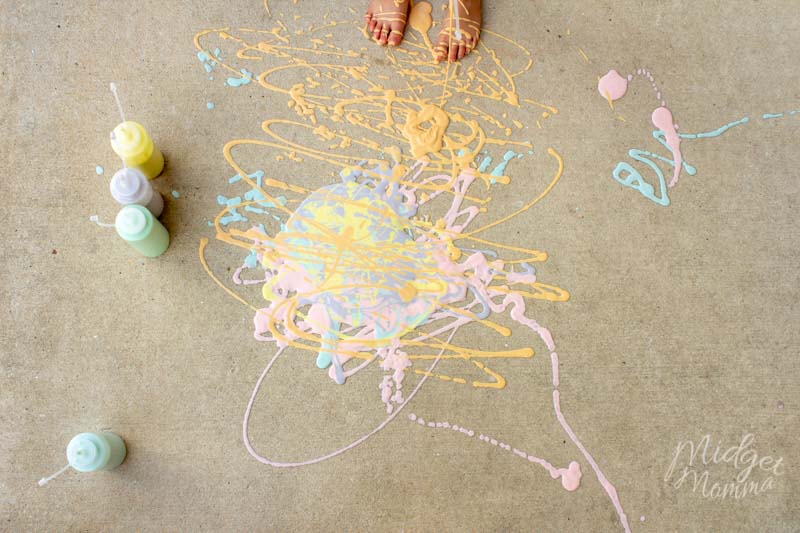 How to Color DIY Sidewalk Paint
When making homemade sidewalk paint you can use food coloring or washable paint.
It is really simple to make this homemade sidewalk chalk in any color that you want it to be! So you can let the kids be creative in making the colors they want to have.
How to wash off DIY Sidewalk Paint
If you are going to let it dry after the kids are done painting with sidewalk chalk, then I suggest using the washable paint as it is easier to clean then using food coloring. If you are going to wash it soon after having the kids color with it then use the food coloring.
To clean the paint off your driveway or sidewalk, just grab the garden hose and spray they artwork off. SUPER Easy! The kids also like to be the ones to clean off the driveway, because they then squirt each other with the hose.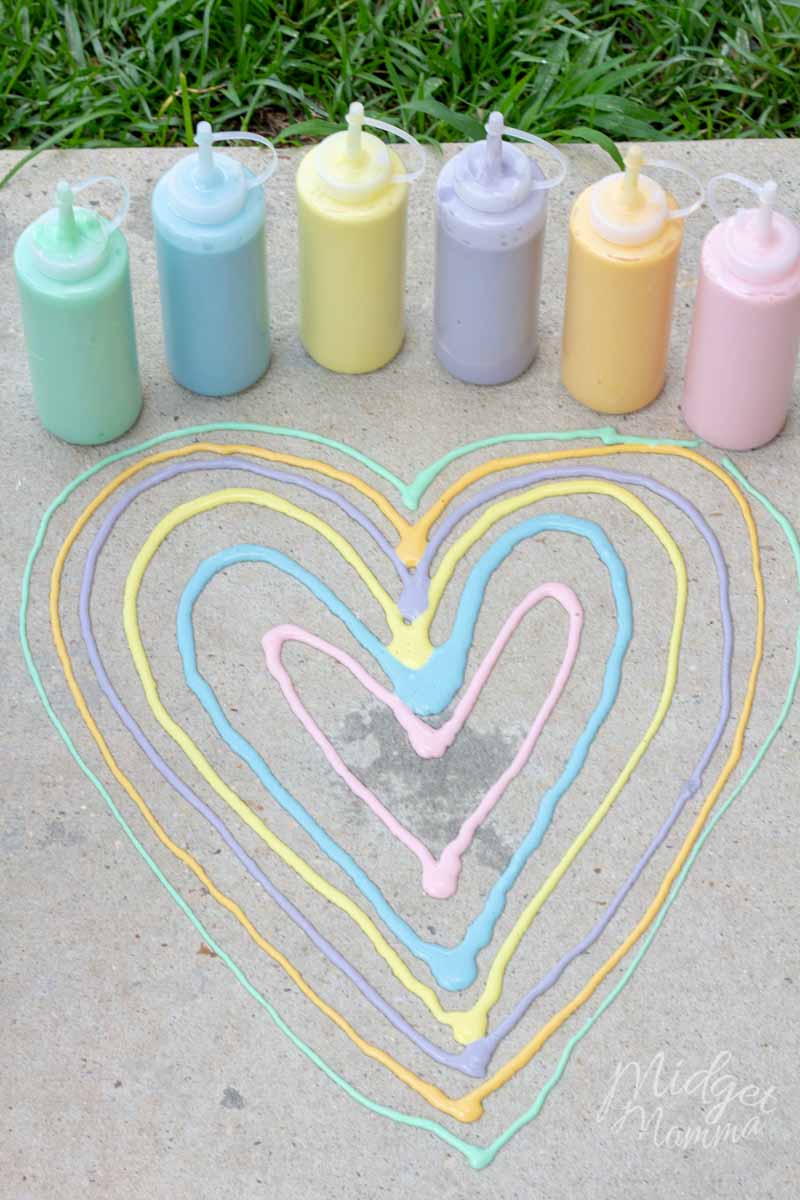 How to Make Sidewalk Chalk Paint
Follow the steps to make sidewalk puffy paint below, this recipe will make enough puffy paint for 1 bottle. If you want to have more then one bottle and color of sidewalk paint, then just double or triple the recipe and then split it into the bottles before adding the colors.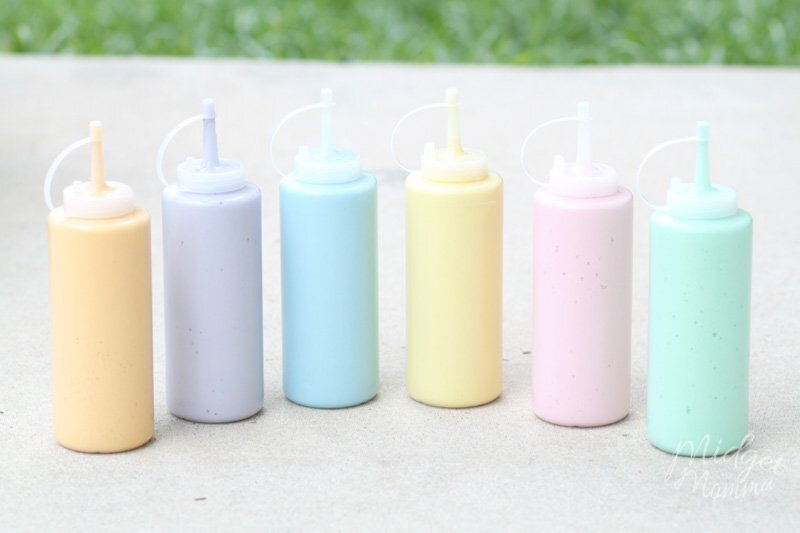 Supplies for Puffy Sidewalk Paint
Sidewalk Chalk Paint Ingredients
How to Make Sidewalk Chalk Paint
In a large mixing bowl stir together the flour and water until there are no lumps.
Stir in the dish soap to the flour mixture.
Add food coloring of your choice of color until the desired color is achieved.
Pour the mixture into your squeeze bottle.
Give the kids their new sidewalk paint and let them have fun!
Use up the paint on the same day you make it, this recipe doesn't save well… it will explode if you leave it closed.
If you are making multiple colors, make each color in a different bowl or one at a time and pour into the bottles and then make the next color.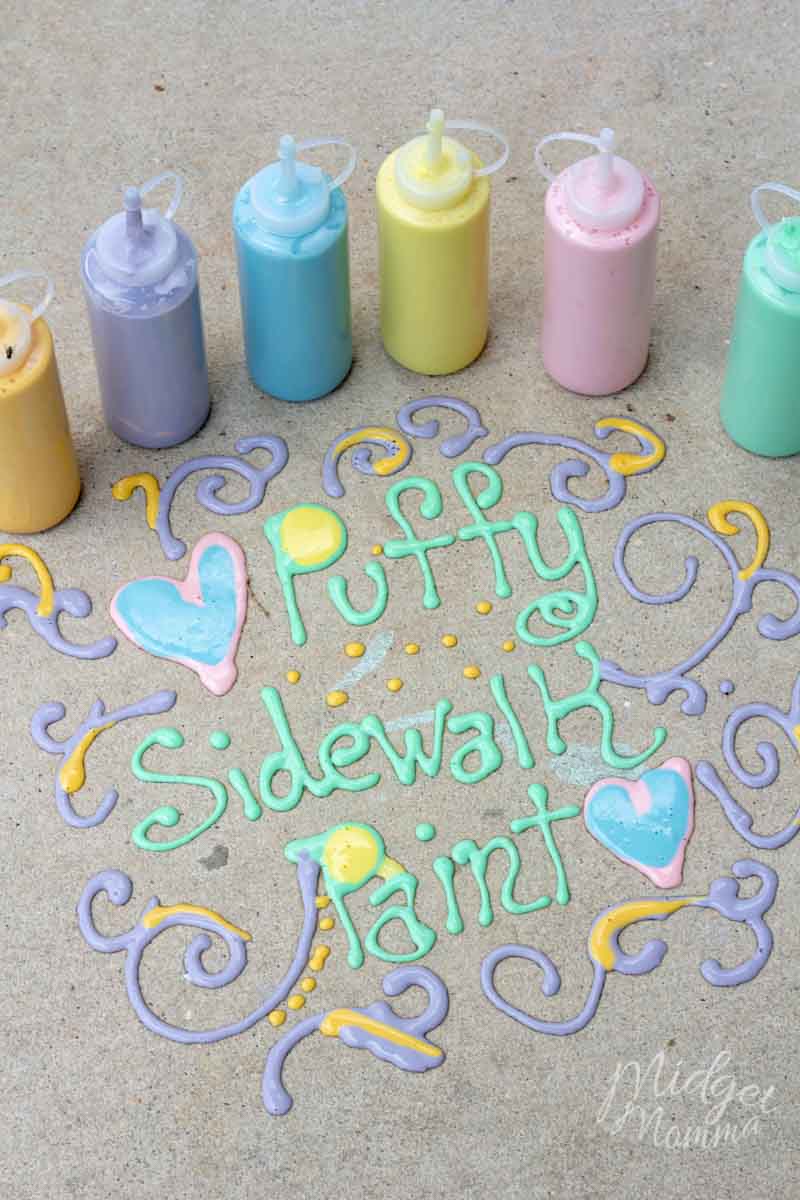 Once you make this fun side walk chalk paint, you won't want to buy the store bought sidewalk chalk again! This homemade sidewalk chalk is an awesome outdoor activity, that is so much more fun to play with then the traditional sidewalk chalk!
Need to clean up? Make sure you check out this deal where you can get a FREE Mrs. Meyer's 5 Piece gift set for FREE!
Looking for more fun for the kids? Check these out! 
Join the newsletter
Subscribe to get our latest content by email.
This post may contain affiliate links. Please read my disclosure policy here