One of the cutest characters in the new Toy Story 4 movie is Forky! This Toy Story 4 Movie craft is the perfect craft to do with the kids! This craft will have the kids making their own Forky!! With these easy step by step directions you will learn How to Make Forky!
We have been waiting 9 years now for Toy Story 4 to be made, of course that means that we need a craft to go along with the movie! The whole family is going to LOVE this DIY Forky!
How to Make Forky From Toy Story 4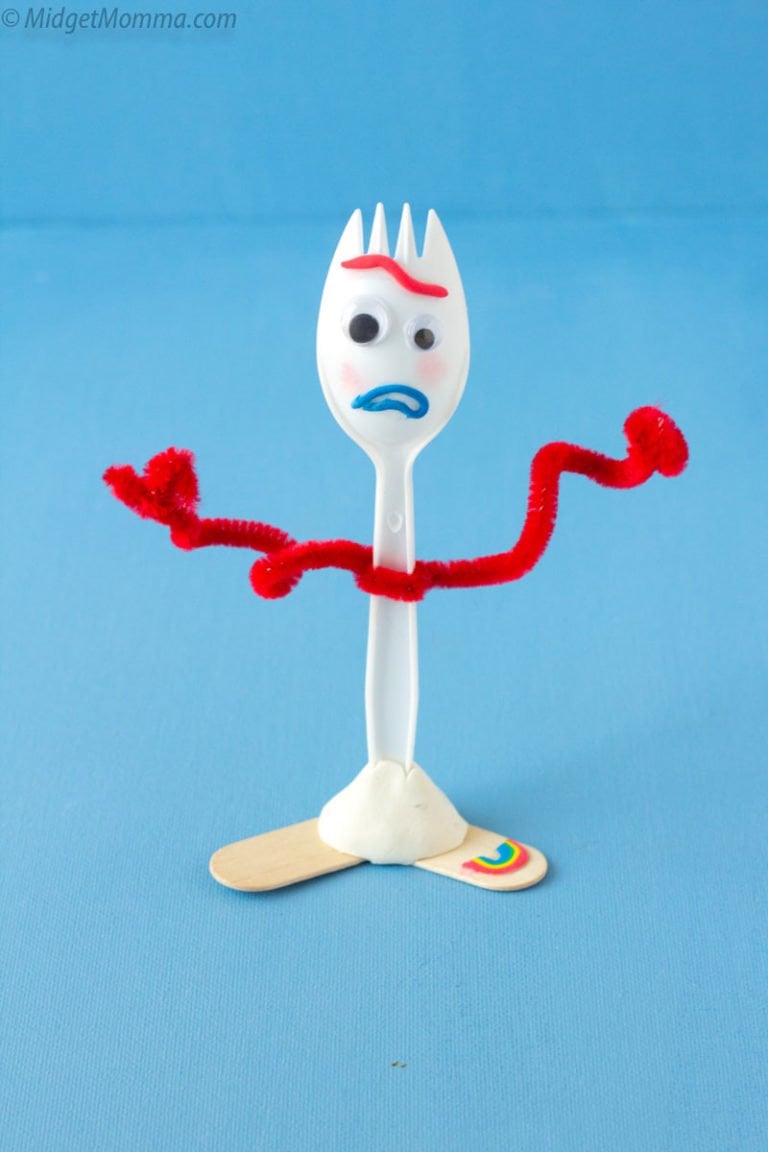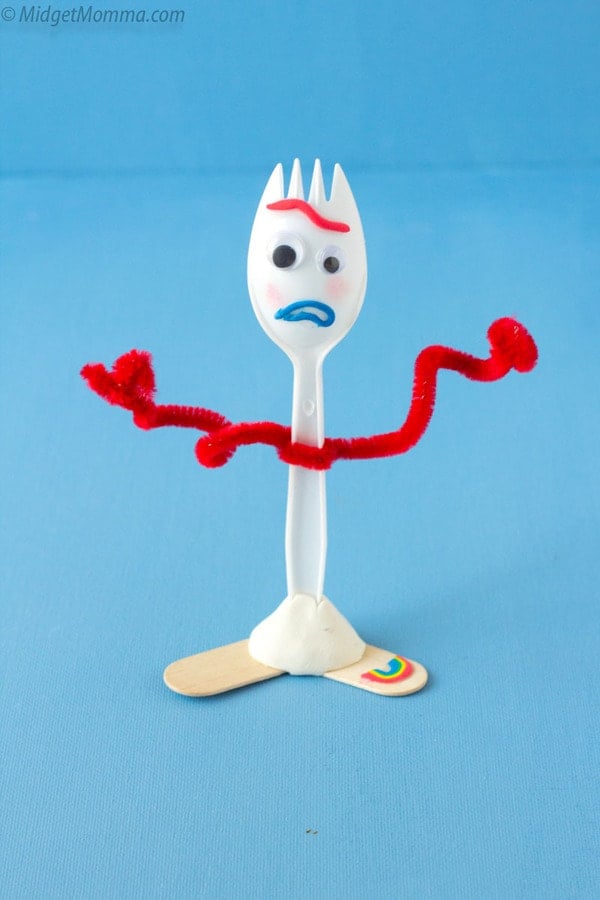 My daughter is in love with the Toy Story movies and came home one day from school with the idea to make her own Forky! Let me tell you, this Forky craft is so much fun for the Toy Story fans and I love that that this little girl got super creative all on her own.
We were at the movies the other day and she saw the new preview for Toy Story 4. She loved watching Bonny create this new friend Forky.
DIY Forky Toy Story 4 Craft
My daughter never likes school lunch besides pizza and corn dogs. Well, the next day after we saw the movie preview, she decided to get school lunch even though it wasn't something she would normally eat. When she came home I found out why.
She knew that all school lunches came with a spork! She also knew if she bought school lunch she would be able to make her own Forky. And so she had school lunch, kept her spork and came home to make her own Forky!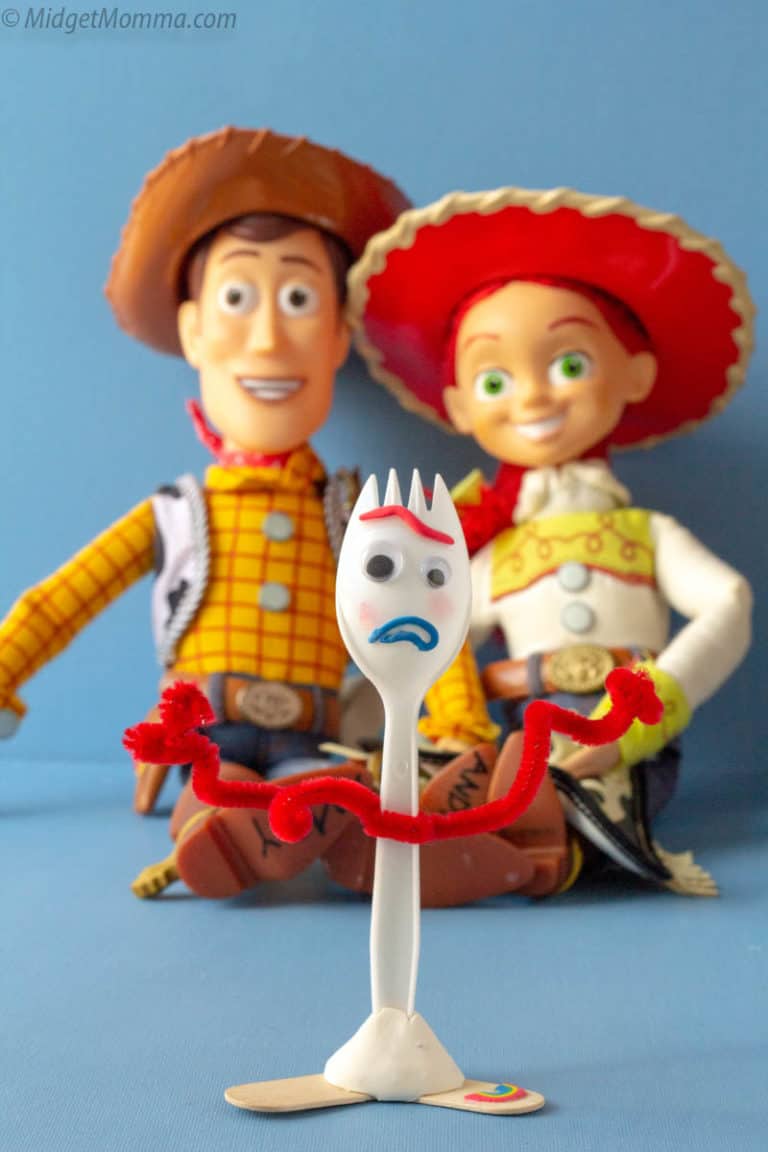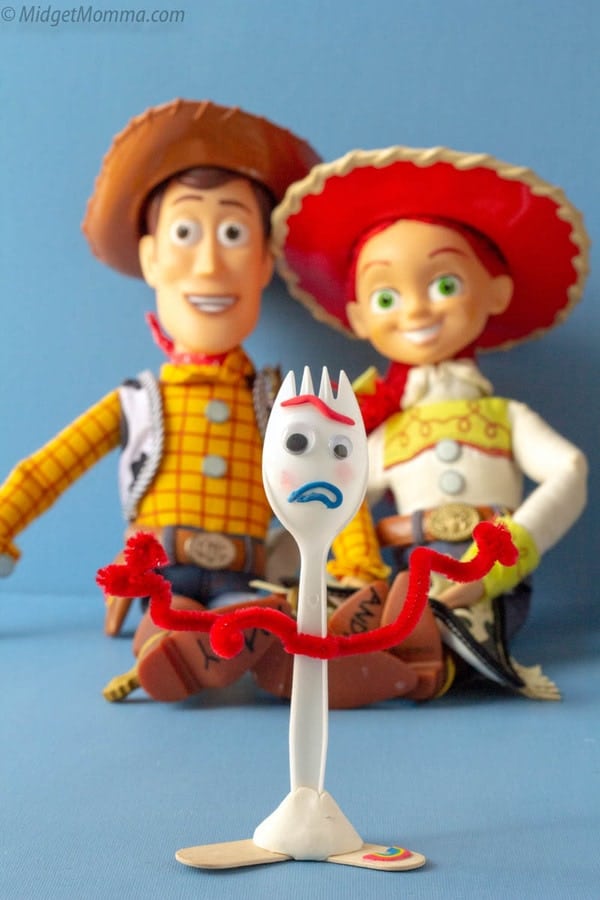 Who is Forky?
In Disney and Pixar's "Toy Story 4," Bonnie makes a new friend in kindergarten orientation—literally. When Forky—Bonnie's craft-project-turned-toydeclares himself trash and not a toy, Woody takes it upon himself to show Forky why he should embrace being a toy. Forky is the Toy Story Spork, who I have a feeling we will all be able to learn some good lessons from when we see the movie!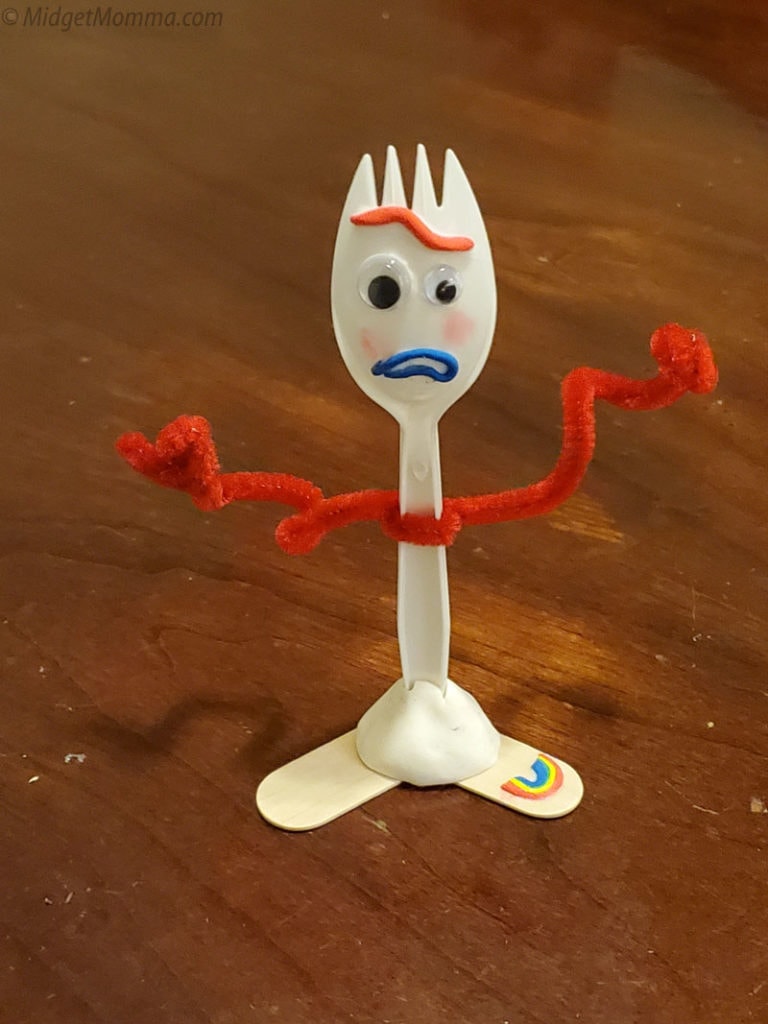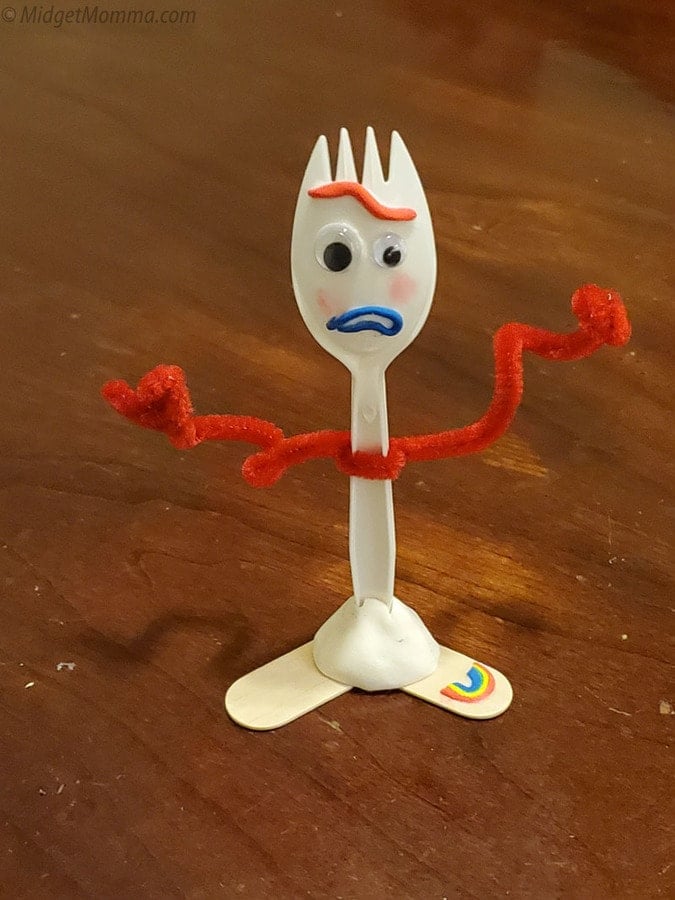 How to make Forky
It is important to remember that Forky doesn't have to be perfect. This Tpy Story character was made by a little kid. Also, people keep saying why isn't he called sporky instead of forky… once again he was created by a little kid!
These Forky directions will make you one forky, however if you are having multiple kids make this fun Toy Story craft then you will want to have enough supplies for each kid.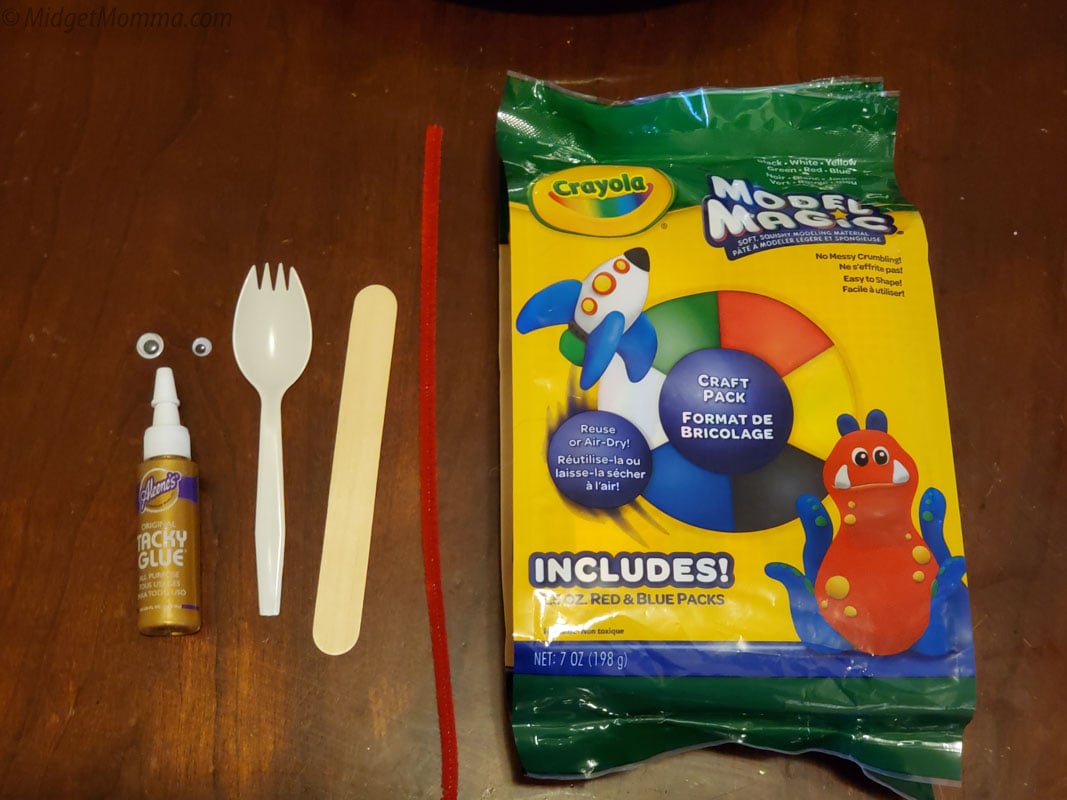 How to Make Forky Supplies
Now, my kids are lucky because I have a craft closet that is over flowing with just about any craft item you could want or need, so we had everything on hand already aside from the spork my daughter brought home from school. So once she had her spork, she headed to the craft closet and got out everything she wanted to use to make her own Forky.
How to Make Forky Instructions
Close to bottom of the spork, place 2 small dots using the red marker for Forky's Cheeks.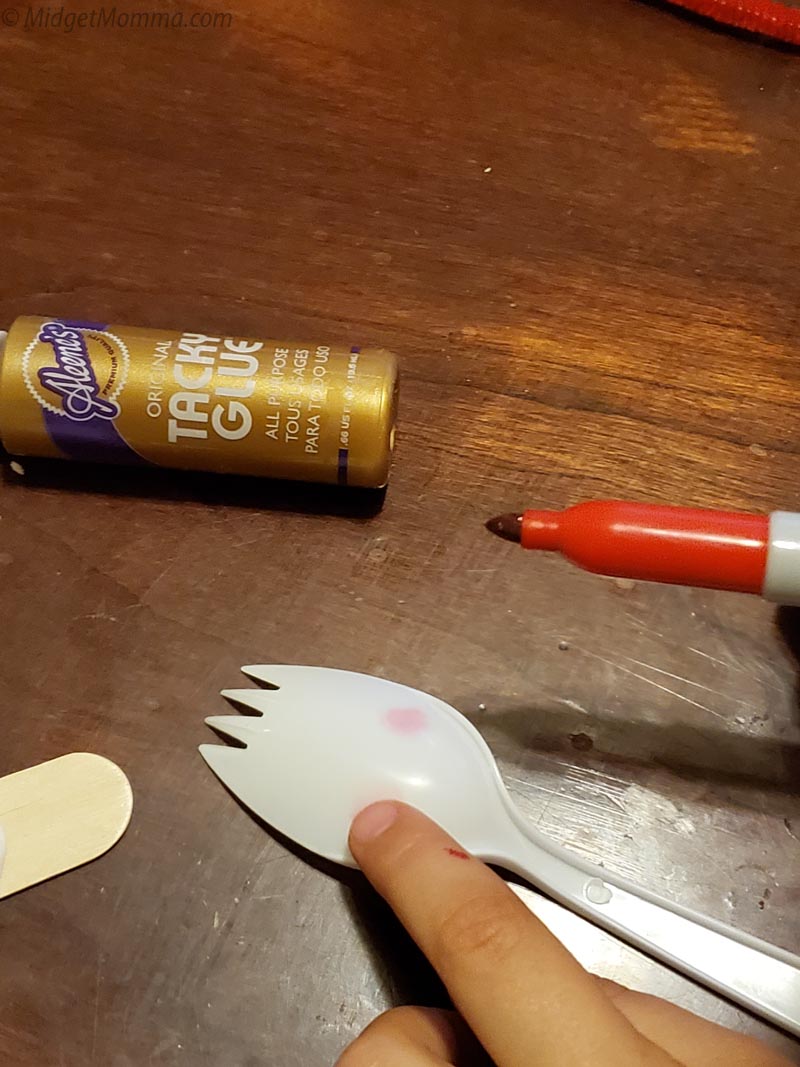 Cut the popsicle stick in two 2 inch pieces on an angle leaving the rounded angle.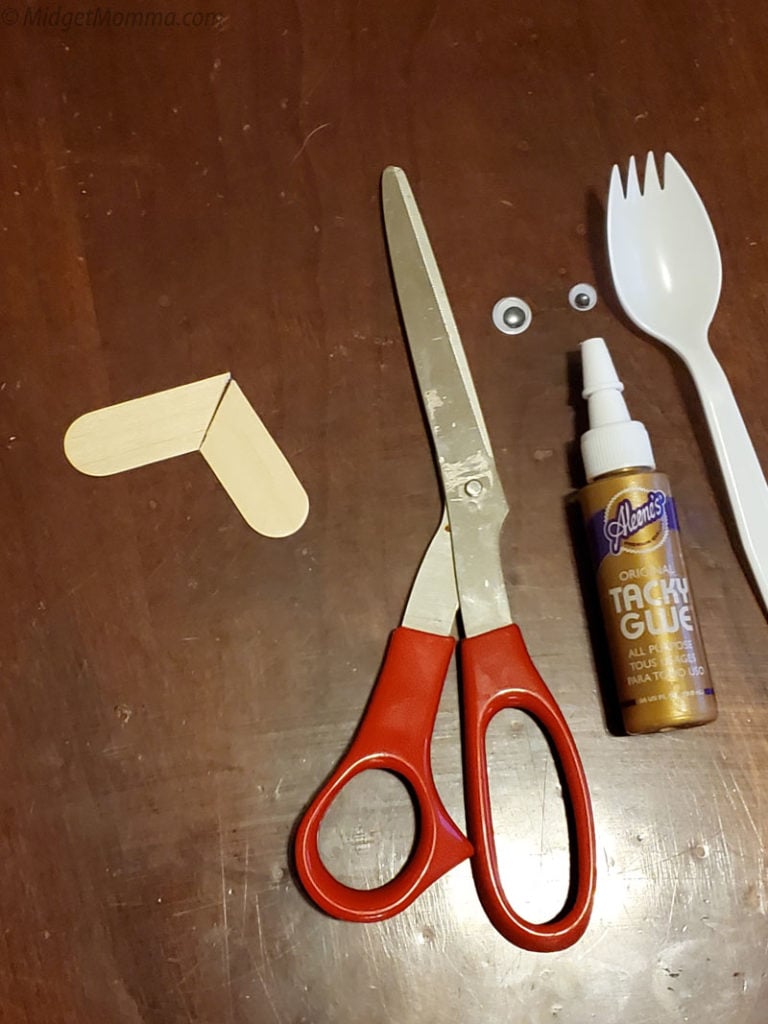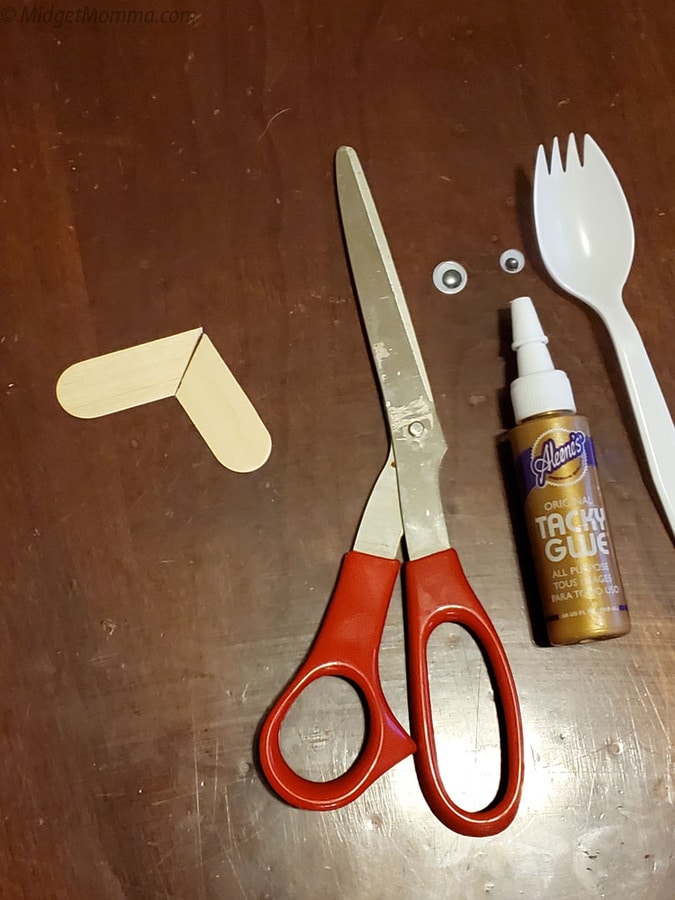 Place the sticks down on a flat surface so his legs are sticking out. Pinch off a small ball of white clay and place it onto the popsicle stick and mold it into a mound.
Stick the bottom of the spork into the clay making sure the back of the spork is out and press the clay around it to hold it up.
Roll a small pinch of red clay into a thin line. Place a thin line of glue where the eyebrow is supposed to be, right under the points on your spork. Cut the clay into the right size and attach it to the glue.
Add two dots of glue for the eyes under the eyebrows and attach the eyes. Put the larger eye on the left hand side and the smaller eye on the right hand side.
Roll a small pinch of blue clay into a thin line. Place a thin line of glue in the shape of forkys mouth under his eyes. Cut the clay into the right size and attach it to the glue.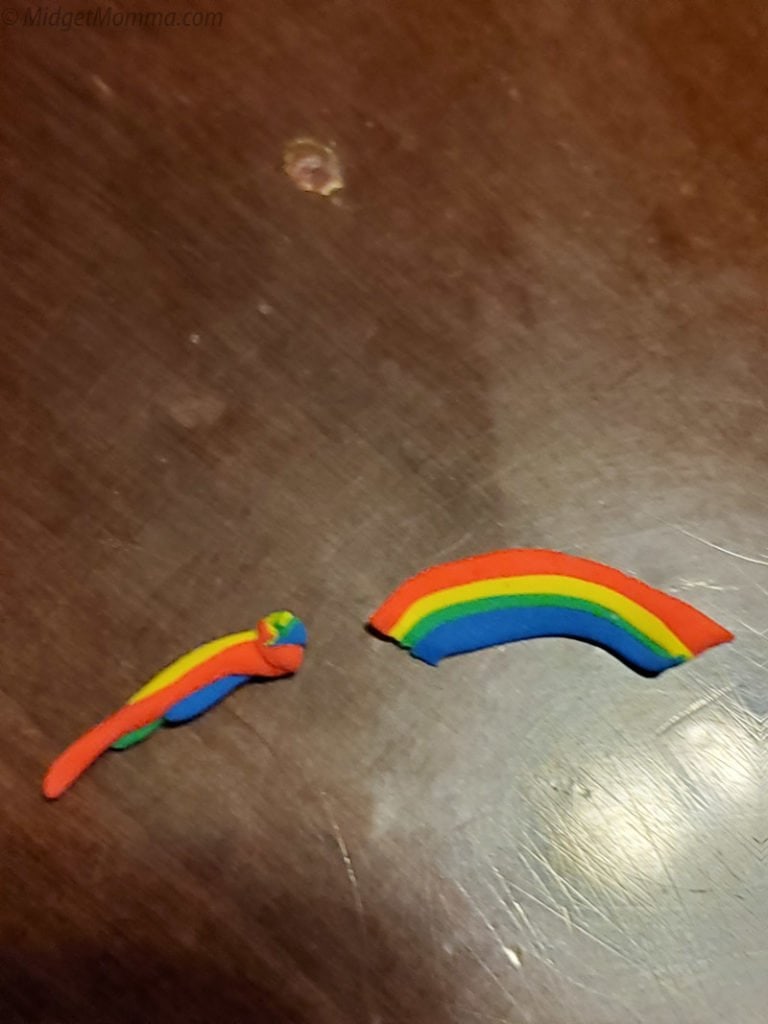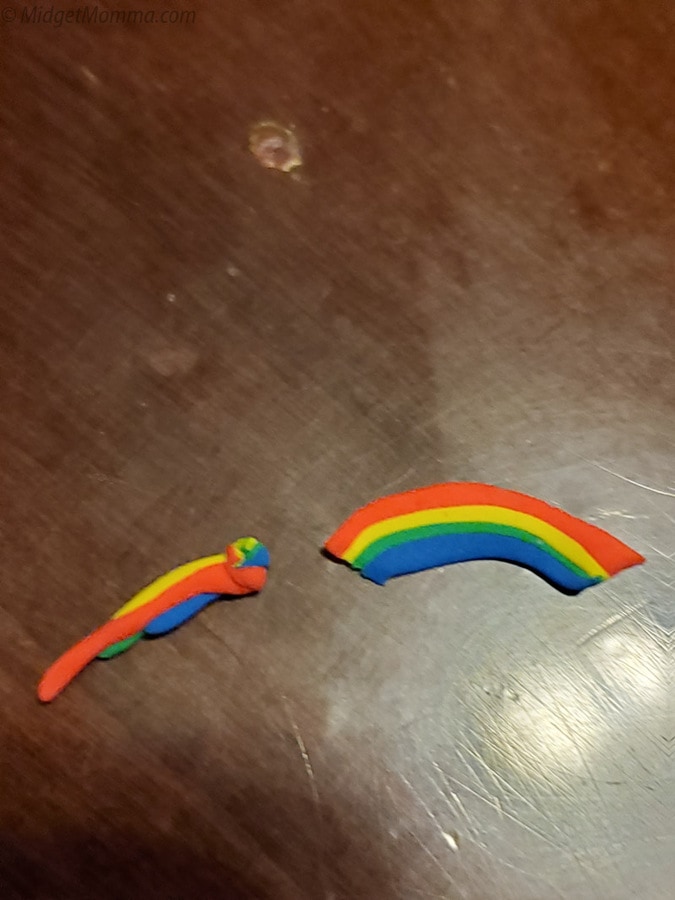 Using the clay make a small rainbow that will fit on the one side of your popsicle stick legs. Glue the rainbow to the popsicle stick on the right side.
Place a small amount of glue where his arms belong. Twist the red pipe cleaner around the body and twist the arms and the ends to make little hands.
Allow the clay to dry overnight.
If the spork gets loose from the clay you can add some glue into the hole and place it back in to make it more sturdy.
Check out the Toy Story 4 Movie Trailer!
ABOUT "TOY STORY 4":

Woody  has always been confident about his place in the world, and that his priority is taking care of his kid, whether that's Andy or Bonnie. So, when Bonnie's beloved new craft-project-turned-toy, Forky,  declares himself as "trash" and not a toy, Woody takes it upon himself to show Forky why he should embrace being a toy. But when Bonnie takes the whole gang on her family's road trip excursion, Woody ends up on an unexpected detour that includes a reunion with his long-lost friend Bo Peep. After years of being on her own, Bo's adventurous spirit and life on the road belie her delicate porcelain exterior. As Woody and Bo realize they're worlds apart when it comes to life as a toy, they soon come to find that's the least of their worries.

"Toy Story 4" ventures to U.S. theaters on June 21, 2019.
More Disney Fun!
Disney Descendants 3 – comes to the Disney Channel on August 2nd!