This Creamy Steak Bites and cauliflower Skillet is an easy low carb steak and veggies recipe with an amazing creamy sauce all cooked in one skillet! If you are looking for an amazing one pan steak bites recipe this one is amazing I promise!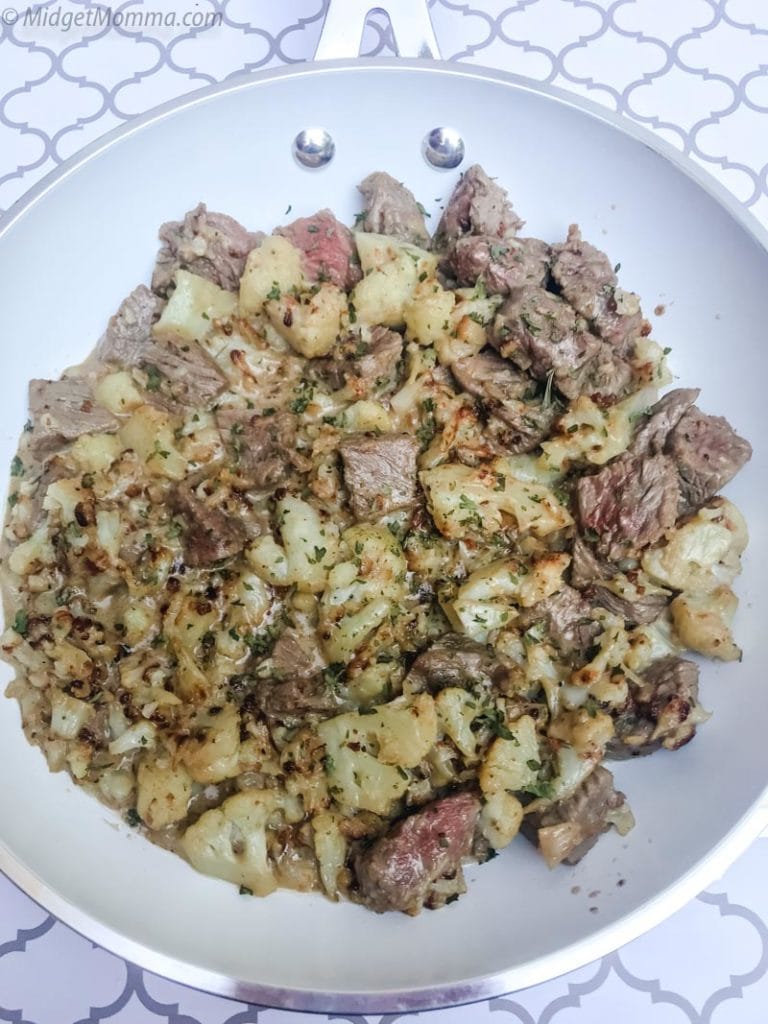 Creamy Steak Bites and Cauliflower Skillet
Steak is my favorite meat, seriously I could eat it daily and never get sick of it! I wanted steak, but was not in the mood to grill a steak. To be honest it was 100% because it was hot outside and I did not want to leave the comfort of my air conditioning.
Steak was not on the keto meal plan at all, but I found a great deal on steak so I grabbed it. I figured I would just change up the meal plan for the week when the time came.
However I now have an amazing keto steak recipe that I can make inside when it is to dang hot to go outside! Plus it is a recipe everyone in the house loved, so it is a total winner!
I always have cauliflower in the fridge. Cauliflower is my go to low carb veggie because it is so easy to make roasted cauliflower and that is my go to veggie recipe. Normally when I am having beef and cauliflower I am cooking a steak on the grill and cauliflower as a side dish, however I was not going outside in the heat to use the grill.
Low Carb Steak Recipes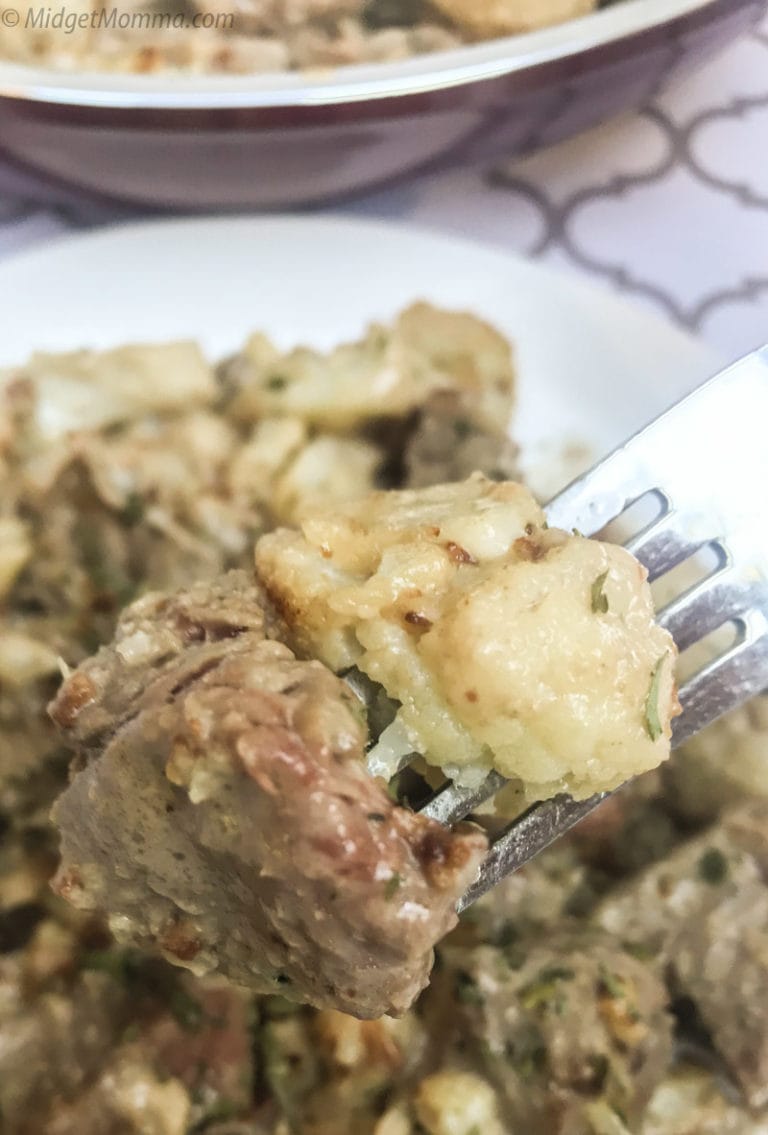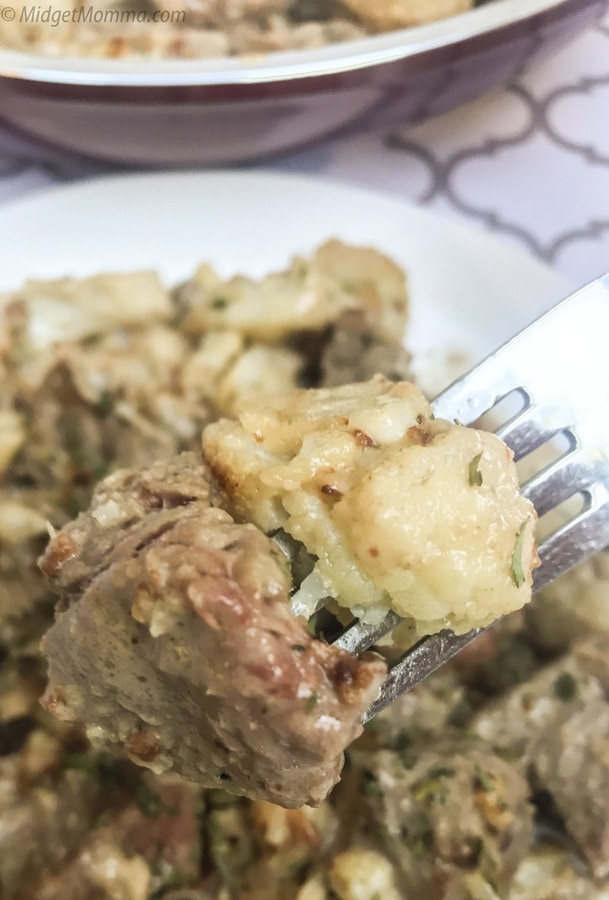 Coming up with an amazing dinner!
I kicked everyone out of my kitchen. I told them I was getting creative and they would find out what was for dinner when I figured it out myself.
From my kitchen for dinner came this amazing Creamy Steak Bites and cauliflower Skillet Recipe. Everyone cleared their plates! Everyone asked for seconds, and then there was nothing left after everyone was done eating!
Next time I will be make a double batch of this so I can reheat it for lunch the next day!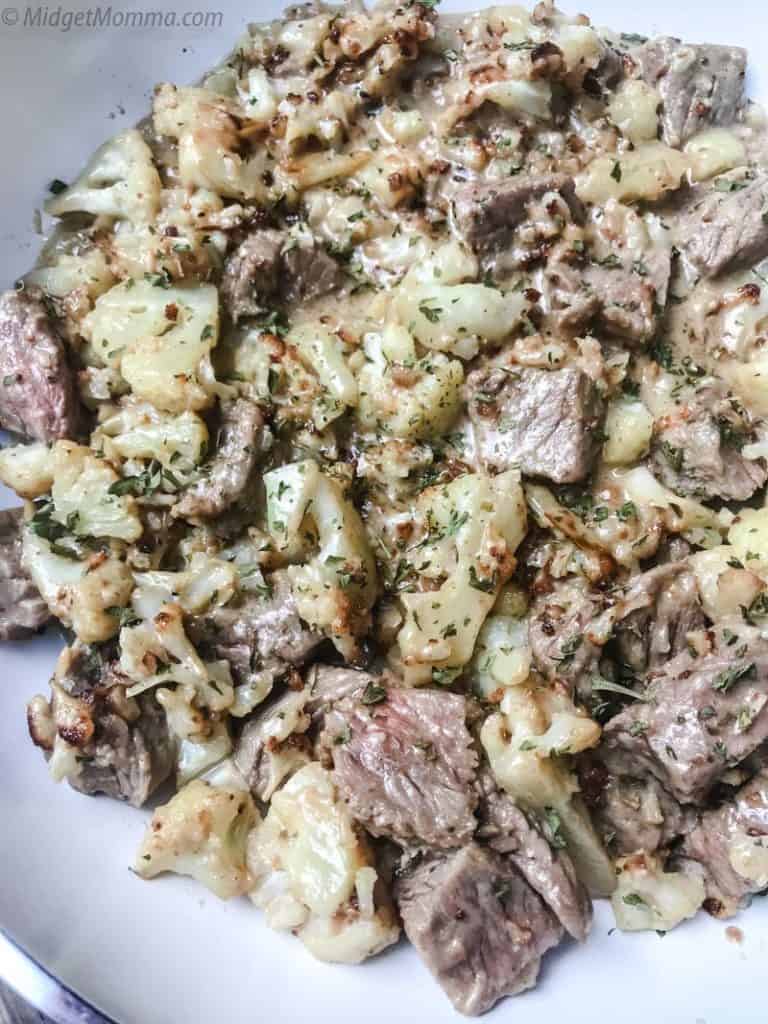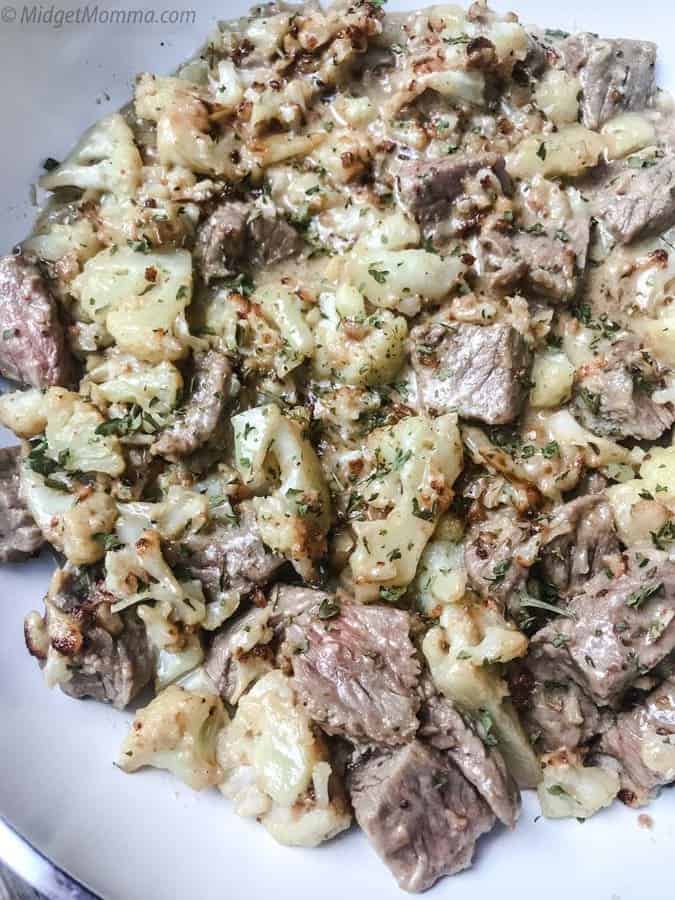 An Amazing Steak Bites Recipe!
I knew I wanted something creamy but not cheese flavors like my garlic cream sauce, which is my go to sauce for meats and zoodles.
The two main ingredients I had sitting in front of me were steak and cauliflower and I was going to make something AMAZING with them. That was the plan anyway, and thankfully the dish came out even better then I had expected!
What to Serve with Steak Bites
Personally I just serve a salad with it. It has veggies and meat all in one dish already. If you are wanting to make other sides, Parmesan Asparagus would be a good one. Some other great sides would be,
What Type of Steak to use
I used Sirloin steak, however you can pick your favorite cut of steak and use that as well with this recipe.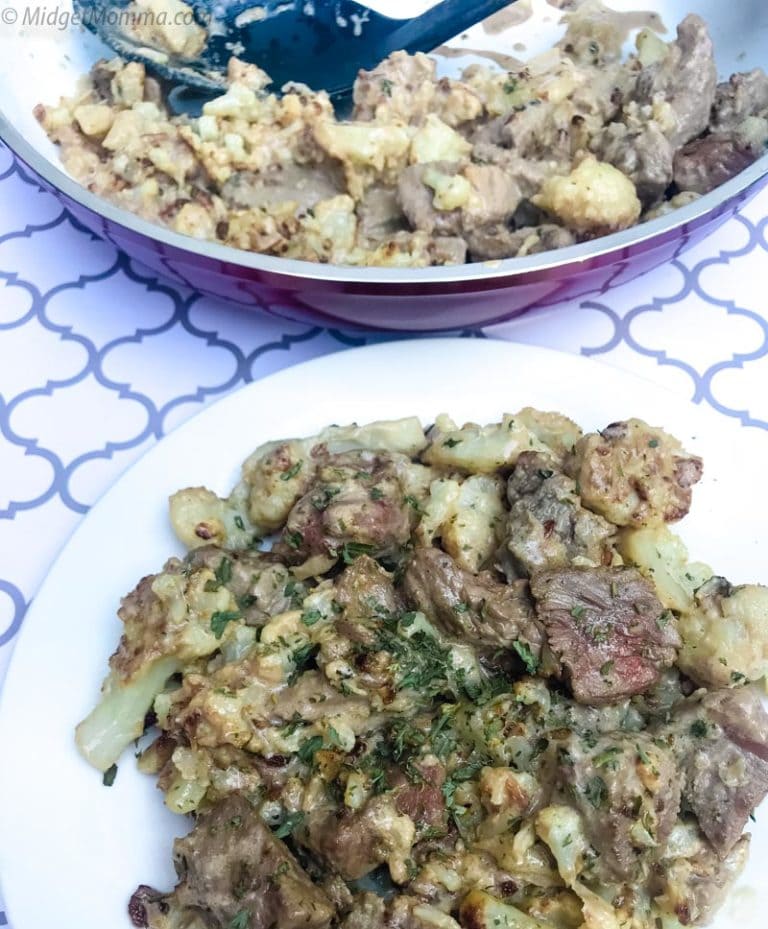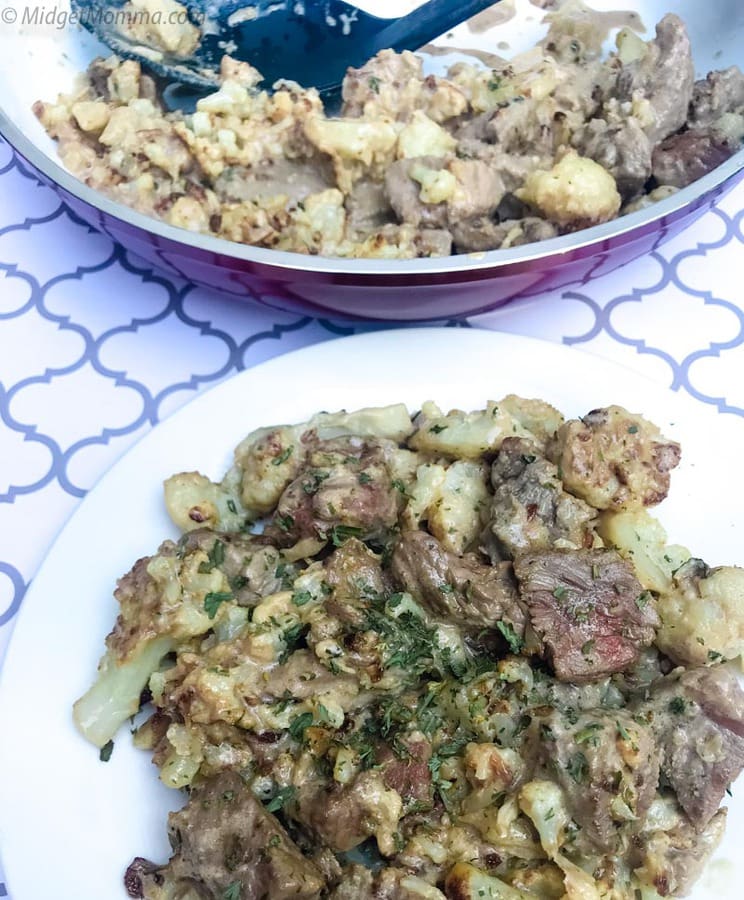 Steak Bites and Cauliflower Ingredients
Butter
Heavy cream
Cauliflower
steak – I used sirloin but you can use just about any cut of steak
garlic powder
salt
black pepper
Parsley (optional)

How to make Creamy Steak Bites and cauliflower Skillet
Making this low carb steak bites recipe is super easy! All you are going to do is cook the cauliflower with butter, garlic, salt and better, then add in the cream and steak and cook till the steak is at your prefered doneness.
When it comes to cooking your steak at the end of this recipe, you will cook it to your desired doneness. I personally like my steak rare, so it was about 3-4 minutes cooking until my steak was done. If you like your steak well done you will want to extend the cook time by a few minutes until the steak bites are done to the way you like your steak.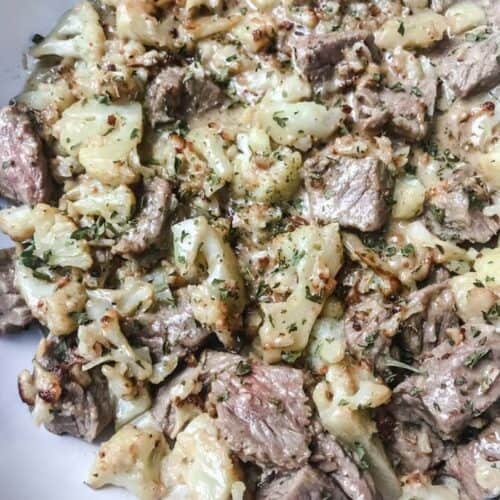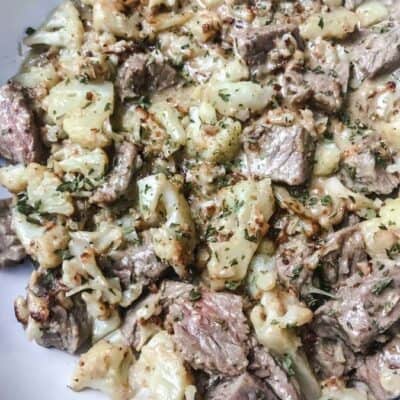 Creamy Steak Bites and cauliflower Skillet
This Creamy Steak Bites and cauliflower Skillet is an easy low carb steak and veggies recipe with an amazing creamy sauce all cooked in one skillet!
Print
Pin
Rate
Servings: 6 people
Ingredients
8 tablespoons butter
3/4 cup heavy cream
6 cups chopped cauliflower
2 pounds steak
2 teaspoon garlic powder
1/4 teaspoon salt
1/4 teaspoon pepper
Instructions
In a large skillet over medium high heat, add your butter and let it melt part way.

While butter is melting, wash the cauliflower and cut into bite sized pieces.

Once butter is melted part way, add in your cauliflower and stir.

Add in garlic powder, salt and pepper and mix well.

Cook until the cauliflower is tender and starts to get a little bit of the brown coloring from being cooked with butter. While cauliflower is cooking, cut steak into bite sized pieces.

Once cauliflower is tender add in your steak bites and heavy cream and mix well. Cook until your steak is your desired doneness.

Plate and garnish with parsley if desired.
Nutrition
Calories: 579kcal | Carbohydrates: 7g | Protein: 33g | Fat: 48g | Saturated Fat: 26g | Cholesterol: 173mg | Sodium: 351mg | Potassium: 738mg | Fiber: 2g | Sugar: 2g | Vitamin A: 925IU | Vitamin C: 48.3mg | Calcium: 56mg | Iron: 3.1mg
More Low Carb Recipes you will Love!