Want to make a special Valentine's Day breakfast? Make these Valentine's Day Heart Shaped Pancakes that are made with the best homemade pancake mix and shaped like cute hearts. These Valentine's Day pancakes are the perfect Valentine's Day breakfast that the kids will love.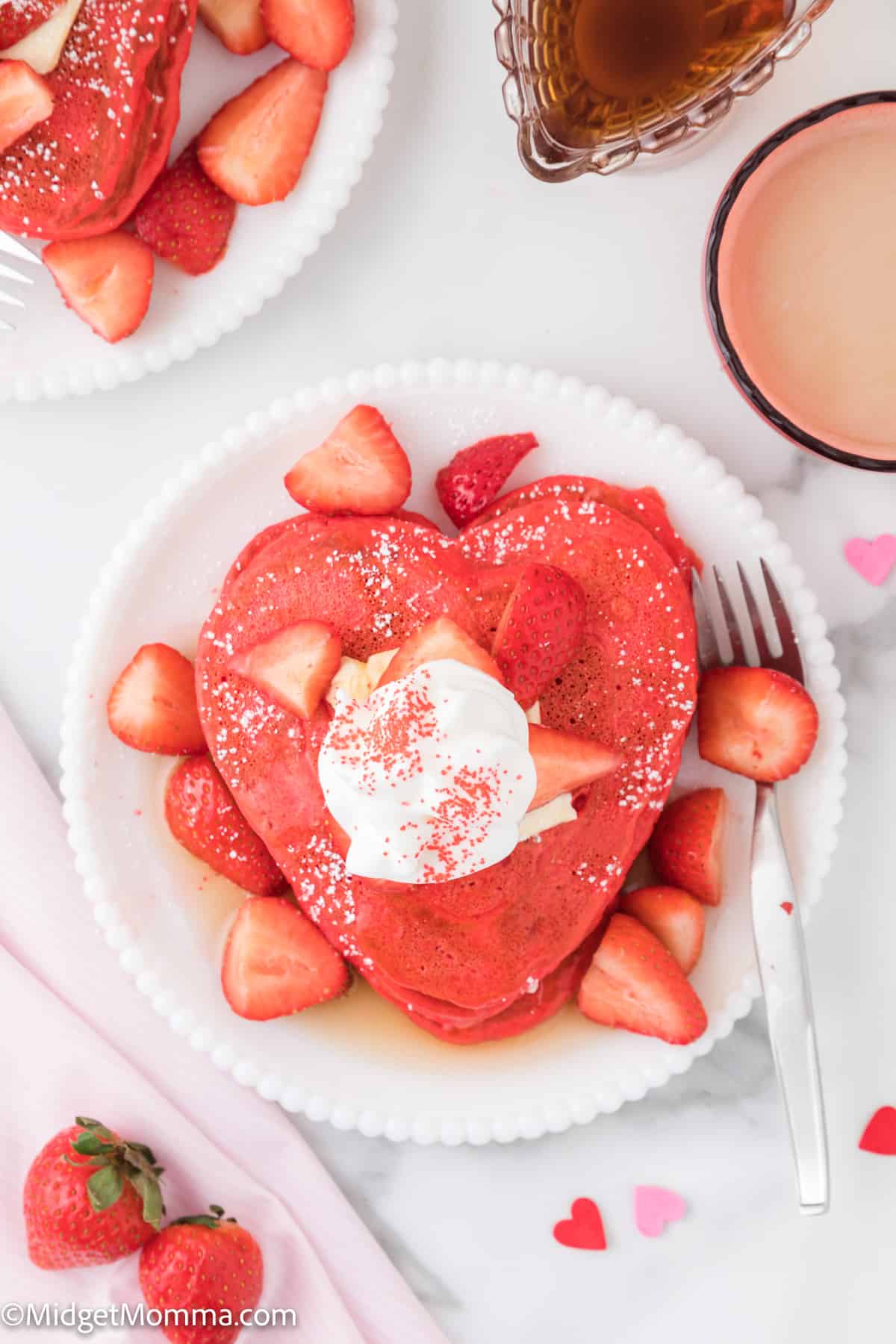 Valentine's Day Heart Shaped Pancakes
It is not a secret that I am a big fan of making every holiday fun and special for the kids. They are only kids for a short time so I want to make it as fun as I can for them. Yes I may be a little bit "extra" when it comes to celebrating holiday but I am perfectly ok with that and I will enjoy having all te holiday fun with the kids that I can.
This year, along with many other years I plan out breakfast and make Valentine's Day Heart Shaped Pancakes. They are made with our favorite homemade pancake batter, colored red (sometimes pink) and then cooked in heart shapes.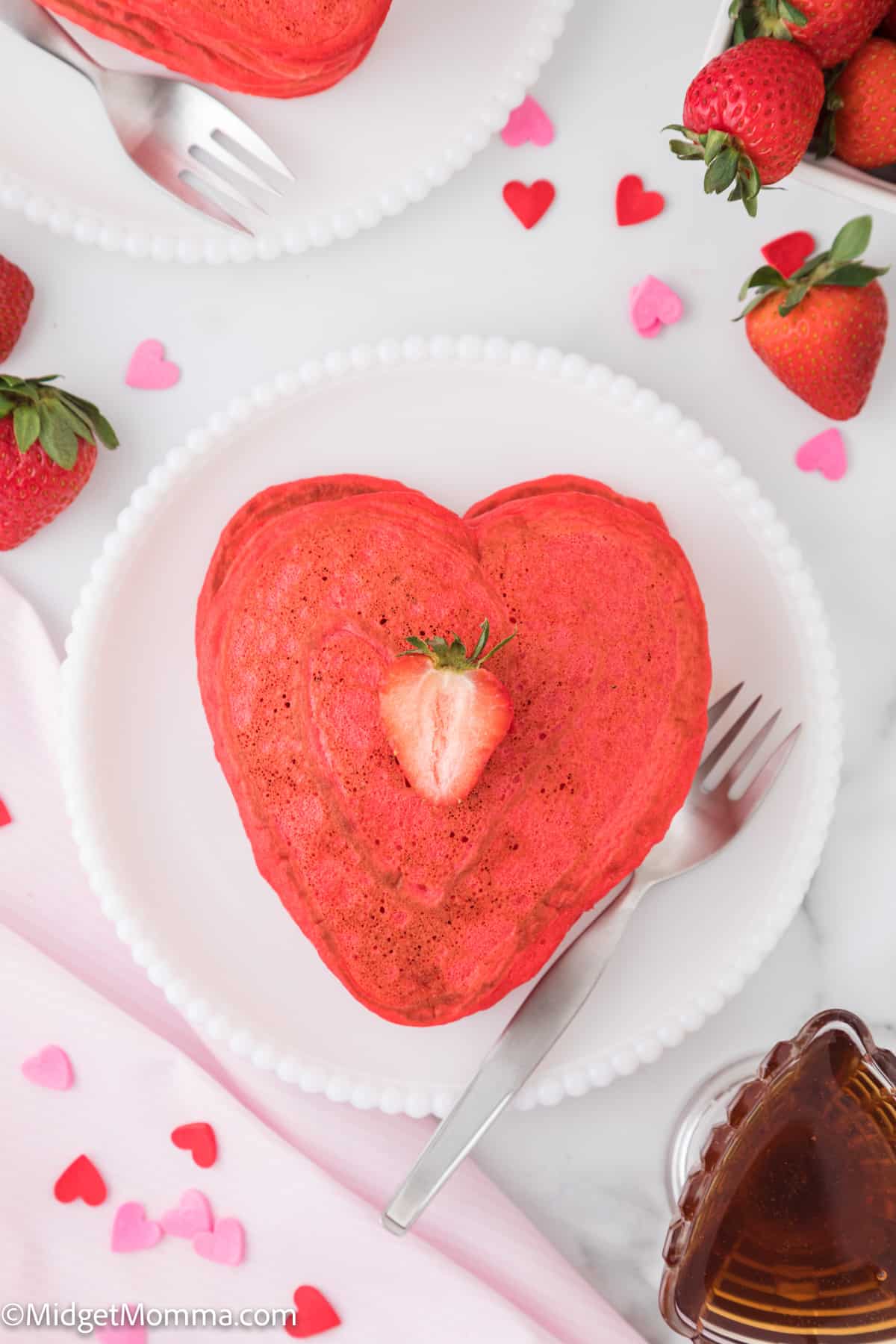 Served with some heart shaped bacon, fruit, and heart shaped hot chocolate bombs, it is the perfect Valentine's Day breakfast.
I like to make things fun for holidays so I like to serve these heart pancakes with some sliced fruit and homemade whipped cream or sliced fruit and powdered sugar.
Easy Valentine's Day Recipes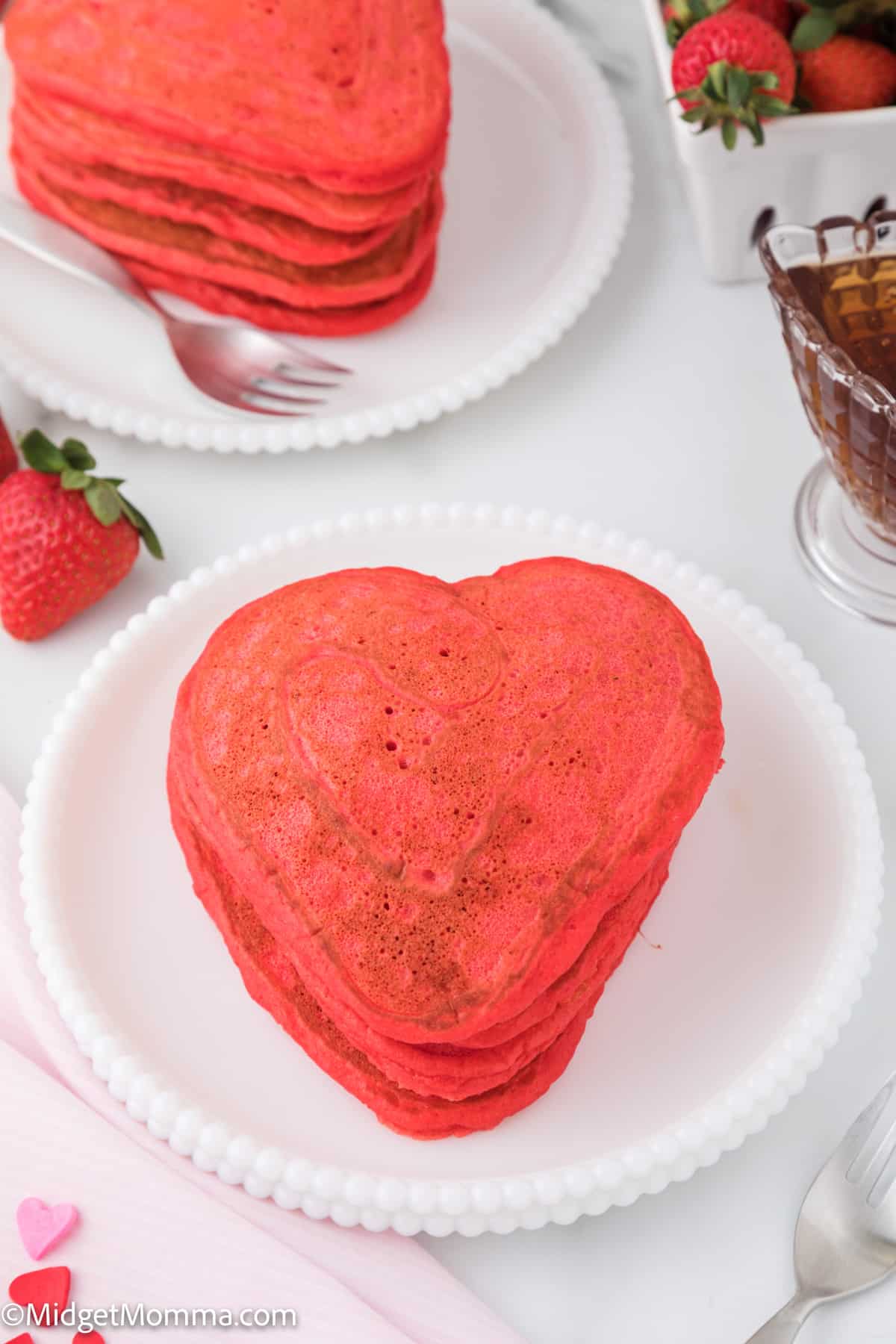 Tips for Making Heart Shaped Pancakes
Flip pancakes gently and look for bubbles to form before flipping them.
Cook on low heat for fluffy, golden brown evenly cooked pancakes.
Keep them small. Make smaller pancakes for easier flipping. They'll cook faster and be less likely to fall apart.
The consistency of the batter should be chunky. You do not want overly smooth pancake mix as it will not cook right in the pan.
Use a pancake batter squirter to shape the heart shaped pancakes.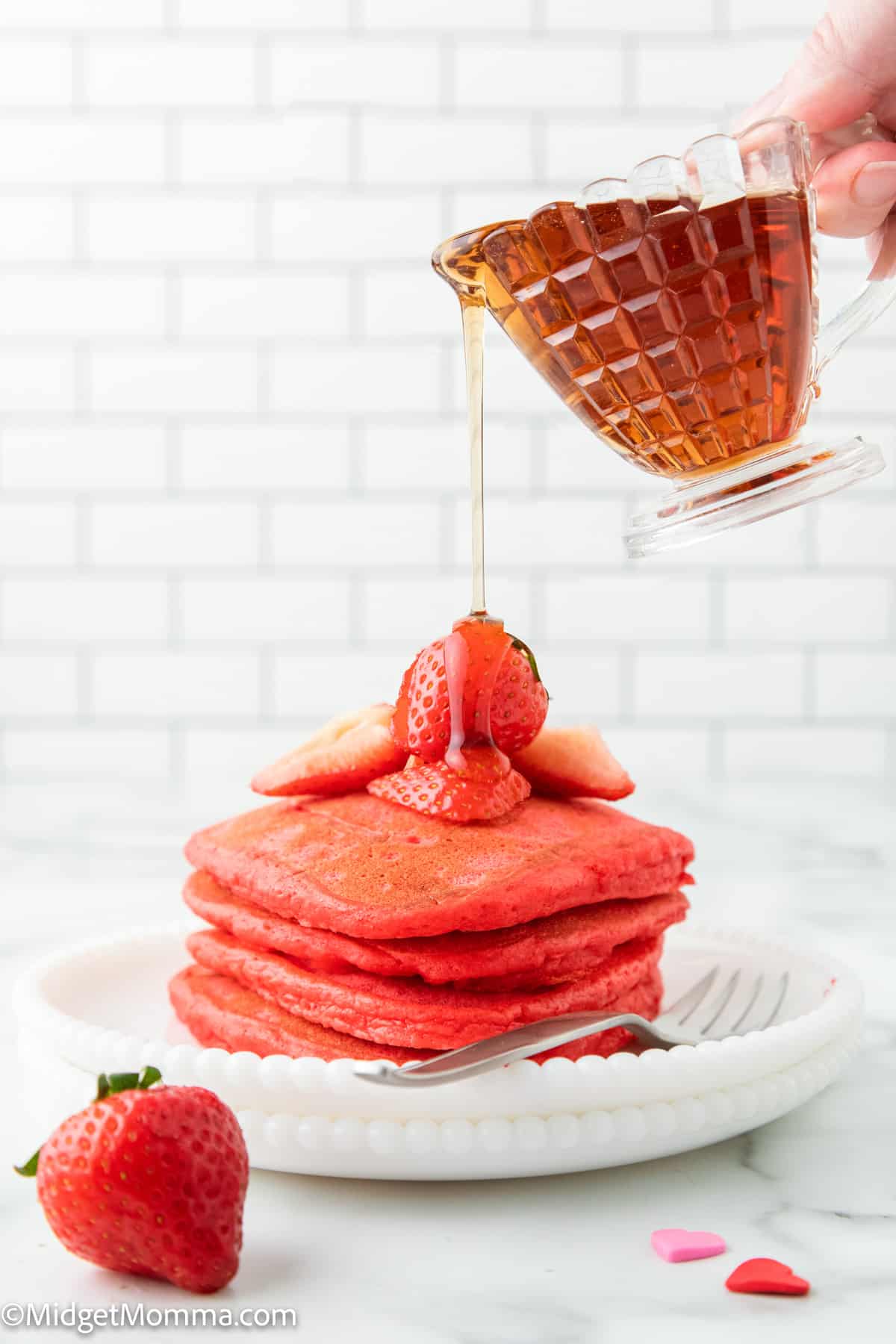 How to Cook and Flip Homemade Pancakes
Heat a cast iron pan, nonstick frying pan, or griddle over medium heat. Repeat with dropping more batter into the pan, leaving at least an inch or two between pancakes.
Let the pancakes cook on the first side until the underside is fairly golden-brown (lift a corner and peek), and until the edges are starting to look set and bubble but the middle is still loose like barely set Jell-O.
Gently work a thin, flat spatula about halfway under the pancake, then lift until the unsupported half of the pancake is just barely lifted off the skillet.
Lay the pancake back down on the skillet on its other side. Some of the loose batter will probably spill onto the skillet as you do this; just be sure to lay the pancake on top of the spill.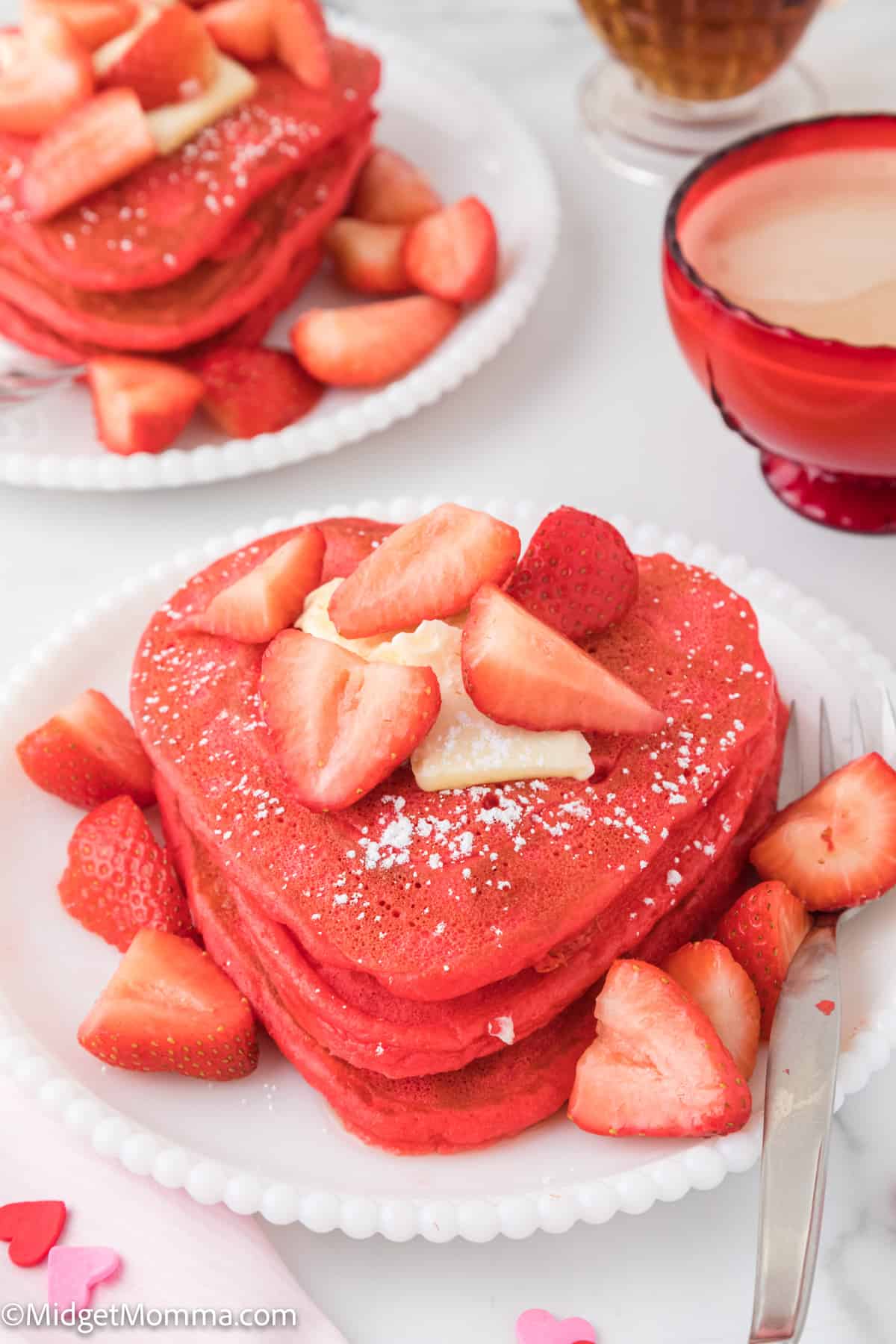 How Long Do Pancakes last?
You can keep them in the fridge for up to 3 days or freeze them for up to 3 months.
Can you refrigerate Heart Shaped Pancakes?
Yes, you can refrigerate pancakes. They will keep in the fridge for 3-4 days after being made as long as they are stored in an airtight container.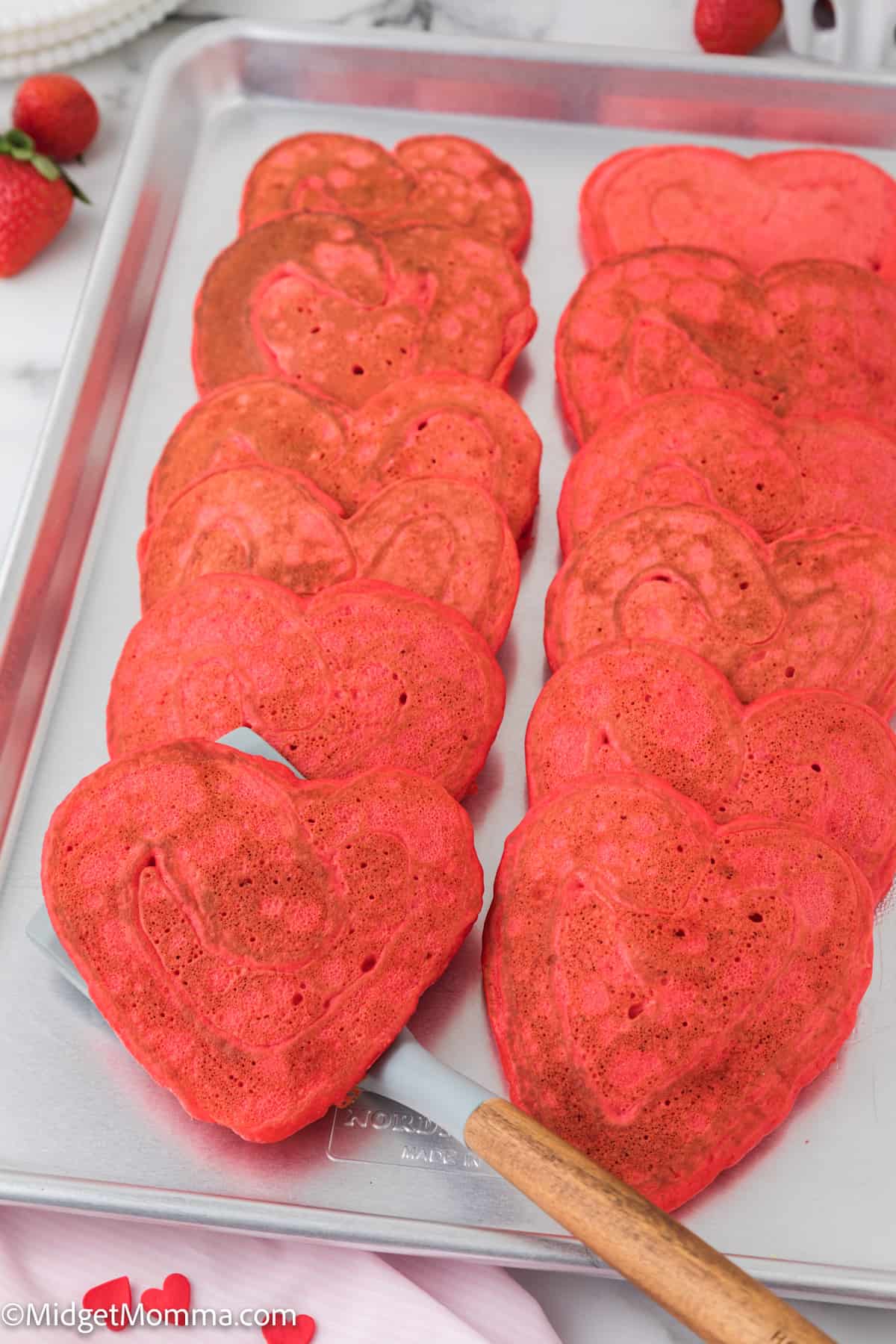 How to Freeze Heart Shaped Pancakes
I like to make large batches of pancakes at a time to make breakfasts during the busy week even easier.
Freezing pancakes is so easy. Just cook your pancakes and allow them to cool. Once they are cooled stack into piles of serving size you normally make. We do 3 pancakes per pile. Wrap each pile with plastic wrap and then put all wrapped piles of pancakes into a gallon size freezer bag and place in the freezer.
How to Reheat Frozen Heart Shaped Pancakes
To reheat the homemade pancakes, remove a frozen pancake stack and heat in the microwave in the plastic wrap for 30-45 seconds depending on your microwave.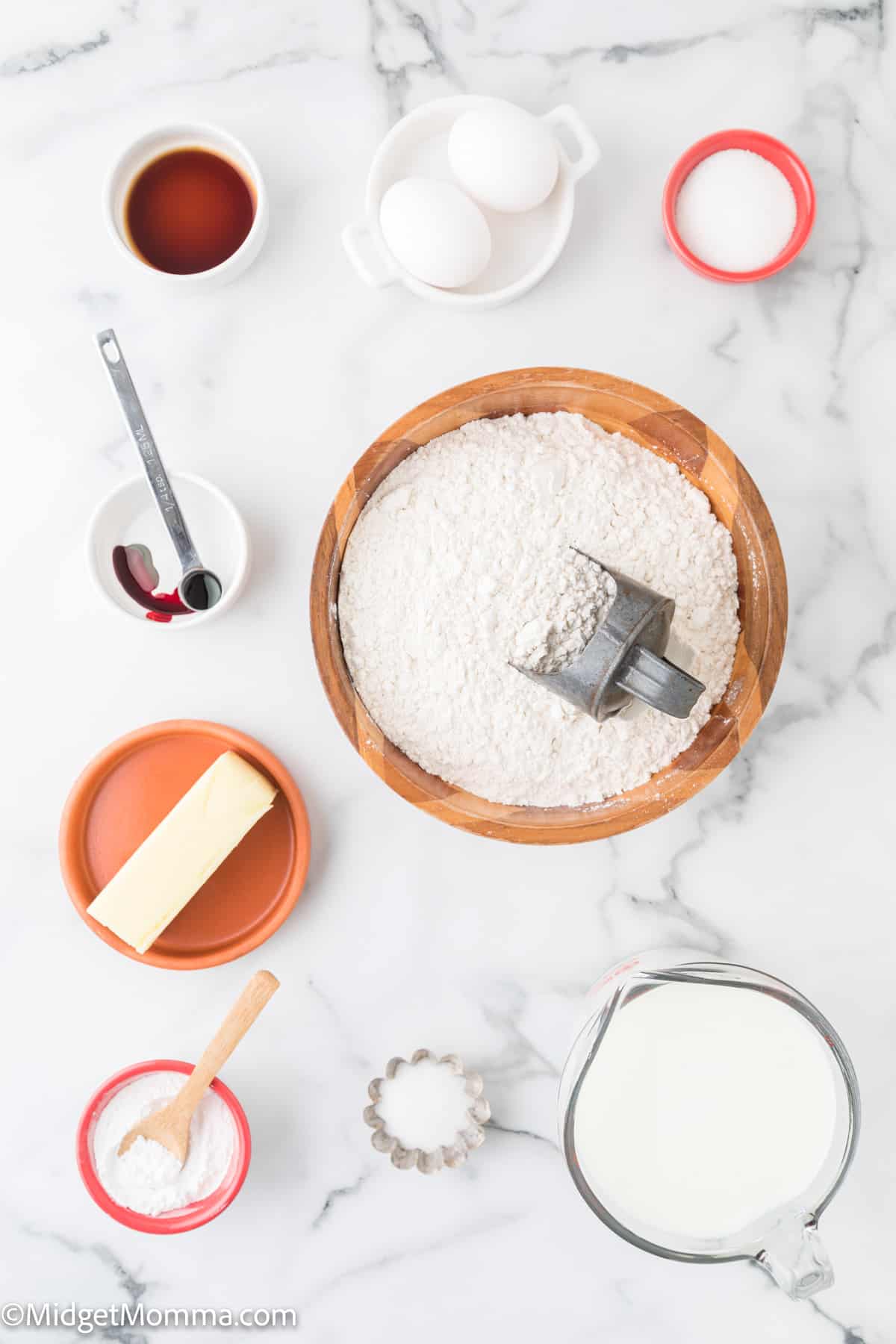 Heart Shaped Pancakes Ingredients
How to Make Heart Shaped Pancakes
Whisk the flour, baking powder, salt and sugar together in a large bowl.
Combine the milk and egg together in a medium sized bowl.
Add the milk mixture to the dry ingredients, gently stir until combined.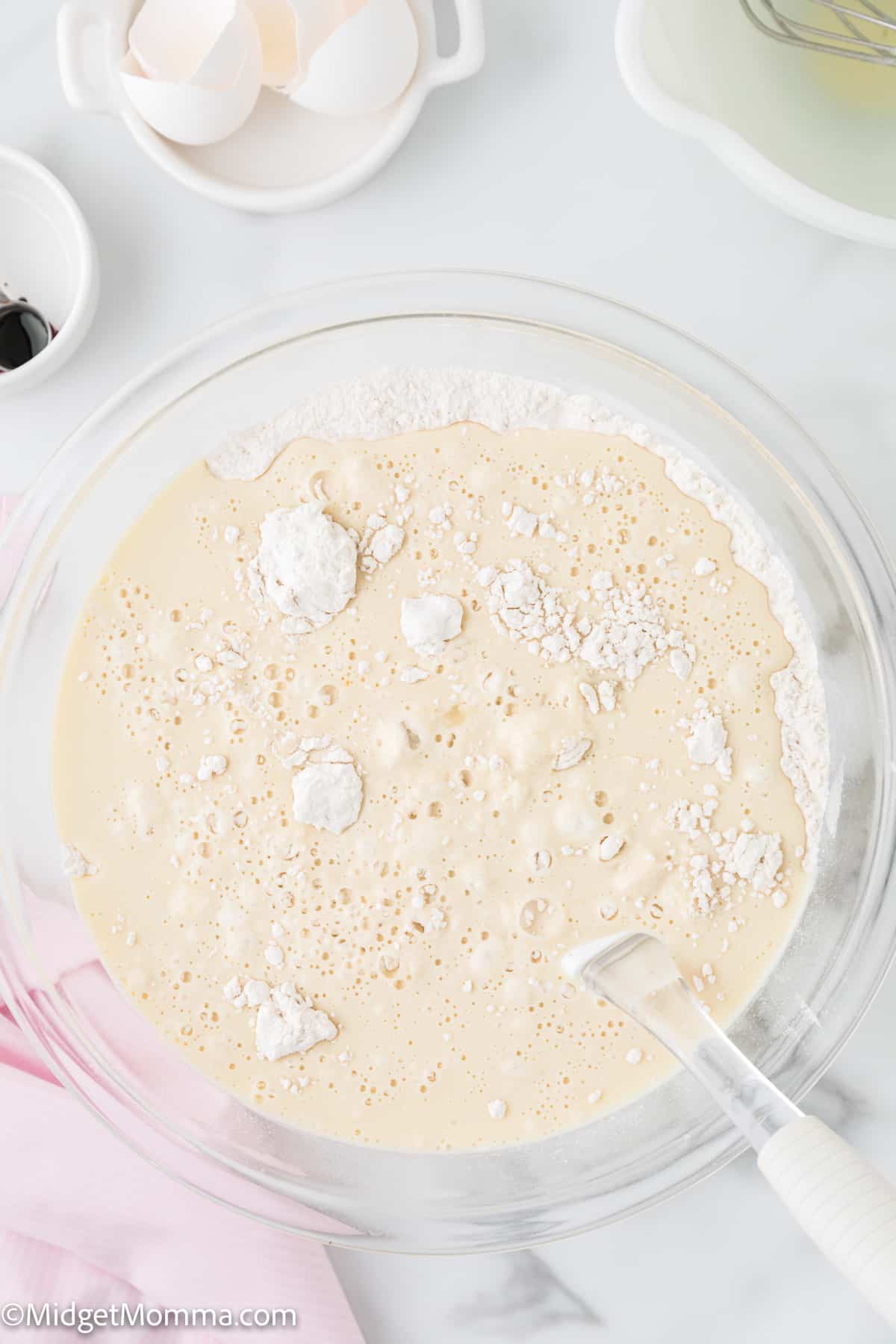 Stir in the red food coloring, melted butter and vanilla extract.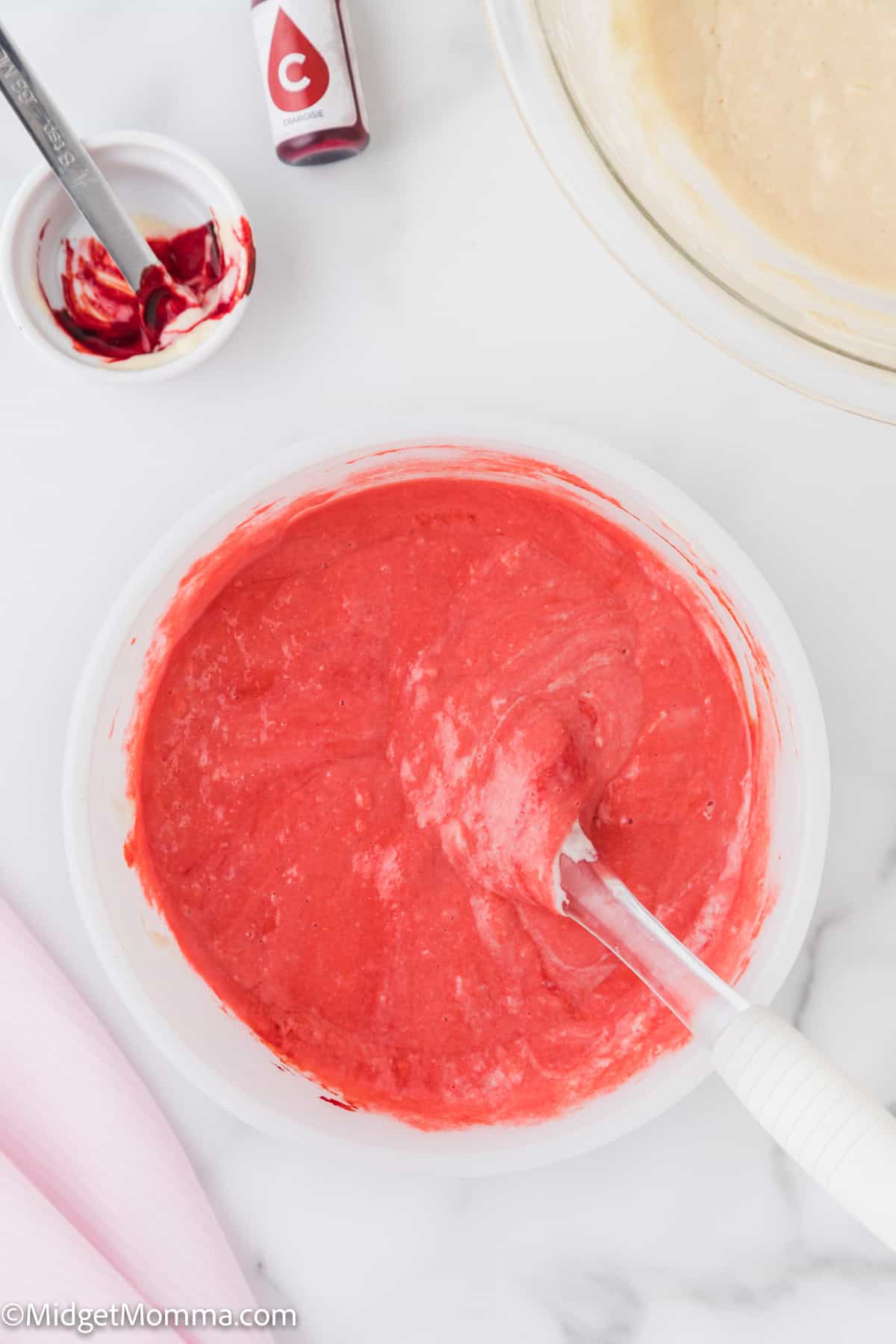 Pour the pancake mix into a pancake batter squeezer or a kitchen squirt bottle.
Heat your frying pan or griddle to medium and pour the batter on a lightly oiled pan in the shape of a heart.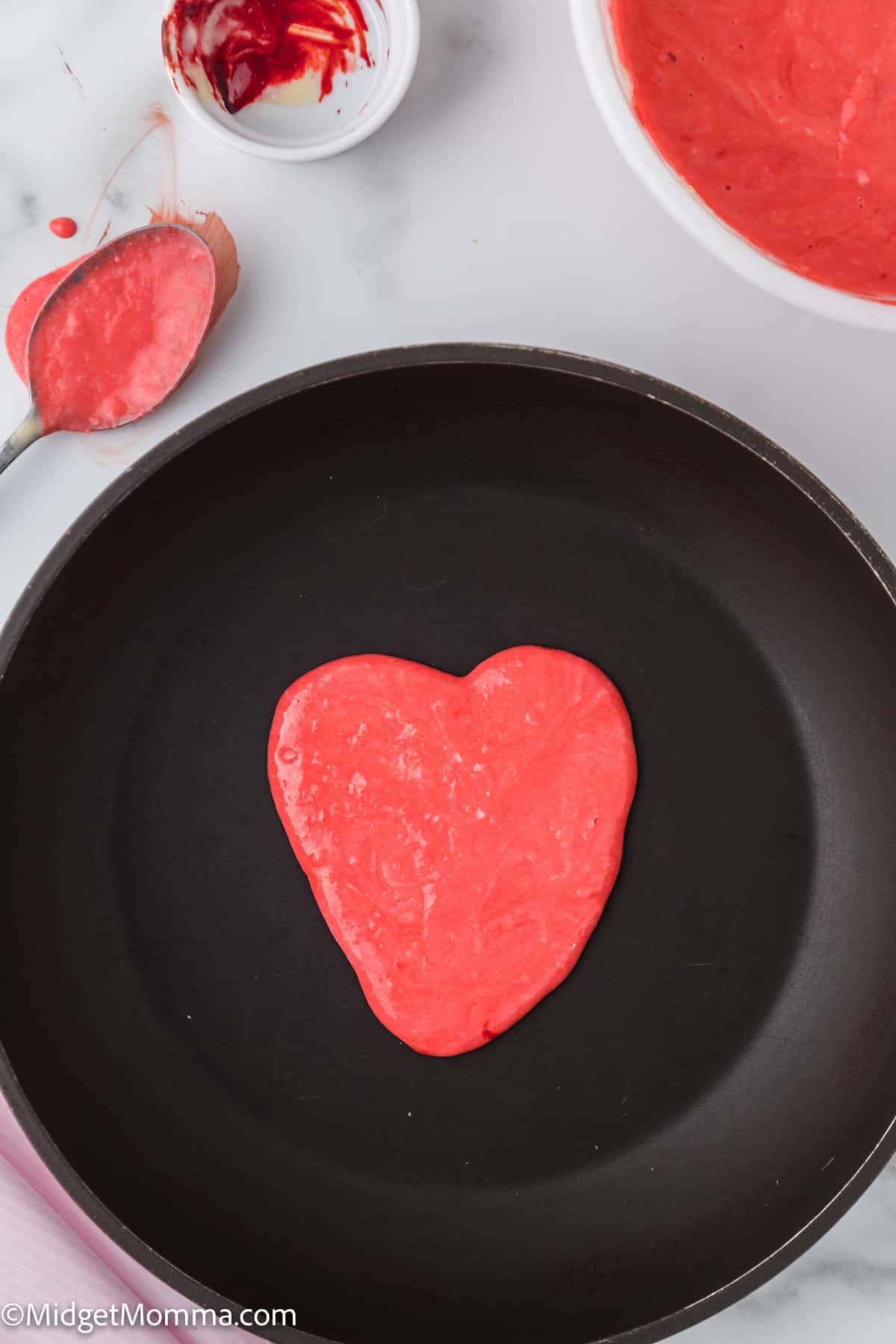 Flip when bubbles start to pop.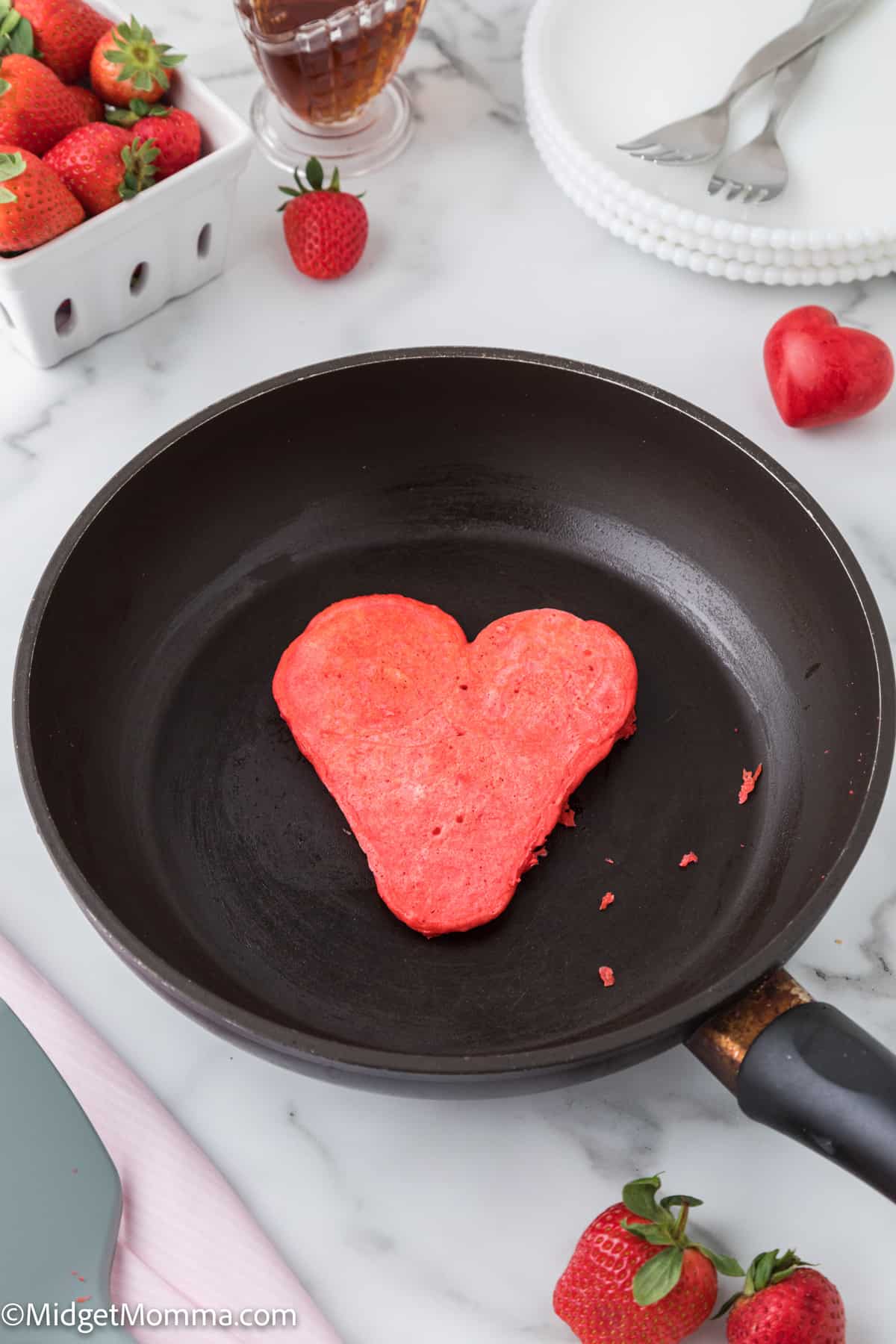 Cook for an additional two minutes.
Have More Valentine's Day fun with Recipes and Crafts