If you are looking for an amazing sauce this is it, everything is better with bacon, which we all know and that holds true to this Spicy bacon pasta sauce.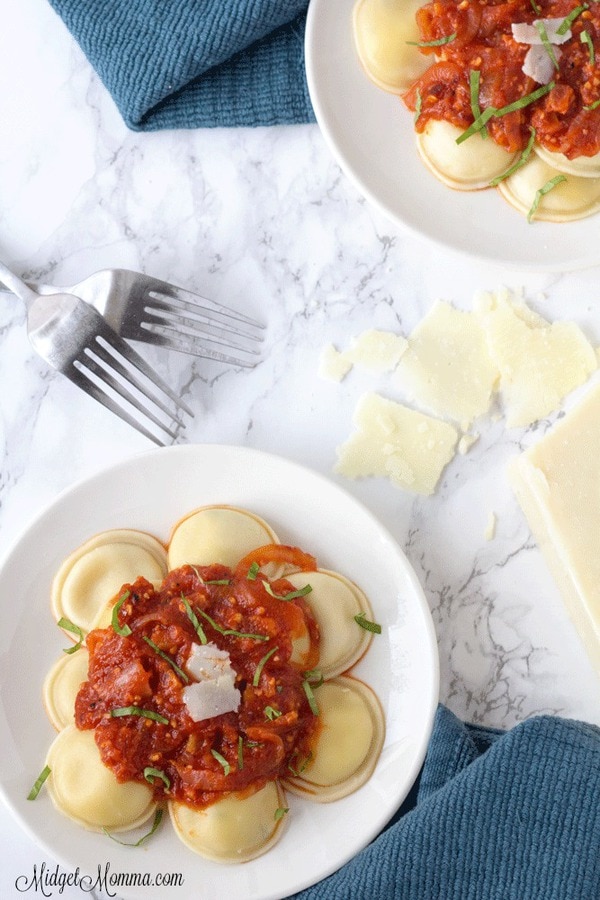 I went to the pantry to get my canned tomatoes to make my normal tomato sauce but was surprised to see I had a can of tomato sauce instead of whole tomatoes. I already had raviolis planned for dinner so I need to come up with another sauce for them. I luckily had bacon in my fridge (yes this pregnant woman cant get enough bacon! YUM) I swear this sauce is 100 times better than any sauce I have had at any Italian restaurant! It isn't the healthiest sauce since you are cooking the onions right in the bacon fat. But boy is it yummy!
Spicy Bacon Tomato Sauce
Spicy Bacon Tomato Sauce Ingredients
1/2 pound bacon
1 onion, thinly sliced
3 garlic cloves
1 1/2 teaspoons crushed red pepper flakes
13 oz can of tomato sauce
salt and pepper to taste
fresh basil to garnish
Spicy Bacon Tomato Sauce Directions
In a large sauté pan cook the bacon till its nice and crispy. Remove the bacon from the pan and chop it up. Add the onion to the pan and cook until soften, about 5 minutes. Grate in the garlic and add the chili flakes and cook for another minute. Add in the tomato sauce to the pan and cook for about 5 minutes . Season with the salt and pepper. Top your pasta of choose and garnish with basil.
Looking for More Amazing Pasta Sauces? Check these out! 
Join the newsletter
Subscribe to get our latest content by email.