I am so glad that my kids, even at their age like to have fun and get dirty. Being outside is one of our favorite things and I am always looking for fun things to do. This weekend we had a bunch of rain and then thankfully Sunday was nice and we were able to get outside and have some fun! We got to pull out the BIG bubble maker! This thing is AMAZING! I highly suggest everyone get one because the kids had sooo much funn making HUGE bubbles with it! You can make your own bubbles or if you are in lazy summer mode like I was this weekend you can use store bought, but no matter which ones you use the kids are going to LOVE it!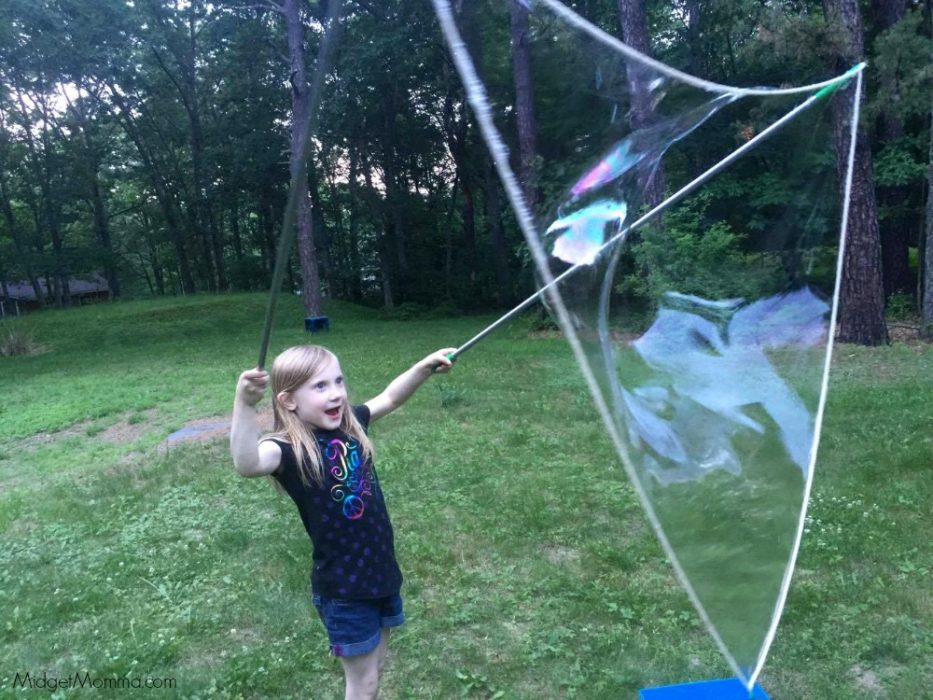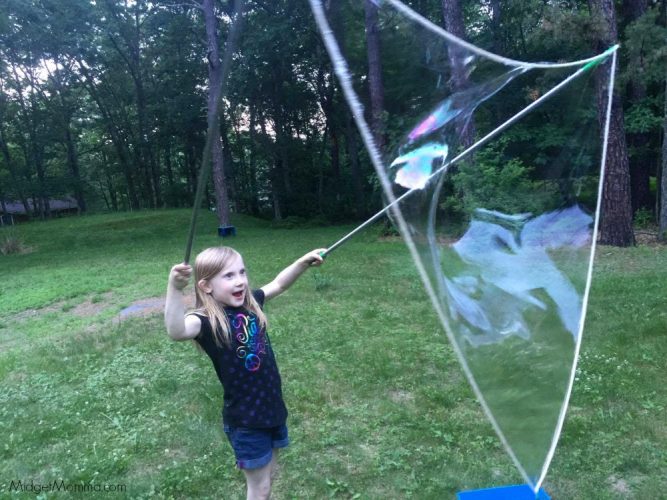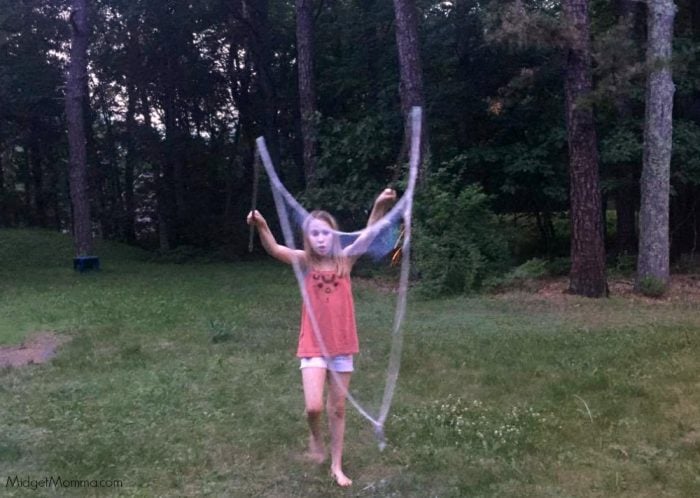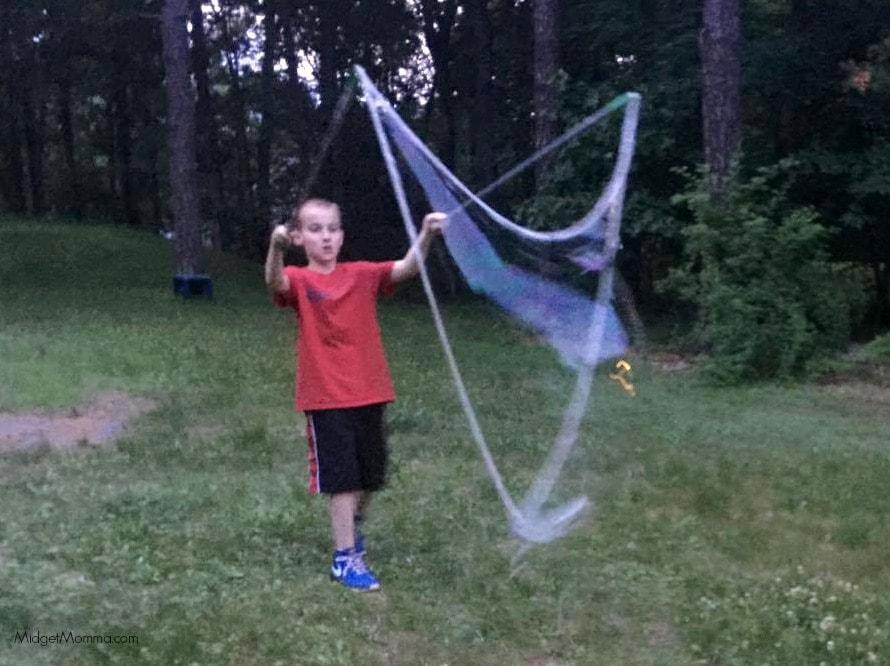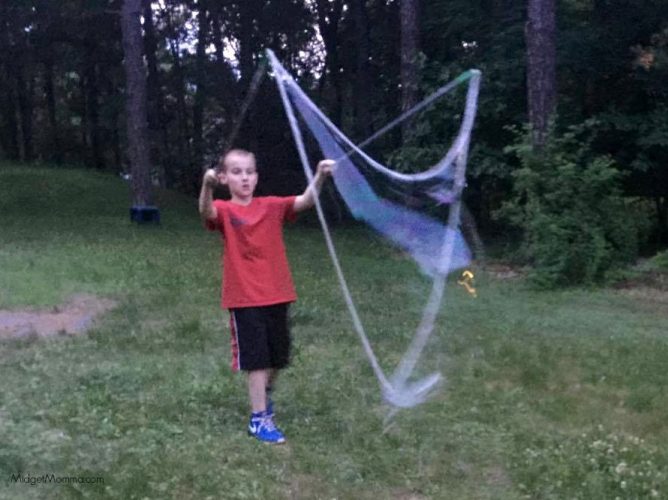 It did take them a bit to get the BIG bubbles coming but once they got the hang of it, it was all smiles and bubbles! Then they figured out how to make smaller bubbles and laughed the whole time while making them! The smiles were amazing!
If you are wanting to get even more creative make your own bubbles! It is SUPER Simple to do!
How to Make your own Bubbles:
Bubble ingredients:
1.5 tablespoons guar gum powder
2-4 tablespoons rubbing alcohol
3 gallons of HOT tap water
2 tablespoons of baking powder
20 oz. Dawn Power Clean Platinum dish soap
Bubble Directions:
In a Large bucket mix the hot water and baking powder until there are no clumps in it.
Use a small bowl and mix  guar gum powder enough rubbing alcohol to make it smooth.
Stir the water in the bucket and when it's moving quickly and creating a vortex pour in the

guar/alcohol combo. Continue stirring until it thickens.

Next mix in the dishsoap and let sit for 15 minutes.

Then have TONS of fun making bubbles!!
Now if you are wanting to get a little crafty, you know cause the kids are soon saying they are bored (it HAS to be a summer thing LOL) Then have more fun with painting with bubbles!!!!
Bubble Painting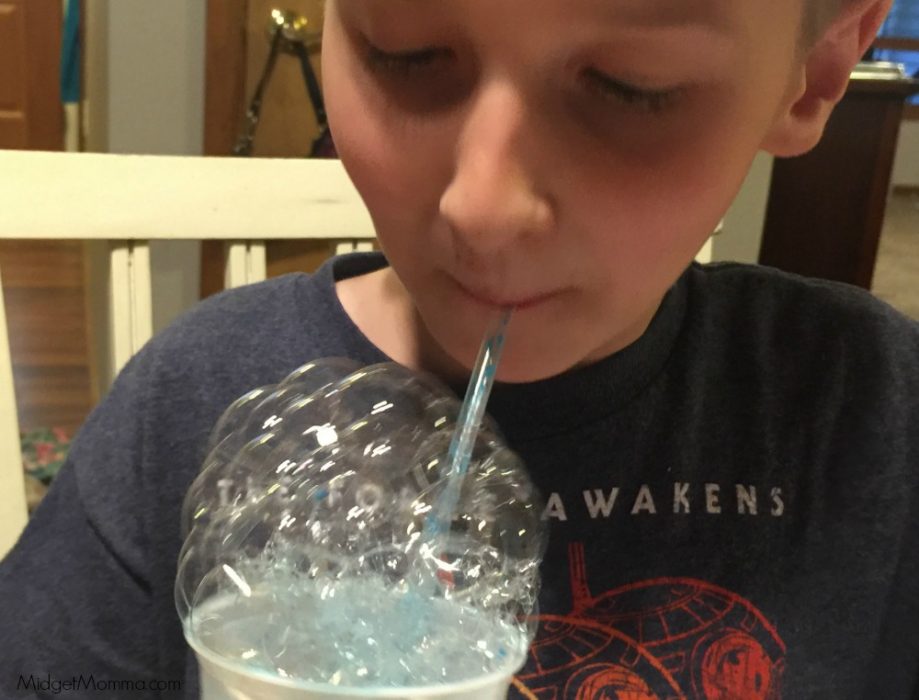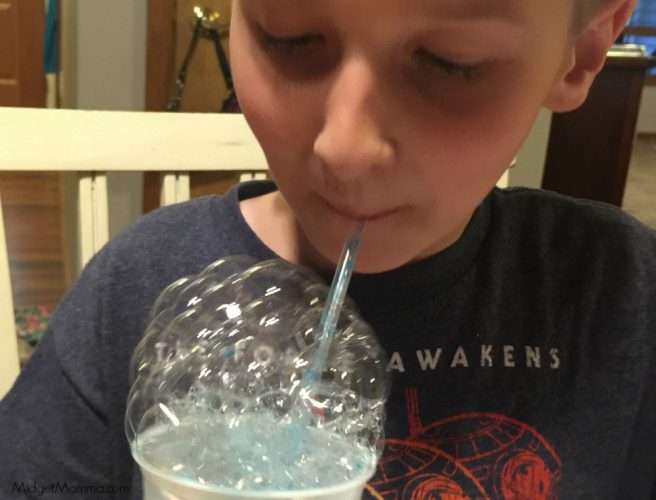 Supplies needed to Paint with Bubbles:
Washable Kid's Paint
liquid soap
white paper
straw
plastic cups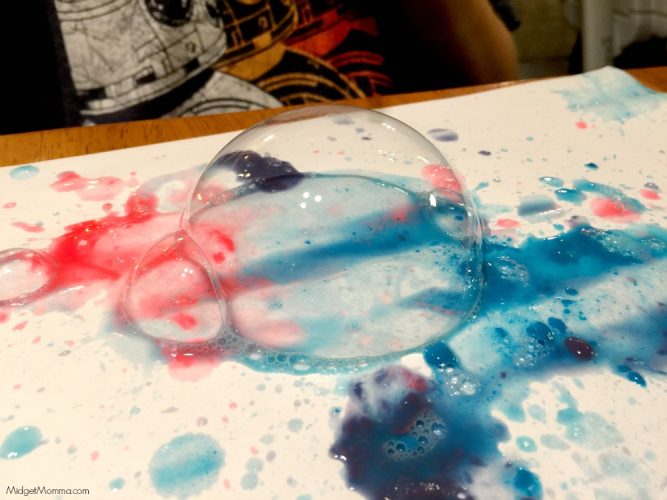 How to Paint with Bubbles:
Get a few plastic cups.
Pour enough Washable Kid's Paint to cover the bottom of the cup.
Add liquid soap to cover the paint.
Add water to double the liquid.
Now get a straw and put your cup on top of a piece of paper.
Blow into the mixture to make bubbles and let them flow over the cup and onto the paper.
Continue until your paper is your desired bubble design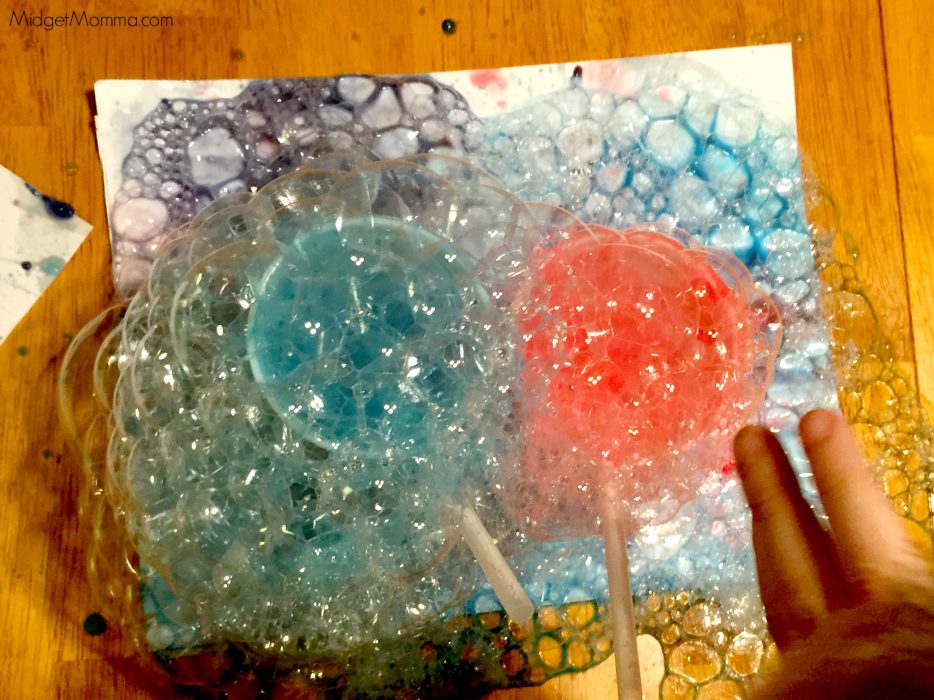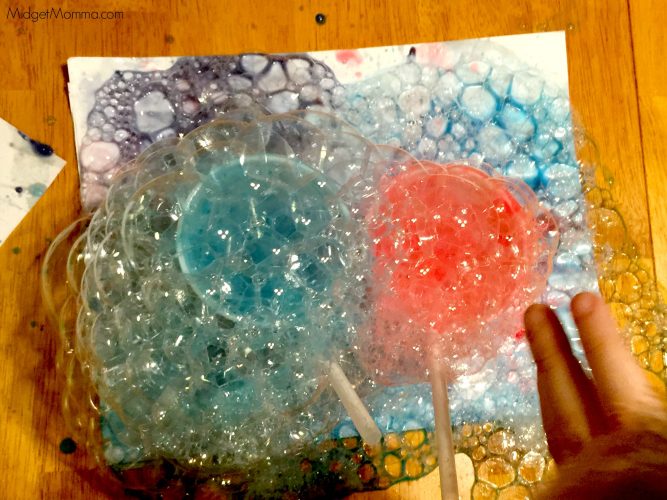 For everyone who has little kids and is looking for a way to get them involved and excited about the bubble fun bring on the Teletubbies to help you! There is a new Teletubbies DVD that will arrive on DVD on June 20th! Teletubbies: Bubbles!! This new DVD has six all-new episodes feature Tinky Winky, Dipsy, Laa-Laa and Po as they sing, dance, play and of course, eat Tubby Custard! Oh boy are we going to have some fun!
Video Synopsis: The Tubby Custard Machine is making lots and lots of Tubby Custard bubbles! Join the Teletubbies as they chase and pop bubbles, play with a magical music box and dance the energetic Tubby Phone Dance.
This DVD has such cute episodes! I am a HUGE fan of the Teletubbies and I am so excited that I am able to sit down with Hannah, snuggle and watch them! Right now she is a bit to young to "get it" but she does this cute little wiggle whenever she sees them start dancing around. 🙂
Aside from them being so stinkin cute the Teletubbies offer a lot of developmental benefits for kids who watch the shows. It really is a show that encourages kids to get up and dance, they are ALWAYS moving and dancing in every episode. Exploration and creativity is never ending in the Teletubbies episodes, need I say more then Tubby custard bubbles??? I think it is important for kids to be creative and find things that they love to do! Even the older 3 kiddos will sit down with Hannah and watch it, which I am totally ok with because they don't realize it but they are also hearing a very valuable lesson each time, about being themselves and how important it is!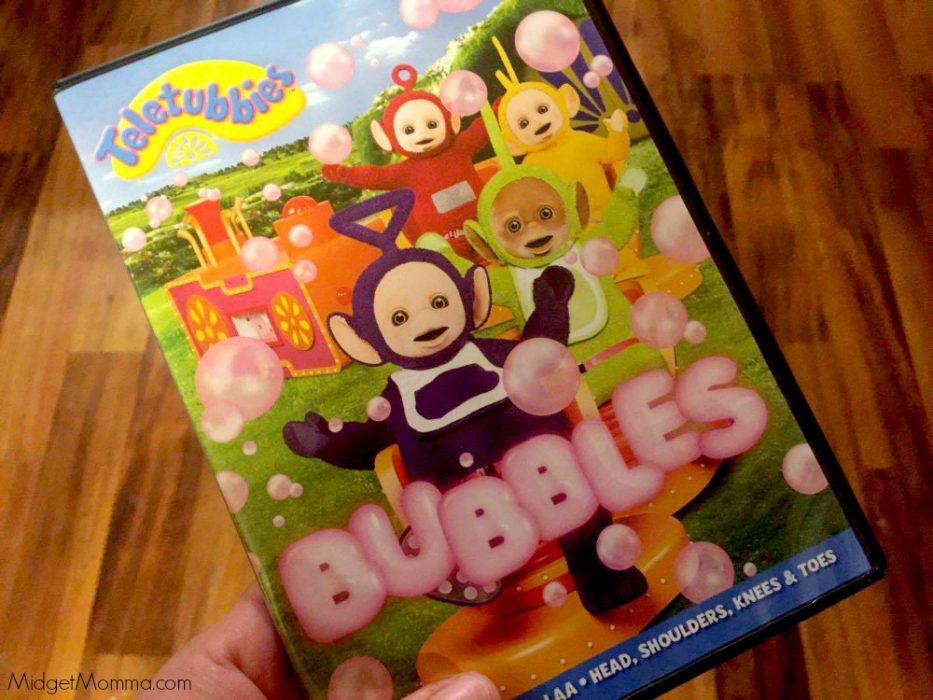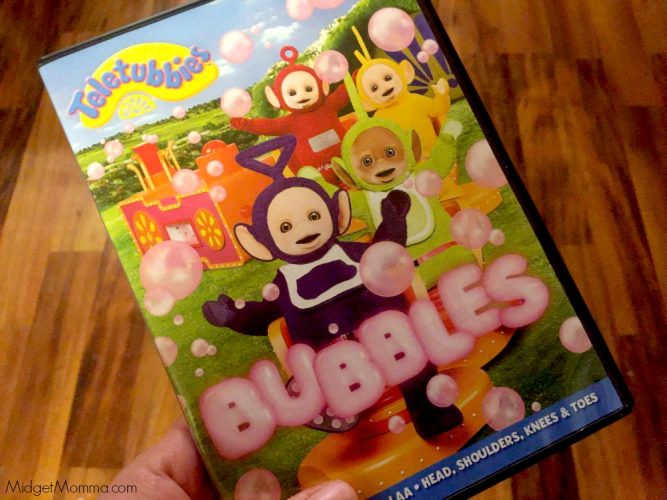 Enter to win:
Prize: THREE Teletubbies DVDS and a $25 Amazon Gift Card
How to Enter:
Leave a separate comment for each entry on this blog post.
Mandatory Entries:
Sign up for my daily newsletter here  so you never miss anything
Extra Entries:
Follow me on Pinterest – 1 entry
Follow me on YouTube – 1 entry
Follow Me on Instagram – 1 entry
Follow me on Twitter– 1 entry
Tweet the following- I want to win @TeletubbiesUSA Prize pack with $25 Amazon Gift card from @MidgetMomma1200 https://www.midgetmomma.com/?p=173709 – 5 times daily. One hour between each tweet.
Giveaway Rules:
No purchase necessary to enter, leave a separate comment for each entry method. This giveaway is not associated with any of the entry methods. This giveaway will run till 11:59 PM EST June 30, 2017. The winner(s) will be picked using And the winner is (a random winner picker) and will be announced in a new blog post. Giveaway is open to US residents who are 18 years or older. By entering this giveaway you are giving consent to be added to the MidgetMomma daily newsletter. Winner will be contacted and have 48 hours to reply to contact e-mail or the prize is forfeited. Open to US mailing addresses only. 
This post is sponsored by Child's Play. All opinions are 100% my own.