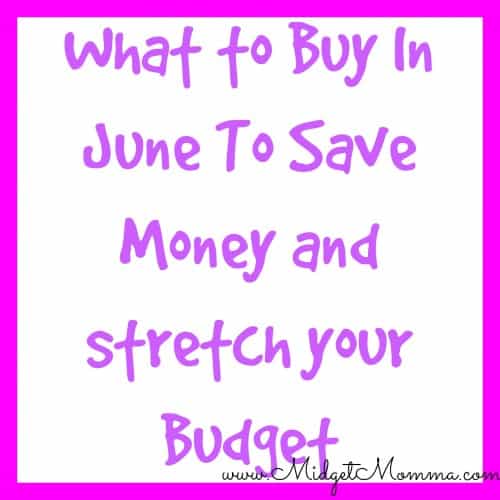 What to Buy In June To Save Money and stretch your Budget
Every month the sale cycles are different, to get the most out of your money watching and then shopping the sales cycles is important. You will be able to save a lot of money by buying items that are on sale in June that you will use all year long.
Things to buy in June:
Party Supplies: Graduations happen this month which means at the end of the month you will see things like paper plates, napkins, decorations and more go on sale. If you have a party any time in the next year grab the colors you might need now when you see them marked down on clearance.
Cookout and BBQ supplies: This month we will see things like hotdogs, hamburger meat, chicken, ketchup, mustard ect go on sale plus there are lots of coupons to print that will help you save even more. If you use ketchup or mustard all year long but it now while its at its lowest price point and then keep it in your stockpile. Most of the condiments have a long shelf life and you can get what you need for the whole year for around the same price as you would 1-2 bottles at regular price. Stocking up on meats like hamburger and hot dogs is the best to do now. If you do not have a deep freezer i recommend getting one. You will see them on sale too and they are essential for stockpiling meat. Most meat can be kept frozen for a year and buying it at its lowest price point will save you a ton of money all year long.
Pick your own Fruits and veggies: The pick your own farms are about to start getting busy and not only will you save a TON on your produce for now much of it you can pick a lot of and then freeze it in your deep freezer and have it on hand for the rest of the year.
Cheese, butter, ice cream, ice pops: The hot weather is here and just about every week so far I have seen a sale on ice cream and ice pops, plus there have been great coupons making ice cream that is normally $4-$5 just $1-$2! Get it now and pop it in your deep freezer! The ice pops have been under $1 a box and some of the sales I have seen you don't even need to use coupons to get them at their lowest price!!
Outdoor and Gardening supplies: If you are going to be doing any gardening get your stuff now and get started. Not only do you need to now so that your plants will grow but also because things are cheaper. There are sales popping up all over the place for containers for your plants, the soil, seeds and more!! You will also want to get anything you need for doing the landscaping for your house. You can get mulch for around $2 a bag at many places (Normally $4 a bag) and get your landscaping done.
Tools: Father's Day is this month so we will be seeing deals on items that are good for Father's Day such as tools but if you are needing tools now is the time to get them.
You will want to buy the produce that is in season to stretch your grocery dollars the most. Of course you also want to look for the pick your own farms in your area so you can pick the fresh produce, which is MUCH cheaper then when you are buying it at the store!
Produce that is in Season in June  
corn
onions
cantaloupe
blueberries
peaches
honey dew melons
lettuce
apricots
watermelon
peas
strawberries
berries
tomatoes