I like getting creative with things that are old, not that it surprises any of you since my love for trash picking is no secret. When Discount Tire Direct reached out to me and said they wanted to partner up and have me take some old tires and make them into something new I was on it. The look on the FedEx guy's face when he delivered my tires was priceless, but I didn't waste anytime getting started on my project once they arrived.
These DIY Used Tire Snowman are really easy to make and you can get all your crafting supplies at the local craft store and then take those used tires when you get your new tires off your car to make these!
Supplies needed for DIY Used Tire Snowman
3 used tires – you want 3 different sizes 1 large, 1 medium and 1 smaller
2 cans white spray paint
Orange Acrylic Paint
Black Acrylic Paint
Paint Brushes
Optional (Scarf) – my kids were not liking the scarf so we took it off ours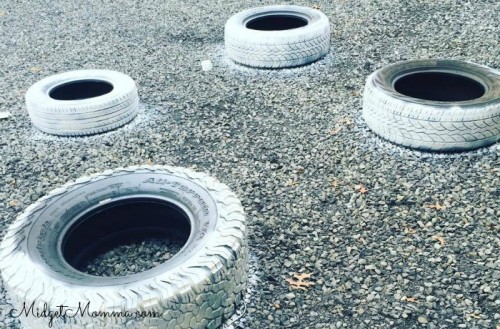 Directions for DIY Used Tire Snowman
Set your tires down on the ground and spray paint them white. You will want to do two coats, spray one and let dry for about 20 minutes and then spray the next coat.
Once your spray paint is dry use the Black acrylic paint and on the smaller tire draw 2 eyes and a mouth so they look like coal.
Then on the medium sized tire using your black paint draw 3 buttons that look like coal.
Once the black paint is dry use the orange paint to draw a triangle for his nose.
Let the paint dry completely. Once it is dry stack your tires, large one on the bottom, then the medium sized on in the middle and then the smaller one on the top.

If you are looking for deals on tires, you can head on over to Discount Tire Direct and order them! They are an is a mail order tire and wheel retailer, that has all the name brand tires that you need, from Michelin, Yokohomo, GoodYear and more.