Skateboarding is a popular sport that is enjoyed by many people around the world. It provides a sense of freedom, adventure and excitement. The best way to show your appreciation for someone who loves skateboarding is to get them something they will love from their list of needs and wants.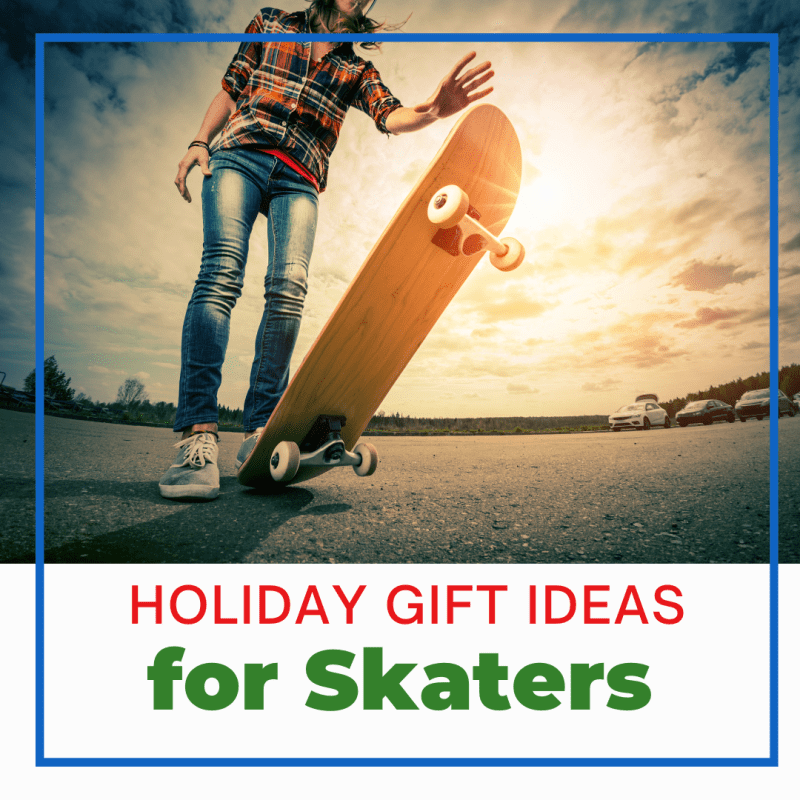 We've rounded up some of the best gifts for skateboards! Gear is generally considered to be a personal choice thing, so we recommend not buying boards, trucks for boards, or other similar gear without a specific shopping list from the skater.
Also, don't assume that since they like skateboarding that they like other types of skating or scootering. Make sure the gifts you choose line up with their particular type/s of skating & personality.
Skaters Gift Guide
This gift guide was designed for skateboarders of all ages and abilities. Young beginners may love the ramp set, while older or more advanced skaters would benefit from gifts more on their level.
This set works for skateboarders, roller skaters, inline skaters, and stunt scooter riders.
This set comes with a multisport ramp, as well as a skateboard grind rail, and a set of 6 cones that you can place anywhere you'd like for a more challenging practice session.
This retro styled t-shirt is made using sublimation so no itchy paint or stickers to peel off over time! Perfect for the skateboarder on your shopping list!
These Boodun arm sleeves are made of the highest quality lightweight materials, which can block harmful UVA and UVB rays to prevent sunburn and skin aging. In any hot weather, you can get the maximum degree of UV protection throughout the day.
Perfect for a hot day in the sun skating!
I'll be honest...at first glance I was pretty skeptical. They are definitely a one of a kind sock.
But no matter what I did, they wouldn't slide down. They are so comfortable that you actually forget you are wearing them too!
Any parent of a skater (or even kid that loves to ride their bike and forgets they have a brake...) knows how rough they are on shoes. Instead of replacing shoes that fit with new ones they are going to destroy in a couple days anyway, invest in Shoe-Goo and patch them!
Any trick/stunt skater is going to go through a ton of wax. They use it on their curbs and rails, as well as the bottom of their skateboarders.
These lights are perfect for skaters that are out at night. Their mounting kit lets them work on any board strucks: penny boards, skateboards, and longboards. Comes with a split USB cable to charge both lights at the same time.
A bag to carry a board is perfect for those that travel to their favorite skating location by bus, train, or bike. It's also great for keeping your board handy to sneak in a few minutes of practice here & there.
This bag lets you bring your laptop (up to 15.6") and has a a charging port for your phone and headphone jack. It has a password lock to keep your stuff secure inside while you skate too!
These are great for helping beginning skaters nail their tricks! We learned the hard way not to buy another brand though. These ones hold up for YEARS of use by multiple skaters!
Multiple boards can quickly take over your garage or porch. Having either a floor or wall stand helps free up safe & protects your board!
There are cheaper skate tools that work great. This one just has more tips and options, making it work better for those that use roller skates or eskate too.