Rice can be one of the biggest pains in the butt when it comes to making dinner. Not because it is hard to do but because it takes quite a long time to cook. If you are wanting a quick meal having rice as a side dish is not always what you want to be waiting on for everyone to sit down for dinner. We do a lot of freezer meals that can be put over rice so to make life easier I cook a BIG batch of rice and then I freeze the rice into portions that fit our meals. Following these steps is is so easy to freeze rice and then reheat it when you need it. You can find lots more of our freezer recipes that will help you fill your freezer and save you lots of time and money!
How to Freeze Rice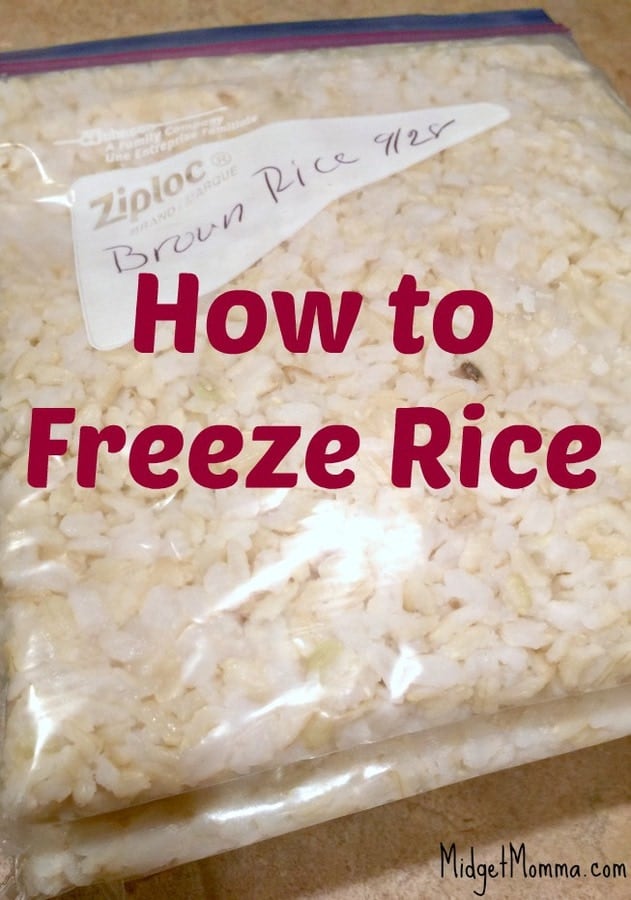 Supplies for Freezing Rice
Cooked rice
quart sized freezer bags
marker
baking sheets
nonstick spray
Step By Step directions on How to Freeze Rice
Cook your rice, I do a full bag at one time on one big pot.
When rice is done cooking get out a few baking sheets and spray them with nonstick spray.
Pour rice and spread evenly on the baking sheets.
Allow rice to cool, about 30 minutes or so and it should be good to go.
Get your quart sized freezer bags and label them and date them.
Using a measuring cup portion your rice and put into the freezer bags. I do 2 cups of rice per bag.
Squeeze the air out of the bag.
Lay bag flat and flatten the rice in the bag so it is flat. This makes putting the rice in the freezer easy and easier to store.

Reheating Freezer Rice
Remove rice from freezer when you need it. Do not remove the day before or you will end up with soggy rice.
Stick the rice in the freezer bag in the microwave for 3-4 minutes.
Pour into a bowl and serve with butter or you can use it to make things like stir fry.
These simple steps will save you time and these How to Freeze Rice steps are easy to do and do not take much extra time at all.