Looking to go jet skiing in Panama City Beach Florida? We recommend taking a jet skiing tour over just renting jet skis! We had a blast on our jet ski tour with Adventures at Sea when we were in Panama City Beach!
Jet Ski Tour in Panama City Beach Florida
When McKenzie and I were in Panama City Beach for our partnership trip, jet skiing was on the itinerary. I had never gone jet skiing, McKenzie had never gone jet skiing and I have to admit that it has never been on either one of our bucket lists.
My first thought when I saw it on the itinerary was that we were going to ride on a jet ski with someone else driving it to take us on our tour. Well I was partially right, us was the parents and the kids were going to ride with us.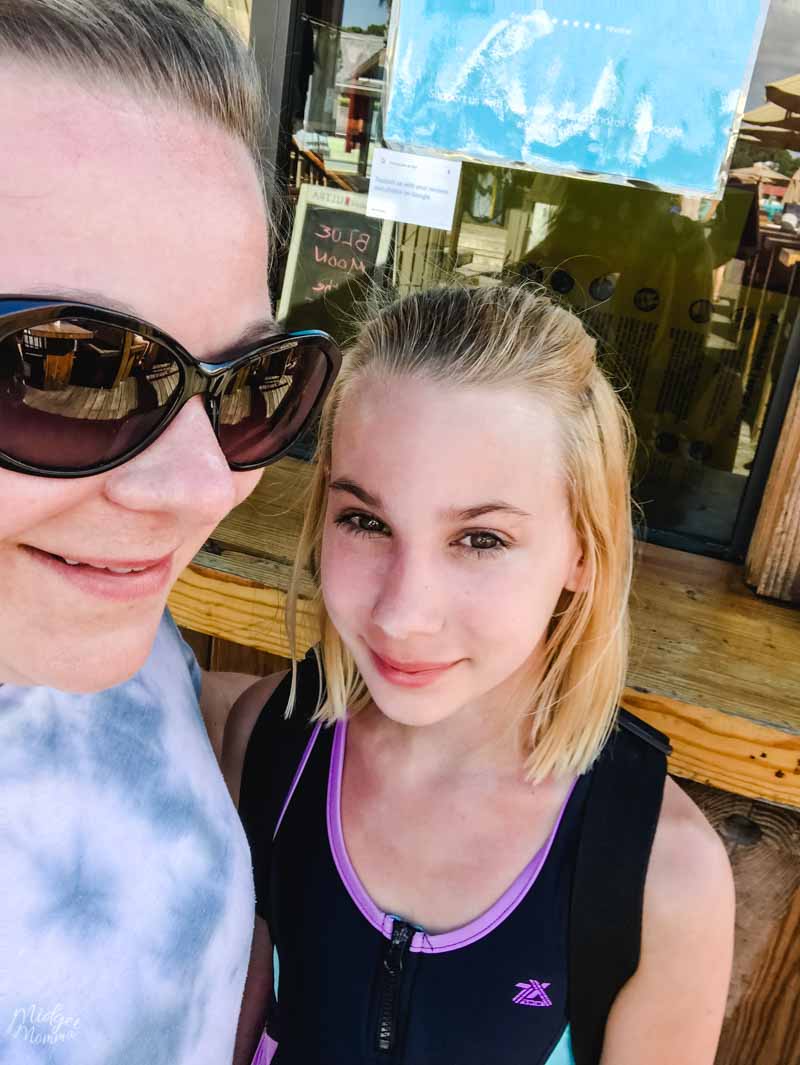 The folks at Adventures by Sea were amazing. We got a full instruction on safety and that the jet skis had what the call a "kill cord". This cord is attached to your wrist and then the key in the ignition of the jet ski. This way if you were to fall off the jet ski key would come with you shutting the jet ski off.
They also gave us full instructions on how to operate the jet ski, however following said instructions were much easier said then done. We were instructed to "push the gas", because that is the best way to get things started when you are riding on a jet ski.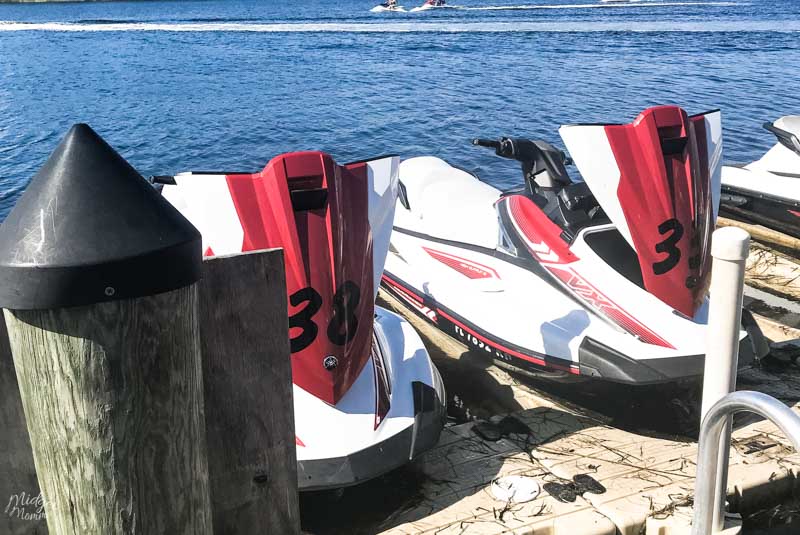 Well, let me warn you that when you have never been on a jet ski before and you "push the gas", you are not always going to be able to have your whole body communicate to other parts. It was FAST, as soon as I hit the gas. From there my brain kicked in about the whole "not liking speeds", "to fast" and the remembrance of why I don't do roller coasters. However to get that message to my hands to pull off the gas was not the smoothest process and we ended up with a very jumpy, semi stop. That semi stop was the jet ski not moving because of me, but because of the waves rocking it. TOTALLY odd feeling let me tell you.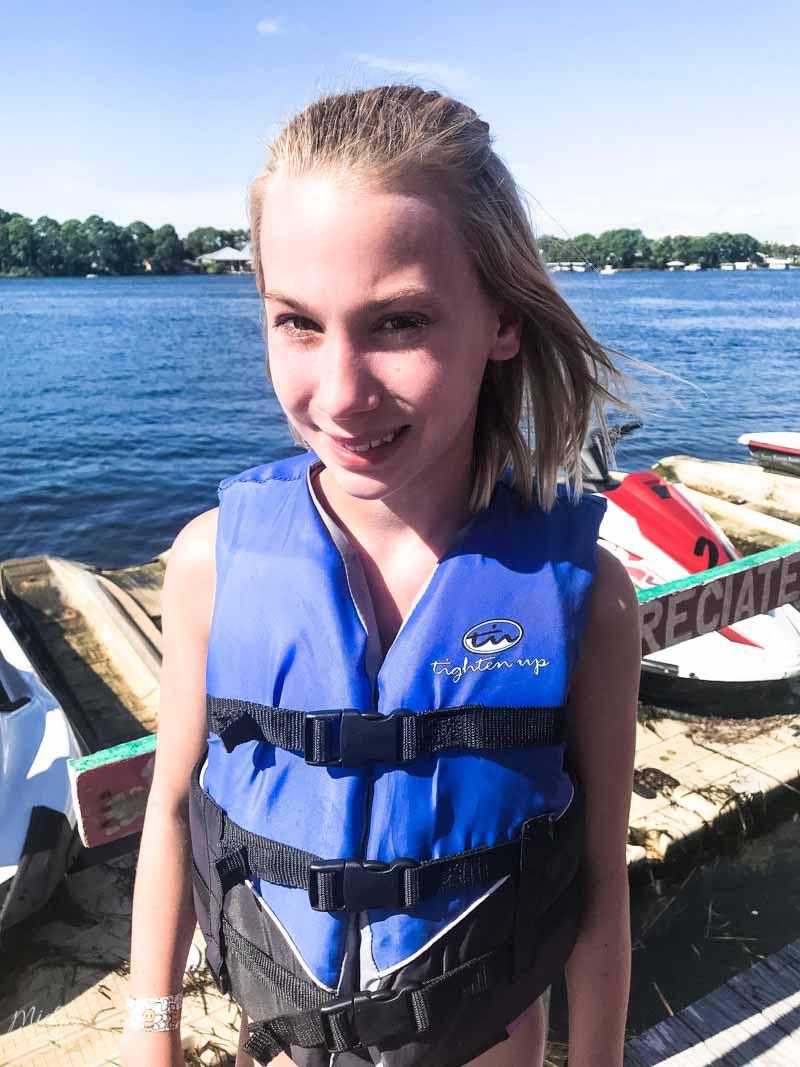 McKenzie was asking me why we had stopped and if we were going to lose our group. I assured her, that we were fine (thankfully there were also others behind us) and I gathered myself together and got us going again. This time, I "pushed the gas" but not nearly as hard and it was a much smoother ride, not perfect but better.
Although next time we go on a jet ski adventure, I think I am going to find out if there is an option for someone to drive me instead. McKenzie got a ride on the way back with the one guide and she told me "the more experienced driver, no matter how fast he went, was not as scary as me driving the jet ski.". So with that I am taking it not that I am an awful jet ski driver, but that the more experienced folks should be left to the driving. 😉
During the "fun" of figuring out how to drive the jet ski, the Adventures at Sea tour guides were great. They were coming to anyone having any struggles to make sure they were good and guide us so we had a safe and fun ride.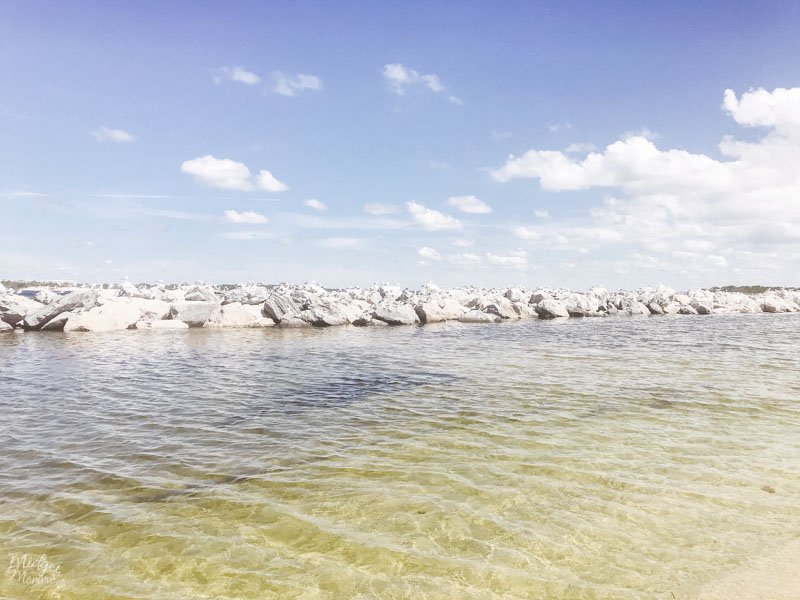 Our stop on the jet ski tour was at Shell Island. Now the big thing about visiting Shell Island in Panama City Beach is that you can only get there by boat or jet ski. This was our second visit on this trip to Shell Island and this time we went to a totally different section then our previous trip, the day before. This time we were on the side that boarders the Gulf of Mexico.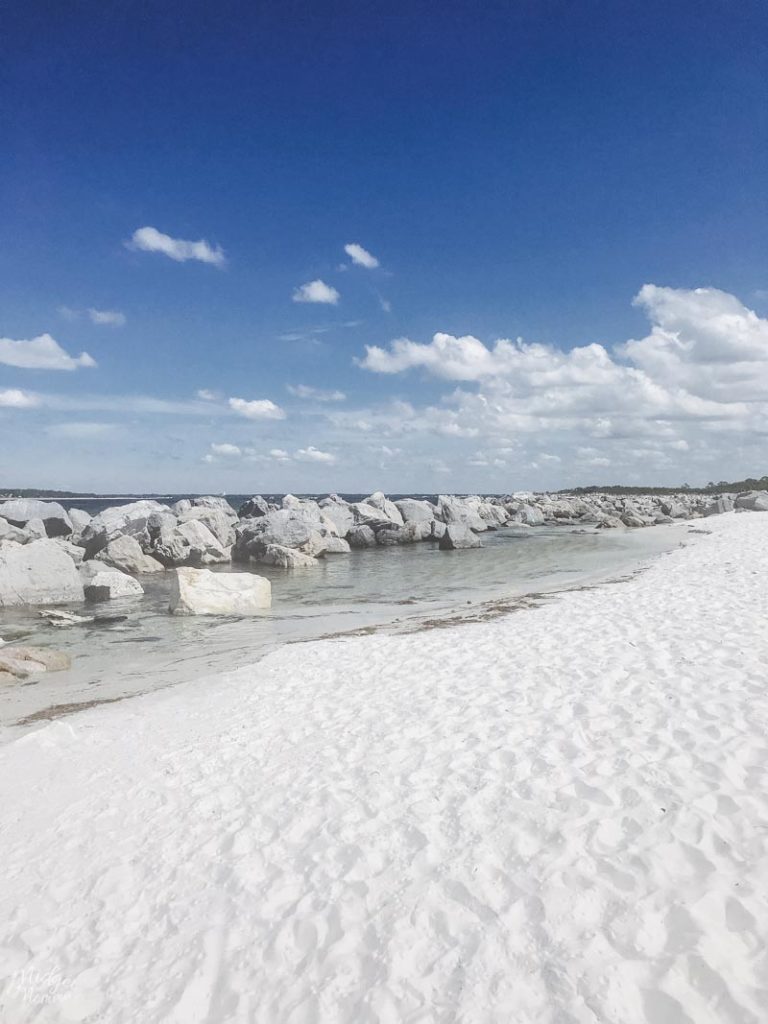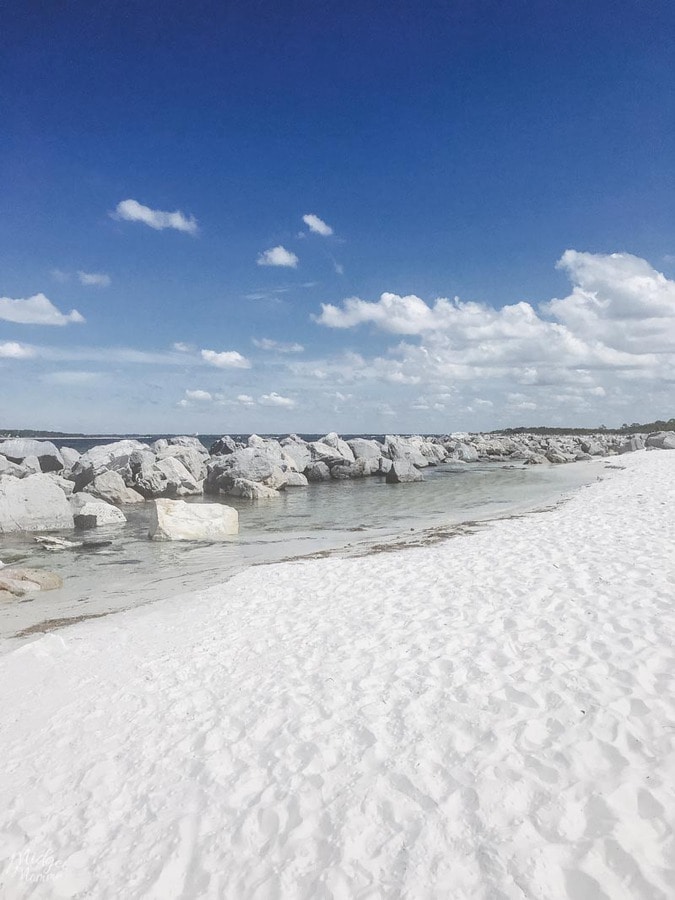 Once we parked our jet skis in one section and then we headed over to another section of the island. The walk took maybe 3 minutes from where we parked to get to the water of the Gulf of Mexico. The section of water we pulled into was the St. Andrew Bay, don't ask me exactly where we were though, because I totally left that up the guides.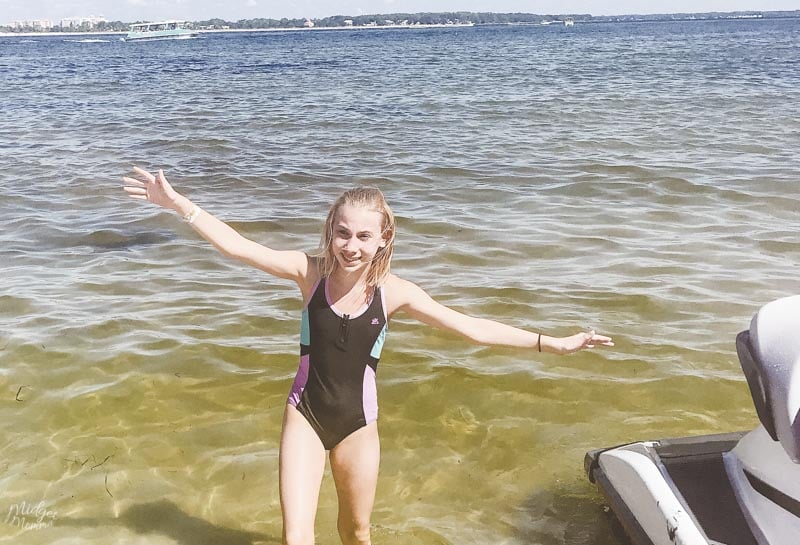 There is no other words to describe Shell Island other the beautiful, no matter what side you are on. It is beautiful on any side of the island that you go to. Heads up – make sure you where sunscreen. The sun while beautiful with the white sand, is strong. You will get a sunburn if you do not have enough sunscreen on. If you think you have enough, add a bit more (I am talking from the experience of thinking I had enough on).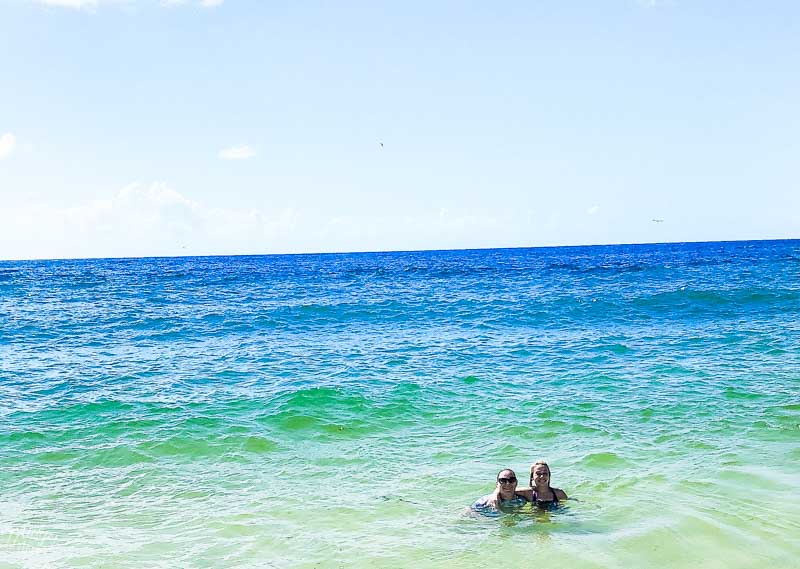 The water in the Gulf of Mexico was perfect temperature for jumping right in and there plenty of waves to jump in and catch a ride back to the beach on. I could spend all day in the water and on the beach, so this little pit stop was perfect!
After hanging out on the beach, playing in the water and of course taking lots of photos, it was time to head back to the marina. This time McKenzie rode with the guide and I was on my own. I do have to say that riding without a passenger is much easier then riding with one.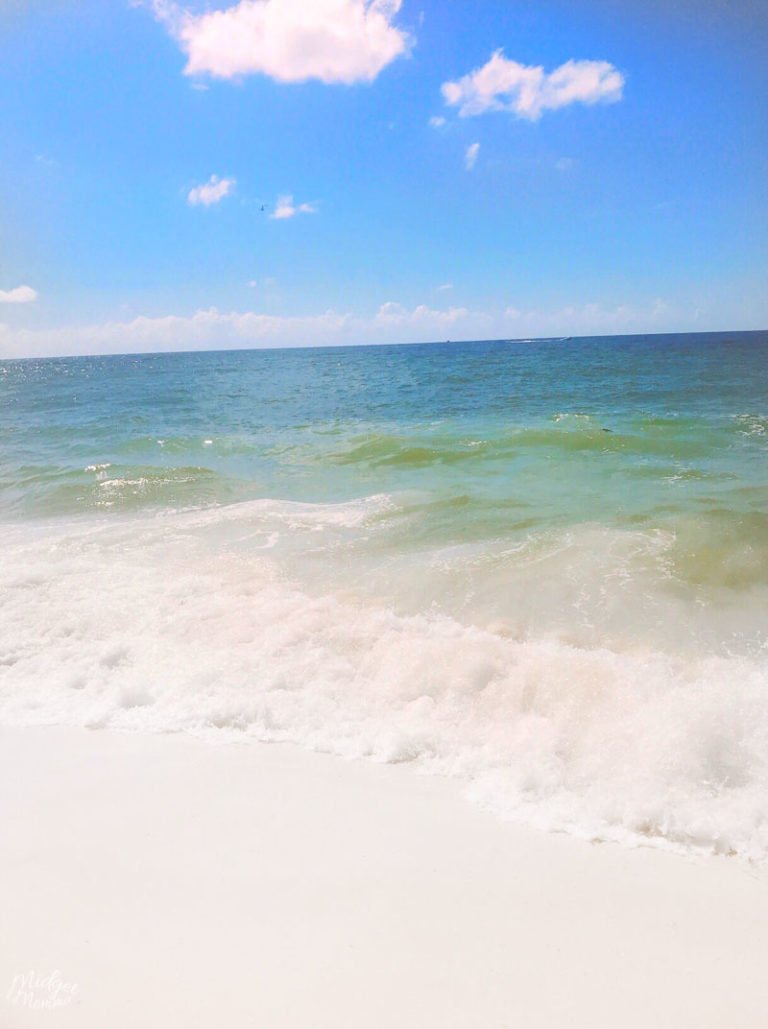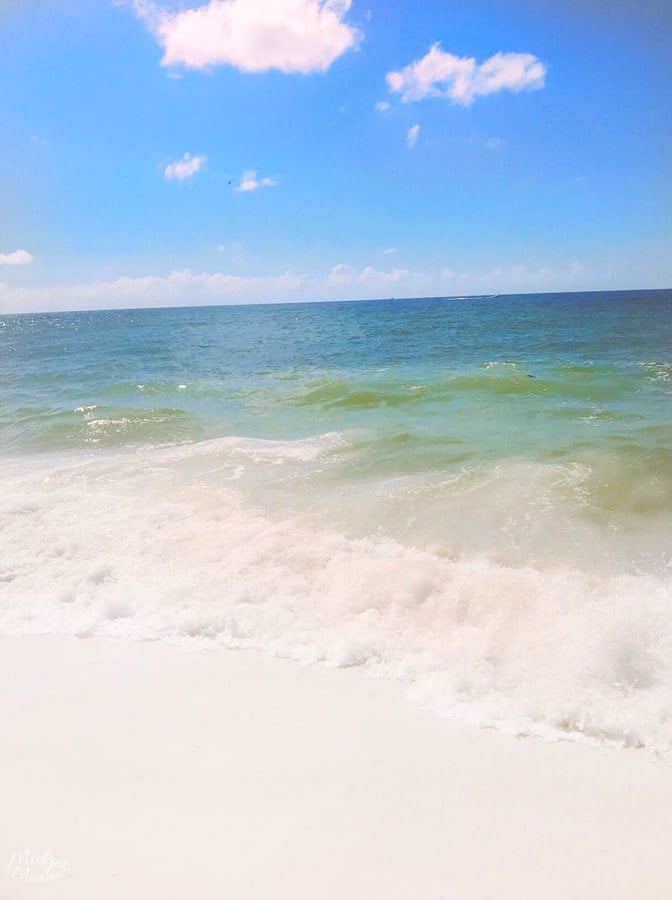 Even if you are nervous or have never gone jet skiing do not let that stop you from going on a jet ski tour while you are in Panama City Beach. I know it sounds a tad bit crazy for me to say that, and even with all of the craziness and struggles I had I would totally do it again!
If you are looking to plan a jet ski tour, you can do so on the Adventures at Sea website here.
Be sure to check out these other posts to help you plan your trip to Panama City Beach Florida!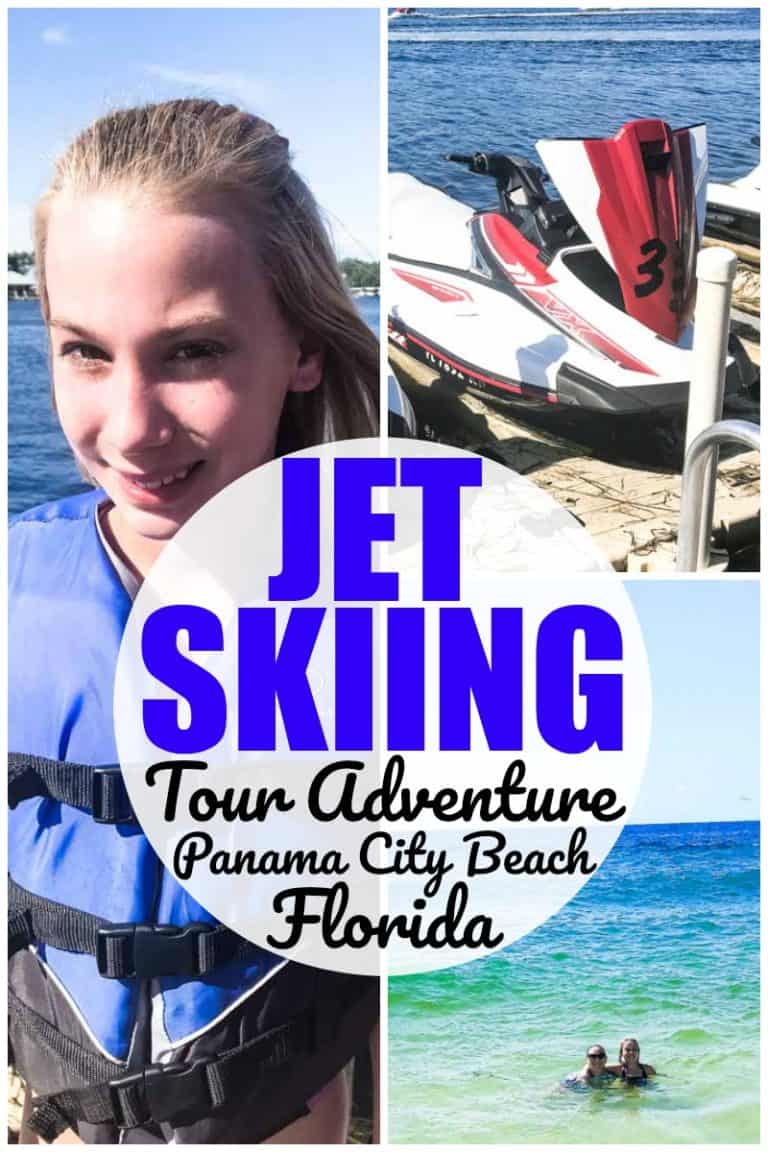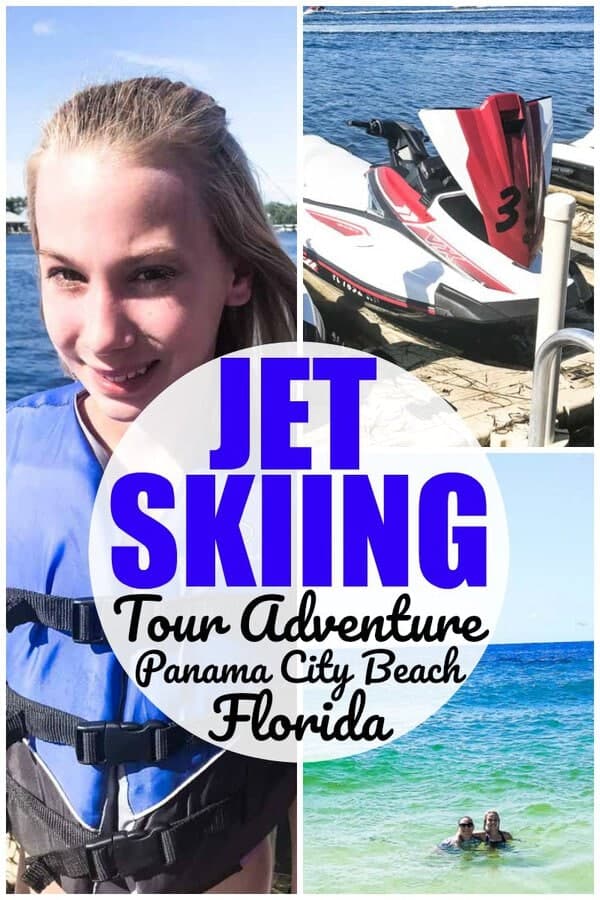 Join the newsletter
Subscribe to get our latest recipes right in your inbox every time we post a new one!