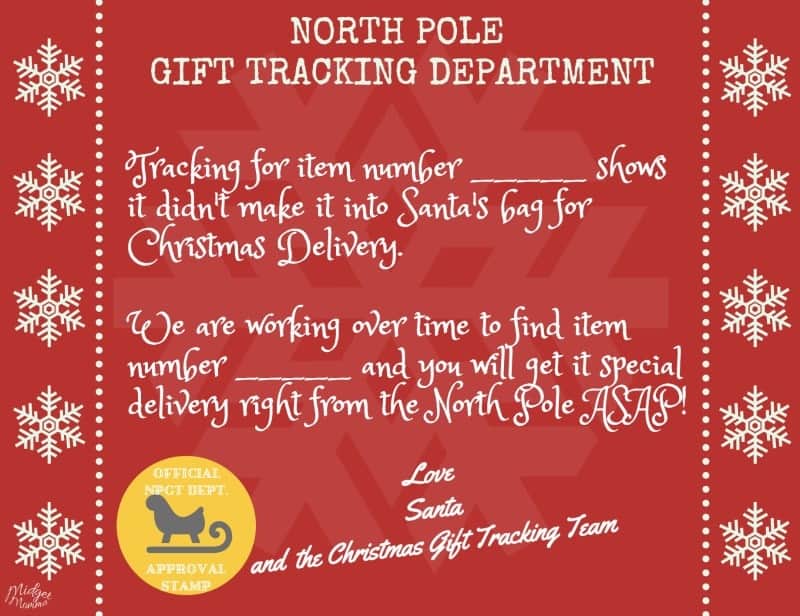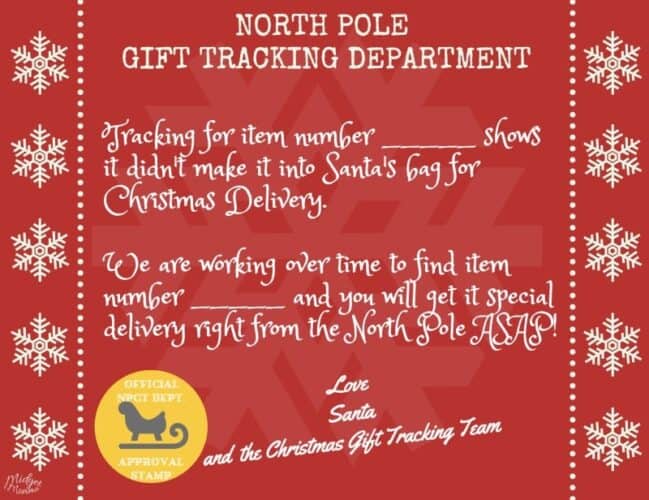 Missing Christmas Santa Gift Printable
While getting the gifts all together have you realized that something is missing? Did a package not come in the mail that Santa was supposed to deliver on Christmas morning? If so then you need this Missing Christmas Santa Gift Printable! Which I am pretty sure is how you found this post in the first place. LOL.
Now it is time to take a deep breath, Christmas will be ok. I know, I know I am saying this to you as you are in full panic mode about gifts missing because you want Christmas to be amazing. Even with out the missing gift Christmas is still going to be amazing, I promise!
Just Breath, and print this FREE Printable North Pole Christmas Gift Tracking slip. Grab a pen (crayon or marker will do fine too! I know you are running around like a chicken right now.) and fill in the item number (or numbers if a few are going to be missing) on the Missing Christmas Santa Gift Printable form. Then just stick the note in your kiddos stocking.
Direct from the North Pole Gift Tracking Department, that will let the kiddos know to keep an eye out for a gift that didn't make it into Santa's Gift Bag and will be coming via special North Pole delivery at a later date!
Just go here and download and then print!
** The printable one does not have any MidgetMomma.com watermarks, it looks like it totally came right from the North Pole! So no you don't have to worry about your kiddos seeing the MidgetMomma logo on the print out and going "Hey Mom, what is a MidgetMomma!"
I hope that now that you have gotten the missing gifts covered that you can relax a bit, finish up your wrapping and then enjoy all the amazingness tomorrow will bring with the amazing smiles of kiddos on Christmas morning!
Join the newsletter
Subscribe to get our latest recipes right in your inbox every time we post a new one!