15 Places to Buy Amazing Pre-Made Thanksgiving Dinner. This year, 2020, has been a bit more stressful than usual. If your idea of Thanksgiving is ordering delivery, you can still do it with a little traditional Thanksgiving flair.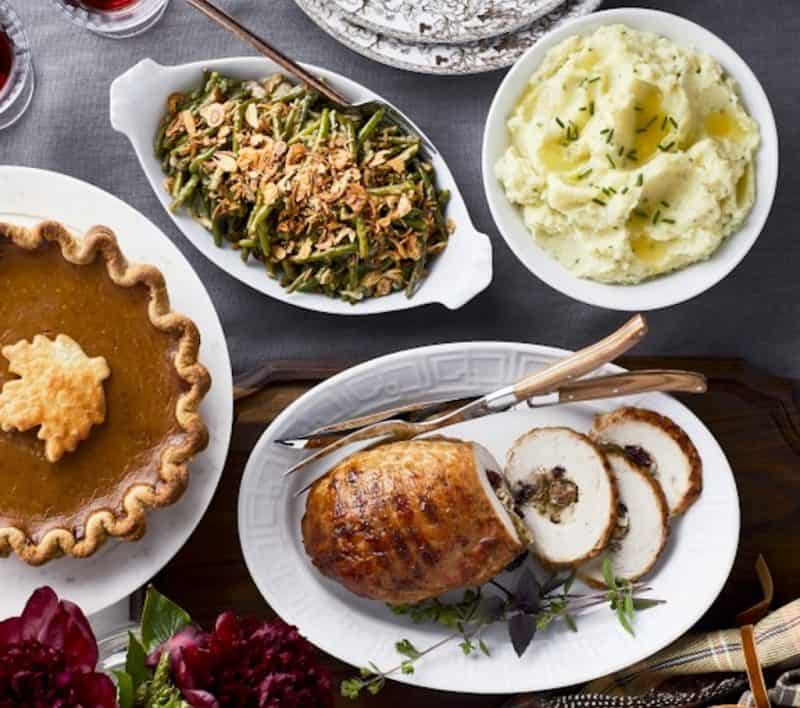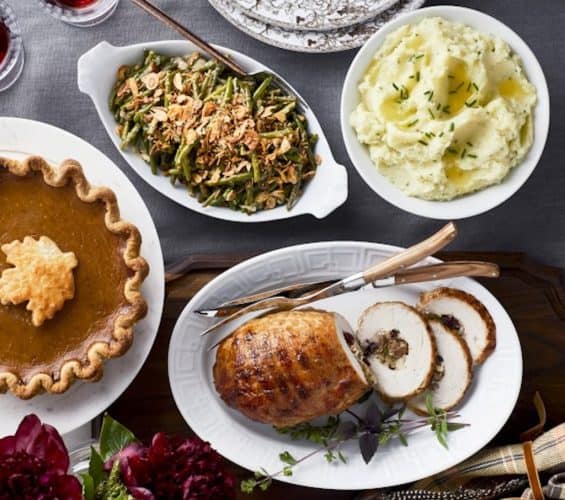 15 Places to Buy Pre-Made Thanksgiving Dinner
Don't want to cook this Thanksgiving? Here are 15 places that offer incredibly delicious premade Thanksgiving dinners.
All you have to do this year is turn your oven on (required in most cases to heat up the food), set the table, light a few candles, and spend time relaxing with family. It doesn't get any easier & stress-free than this!
1) Bob Evans
Bring home Bob Evans signature Farmhouse Thanksgiving feast – all you have to do is heat it up and they'll even include step-by-step directions so everything is done perfectly at the same time. You'll even have the option to add additional bakery treats and extra sides if needed. Their fully equipped Turkey or Ham Farmhouse Feasts feeds up to 4 and all are available for order now for just $54.99!
Want to skip clean up altogether? Bob Evans plans to be open this Thanksgiving, which gives you the option to dine in with your family and save on the mess, too. Their entire Thanksgiving menu is affordable and even has meals just for the kids.
Here's what's included in their Farmhouse Turkey Thanksgiving Feast:
Slow-Roasted Turkey

Bread & Celery Dressing

Corn

Mashed Potatoes with Gravy

Green Beans with Ham

Cranberry Relish

Rolls

Cherry Supreme Pie
2) Boston Market
Boston Market offers a wide range of Thanksgiving dinner options. Whether you're planning to just heat & serve a simple dinner for your small family or you're hosting a catered meal for your entire extended family, you can order as little or as much as you'll need. And they're available for order now!
Choose between turkey or ham meals, whichever you choose will be a sure hit! Each delivered meal will come frozen, so make sure to give yourself enough time for thawing and about 2 hours for heating it up before enjoying it.
Here's what their Whole Roasted Turkey Meal for 12 for $139.99 comes with:
Whole Roasted Turkey (11-12 lbs.)

Mashed Potatoes & Gravy

Home Style Stuffing

Cranberry Walnut Relish

12 Dinner Rolls

9″ Pumpkin Pie

9″ Apple Pie
3) Buca di Beppo
At Buca di Beppo, their delicious Thanksgiving feasts are already available for pre-order now! Even better, you'll have the choice to pick it up piping hot or cold if you're holding out for Thanksgiving Day.
Their Thanksgiving Cold Packages are available for pick up between Nov. 23rd – 25th, Hot Packages are available for pick up Nov. 25th & 26th and Catering Feasts are available for pick up between Nov. 16th – 26th. You can also choose the no clean-up option and dine-in on Thanksgiving Day.
Their prepared dinners start at just $68.99 (serves 3) or their large dinner is $138 (serves 6). Plus, you have the ability to add any of their delicious Italian side dishes to really beef up your whole holiday dinner.
Here's what their Thanksgiving Feast includes:
Sliced White Meat Turkey

Homestyle Gravy

Roasted Garlic Mashed Potatoes

Spicy Italian Sausage Stuffing

Green Beans

Cranberry Sauce

Pumpkin Pie
4) Cracker Barrel
Feeding a crowd? The Thanksgiving Heat & Serve Meal at Cracker Barrel feeds up to 10 people and comes with all the traditional holiday fixings your heart desires. In 2 hours or less, you can have this delicious meal ready for your family – just make sure to order it at least 24 hours beforehand!
This year, Cracker Barrel is still running on normal business hours, even on Thanksgiving Day so if you really don't want the hassle, dine in and enjoy a hot Thanksgiving meal starting at 11 AM!
Here's what's included in their Thanksgiving Kit:
Two Oven-Roasted Turkey Breasts

Cornbread Dressing

Turkey Gravy

Cranberry Relish

Choice of 3 Country Sides (each serves 10)

Sweet Yeast Rolls

Pumpkin Pie

Pecan Pie
5) Marie Callender's
If you're lucky enough to have a Marie Callender's location near you, then you're in luck because the restaurant is selling five different types of holiday feasts to choose from depending on your family's needs. Whether you're a fan of enjoying a traditional turkey & ham dinner or want to splurge on a Prime Rib feast, they've got something for all taste buds! Plus, they're available for pre-order now and can be picked up on your desired date between November 23rd – 26th.
Your pre-made dinner will come frozen and takes about 3 hours of cook time, but that's nothing when all you have to do is pop it in the oven! Their dinner feasts serve either 4-6 or 6-8 people and range in price starting at $114.99 up to $179.99 with additional al la carte options and legendary holiday treats available at an extra cost.
Here's what's included in their Ultimate Whole Turkey & Ham Feast:
Whole roasted turkey

Bone-in spiral cut quarter ham with chipotle-pineapple glaze topping

Apple-Sage Stuffing

Fire-Roasted Yams (with cranberry streusel topping)

Cranberry Sauce

Fresh Mashed Potatoes

Turkey Gravy

Chef's Vegetables

Fresh Baked Cornbread

Whole Pumpkin or Apple Pie

Marie's House Blend Coffee
6) Trader Joe's
While Trader Joe's doesn't technically serve up or deliver an entire Thanksgiving meal, you can be sure to find dishes to make your dinner a lot easier and totally delicious.
In past years, they have stocked delicious seasonal items like a 40-ounce Turkey and Stuffing en Croute for just $12.99. It featured a turkey tenderloin & sweet cornbread stuffing, hand-rolled into flaky, buttery puff pastry with a sprinkling of herbs on top and it even came with turkey gravy and cranberry sauce! Yum!
Plus you can expect more unique options you won't find anywhere else such as Gluten-Free Cornbread and ready to heat, savory Pumpkin Bisque which was being sold for just $3.99 a jar!
7) Williams Sonoma
Not only can you buy the perfect kitchenware at Williams Sonoma, but now you can also score the perfect gourmet Thanksgiving dinner. You'll also get to choose from a Steller choice of meats like pre-brined, organic, and free-range depending on your preferences. Of course, it comes as no surprise that it's going to cost you, because, well… it's Williams Sonoma.
You can order a range of different dinners that serve anywhere from 4 up to 12 people, with prices starting at $179 going all the way up to a whopping $700 (serves 12)! They even offer Gluten-Free Entrees and Vegetarian Dishes for those with dietary restrictions. Sound appetizing? Just make sure to order by November 20, 2020, at 11:59 PM for delivery on November 25th.
Here's what you'll get with their Complete Thanksgiving Turkey Dinner that serves 8:
Willie Bird Turkey (your choice of free-range, organic, etc.)

Traditional Green Bean Casserole

Butter Chive Mashed Potatoes

Pumpkin Pie (topped with a decorative pastry leaf)
8) Shoprite's Friendsgiving Feast
If you've got your eyes and belly set on a much more affordable dinner, you can score a massive Friendsgiving Feast from Shoprite for just $149.99 and it feeds a crowd of 15 people! That's under $10 per person and all you have to do is heat and eat! Whoa!
Even better, they'll only need 72 hours' notice to feed your gathering, but make sure to allow about 48 hours to defrost your Thanksgiving Dinner in the refrigerator so it's ready in time to kick off the festivities!
Here's what's included in their Friendsgiving Feast for 15:
Herb Roasted Turkey Breast

Applewood-Smoked Cider Maple-Glazed Ham

Roasted Brussel Sprouts

Yukon Gold Mashed Potatoes

Fall-Spiced Roasted Butternut Squash with Cranberries

White Cheddar Mac 'n' Cheese

Country Stuffing

Thanksgiving Turkey Gravy

Gourmet Apple Pie
9) Denny's
Denny's is adding a Turkey & Dressing Dinner to its Thanksgiving menu, and they'll be open all day long on Thanksgiving for dine-in (where available) and pick-up too.
Denny's is also offering a family-sized heat-and-eat turkey dinner bundle which can be ordered online between November 20 – 25 for pickup on November 25 or 26 (24-hour notice is required). Pricing starts at $30 and varies by location.
Here's what you'll get with Denny's Turkey Bundle:
12 slices of turkey

cranberry sauce

stuffing

mashed potatoes with gravy

your choice of broccoli or sweet petite corn
10) Omaha Steaks
That's right – Omaha Steaks is famous for its juicy mail-order steaks will deliver Thanksgiving dinner directly to your doorstep too! Select 5 of your favorites from a menu of main dishes, sides, and desserts, and have dinner for six people delivered to your home for $159.99 shipped.
Your meal will arrive in 3-5 business days from the day you place your order, so plan accordingly to make sure you have your turkey in time for Turkey Day!
Here's what's included with Omaha Steaks' Build Your Own Thanksgiving meal (choose one of each from the following choices):
2 Fully Cooked Turkey Breasts or a Spiral Sliced Ham

Roasted Garlic Mashed Potatoes or Whipped Sweet Potatoes

Green Beans or Green Bean Casserole

Steakhouse Cauliflower Gratin or Steakhouse Creamed Corn

Caramel Apple Tartlets or Mini Chocolate Mousse and Caramel Cups
11) Ralph's (Kroger)
Ralph's sells Thanksgiving dinners that are fully-cooked and come ready to heat and eat. They're affordable too, starting at just $55 each for a meal that will serve 6-8 people. When you order from Ralph's, you can choose to have your turkey bone-in, boneless, smoked, or roasted.
Here's what you'll get with a Thanksgiving meal bundle from Ralph's:
Your choice of ham or turkey (bone-in, boneless, smoked, or roasted)

Green Bean Casserole

Sweet Potato Casserole

Old Fashioned Stuffing

Mashed Potatoes

12 ct. Kings Hawaiian Rolls

Turkey Gravy

Pumpkin Pie
12) Safeway
Let Safeway handle the cooking on Thanksgiving and order a prepared turkey dinner complete with all the sides. There are several options to choose from including turkey, ham, prime rib, and turkey breast dinner. Safeway's holiday meals must be ordered ahead of time, so stop by your local store deli, call 1-888-358-7328, or place your order online.
Here's what's included with Safeway's Traditional Turkey Dinner for $69.99 (serves 6 – 8):
9 – 10 lb. fully cooked turkey

48 oz of mashed potatoes

28 oz of homestyle stuffing

24 oz of gravy

14 oz cranberry sauce

12 Kings Hawaiian Rolls
13. Whole Foods
You can now reserve a premade Thanksgiving dinner online for easy pick up in-store at any Whole Foods. Just reheat your meal, pour the wine, and enjoy!
Whole Foods Holiday Meals feature classic Thanksgiving dinner packages along with the option to order additional sides and desserts a la carte if you choose. All holiday orders must be placed a minimum of 48 hours ahead of pickup date and time.
The Whole Foods Classic Roast Turkey Breast Dinner for 4 is $69.99 and includes:
Salt and Pepper Roasted Turkey Breast

Green Beans with Roasted Shallots

Creamy Mashed Potatoes

Traditional Herb Stuffing

Turkey Gravy

Cranberry Orange Sauce
14) Harry & David
At $214.99 shipped, Harry & David's Thanksgiving feast is one of the pricier options available, but it does include everything you need to serve a gourmet dinner for 8-10 people. Everything in this meal arrives frozen and will need to thaw for two to three days before reheating and serving.
With Harry & David's Gourmet Turkey Feast you'll get 19 pounds of food, including:
Ready-to-heat oven-roasted turkey (10 lb)

Apple sausage stuffing (1 lb 14 oz)

Creamy Brussels sprouts with bacon (1 lb 12 oz)

Brown sugar sweet potatoes (1 lb 15 oz)

New York-style pumpkin layered cheesecake (2 lb)

Classic turkey gravy (13.5 oz)

Spiced cranberry chutney (1 lb)
15) Dickey's BBQ Pit
Dickey's BBQ Pit is offering several holiday meal options, which include everything from a Complete Feast to items that can be ordered a la carte including turkey, ham, sides, desserts, and drinks. Dickey's Complete Feast starts at $112 and serves 10-12 people.
Here's what's included in Dickey's Complete Holiday Feast:
Choose from Spiral Cut Ham, Smoked Turkey, Cajun Fried Turkey or Prime Rib

Cornbread Dressing

Gravy

Baked Potato Casserole

Green Beans with Bacon

12 Buttery Rolls
Be sure to also Check out these TASTY Thanksgiving Pie Recipes!
Crustless pumpkin pie recipe

Best Apple Pie recipe

Boston Cream Pie

Easy Cherry Pie

Pumpkin Pie from Scratch

Puff Pastry Apple Pie

maple pumpkin pie

Pumpkin Pie

Blueberry Pie

Sweet Potato Pie
Happy Thanksgiving to you and your family!