Looking for things to do with kids in Washington DC? One of our kids favorite Washington DC activities was a trip to the U.S. Bureau of Engraving and Printing.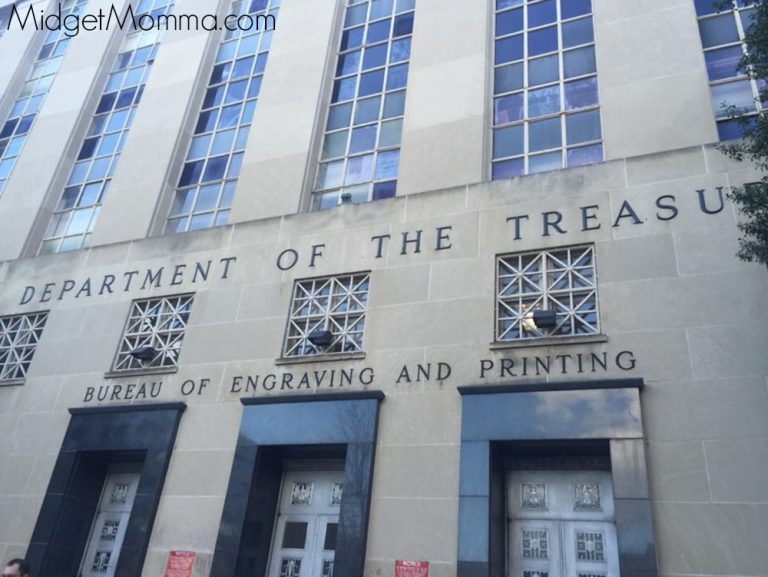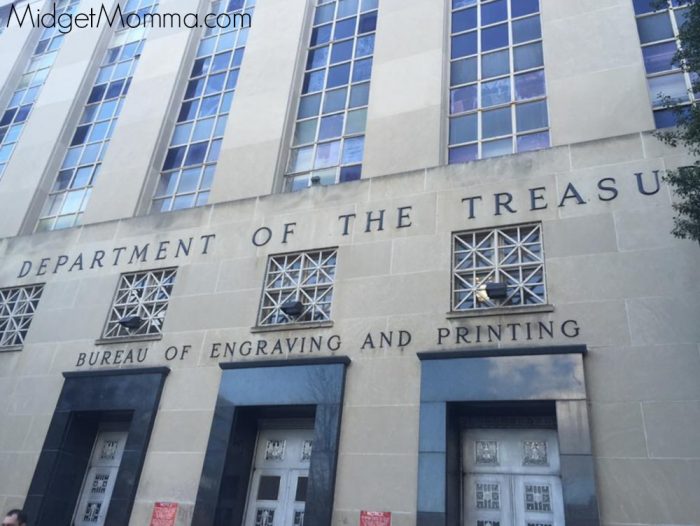 Visiting The U.S. Bureau of Engraving and Printing with Kids
I am all about combing learning with fun when we are traveling to a new place and when we took our trip to Washington DC it was sooo easy to combine the two. I will continue to share about our trip to Washington DC and the things we did so you can add those things to your itinerary when you are traveling to Washington DC.
The U.S. Bureau of Engraving and Printing is the actual place where the money is made for the United States! It is the money that will then come into circulation for us to spend!
Travel tip:
Be on the look out for a guy in a suit walking around. If someone in a suit comes up to you to talk to you you want to talk to him! He has name tag that says he works there. But even better he carries around uncirculated $1 bills to give to kids as souvenirs for FREE!!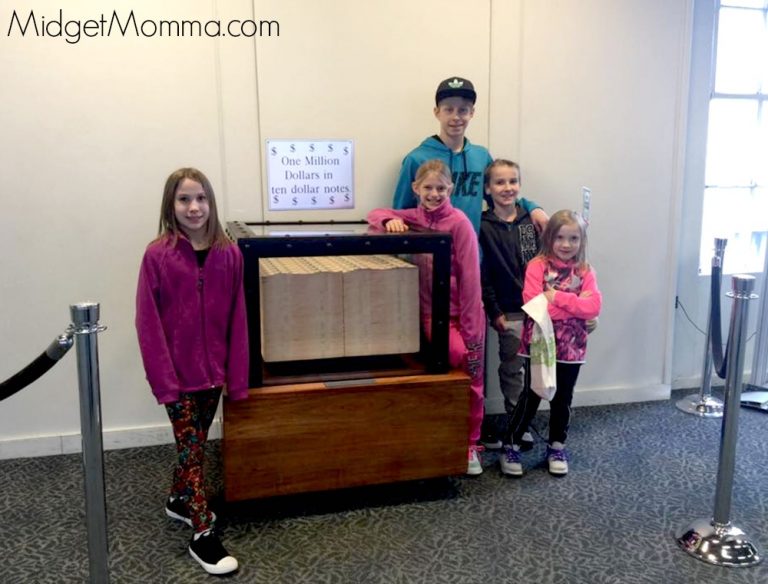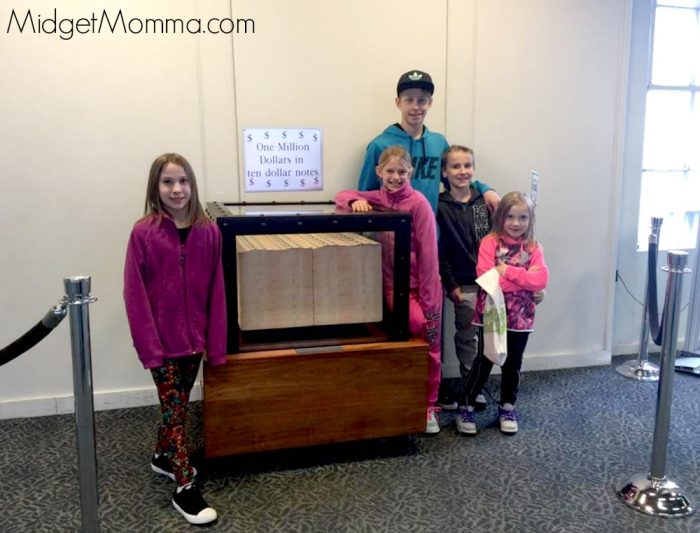 5 Reasons The U.S. Bureau of Engraving and Printing Is a MUST See in Washington DC
It is FREE.
Yup that is right, it costs nothing to go in and take the tour and learn about how money is made in the United States! During the busy months you will need to get in line early in the day to get tickets but during the slow months you just have to go to the ticket booth and get your tickets! Find all the ticket information here
It is great for all ages!
We had 6 kids with us ranging from age 6 months to 13 years old. While the baby slept a good majority of our time there when she was awake she had plenty of things to look at. All of the older kids had fun learning about it and taking the tour. Just be aware that you can not bring a stroller into the tour, so be prepared to carry a little one with you or do baby wearing.
Perfect time length.
Sometimes when you visit a place you are worried about how well the kid attention span will be. The tour is the perfect length, and all in all our time at the U.S. Bureau of Engraving and Printing was about 2 hours. This is one that you will want to plan for right after a meal since the time frame is so short compared to many other places in Washington DC.
You can see a Million Bucks!
This was one of the kids favorite things to see, they loved it so much we had to take photo!
The kids can have fun learning about money and have fun at the same time.
The tour was both fun and educational. You can not take photos of the tour but it is amazing. You will see the whole process of how money made from the start of them creating the paper, to printing it and then to its last step before it leaves the facility.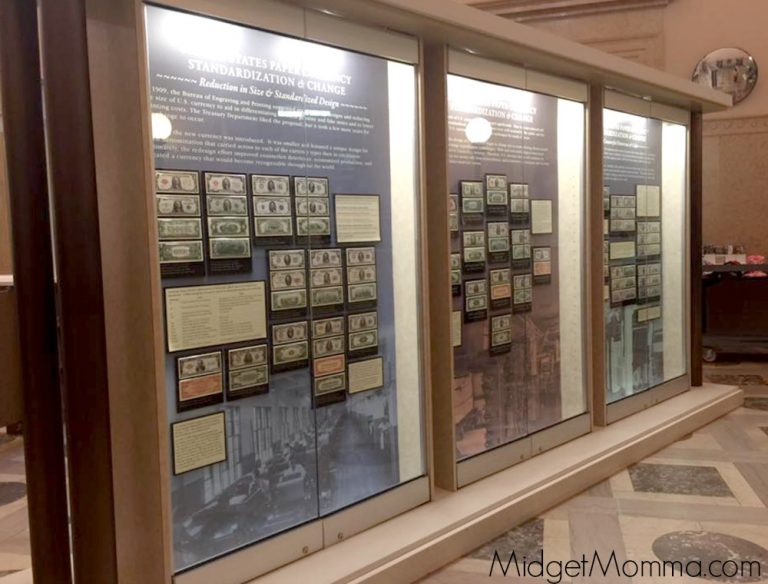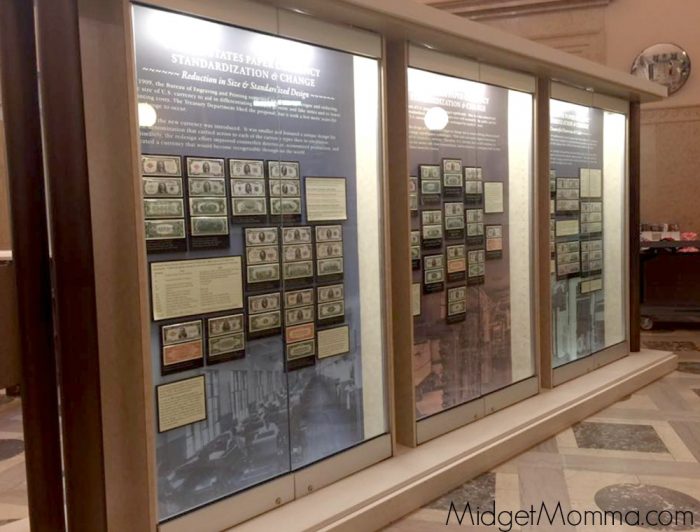 When is the The U.S. Bureau of Engraving and Printing open?
They are open March 20 through September 1. The rest of the year you can walk up at any time to get tickets.
How long is the The U.S. Bureau of Engraving and Printing Tour?
The tour is 40 minutes long and runs every 15 minutes from 9:00 a.m. – 6:00 p.m. Monday through Friday.
How much are tickets?
The tickets are free, however, they only have a limited about each day and the ticket window closes when all tickets have been distributed for the day. I suggest getting there early so you can get tickets.
Where is the The U.S. Bureau of Engraving and Printing?
Raoul Wallenburg Place (formerly 15th ST, SW), Washington DC