Learn how to do an easy butterfly face paint design for Halloween in just four easy steps with this easy face painting kit!
Halloween is coming quickly and my kids have been asking me this year to get more creative and fun with their costumes. I am not sure how many of you know how little artistic talent I have , but mine is slim to none so this is a challenge for me.
Last year we did Star Wars costumes, including a DIY Luke Skywalker costume that I came up with myself from things we had at home, this year they want me to step it up a notch. The next step to kicking it up a notch for them was me learning how to use face paint, a partnership with Snazaroo Nontoxic face paint came at perfect timing for the challenge the kids were giving me for this years Halloween fun!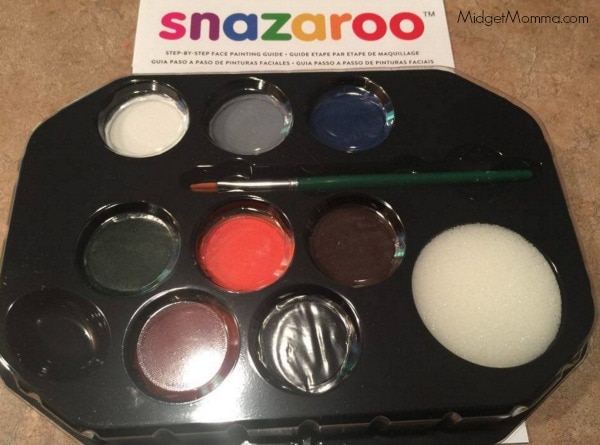 None of the kids have figured out exactly what they want to be yet this year, but we have been having fun playing around with ideas and using the Snazaroo Nontoxic face paint! Make sure you check out the step-by-step printable tutorials on a broad range of fun, Halloween looks kids will love, from aliens to zombies. It includes designs for popular animals, seasonal themes, princesses and fairies, pirates and heroes and of course, Halloween and horror.
Butterfly Face Paint Tutorial
As a nonartistic mom this face paint is AWESOME! I made quite a few mistakes while doing Alyssa's butterfly and I was able to easily wipe it away while it was wet when I made a mistake and then redo it. Once I was finished with her butterfly face it was dry and it stayed on her face with out rubbing off!
Removing the face paint was a lot easier then I expected, I had her take a shower and all she needed was a washcloth and the warm water and she was able to wipe the face paint off! I also do not have to worry about my kids skin using it because it is paraben and fragrance-free, suitable for sensitive skin, and non-toxic!
You can buy Snazaroo face paint on Amazon, and they have TONS of different colors and awesome things like glitter that you can use to make your kids Halloween costumes even more awesome and fun!
Butterfly Face Paint Tutorial  Supplies Needed
Snazaroo Nontoxic face paint
Butterfly Face Paint Tutorial Directions
Paint your chid's face white using the sponge included in the Snazaroo paint set. Make sure you get the whole face covered in the white paint.
Using Black face paint and the paint brush, outline the wing design shape that you want to make your butterfly and to paint your kiddos nose black. This doesn't have to be perfect, you want the outline to be where you are going to paint in between.
Fill in the open spaces with the paint color of your choice. Alyssa wanted dark blue on the wing spots and then light blue on her forehead. The great thing is that you can get creative with the colors!

Add decorative shapes to the "wings" – Alyssa wanted a heart, squiggle and dots. You can put what ever designs you want. But since butterflies have the same thing on each wing just make sure they are the same on either side! 
Snazaroo, maker of face paint, kits and accessories for kids, makes it easy for parents and caregivers to "Paint a Smile" this Halloween, make sure you follow Snazaroo On Social Media:
Facebook:https://www.facebook.com/SnazarooUnitedStates/?fref=ts
Twitter: https://twitter.com/Snazaroo
Instagram: https://www.instagram.com/officialsnazaroo/
Disclaimer: I am a Snazaroo Blogger Ambassador. This post is part of a sponsored campaign. I received compensation for my participation, but my review and opinions are my own.