Cookie Monster Pumpkin
My daughter is in love with Sesame Street. And next to Elmo her favorite character is cooking monster ever since we went to the new cookie monster area at Sesame Place. Since I'm a baker cookie monster is obviously my favorite character so for Halloween this year I figured I would do cookie monster pumpkin. My two-year-old daughter loved helping out painting the pumpkin it was something that she was able to do.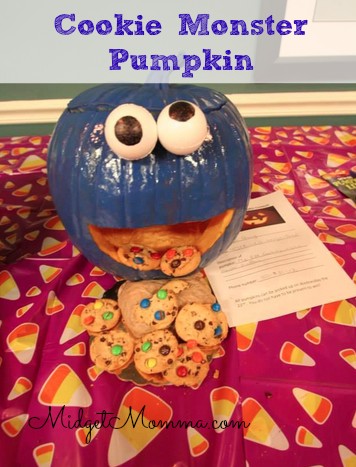 Cookie Monster Pumpkin Supplies
Cobalt blue craft paint
Styrofoam balls
Black sharpie marker
Cookies (make your favorite since he loves them all, we have lots of cookie recipes here)
Serrated knife
Hot glue gun
Cake cardboard
Cookie Monster Pumpkin Directions
Cut open your pump them either from the top or the bottom and remove all the seeds and gunks from inside. Paint the outside of the pumpkin completely with the blue paint you will probably need two coats. Once it's completely dry you will need to cut out a giant mouth. With your black sharpies color pulps onto the Styrofoam balls. Hot glue the eyeballs onto the pumpkin with one eye facing upwards. Place the cake cardboard underneath the pumpkin so it's sticking out. Pile the cookies so they're coming out of the pumpkins mouth.
Join the newsletter
Subscribe to get our latest recipes right in your inbox every time we post a new one!