We just returned from our amazing trip to Disney World! While we were there it was my birthday, so we were having dinner at Akershus Royal Banquet Hall with the princesses. I wanted a way to dress up with my daughter without looking like a crazy person. I figured I could put together an outfit using Snow Whites colors. I received so many complements from random people walking by and even from Snow White. This DIY Snow White Disney Bounding Outfit is easy to make and comfy too!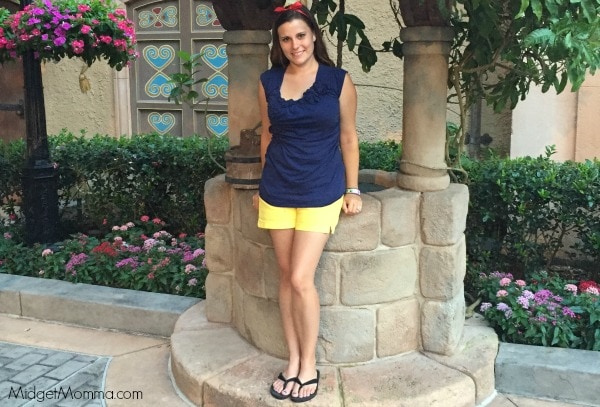 If you already have yellow shorts you can skip dying them but I had a very hard time finding yellow shorts. I used a pair of white shorts I already had that had a stain on them that would get covered with the dye. You can change this up with what ever you already have in your closet. So if you have a yellow skirt you may use that. I stuck with shorts because I knew I would be chancing around two toddlers. I found the dye for the shorts here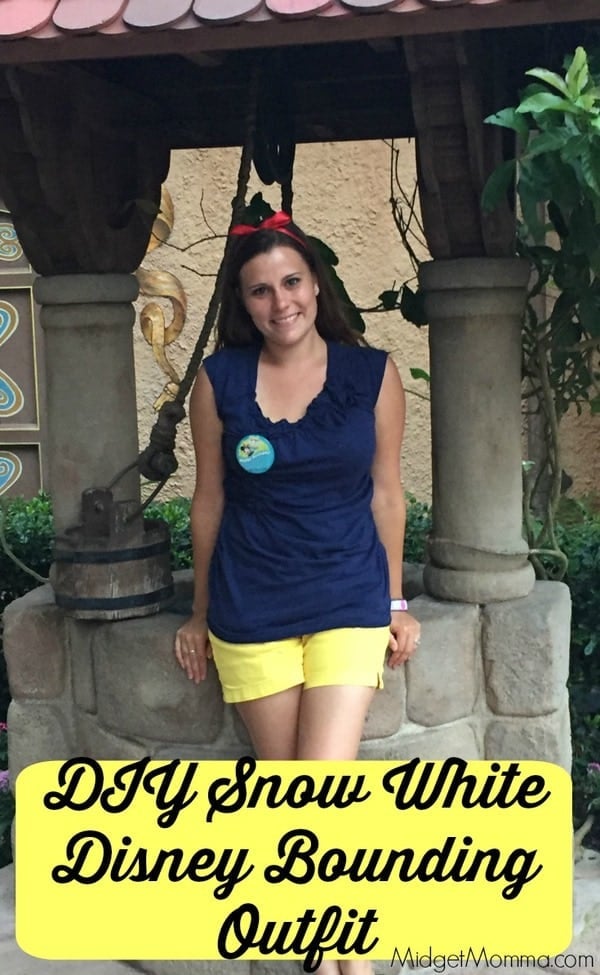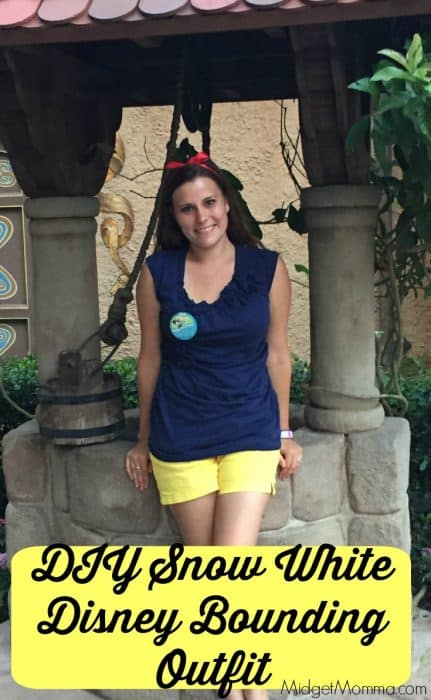 DIY Snow White Disney Bounding Outfit Supplies
White shorts
Rit Dye Liquid Fabric Dye, 8-Ounce, Golden Yellow
Bucket
1 Cup of salt
Red 1/2 inch satin ribbon
Lighter
Navy blue shirt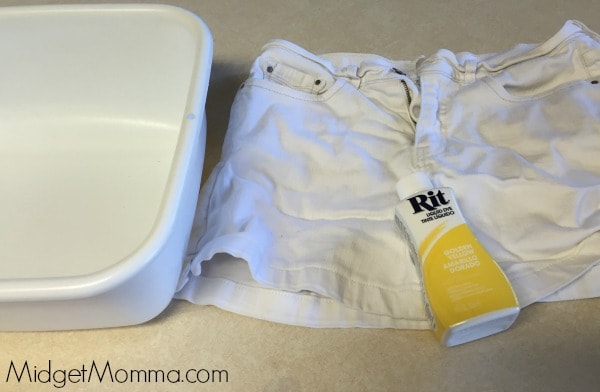 DIY Snow White Disney Bounding Outfit Directions
Cover your work surface with newspaper. Fill your bin half way with the hottest water from your sink. Stir in salt and 3/4 of the yellow dye. Test the color on a scrap piece of fabric. If it is to light add more dye. Place your shorts in your sink and get them evenly wet. Place your shorts into the color bath. Stir the shorts with a pair of tongs for 10-15 minutes. Remove the shorts and rinse them in your sink with cool water until the water runs clear. Wash in machine with a few junk towels and dry.
Take your ribbon and wrap it around your head where you would like it to lay. Add an extra eight inches of ribbon and cut the ribbon. With your lighter carefully place the ends of the ribbon into the flame to seal the ends. Don't hold the ribbon to long in the flames, you don't want to burn the ribbon.
Your outfit is now ready for you to wear. So put on your navy blue shirt and yellow shorts. Tie the ribbon on top of your head making sure to make a nice bow.