If I were to have my older 2 kids buy lunch at school every day I am looking at spending $15 a week per kid, which is $120 a month! Not to mention what the kids are feeding the kids is not exactly health foods. Chips with taco meat, pizza, fruit roll ups etc. If I shop sales and use my coupons I can give my kids a lunch that is healthy and has organic items for just 9.85 a week per kid! That is a saving of $5.15 a week! Making it only $78.80 a month versus $120!! Over the course of the year that is some really big savings! It also does not take very long to prep a lunch, I prep stuff at night and at times things like melon I prep a few days worth and put them in bento box containers and put them in the fridge. I found these really cute sandwich cutters to make their lunches extra special. My daughters favorite sandwich is the little kitty cookie cutter.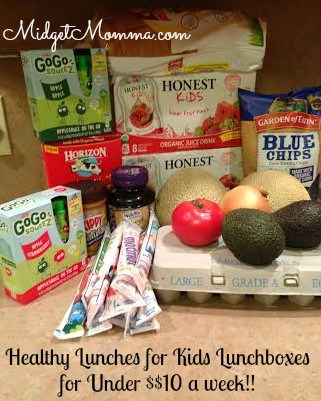 Healthy Lunch box Meals with Organic items for under $10 a week
Cost break down: (this is for me making 10 lunches a week for my older 2 children)
Bread: loaf @ $2 makes it .09 a slice – use 8 slices – .72
Peanut Butter @ $1.25 (use 1/4 of the jar) – total – .32
Jelly @ $1.50 use 1/4 jar – total – .38
Blue corn tortilla chips – $2.50 (use about 3/4 the bag) – total $1.98
Honest Kids organic juice boxes (Used a coupon paid $1.50 for the 8 count boxes, making them .18 each) = total $1.80
Guacamole (find recipe here) – $4.00
18 eggs – $3
2 melons @ .99 each – $1.98
10 gogurts bought on sale at .75 a box for 8 – .09 each total -.90
2 boxes horizon crackers on sale for $2.50 a box, used a .75/ off 2 coupon that doubled to make them $1.25 a box = $2.50
Mayo (for egg salad) .50
Gogo Squeeze Apple sauce- (on sale for $2.09 each used $1 off coupon paid $1.09 for the 4 pack) = .27 each ($1.62 for the meal plan)
total – $19.70 (thats just $9.85 per kid!)
I do end up with extra egg salad but when i make it I use 6 eggs to make it and that makes about 4 sandwiches in our house because the kids do not like them over flowing. If you are making this meal plan for just 1 kid then you would want to buy a dozen eggs and not the 18 count and then use 5 hardboiled eggs for lunches and 5 to make the egg salad and then you would have enough eggsalad to have 2 days of eggsalad instead of just 1. You can also easily find which ever applesauce is on sale by you and use that instead of the gogo squeeze and the same goes for the yogurt, buy which ever one is on sale and you have a coupon for, when I was shopping it was the gogurt that was on sale and with a coupon 🙂
Menu for kids back to school lunches
Day 1
Blue corn tortilla chips and guacamole
sliced melon
gogurt
2 hard boiled eggs
Horizon crackers
juice Box
Day 2
Blue corn tortilla chips
PB&J Sandwich
gogurt
1 hard boiled egg
Juicebox
Day 3
PB&J Sandwich
2 Hardboiled eggs
gogurt
GoGoSqueeze Applesauce
Juice box
Day 4
Egg Salad sandwich
Sliced Melon
Horizon crackers
gogurt
gogo squeeze applesauce
Juice box
Day 5
PB&J sandwich
Melon slices
gogo squeeze apple sauce
gogurt
Horizon crackers
Juicebox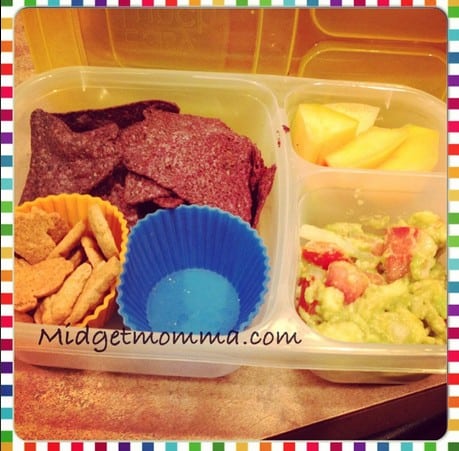 I also like to have fun with the kid's lunches and you can use the egg molds to make the eggs fun shapes and I like to use the lunchbox containers to keep everything in. Then I put everything in a Pack-it which is my all time favorite lunch box because you freeze it and do not need to waste space putting an ice pack in it 🙂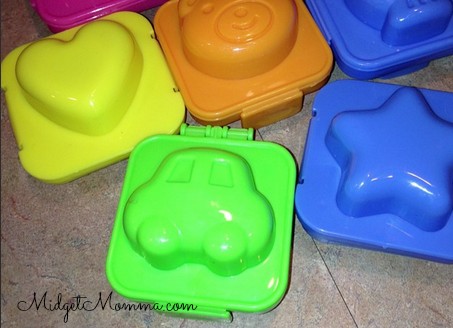 Join the newsletter
Subscribe to get our latest recipes right in your inbox every time we post a new one!