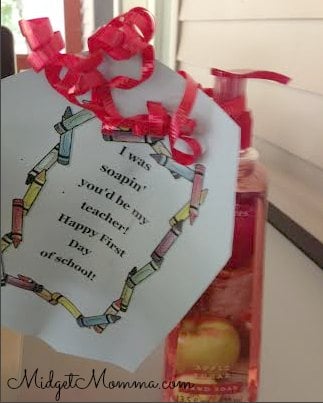 If you are looking for a creative gift for the teachers this year that is budget friendly check out this great one! I can not take the credit for it, my mom made them for my kids teachers this year but they are super cute and I had to share with you 🙂 I did make a printable of the hangtag so you can just print it out and use it for yours 🙂
Teacher Gift Idea: I was Soapin' You'd Be my Teacher! Supplies
bottle of hand soap, go with the fancier type bottles and taller bottles, they work better
Printable hang tag found here
ribbon
Directions for Teacher Gift Idea: I was Soapin' You'd Be my Teacher!
Print the hang tag, have your child sign their name on the bottom of it. Using a hole punch lunch a hole at the top and use the ribbon to tie the hangtag to the bottle of soap 🙂 Super easy and they look super cute!
Join the newsletter
Subscribe to get our latest content by email.
This post may contain affiliate links. Please read my disclosure policy here