Summer seems to go by much faster then we like it to, it seems like there is never enough summer days and that in a blink of an eye the summer is gone. It is important to make the most of summer and make memories and going to amusement parks is a great way to have fun during the summer. However since summer is currently over and the kids are in school, amusement parks are also great for fall because many have fall fun that you can go to as well, so for summer and fall fun amusement parks are a great place to go with the family!
Hershey Park Hershey Pennsylvania
For us one of our local ones (I say local even though it is about 2.5 hours from our house), is Hershey Park. Staying over night the night before hand is always the best option for us when it is a drive like that as we can get a good start in the morning and a good nights rest.
Hershey Park Lodging
We arrived early evening at the Hershey Lodge, it is located a bit away from the park but that is ok because you don't have the noise you would have if you stayed close. Plus if you stay there, there is a free shuttle service to take you to and from the park! A great way to save money so you do not have to pay parking! Parking at the park however is not to bad, comparable with many parks, $15 for General Parking and $25 for preferred.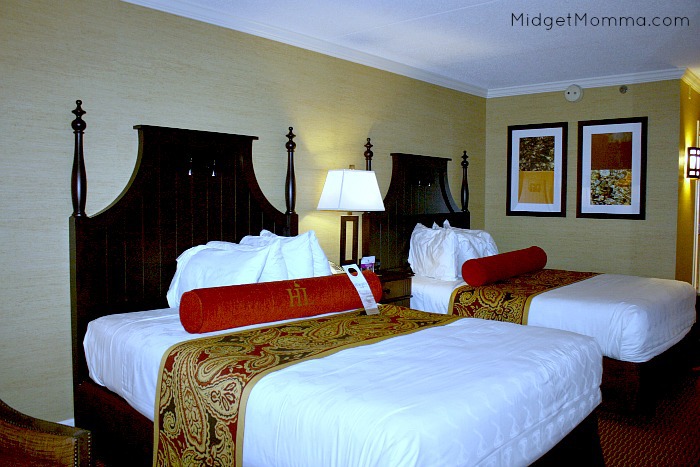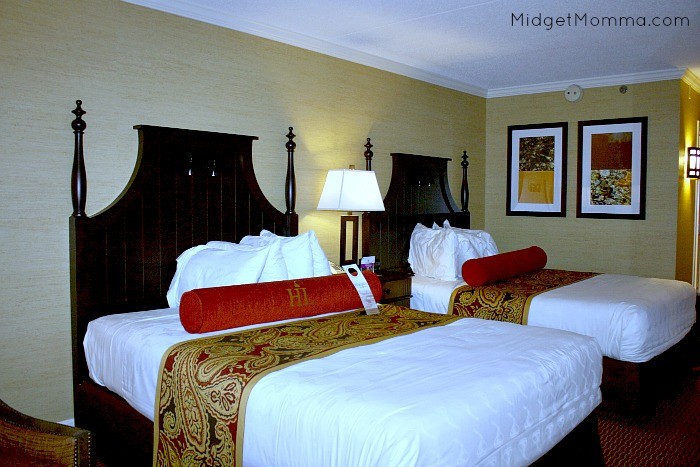 The sweetness is seen as soon as you check in, they give everyone in your party a Hershey chocolate bar! The sweetness continues through out the hotel and right into your hotel room. The room gave you the feel of chocolate from the milk chocolate toned walls, to the sheets that had Hershey Kisses on them, and the bathroom supplies that are infused with chocolate. Our room was clean, with the exception of finding a pillow pet under the bed, however if you find anything wrong with your room just call housekeeping, they will take care of it.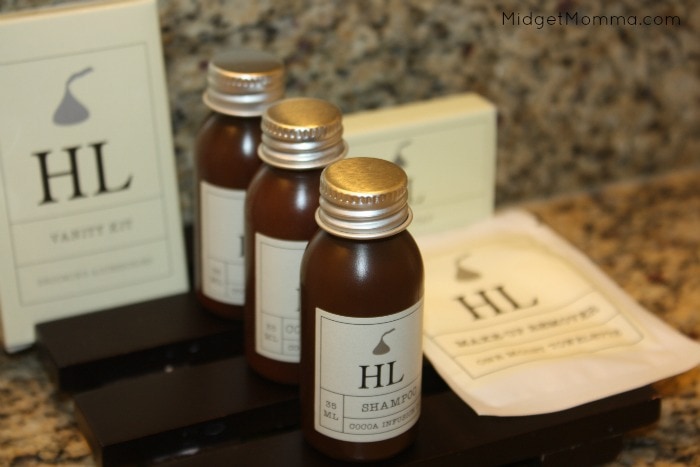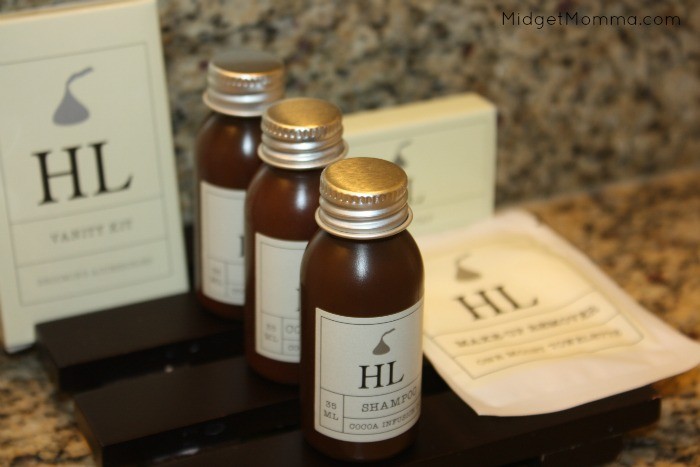 The Hershey lodge also offers activities for the kids, a pool and a HUGE benefit, the Park Preview. The park preview gives you 2.5 hours at the park the night before your park passes start. Gives you a chance to get a few rides in, see some characters and wear the kids out a bit before going to bed. Great for if you have spent time in the car driving to get there! Upon checking in, included in your stay are also free passes to the Hershey Museum and Hershey Gardens, if you want to get start your morning out a bit slower then the park.
Hershey Park Hershey Pennsylvania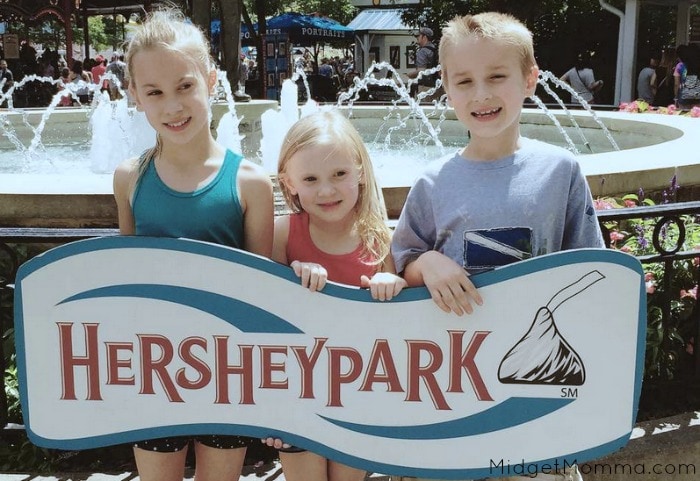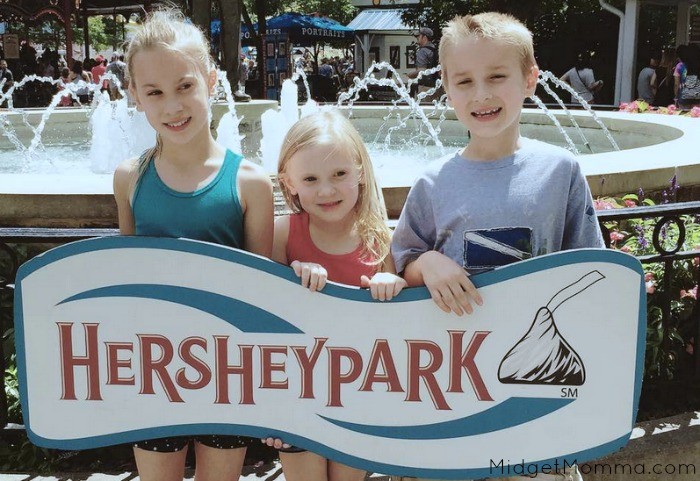 Hershey has quite a bit of options when it comes to rides. Before you get started on the rides make sure you get the kiddos measured, not only is it fun to see what sweet Hershey treat you are, but it will make knowing what rides everyone can go on easier.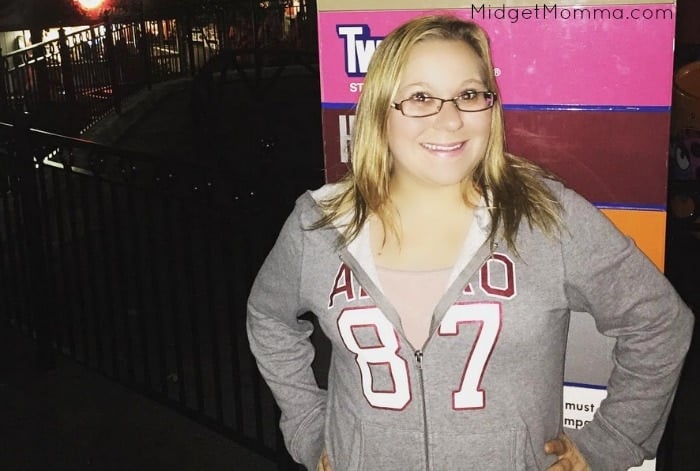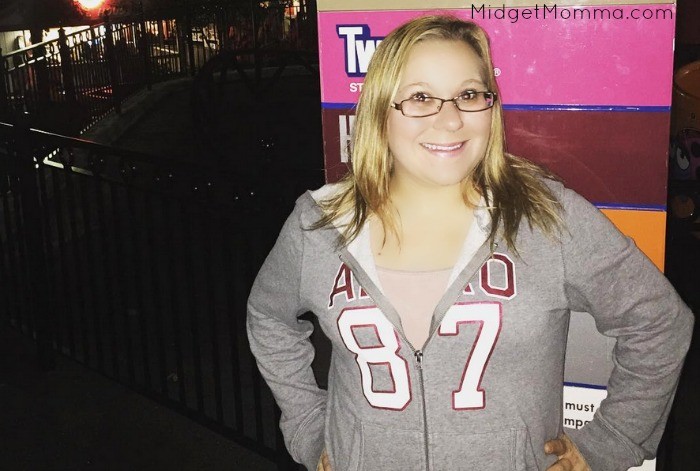 One of the rides that everyone loved was the Cocoa Crusier, it is a family coaster that while slow was perfect for the littles like Alyssa. The older kids even enjoyed the little kid rides that they went on with Alyssa. So while being at a theme park you have to juggle rides, the kids can all have fun together even if the rides for ages that are younger then them.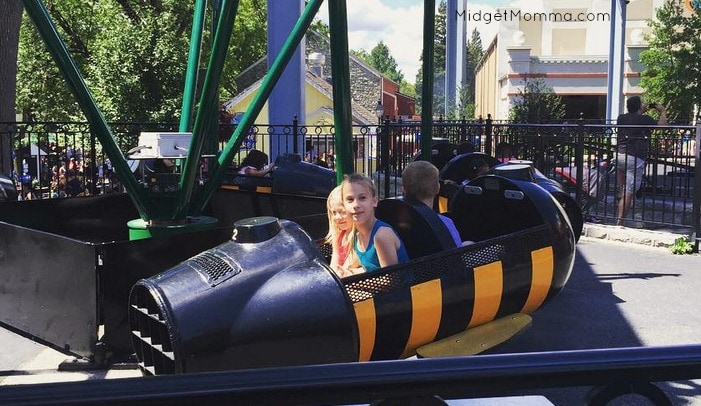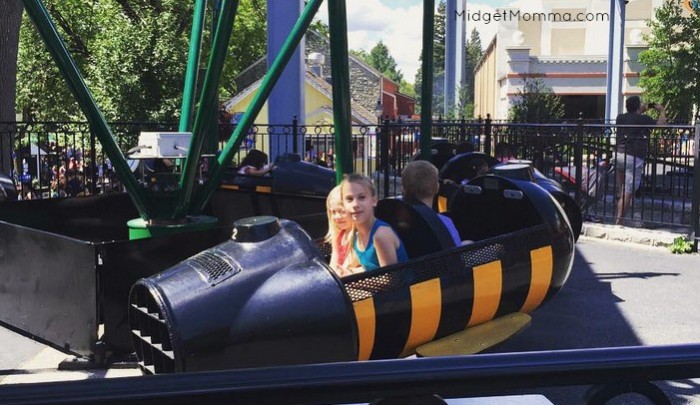 If you have a roller coaster fan then you are going to have plenty to pick from including ones that go upside down. You have ones that are for your extreme fans and the ones who would prefer not to be looking at the ground. Spin lovers can take a ride on the swings or the tea cups and they will be having a grand old time. When doing rides I would suggest that you plan a head and make a list. This way everyone gets to take a ride on something that they want to.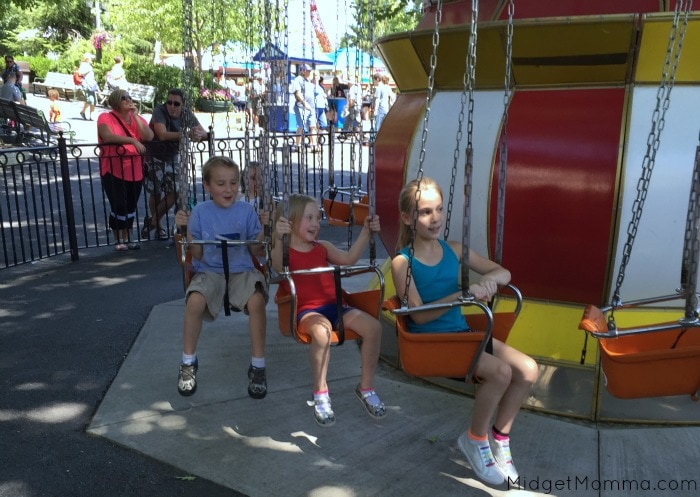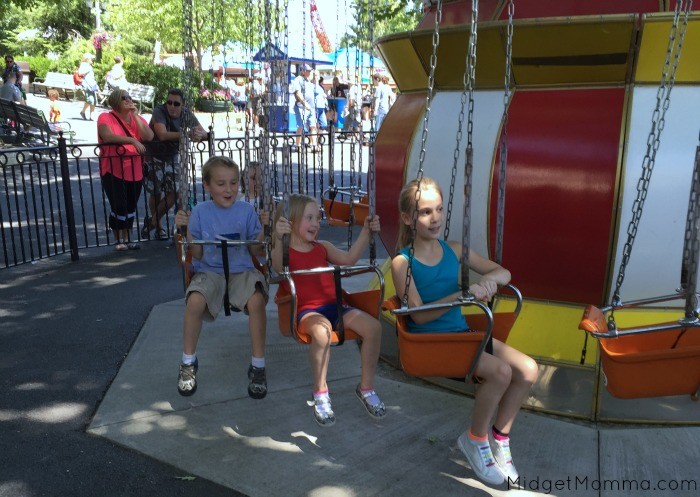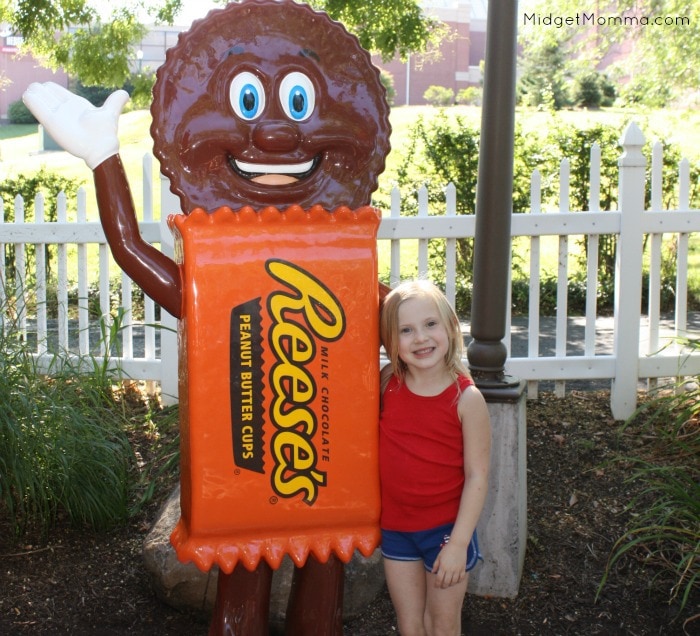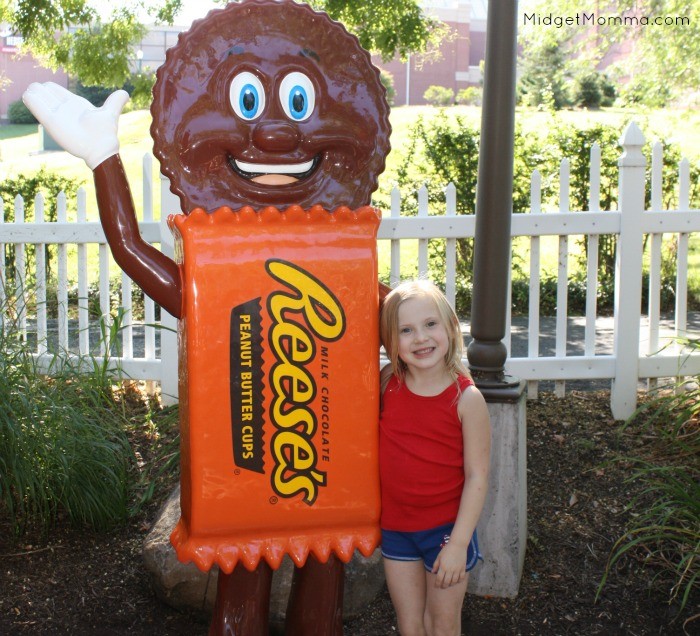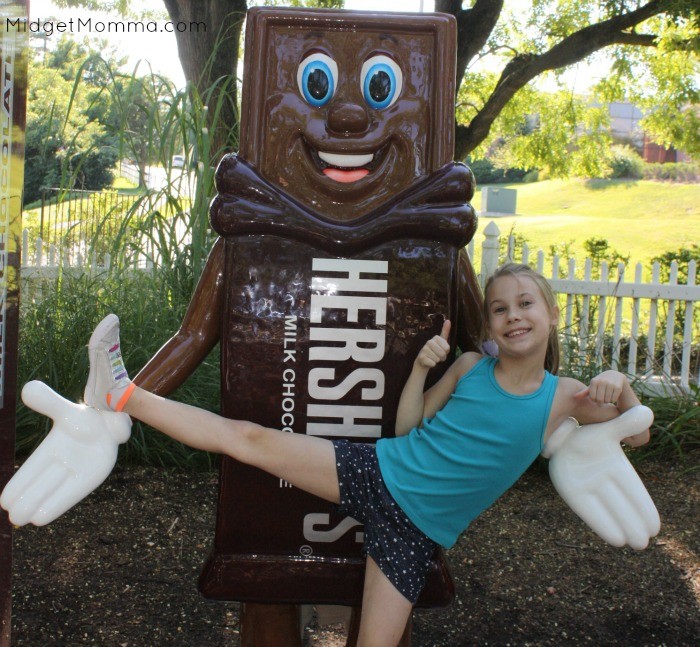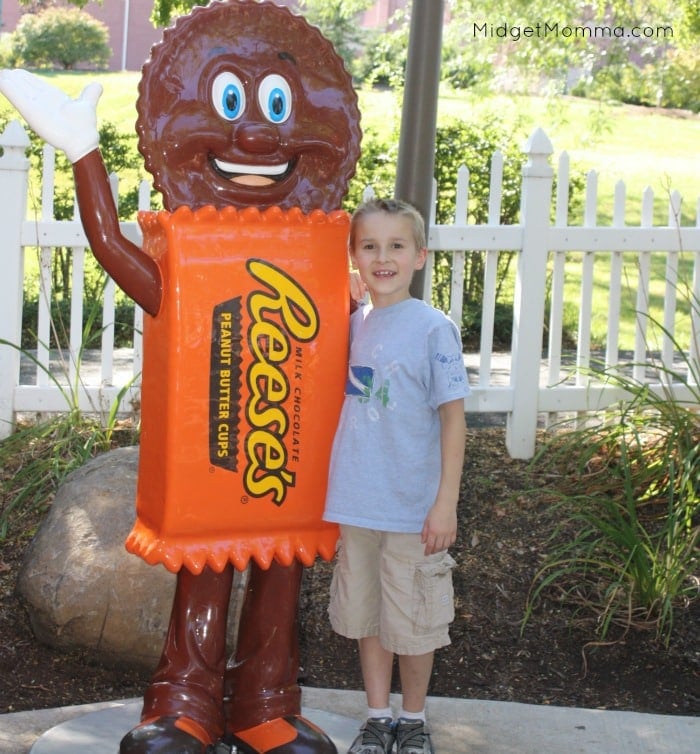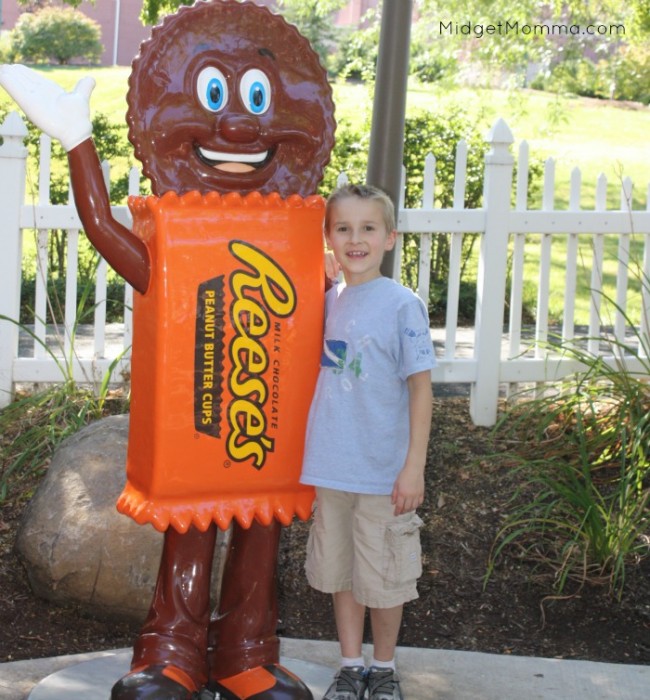 If you catch one of the bands playing that wonder the park, jump on in! They will dance with you and Logan had a blast while doing it!
Food at Hershey Park
Looking for food can be quite the challenge when you are at a theme park, there are so many options but you never know what is actually going to taste good. Hershey has plenty of options when it comes to food, because we didn't want to deal with crowds while eating we held off till the afternoon and had a quick snack when the kids were hungry mid day. If you are trying to pick a place that will match your taste, google it before you go or like we did, while you are there.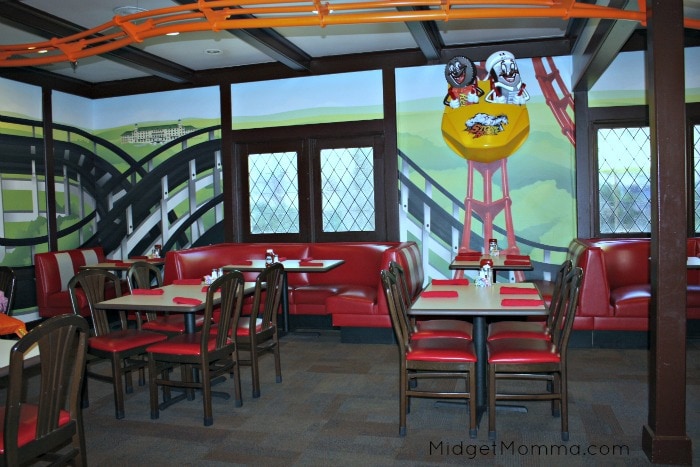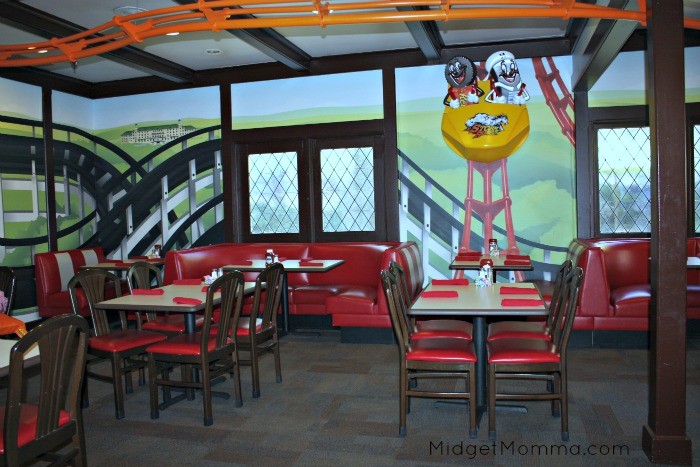 For lunch we opted for the Hershey Park Place, which is right out side the front gate of the park. The decor was fun, they have characters on the wall and 3 different themed rooms, a great option for the kids. A big plus was finding that they had outlets in the wall by the tables, so you can recharge the cell phones so you can keep taking photos of the rest of your day.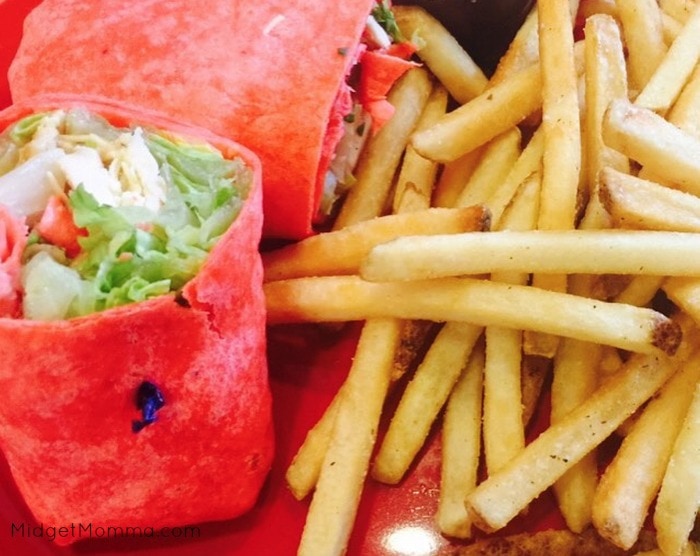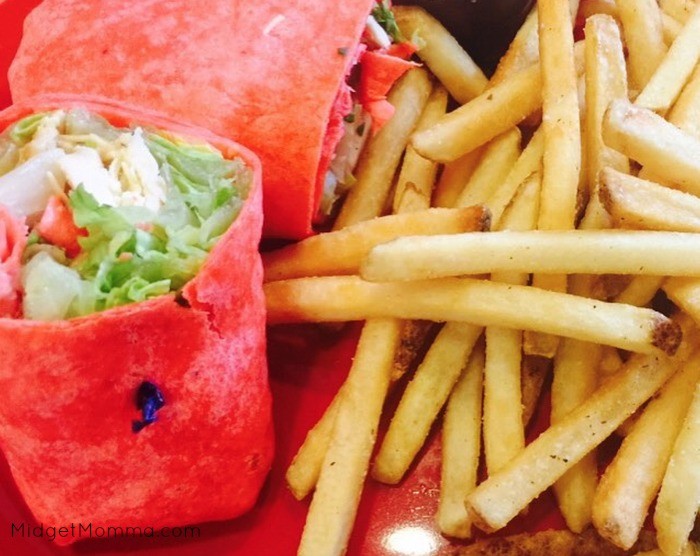 The food was enjoyed by all, with none of the kids wanting to eat anything off the kids menu we opted for 3 adult meals along with two appetizers that the kids insisted on having. The portions were larger then expected and even with 4 people sharing 2 meals, and 1 adult having their own we still ended up with more food then needed. By the time we were done eating we were quite stuffed, but the food was quite delicious and we were quite sad to leave it on the table.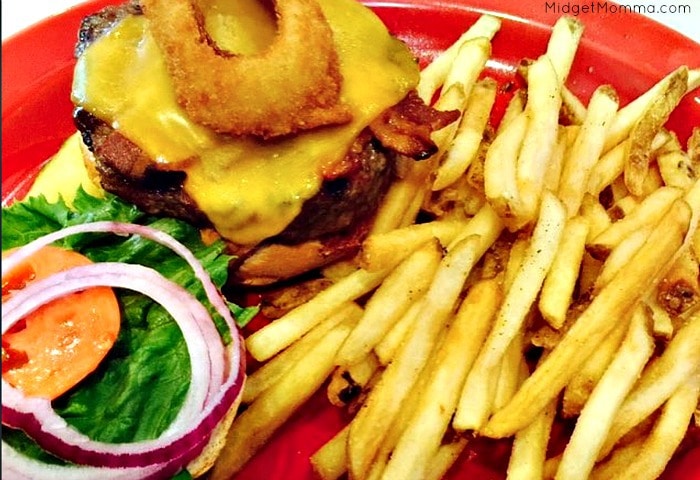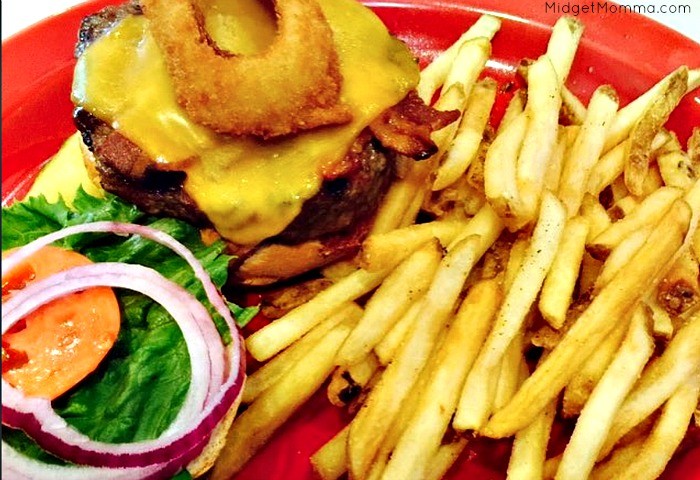 For the coffee addicts, you are in luck! There is a Dunkin Donuts right when you walk in the park! However be aware that you can not use your Dunkin App, they do not accept it and do not have a scanner. However it means you can still get the coffee you need 🙂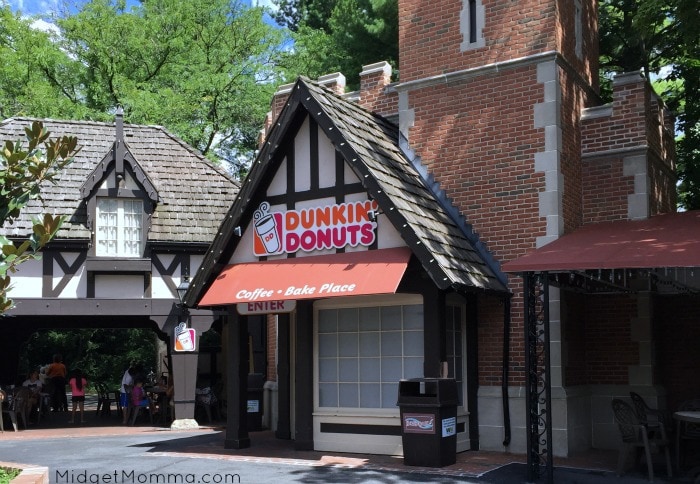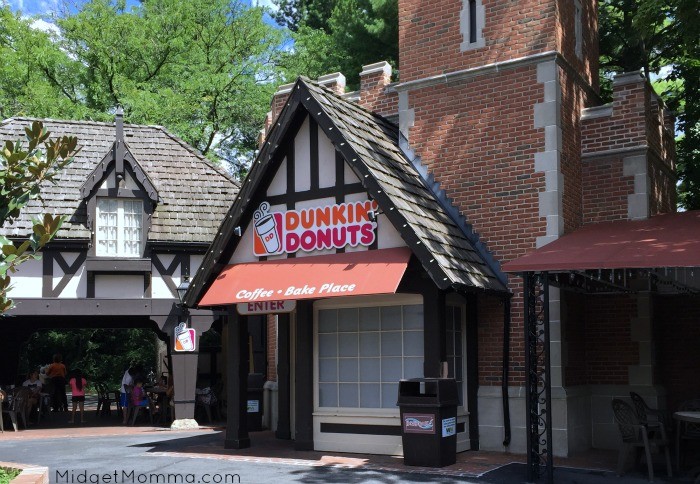 Hershey's Chocolate World
When you are at Hershey there is a MUST do activity, the Hershey Chocolate World. There is a chocolate tour that is free to do and at the end they give you chocolate. The tour takes you on a ride to learn about how chocolate is made and you see the steps of the process being done.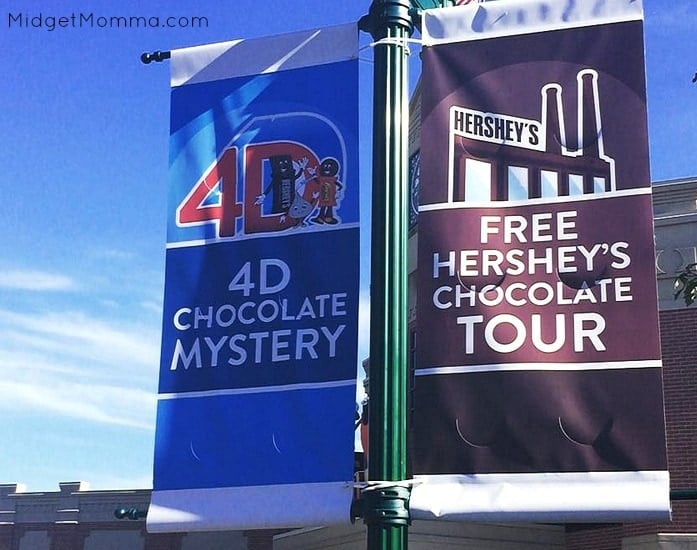 There are also other options of activities inside chocolate world that you can do for a cost, including create your own candy bar, a 4D movie experience, chocolate tasting and shopping. You will be able to find some great souvenirs here, including massive chocolate bars for those who know there is no such thing as chocolate ;).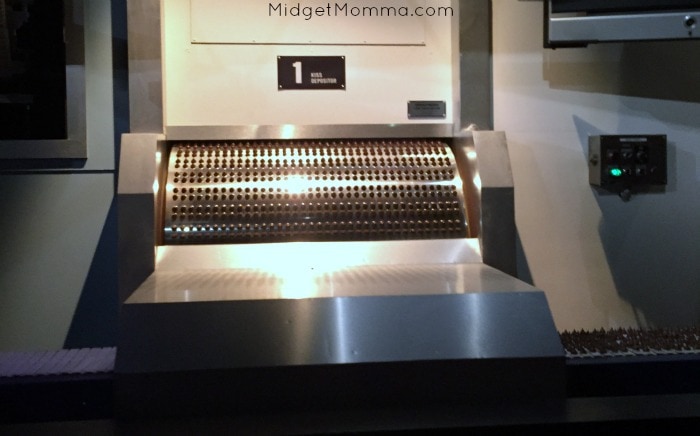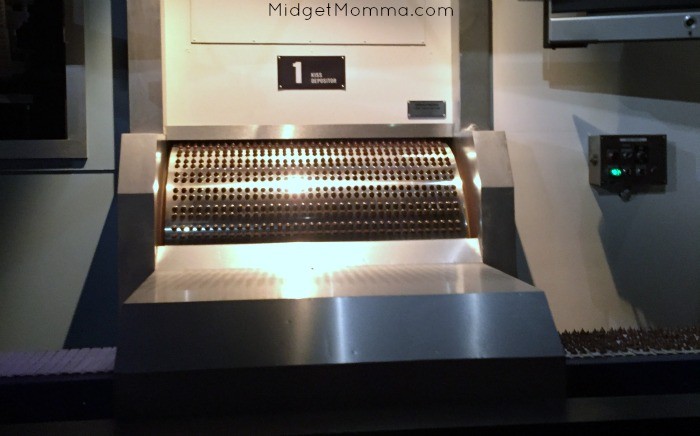 Treats are also aplenty inside Hershey's Chocolate World, from fun drinks like the Jolly Rancher Slushie to tasty sweet bakery treats. If you are going for the slushies, which we totally recommend, Logan came up with the idea to drink from the two we got at the same time to mix the flavors and oh yum! We had green apple and blue raspberry and alone they were fantastic, drinking from 2 straws, one in each flavor was holy yum!
Souvenirs at Hershey Park: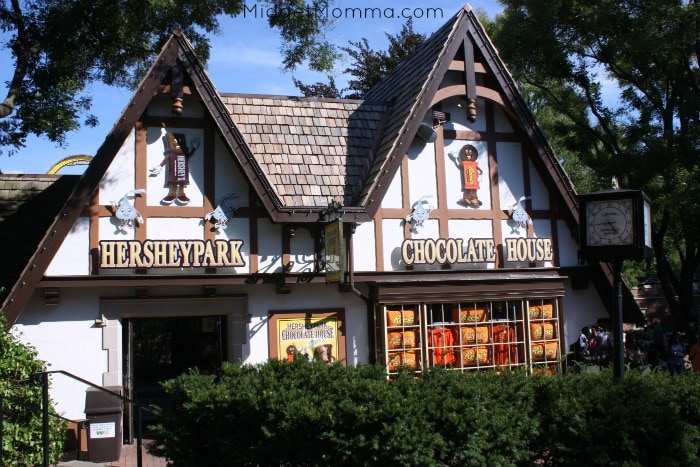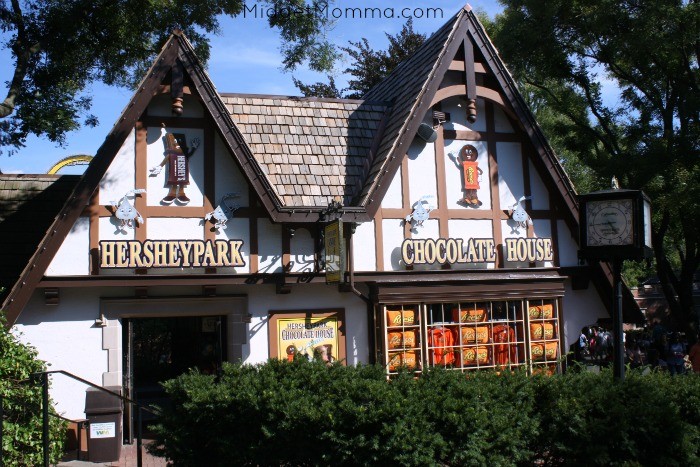 There are lots of different places that you can get souvenirs at in Hershey Park. They are scattered through out the park and quite easy to spot. There is also one thankfully right as you exit the park, which makes it great for not having to carry all the items the kiddos begged you to buy through out the park 🙂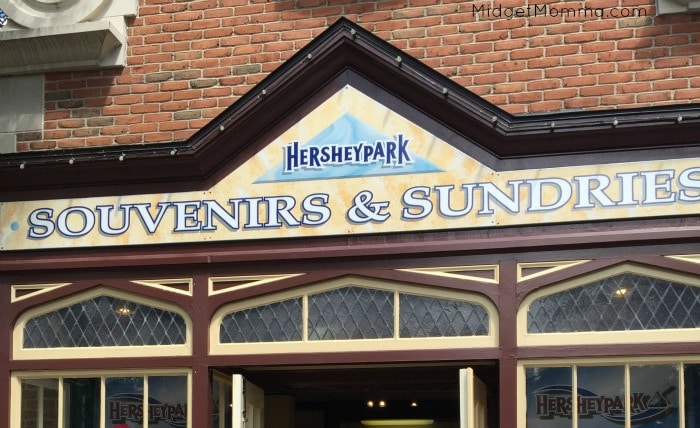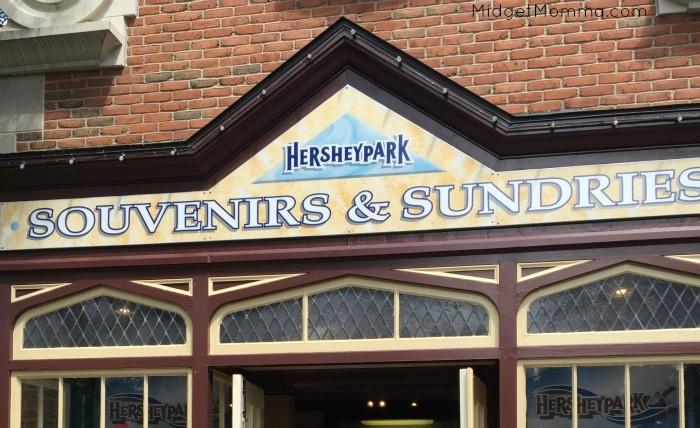 When planning your trip to Hershey Park, my suggestion would be make it a 2 full days trip. With the amount of things you can do at the park, combined with the kids activities at the hotel to the additional attractions like the gardens one day is not enough to get it all in. You don't want to rush the trip, you want to take in all the fun, make all the memories you can and enjoy it to the fullest extent.
Disclaimer: We were provided lodging for a night and Hershey Park tickets to facilitate the review. No compensation was received and all opinions are our own.