We have the perfect gift idea for everyone on your list this year. Below are some of the best gifts to get your friends and family. From plush slippers, must-have wardrobe staples, cosmetic items, electronics, gamer gear, bikes, home decor, and more.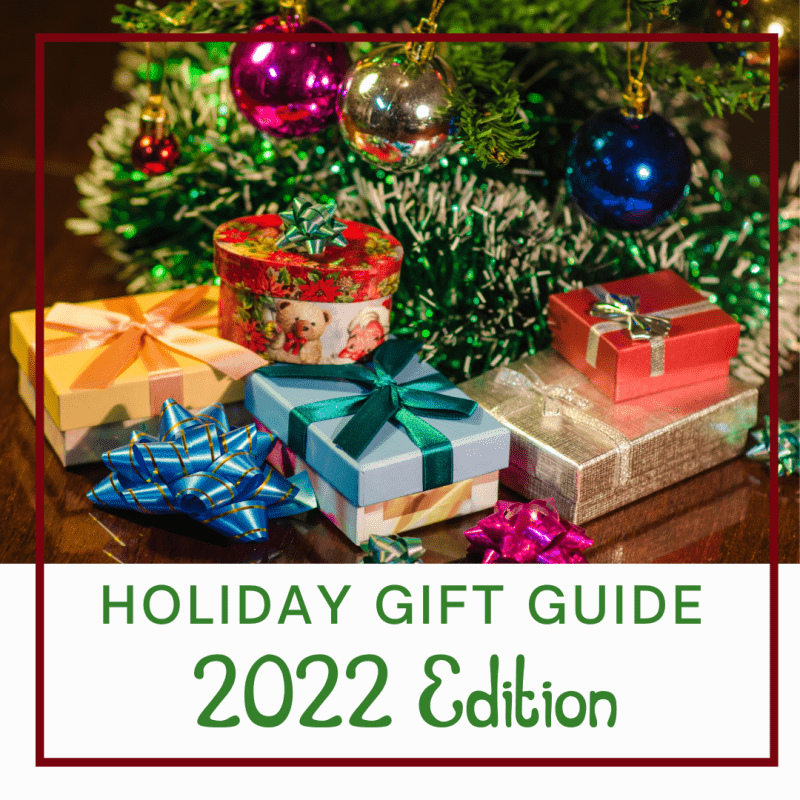 We have been looking for the perfect gifts of 2022 and we couldn't be more excited! Here are some of our favorite things.
Holiday Gift Guide: 2022 Edition
Find the perfect gift for everyone on your list with our Holiday Gift Guide. You'll find a gift for everyone from your sister to your boss, from children to grandparents.
The gift on everyone's wish list? This iconic set of makeup and skin-care favorites. Counter+ All Bright C Serum instantly boosts skin's radiance, and Counter+ Overnight Resurfacing Peel has a non-irritating AHA and beta hydroxy acid formula that refines your complexion while you sleep. 
You can rely on Countermatch Adaptive Moisture Lotion because it provides up to 24 hours of serious hydration, and Countertime Tripeptide Radiance Serum is designed to visibly increase skin's firmness and elasticity with daily use.
Rounding out this coveted lineup is our high-shine Beyond Gloss, scented with their responsibly sourced vanilla in universally flattering shade Magnolia Shimmer.
Named the overall best hiking shirt by Field and Stream, the Flume is a blend of Tencel (made from trees!) and spandex.  Tencel is naturally wicking, naturally odor-resistant, thermo-regulating, and crazy comfortable.
The perfect baselayer for hiking, climbing, skiing, or just staying warm on a cool day.
This bike is perfect for kids 6-10 years old (46-54 inches tall) and includes 6 safety reflectors, soft rubber grips and a chain guard to protect your child.
This kids road bike has a sturdy steel frame with wear-resistant and corrosion-resistant paint that withstands the bumps of learning to ride.
This sweet set is perfect for gifting loved ones and treating yourself.
Discover best-selling Beyond Gloss in four all-new covetable shades: Truffle Shimmer, Cinnamon Shimmer, Ginger Shimmer, and Rosy Shimmer, in mini, take-anywhere sizes.
Toss in handbags, gym bags, or travel bags all season long. With high-impact, non-sticky shine and a responsibly sourced organic vanilla scent, they'll give you plenty to smile about.
Named the overall best hiking shirt by Field and Stream, the Flume is a blend of Tencel (made from trees!) and spandex. 
Tencel is naturally wicking, naturally odor-resistant, thermo-regulating, and crazy comfortable.
The ¼ zip adds a bit of style for your après hike or ski activities ensuring comfort on the mountain and style at the watering hole.
This chic 24 karat gold pendant is intricately created from white miniature rose petals.
Beautifully integrated are 30 synthetic diamonds in our classic leaf theme.
The pendant is presented in a velvet pouch featuring gold trimming and draw-strings.
Its sophisticated detailing is protected by a lifetime warranty.
Each pendant is supplied with a certificate of authenticity.
Kinship Glow Squad 4 Step Healthy Skin Routine features four clean, cruelty-free + clinically effective bestsellers to cleanse, exfoliate, moisturize + protect skin revealing your brightest, glowiest skin yet.
Block out the cold and snow with the Tundra. These cozy and comfortable boots feature a faux fur fold-down collar and are a stylish addition to your winter wardrobe.
Perfect for any activity this season, the winter weather won't stand a chance against these waterproof boots.
The Dad's Bucket List is more than just a few ideas on things dads can do with their kids. There are 100 cards with creative and engaging ideas.
They are split into 3 major themes: love, life, and laughter. Some are designed to show a more gentle, connected side. Some are fun activities and silliness. There are also dividers inside so you can sort to-do, doing, and done.
This is a great gift for dads that want to do more than the daily norms and build lasting memories outside of family vacations.
No planning required - just draw a card (or a few) and get started. For cards that require time or materials not on hand, either place in Doing and commit to getting started ASAP or place back in To-Do and choose another card.
Dad can pick privately or allow children to be involved in the selection as part of the fun!
Need a last-minute gift? Olive and June have you covered!
They offer a range of overnight gifts plus gift cards for specific items and sets!
Luxurious sheets can make all the difference for your sleep, and bamboo's natural benefits make it the ideal material for cooling comfort. Breathable and satin-smooth bamboo sheets feel ultra-soft against your skin while wicking moisture, regulating temperature, and keeping allergens away.
Your mom will always be in your heart, show her that she is in yours as well. This Mama Heart Pendant with Baby Feet will bring a huge smile to any Mother's face, she will especially love the custom engraved baby feet. This is a gift that can't go wrong.
The Beardscape Pro includes the original gray Beardscape trimmer and all of our best accessories. The large case is designed to perfectly hold every accessory in its place. Now everything you need for your clippers has a home. 
The Pro version also includes the Zero blade which is one of the closest cutting blades available on a trimmer. Our professional barber customers asked for a case that would hold all guards and accessories, and they also needed a blade that could cut at a zero-gap to make the Beardscape perfect for men's haircuts.
These are the upgrades that make this version suitable for the professional.