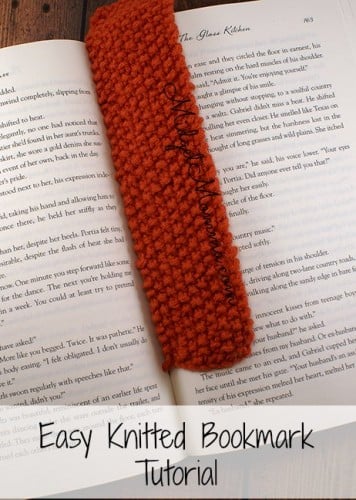 Nothing makes someone feel a little bit special than making a homemade gift. This is a super great gift that you can knit in any color for any time of the year! If you're like me, and you have a few bookworms in the family, then this is a perfect gift! If you are not that crafty but want to be starting simple is the way to go and nothing can be simpler then making your own book mark 🙂 Then just get a book and put it in there and tada an awesome, personalized gift! You can also pick a different color yarn for this project if you want to do a different color 🙂 This Knitted Bookmark Tutorial is easy to follow and I have included links to ebooks and videos as well for incase you have any issues 🙂
Materials Needed for Knitted Bookmark:
Loops & Threads Pumpkin Colored Worsted
Yarn
Abbreviations:
CO = Cast On
BO = Bind Off
K = Knit
P = Purl
Knitted Bookmark Tutorial:
CO 9 Stitches
Seed Stitch Pattern: This is a super easy pattern. You are actually just doing the opposite of the stitch that your are knitting in your row
Row 1: K, P, K, P, K, P, K, P, K
Row 2: K, P, K, P, K, P, K, P, K
Continue knitting in this pattern until piece measures 7 inches long
On your last Even Row, you can BO.
Here are some Ebooks that will help you if you are just getting started with knitting
KNITTING for Beginners: Learn How to Knit Quickly With Proven Techniques and Simple Instruction – Knitting for Beginners (Knitting, How to Knit, Knitting … Books, Knitting Patterns, Knitting Socks)
Knitting for Advance Knitters Volume 3: The Last Book to take your Knitting to the Final Level. With Even more Intricate Stitches, Afghans, Patterns and Garments (How to Knit)
Knitting Socks for Beginners: Learn How to Knit Socks With Proven Techniques and Simple Instruction – Knitting Socks (Knitting for Beginners, Knitting … to Knit Socks, How to Knit for Beginners)
If you are new to knitting check out these videos, they will help you and they make it super easy to explain so you will be able to be a knitting pro 🙂
Knit Stitch:  https://www.youtube.com/watch?v=x4kSztvq-vI