Getting started on your RV camping adventures can be extremely exciting. However it can also be very nerve wracking. With a few tips you can get started feeling confidant in your RV camping skills.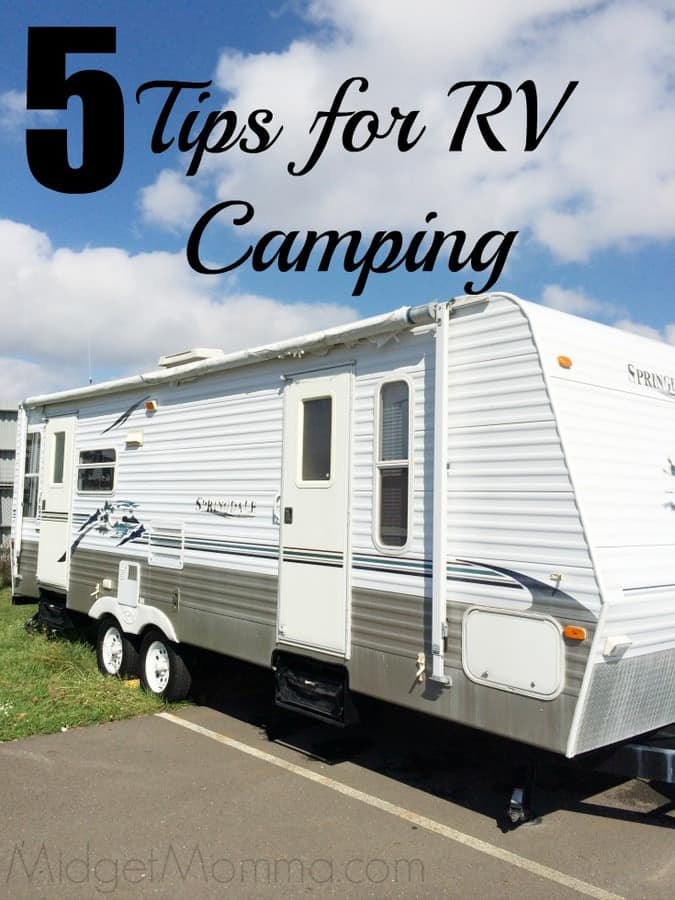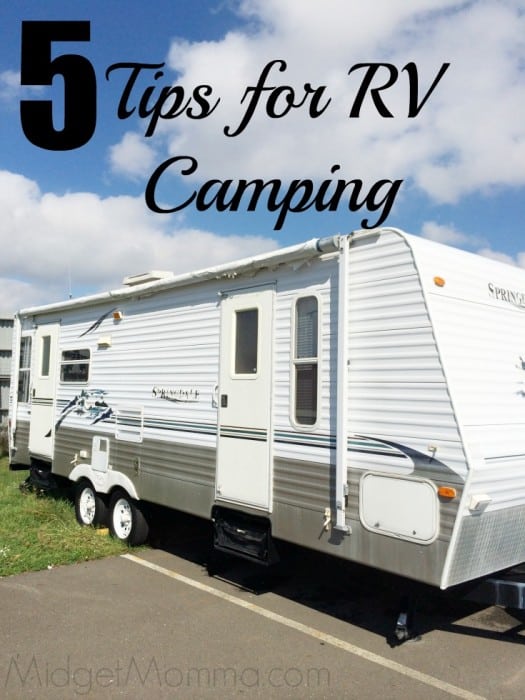 When I was young I thought camping was all about bugs, dirt and sweating. I was spoiled by my mom working for Marriott and we only stayed at those hotels when we went on vacation.
Then I meet my husband who had been camping since he was little. His family took me camping and I wasn't too excited about it from the get go. In my head camping was one thing, but how they did camping was totally different! It was so much fun!
I was shocked how much I loved it and I was hocked the moment we went camping in New Hampshire. I never knew that the outdoors had so much to offer. For years we were tent campers and I enjoyed the whole adventure.
Then we had my daughter. The idea of tent camping with a baby did not sound enjoyable to me so we upgraded to an RV. While not to much is different with RV camping and tent camping there are things that I wish I had known before getting the RV.
RV Camping Tips for Newbies
Here are the 5 Rv Camping Tips I have picked up with my experience in RV camping and wish someone had told me sooner!
Know how things work
Knowing how things work in your RV ahead of time saves a lot of stress trying to figure it out mid camping trip.
Take a practice drive. Ok so that might sound a little silly, but trust me you want to practice driving the RV before you head out on the road so you know how it moves and how to handle pulling the rv behind you.
Learn hand signals to help back up.
This one help us a lot! When you have a large camper trying to back into a small wooded site it comes in handy if you are able to communicate with the driver. They don't have the be anything special just so the driver knows to go to the left, right, keep backing up and stop. The person standing outside the camper needs to make sure they are out of the way and they are able to be seen in the drivers mirrors.
Learn about the Sway bar.
The sway bar moves back and forth with the motion of the vehicle to help stabiles the RV from swaying so much with the wind or passing cars. When you are not used to towing something that large these will help out a lot.
Bring things you enjoy!
Just because you are camping doesn't mean you can have comfort.
That's the great thing about having a camper you get a real bed and AC! I have good sheets on the bed and a feather comforter. Try out different styles of folding camping chairs. You will be spending a lot of time sitting in front of a fire in them so you want to really love them.
While bringing things you enjoy and are needed for comfort planning is important. You do not want to over pack your rv.
Be Friendly when camping
Make friends with your camping neighbors.
No I'm not crazy! I'm not saying you will ever talk to them again but its a good idea to be nice. You are going to be very close to them and if you are friendly to them it will help. Say they are play music very loud right next to where your baby is sleeping, your neighbor are more likely to turn it down if you have been friendly to them.
Don't always cook inside the RV
Get a folding camping grill.
We were just introduced to this our last camping trip and I love it. When you are camping you want things to be simple. You can cook inside the RV but its so small and it seems the smoke detector always goes off. This style of grill is great for easy clean up without the mess of a charcoal grill. It is small enough to fit in the storage under the RV. Here is one style of the grill that is perfect for RV camping.
Do a Test run at home
Do a Day/night in the RV at home to make sure you have everything you need and that everything works properly. It is better to know if you are missing something or you need to change something while you are home instead of on your first night camping.
Planning a camping trip? Check out these camping tip!