Being a teenager is hard, being the Mom of a teenager is hard but there are many things we have found that make the whole growing up thing a lot easier. One of those things is bullet journalling. Bullet Journalling for teens gives teens the ability to have self expression, learn about themselves and for teens to be creative.
Bullet Journaling for Teens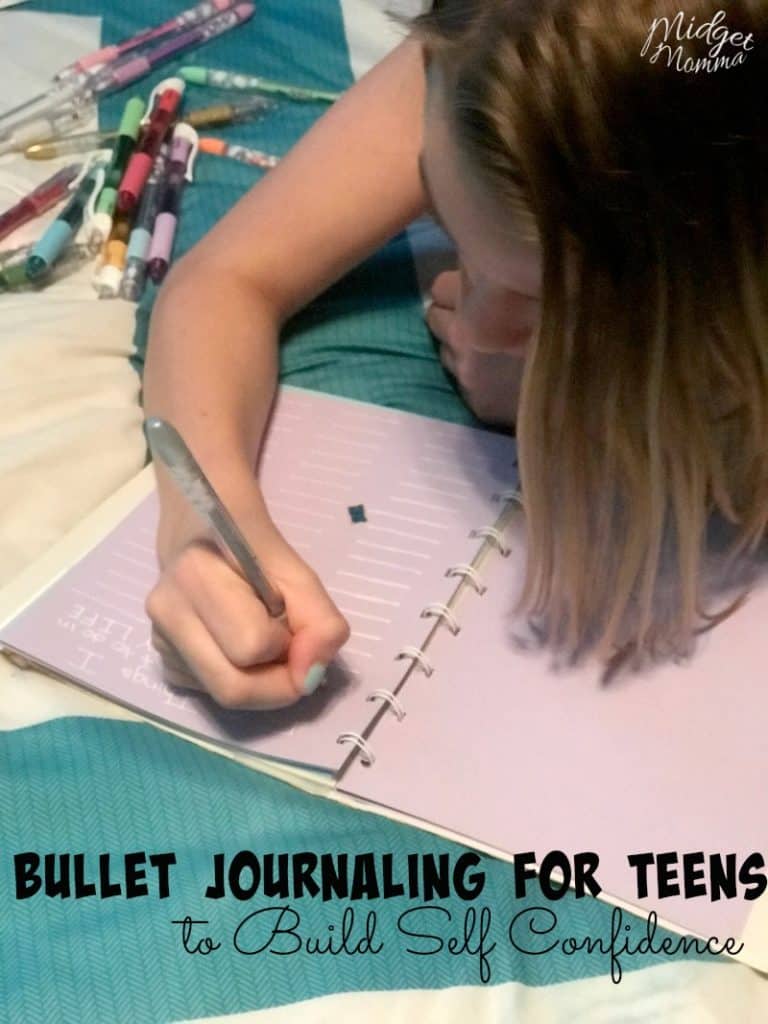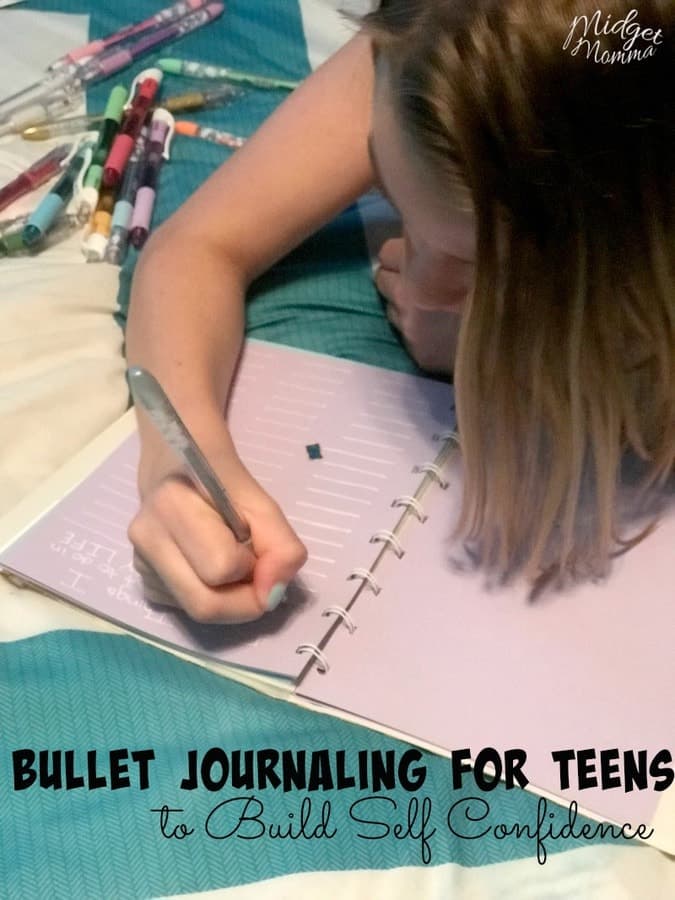 Why Teens should Use Bullet Journaling
If you are looking for a way to help your teen be more organized, find themselves and be creative all at the same time bullet journalling for teens is perfect! Bullet journalling is essentially a calendar, notebook, to-do list, and more all in one spot, that allows the creative juices to flow. Really they have the creative ability to make their bullet journal anything they need or want it to be.
In our house McKenzie uses bullet journalling as a way to keep track of her activities, her wish lists, her dreams, her life goals, people's birthdays and most importantly being able to find and love herself. I suggested she writes a list of things she loves about herself, and once she got started she kept on listing! It was great for her to put all that positivity on paper, so she can go back to it on the days she is struggling.
We also love the ability to just "brain dump" and put everything in her head on to a piece of paper that she can "sort thru" so to speak later on. Being a teen is tough but with the ability to be creative while thinking thru things McKenzie has had a lot of success when working on being the best McKenzie she can be and finding the things she loves.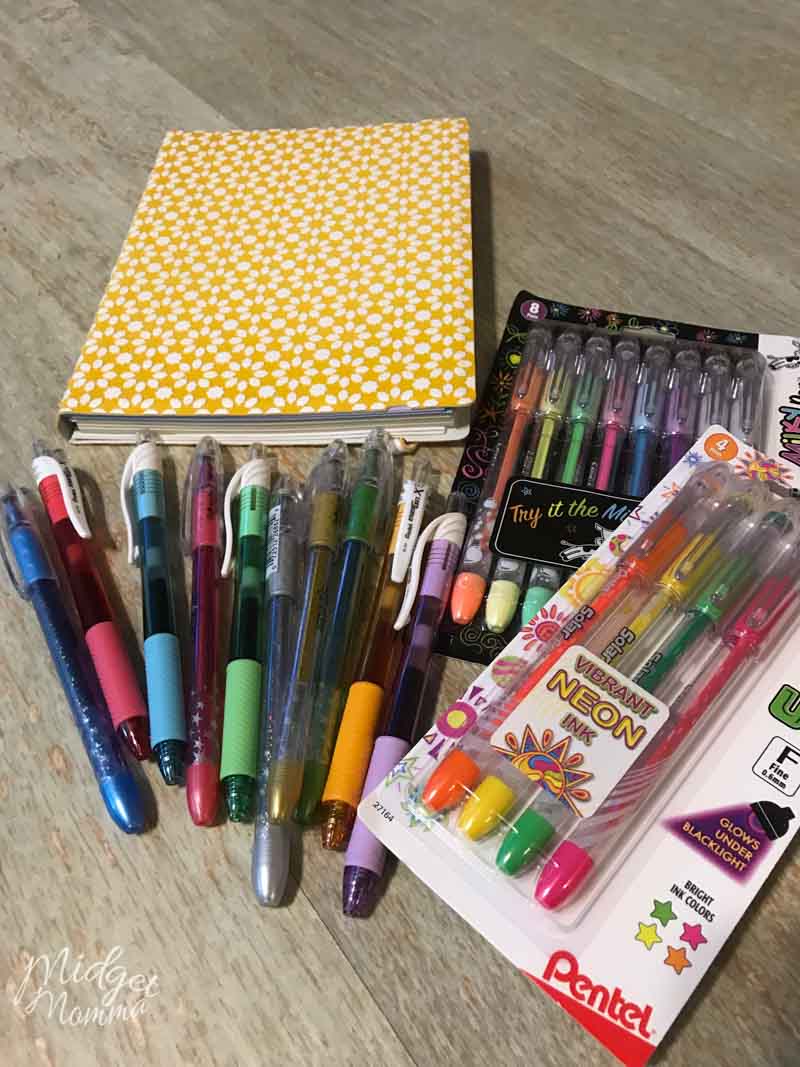 What to Put in a Teen Bullet Journal
To do lists
Calendar
Goals and dreams
Homework tracker
Chore tracker
Budget tracker
Schedule
Brain dumps and ideas lists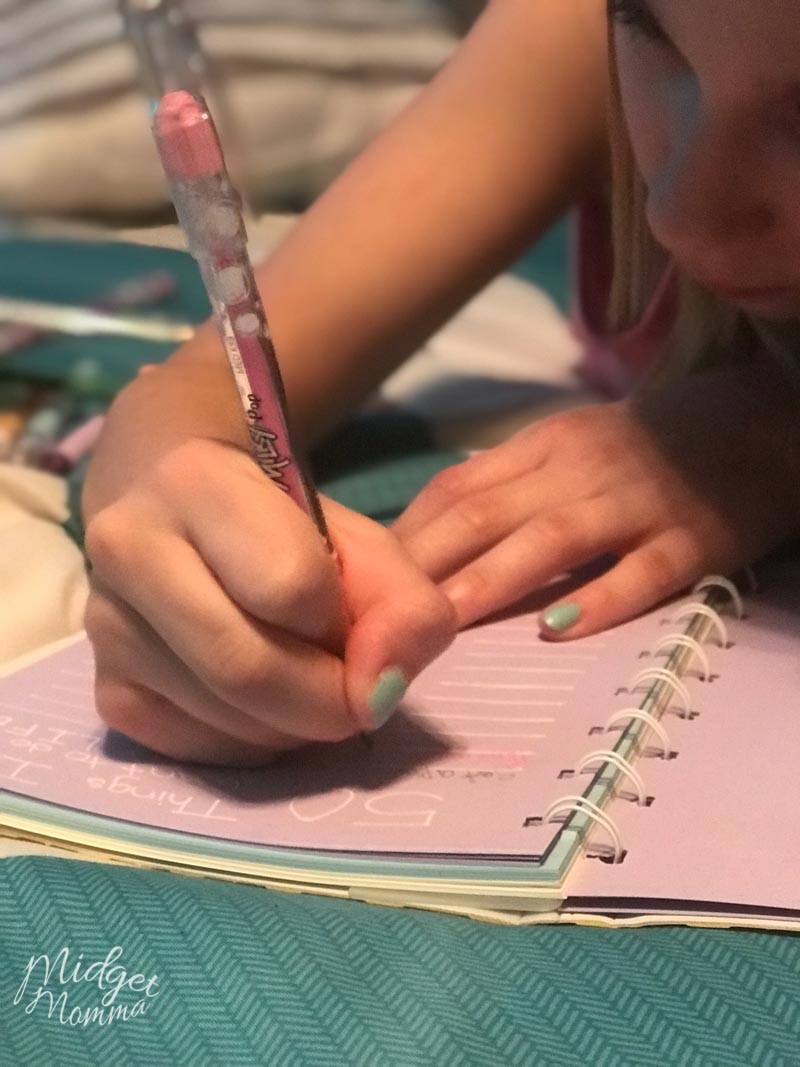 In her bullet journal McKenzie has lists like 50 things she wants to do in her life, places she wants to travel to, and more that help her think thru who she is and what she wants in life. Being able to love herself is one of the most important things for me to teach her as a mom, and that is a hard thing to do. We all struggle with self identity and where we fit into the world, and anything that can make that easier is a plus for me.
One of the best lists I personally think she has in her bullet Journal, is the "50 Things I want to do in Life". I love that she is thinking further ahead then just tomorrow. I love that she is really putting thought into what she wants to do. I am positive that she would not be doing lists like that if she just had a plain notebook. There is something about being creative that sparks even more creativity.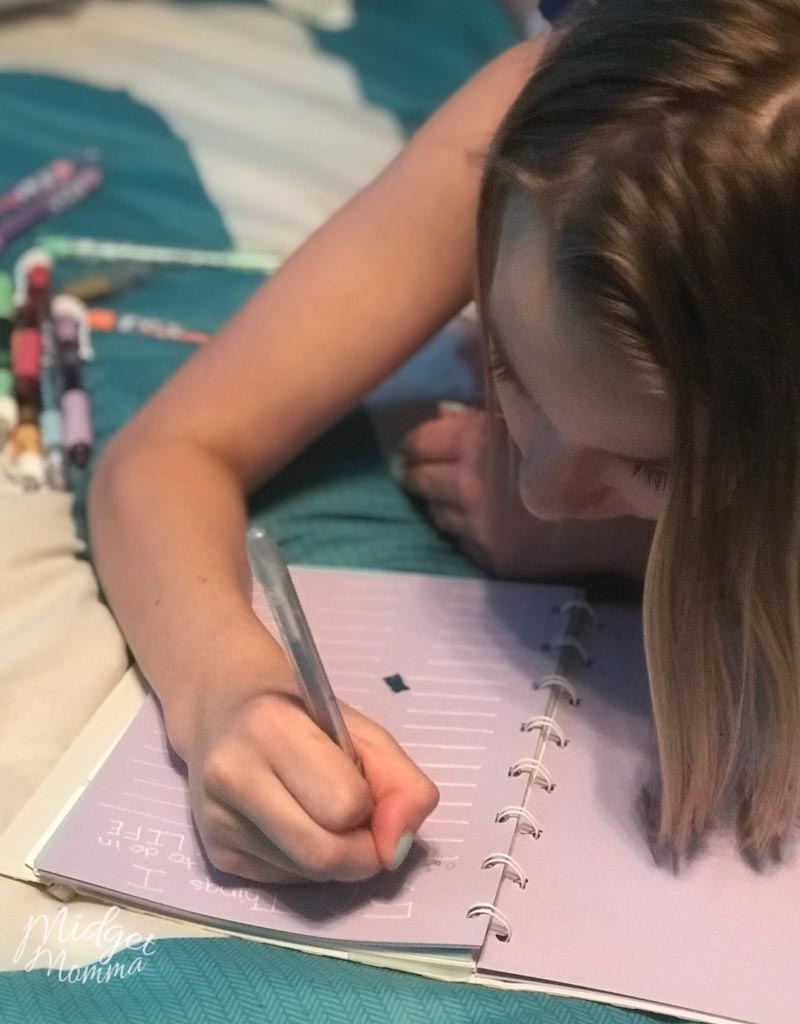 Bullet Journaling Supplies
Getting started with bullet journalling is so easy too! All you need is a notebook, and something to write with. We personally love the Pentel Pens that come in all different colors that she can use to be creative while writing in her journal.
If you want to get even fancier you can add things like stickers and wasabi state, but McKenzie prefers to decorate her bullet journal herself, and expressing her creativity. She draws different shapes and fills those in with her thoughts and ideas.
We like to make it a "Mom and me" date and go to the store and get supplies when she needs them. It is such a great way to get them excited about making their bullet journal and a great way to spend one on one time together.
McKenzie was really excited when I gave her a big stack of Pentel Pens to get her bullet journalling started. She loved them as soon as she started writing with them! I can't say I didn't expect that though, because she is my total mini me!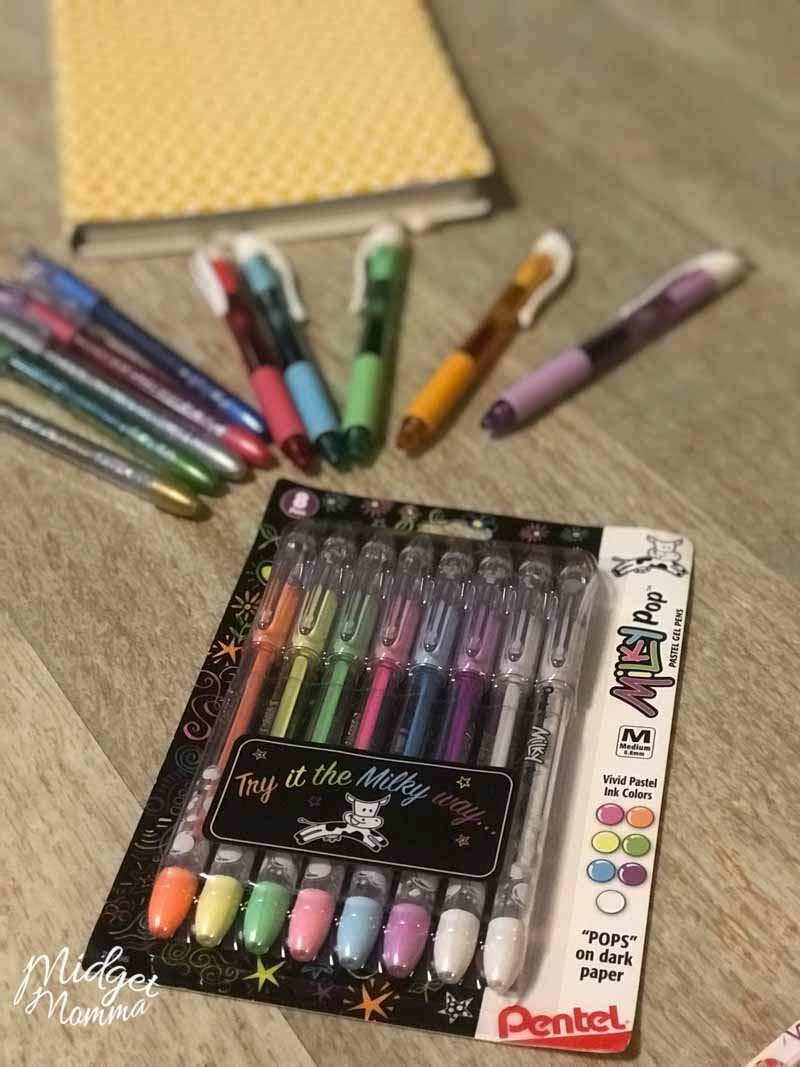 When I was in high school I had a HUGE collection of Pentel pens in just about every color, because I was OBSESSED. I have now passed that obsession on to McKenzie! Mom win right there! I love seeing McKenzie laying on her bed thinking and doing her bullet journalling with her Pentel Pens and a smile on her face.
For me it is a 90's flashback, which I can't even put into words how excited I am that I am getting to share my love of Pentel with my daughter. The very pens we grew to love are now back, only better! With pastel, sparkle, and neon ink, there's no limit to what the new Pentel Pop pens can do.
If you have never used Pentel pens I am telling you that you totally need to! They are sooo much fun! There are 3 different types of Pentel Pops pens, Milky, Solar and Sparkle!
All of the Pentel Pops add a "Pop" of color when you use them! The Milky has amazing pastel colors the Solar has vibrant neon colors and the Sparkle has ink color that changes when writing on black or white paper! I told you they are amazing!
McKenzie says her favorites are the silver and gold sparkle and the blue milky. I think I am going to just buy a stockpile of them so we never run out! 😉
If you are looking for a way to get your teen daughter to be more self confident, let her ideas flow and get more organized, bullet journalling is seriously the way to go! I have seen a confidence boost in McKenzie since she started bullet journalling and I have seen her creativity boom and I am loving it!
Bullet Journalling with the amazing Pentel Pens is the perfect way to let your teen be expressive and working on finding who they are!
If you are looking for more inspiration, be sure you check out the other awesome things you can do with Pentel Pens here!
This post is sponsored by The Brand Connection/Pentel, all ideas and opinions are my own
Join the newsletter
Subscribe to get our latest recipes right in your inbox every time we post a new one!