This amazing Chewbacca Caramel Hot Chocolate is made with Ghirardelli chocolate and Ghirardelli caramel. The combination is inspired by Chewbacca from the amazing Star Wars Movies. Just like the Star Wars movies, this Caramel Hot Chocolate is amazing! Perfect for the cold weather that we have coming!
Chewbacca Caramel Hot Chocolate
This amazing caramel hot chocolate is going to become one of your favorites. Whether you are having a Star Wars movie night, planning a Star Wars party or just love the flavors of caramel and hot chocolate, there has never been a time that this hot chocolate has not been a hit.
Can This Hot Chocolate Be Made Ahead
There are a lot of times that the kids and I are playing outside in the snow and I know we are going to want to have this caramel hot chocolate when we come inside. The best way I have found to make this ahead of time is to make it according to the directions. Then move it to a crock pot or slow cooker. Place the slow cooker on warm if it has that setting. if not, place it on low and add the finished caramel hot chocolate to the pot. As everyone is ready to enjoy their glass, prep the glasses with the sanding sugar, although this can actually be done earlier as well, and enjoy. No need to miss out on the fun while making hot chocolate or make anyone wait for it to be ready.
How to Store Leftovers
It is unlikely that you will have leftovers, but if you do, you can store it in the refrigerator. This will keep the hot chocolate good for several days. Once you are ready for the rest, simply reheat it in the microwave.
Can This Be Made in A Larger Batch
Absolutely. If you have a lot of people that you want to serve this caramel hot chocolate too, all you have to do is increase the amounts in the recipe equally. This will keep all the flavors tasting the same without it getting too sweet or tasting like it has been watered down.
How to Finish This Drink
Once the ingredients are melted and mixed throughly and it is hot, you can be done with this drink. It is ready to serve. If you want to make it even better, I recommend topping it with homemade whipped cream(the recipe is included in the ingredients). You can also add marshmallows. You can add in other things like more chocolate chips or caramel chips. These will start to melt and soften but will take some time to melt completely. This adds a delicious touch to the hot chocolate.
Make the glasses extra fun by adding gold sanding sugar to the rim. This creates a fun look and adds an extra sweetness to each sip. Margarita style salt can be used to make this a salted caramel drink as well. Of course what fun would drinking Chewbacca hot chocolate if you were not drinking it from this awesome Chewbacca mug!?!
Can This Be Made Into Frozen Caramel Chocolate
The kids have been obsessed with frozen chocolate during the warmer months. If you want to make this a frozen caramel chocolate, you can create the drink the same way. Once it is made, let the liquid cool completely. Then place it in a freezer proof container. Place it in the freezer until it is fully frozen. This will normally take a few hours. Once frozen, take it out of the freezer and place the mixture into a blender or a food processor. Add a few extra ice cubes and then blender together. This will create the slushy like texture that is associated with the frozen chocolate. Now everyone can enjoy this Frozen Chewbacca Caramel Chocolate anytime.
Check out Chewbacca Cocktail, Rey's Chai Spiced White Chocolate Cocoa, and the Kylo Ren Star Wars Kids Party drink if you are looking for more Star Wars awesomness. My favorite one of course is Yoda Hot Chocolate! Make sure you check out the 11 SUPER Cool Star Wars Recipes for Star Wars Fans for all awesome Star Wars Recipes!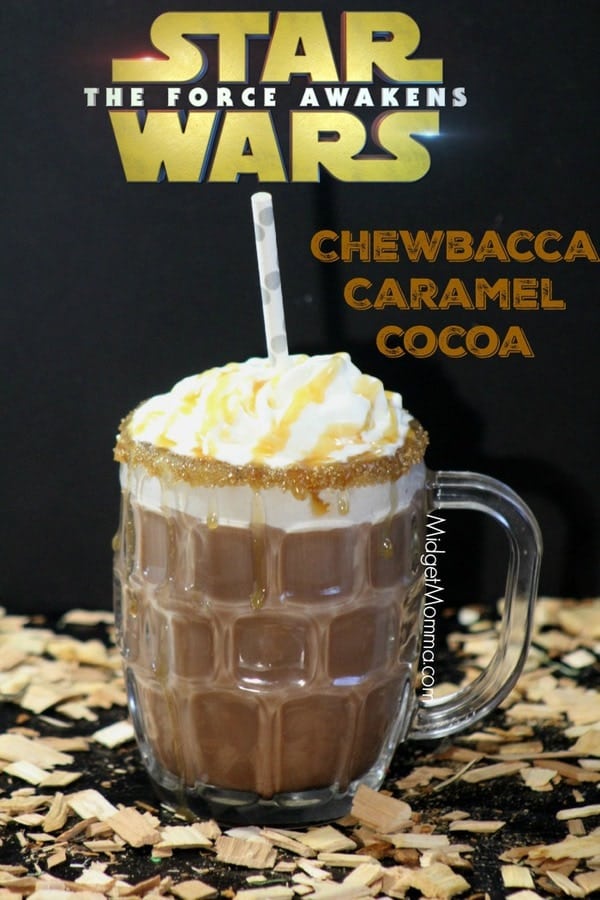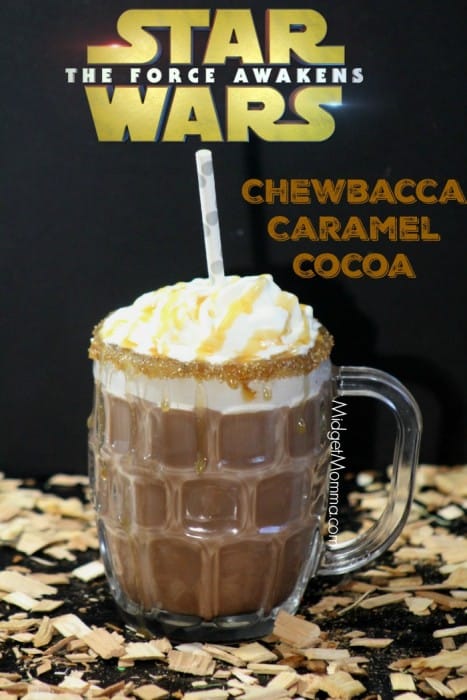 Chewbacca Caramel Hot Chocolate Ingredients
Chewbacca Caramel Hot Chocolate Directions:
Pour milk in a saucepan, stirring constantly over medium heat.
As the milk gets warm, add the chocolate chips and caramel sauce.
Whisking constantly until everything has melted, continue until all ingredients have blended.
dip glasses into simple syrup and then sanding sugar
Allow to cool slightly before pouring into 4 mugs.
top with whipped cream and drizzle cocoa
Join the newsletter
Subscribe to get our latest recipes right in your inbox every time we post a new one!
Join the newsletter
Subscribe to get our latest recipes right in your inbox every time we post a new one!