AHHHH SPRING IS HERE!!!!! I am so glad to finally be able to open the windows and let the fresh air in. Spring cleaning is all about getting rid of all signs of winter and getting those cobwebs out of those hiding places. One thing in my house that always becomes a mess in the winter is the coat closet. Between all of the coats and hats pilling up and the random things that end up in there Coat Closet Organization is an important part of getting the house organized.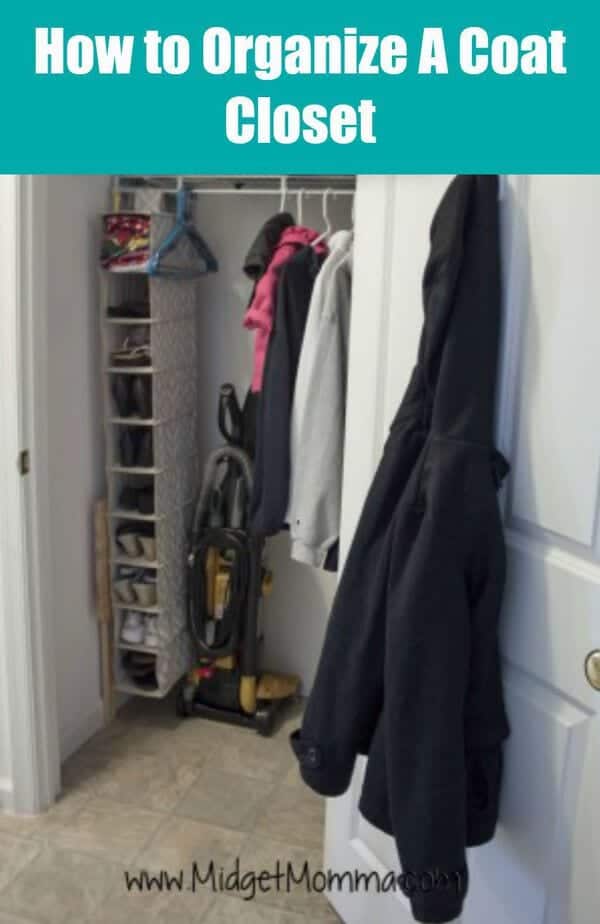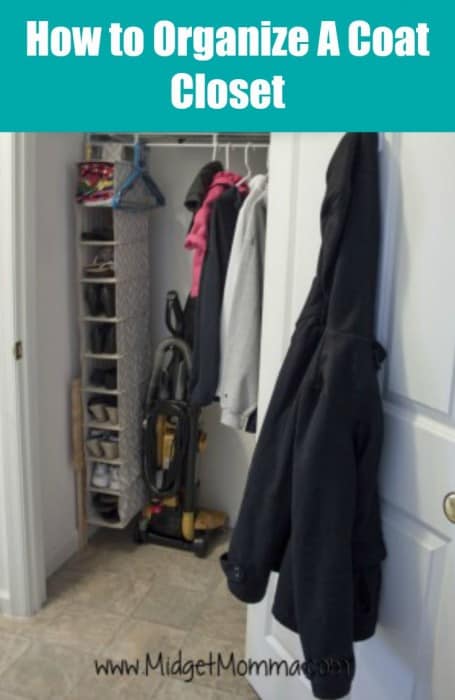 Here is the before picture of my lovely closet…. Nice and clean right lol 😉 It is in desperate need of some organization! To get my coat closet the way I like it and the way that it works best for my household was easy. I am going to share with you my Easy Step by Step Coat Closet Organization and Tips so you to can have a clean and organized coat closet!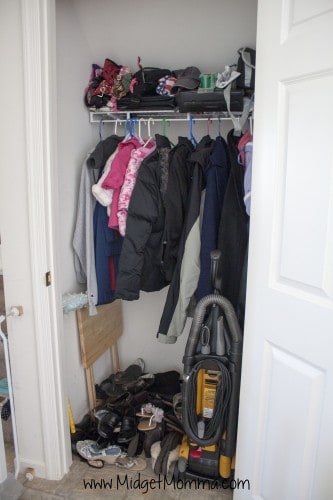 Easy Step by Step Coat Closet Organization and Tips
Pin to your Household Tips and ticks Board on Pinterest

Coat Closet Organization Steps
The first step of coat closet organization is to remove all the stuff from the closet.
Then you will need to clean the closet from top to bottom.
After that you need to sort though all the stuff and remove anything you don't use like heavy winter coats. Its a good time to see what you can donate.I found I had two heavy winter coats that I didn't even use for the last two years!
Next it is time to put everything back in the closet. When putting it all back in the closet make sure you put things away nice and neat. I like to leave extra hangers in the closet so when guests come over they will have a place to leave their coats.
Things to help with Coat Closet Organization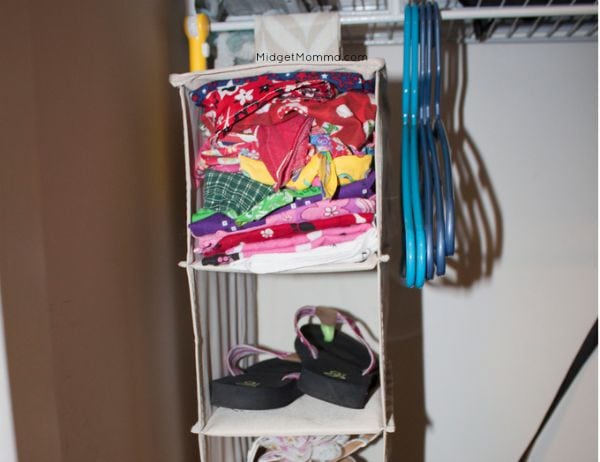 How to Organize a Coat Closet
Use hooks to make use of extra wall space- I like to hide one behind the coats for things I will not use every day like our laptop bag. I put one on the inside of the door to be able to quickly hang up a jacket so it doesn't get thrown on the ground. I found that command makes a hock that can hold a large amount of weight for things like jackets.
Get a shoe rack- As you see from my before picture our shoes just piled up on the floor making it hard to fit our vacuum. It gives you ten spot to keep your shoes so its a great way to keep a limit on how many shoes you have in that closet. The shoe rack doesn't have to be just for shoes. I was able to keep all of my dogs bandanas in one of the cubbies.
Hang up hats – My husbands hat tends to just get thrown in the closet and gets loss so command hooks are perfect to give them a place other then the floor.
Hang anything you can hang– Coats on hangers, umbrellas on a command hook.
Bin for vacuum pieces – Vacuums tend to have other pieces to them and instead of having them just be on a pile on the floor get a bin for them.
Get in the habit of putting everything back where it belongs –  It takes an average of 66 days to form a habit so just keep at it.