When I was trying to decorate the baby E's room I needed something to hold his little toys. I wanted to put a little patriotic element to his room. I was excited when I found these cute plain wood crates, they were sold and perfect size. I knew I could turn it into something cool and came up with this DIY Flag Crate.
This DIY Flag Crate is a great way to decorate on a budget. You can use it to decorate a kids room, the living room or just for one of the Patriotic holidays. With these step by step directions it is easy to have a beautiful piece even if you are not the craftiest of people 🙂 You can find these crates at Michael's craft stores and use their 40% off coupons or any craft store near you should have them. I have also seen them on Amazon for $5-$6!
DIY Flag Crate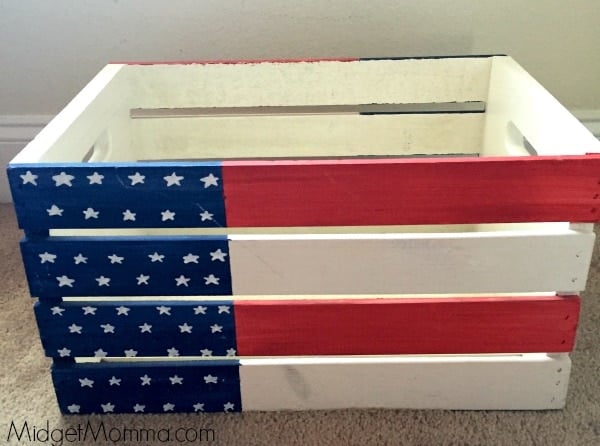 DIY Flag Crate Supplies
tarp
red, white and blue paint
painters tape
White paint pen
DIY Flag Crate Directions
Lay down your tarp on your work surface. Paint the whole crate white and let it dry. With your tape put a line down the left third of the crate. Paint the left third blue and let it dry. Remove the painters tape. Place a new strip of tape to protect the edge of the blue paint. Start at the top and paint the first and third slat red, let dry. Remove all painters tape. Using your paint pen draw on the blue part the 50 stars, let dry.
Join the newsletter
Subscribe to get our latest recipes right in your inbox every time we post a new one!