When you are looking at ways to shrink down the money spent in the budget one of the biggest things you probably see your income going to is the grocery bill. We are a family of 5 about to be a family of 6 when the baby is born in September and that means we will soon be adding another mouth to feed. Plus I can't forget that my older kids (11, 9 and 6) are getting bigger, eating more and soon there will be need for an even bigger grocery budget. In order to keep the grocery budget low but still have healthy meals with plenty of fruits and veggies, save money on my groceries and save time in general I meal plan.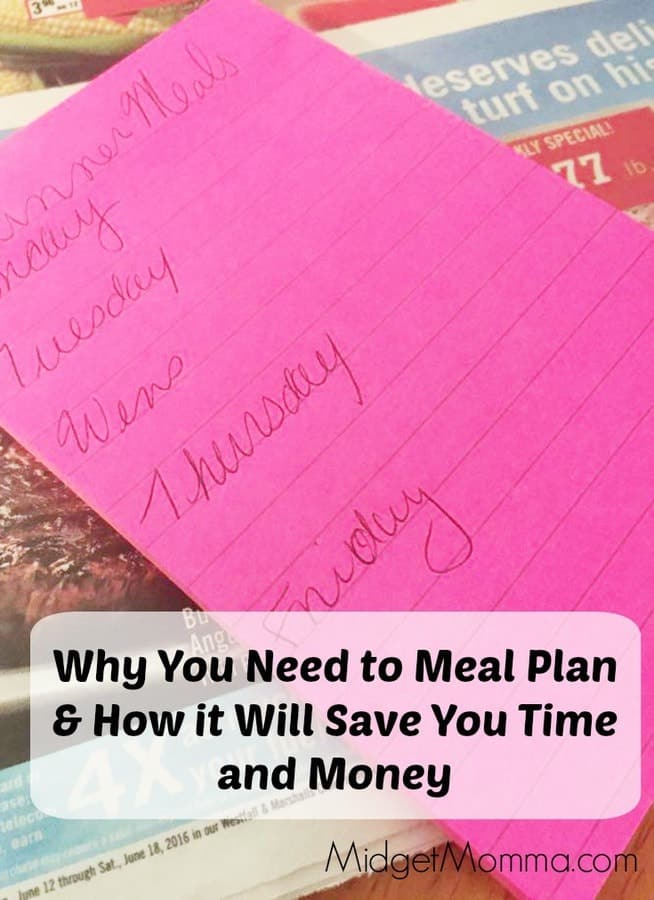 Each week I sit down with a notebook (or even just a piece of paper) and I write down the days of the week. I plan for 7 days at a time, and you can pick which day you want as your start day. For us Saturday is the day I start with.
Then I go and check what we have in the deep freezer meat wise, since when I see meat markdowns I snag them. It can be hard to save money on meat so when I see some goodies marked down I grab them and the toss them in the deep freezer when I am doing my grocery shopping. I pick out meals based on what is in the freezer and then look at the sale ads to see what is on sale there if I need to.
Next step is checking for what produce is on sale. There are many ways to save on produce, and lately I have been getting a lot of my produce at Aldi because it is so cheap to buy it there.
Then the next step is checking out the stockpile. Due to moving to an area where couponing is not as good my stockpile is not as good as it used to be but I still maintain my stockpile and still think it is important to stockpile what you can.
From there I come up with the 7 dinner meal ideas, I write them down by day and have our meals planned out. I do not do meal planning for lunches during the summer because normally everyone just eats left overs or sandwiches for lunches which also saves me money and time. For during the school year I plan lunches for the kids because I can get them all a week of healthy lunches for school for under $10. When it comes to breakfast the kids are big on pancakes which I make and batch freeze as needed and make many different flavors of, bagels, fruit, yogurt and oatmeal. Those items end up being staples and I add them to my list as we need them.
Then I make my shopping list of the things I do not currently have on hand and look at the grocery ads to see which one has the best sales for the items I need. I also grab the coupons for the items that are cheap and free with coupons so that I can add to my stockpile with those items. You can save big using coupons when you do it the right way and put it in to your plan of attack when shopping and doing your meal planning. Plus getting the items for free saves money and having them in your stockpile will save you time at the store later.
While it seems like meal planning will take a lot of time, it actually doesn't. It takes me about 20 minutes or so to get it all done at home. Then my trip to the store is easy because I have a list of exactly what we need and my grocery trip takes a lot less time then guessing what I am going to make that week for meals. Some times I do end up at two stores because I do love Aldi and their prices and that is the first place I look for my produce deals and then the other store with the best sales is where I go to for the rest of my stuff.
Meal Planning makes it so every day I already know what we are going to have for dinner, I know ahead of time if I need to get the crockpot out and start the meal in the morning or if I have to start cooking dinner that night so it is done in time for when the hungry children start telling me "they are starving".
Meal planning saves time also because you have a list of what you need at the store, you are not playing a guessing game on if you have something or not. It also stops the last minute "oh crap I don't have that" when making a meal.
Meal planning saves money because when you are doing your shopping you are getting the items you need, instead of spending more guessing on if you need it or not and just throwing it in your cart. When you stock up on items and put them in your stockpile because they are cheap and free you are saving money by having them on hand.
In the long run you can easily cut down on your grocery bill just by doing meal planning. Even if you are not using coupons at all on your shopping trip you will save money by only buying the items that you need, versus things you "might need" or "don't think you have" at home already.
To help with your meal planning and grocery shopping you can use this meal planning grocery list free printable that makes being organized a lot easier.