My daughter loves the pressed penny machines that you find at theme parks, aquariums and zoos. We normally just dig through my purse to see if we have the change available. There been so many occasions when we did not have that change. We would have to go to the nearest gift shop and purchased something just to get that change. The last time we went to in a museum my daughter saw one of those machines and she wanted one so badly. The only problem was there wasn't anywhere to get any change. My husband was in the bathroom at the time so I told her we'll have to wait until daddy came to see if he had to change. She was so good about it she didn't throw a tantrum she just sadly waited. There was the nicest man who saw how sad she was and personally handed her the change you need to press a penny. It was a small act of kindness is that changed my daughters whole day.
For upcoming Disney trip I wanted to be prepared for the many of press any machines that I know Disney has. I didn't want to just throw punch a change in my purse and have it getting lost. I wanted some kind of container to be able to grab the exact amount I need without any difficulties finding it. For Easter my daughter got a little container of the mini M&Ms and I soon as I saw it I knew it was the perfect shape to hold her money for the machines. I know how much she loves using stickers so I thought I would let her decorate her containers with some new frozen stickers. Depending on what your child's favorite character is you can change it up with any stickers you would like.
I found that the dollar tree actually has a good selection of Disney theme stickers. I recommend using penny from 1982 and older. In 1983 they switched the pennies from being primarily made out of copper to being made with zinc. The older pennies will give you a better finish product. Check out here to learn how to clean your pennies.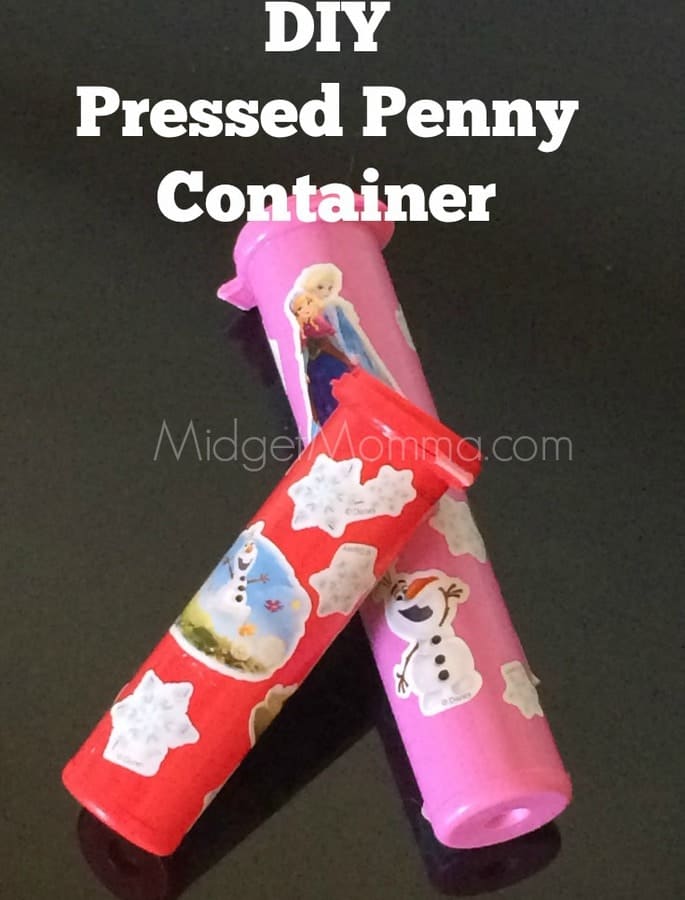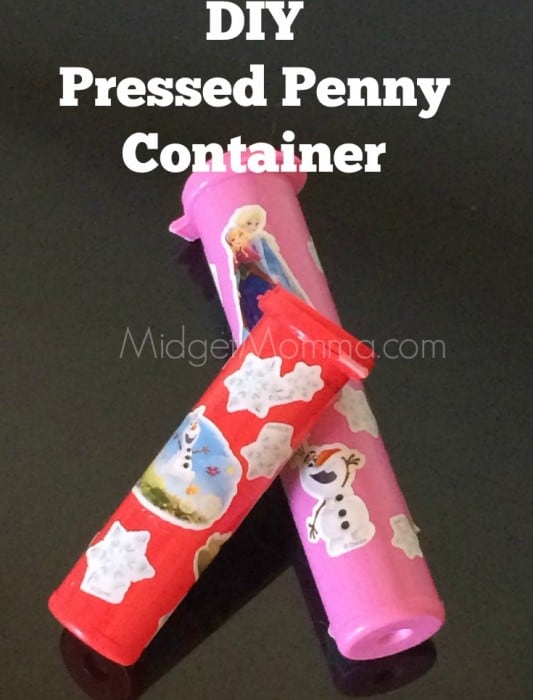 DIY Pressed Penny Container Supplies
Mini M&M container
Disney stickers
Pennies
Quarters
DIY Pressed Penny Container Directions
Remove all of the candy from the container and enjoy. Thoroughly clean the inside of the container. Remove the wrapper from the outside of the container. Place your stickers on the outside however you would like them. Place your money in the tube by alternating two quarters and one penny, two quarters and one penny, until you have filled the whole container.