If you are having a baby the planning can be totally crazy. However with this Baby Needs Printable Check list, you can print it out and keep track of everything.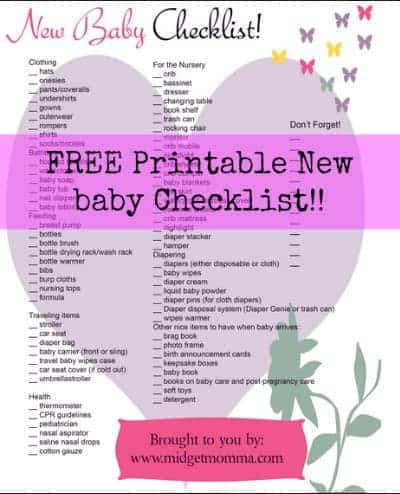 Being a new mom is a stressful but enjoyable time. When you are a new mom there can be much confusion on what you actually need and what you don't. If you are trying to figure out what you do and don't need make sure you check out the 10 Baby items you can skip to save money.
I know that there is also the worry about making sure you have everything that you actually do need, and I love this list of 10 Items New Moms really do Need. The list goes really well with the Baby Needs Check list that you can print out here.
I know that being a new mom can be overwhelming, the amount of things you need to prepare, figuring out a name, figuring out a nursery while sticking to a budget and so many other things which is why this baby needs check list printable has been made just for you guys.
If you are looking at the cost of things that come with a new baby, make sure you check out these 7 Tips to cut costs on having a new baby. There are so many ways that you can save a TON of money on the items that you are going to need for your baby.
Getting the pregnant mom freebies is sooo easy and there are a ton of freebies for all moms including teen moms! There is a lot of free baby stuff for expecting Moms so make sure you check out this awesome list of free baby stuff by mail for expectant mothers.