My whole family has fallen in love with Disney's newest movie Moana. My daughter and her friends have taken that love to an obsession. Everything they do revolves around Moana. They had to have the same matching singing Heart of Te Fiti necklaces.
They also get in arguments over who gets to pretend to be Moana and who is stuck being Maui, no one ever wants to be Maui. So when my daughter was having a playdate I figured the perfect snack would be to turn their Heart of Te Fiti necklace into a special treat.
The Heart of Te Fiti necklace has this green swirl that made me instantly think of the Whoville cookies I have made. I knew all I had to do was change out the colors and press down on it to create an oval shape instead of a round cookie.
Now, these cookies are not the simplest cookies to make. They take a little effort and you really have to make sure you follow along with the directions. If your dough is too soft that just means you need to refrigerate it longer if you need to speed up this process you can always place the dough in the freezer. Now you will not be able to roll the dough out without having parchment paper or wax paper to sandwich it. To create this very soft sugar cookie that dough has to be a very soft.
The more flour you add to the dough the tougher the cookie will be. When you roll it if you do not roll it tight enough you will end up with a hole in the middle. To fix this you just need to fill in the hole with the extra dough you cut off.
Moana Heart of Te Fiti Cookies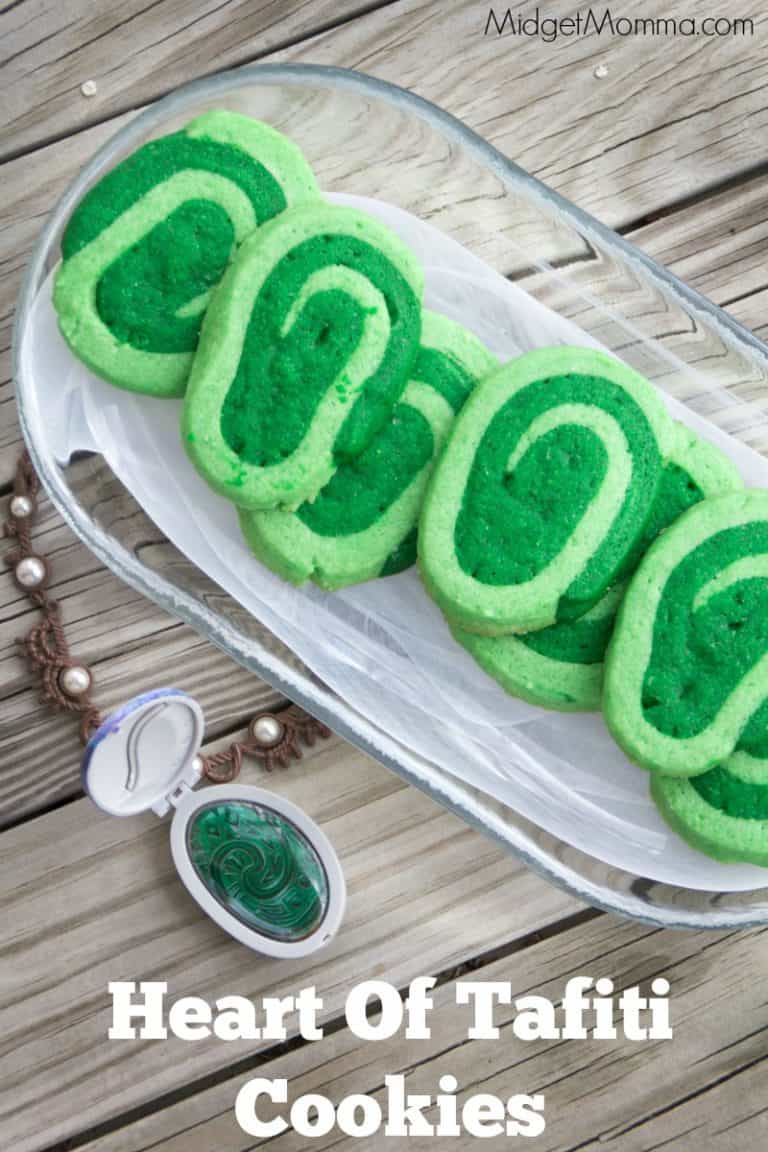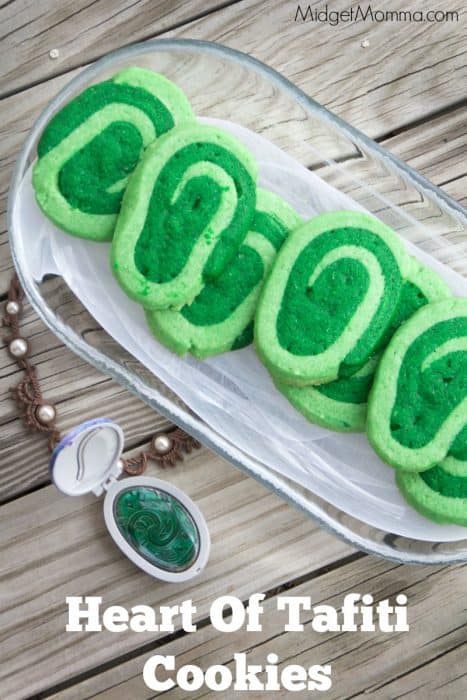 Moana Heart of Te Fiti Cookies Ingredients
The recipe makes 4 dozen cookies.
1 cups granulated sugar
1 cups butter (2 sticks)
2 eggs
1 tsp. vanilla extract
3 cups flour
1 1/2 tsp. baking powder
1/2 tsp. salt
green food coloring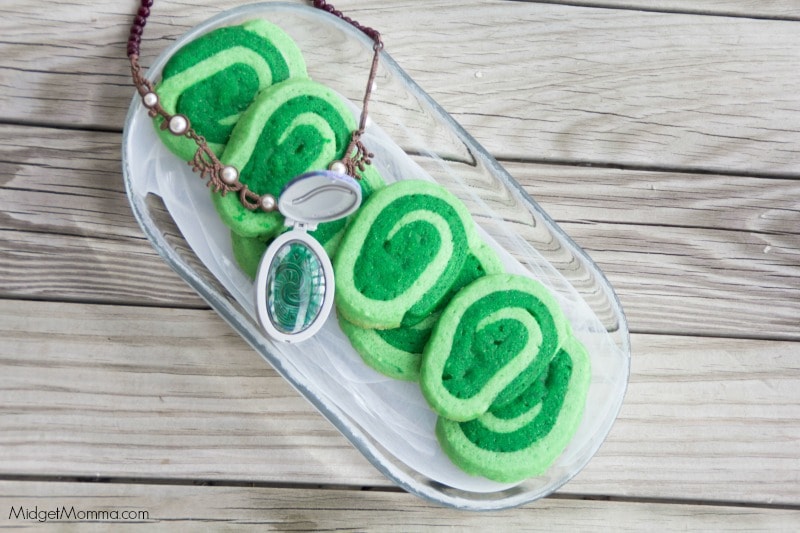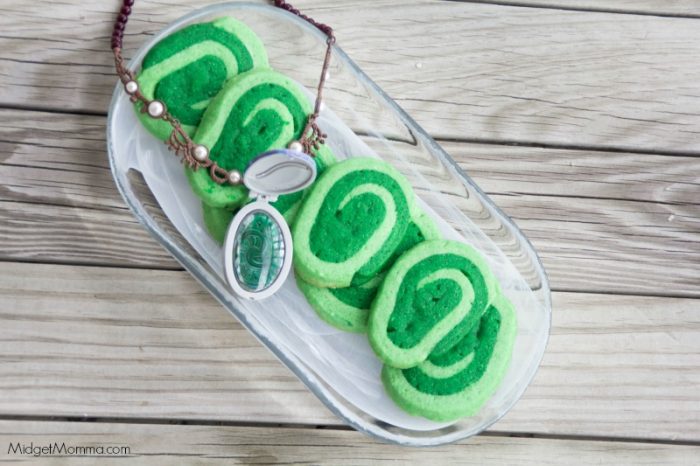 Moana Heart of Te Fiti Cookies Directions
In a large bowl, Cream sugar and butter until fluffy, about 5 minutes.
Add eggs and vanilla.
Mix dry ingredients in separate bowl and add to butter mixture, mix well.
Separate the dough in half and color one part dark green and one part light green.
Put one of the freshly made dough in between two sheets of parchment paper and roll 11 x 9 inches and 1/4 inch thick.
Repeat with the other color dough.
Put the rolled dough including the parchment paper, on a cookie sheet and refrigerate for 30 minutes or longer.
Take the top layer off both dough's and lightly wet the tops. Sandwich the two colors together, using a paring knife trim the edges to make straight edges.
Remove the top layer of paper and start rolling up and use the bottom layer of paper to pull it tight. If the dough tears, you can just pinch it together.
Place the dough into the fridge for 15 minutes or longer.
 Press down on the side of the log so you get an oval shape to the log. Slice the dough into 1/4 inch slices and bake on parchment lined sheets.
Bake at 325° F for 10 -15 minutes. Let cool.
3 Weight Watchers SmartPoints per cookie.
Here is the video instructions on how to make these Moana Heart Of Tafiti Cookies!