Disclaimer: I was invited to attend the 2013 Hilton Sandestin Resort FAM trip. Most of my expenses were covered but regardless all opinons are as always 100% my own.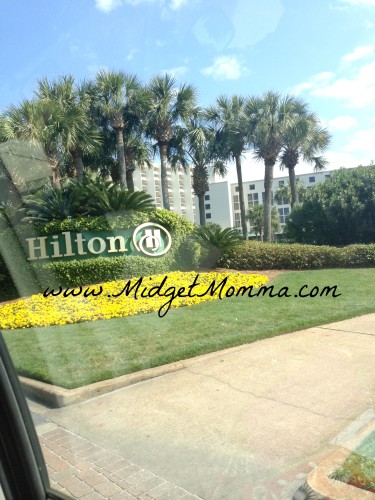 Hilton Sandestin Resort
A few weeks ago my oldest daughter and I got the opportunity to head down to the Hilton Sandestin Beach Resort in Destin Florida. With the on again off again cold weather here in New Jersey it was a trip I was excited to take and to a place neither of us had ever been to. Looking at the pictures of the resort online made it look beautiful, but once we arrived I realized that the online pictures did not do it justice- it was absolutely gorgeous!
The resort is literally right on the beach, you walk outside of the hotel and there are a few swimming pools and then not far from them are 2 boardwalks that lead you right on to the beautiful white sand and sparkling blue water. We have beaches here in New Jersey and I love going to the beach and while they are a TON of fun they are not pretty beaches – they have dark water and ugly sand so this was an added bonus to my favorite type of place to go.
The rooms at the Hilton Sandestin Resort were just as stunning as the sand and water. Upon walking into the room there was a "Kid room" with a bunk bed and a TV. Having kids and staying in hotels with them and the fight they put up for kids shows it totally avoided with this set up. It also gives the parents and kids a little bit of separation which is needed on a family vacation. As you walk past the bunkbeds there is the bathroom area. I say area because you go around the corner and there is the entrance to a the bathroom that has a sink, tub and toilet but there is a landing area before hand that has a sink and closet. This is a perfect set up, getting everyone ready in the morning would be super easy with people using the bathroom and showering at the same time as others brushing their teeth and doing their hair. Past the bathroom area you walk in to a very large open room that has a mini kitchenette in the corner, a huge king sized bed, a TV stand along with a living room area that includes a couch and a coffee table.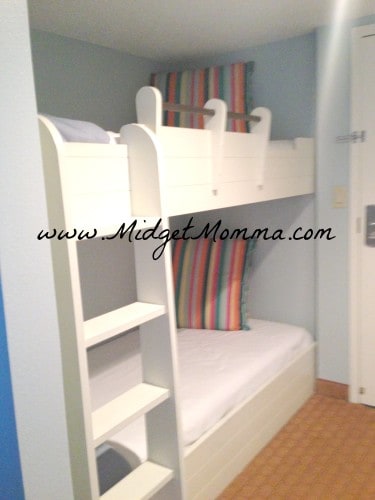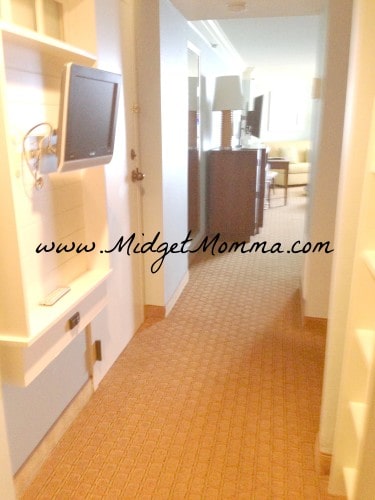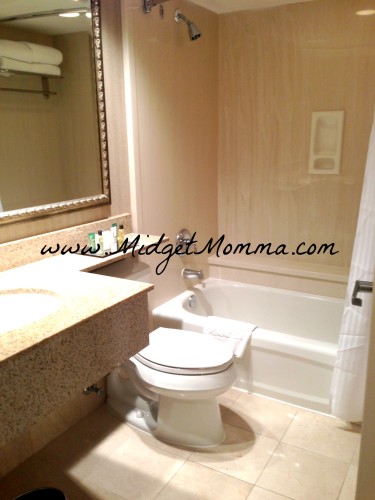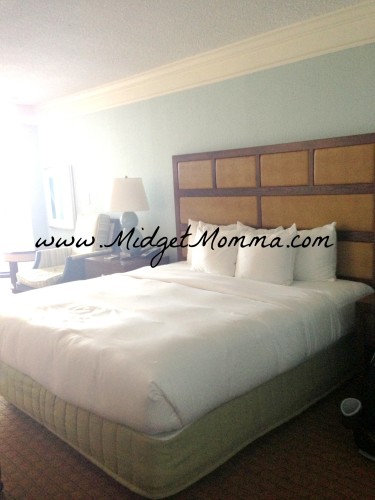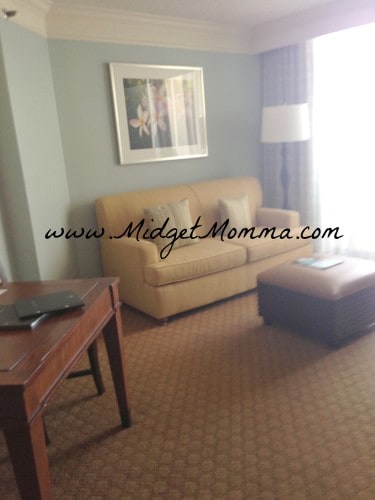 We must not forget the door to the balcony that you can open and have a gorgeous view of the beach with its white sand and blue water. This was the stunning view from our room! Sure makes getting up early to start your day great when you see a view like that!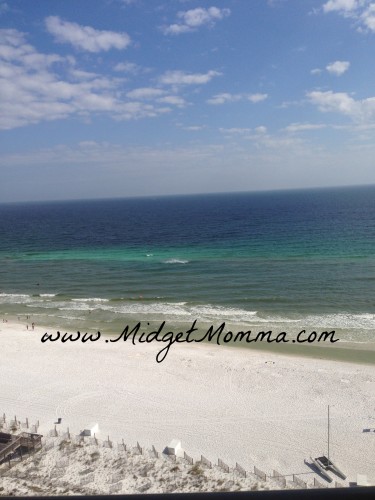 While at the resort you will not be able to say "I don't know what I want to eat", they have everything from an indoor sit down restaurant that is absolutely stunning to the morning breakfast buffet, a coffee shop (that serves Starbucks yey!)  and 2 restaurants outside. Everything we tasted was amazing, I was excited to see that they even had froglegs on the menu and my daughter tried them for the first time. She loved them! Everything that we ate there was amazing and they have a nice variety of foods that everyone will be happy no matter where you pick to eat.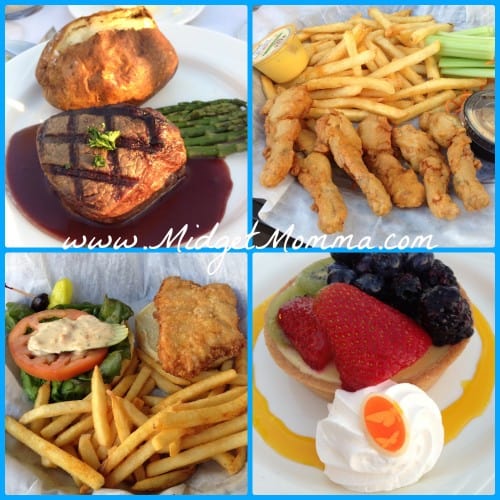 While we were there my daughter got to test out the kids camp program – Kids Krewe, a program where kids can go to have fun with other kids and do activities while the parents get a little break. They have different themed nights with different activities and my daughter said she loved it. I enjoyed being able to do adult things while knowing that she is in good hands, safe and is enjoying herself as well.
While the kids are having fun the perfect place to check out is the spa, a beautiful place inside the resort that as soon as you walk in the aroma of relaxation and being pampered hits you. From massages and facials to pedicures and sitting in the whirlpool it is a relaxation experience that is going to make you happy you made the choice to check it out.
Let's not forget the pools – there are 3 of them and 2 hot tubs that you can enjoy! Two of the pools and one of the hot tubs are outdoor and one pool and one hot tub are indoors. All three are easy to get to, and the outside ones are great for feeling the breeze come of the water while you are swimming. It is perfect for when the water is just a tad to chilly to go in on the beach.
The Hilton Sandestin Resort is a place where everyone can enjoy the beautiful beaches and have a great time. It is a place where couples can go and enjoy themselves and families can go for a great family vacation and everyone will be sad to leave.