How to Save Money on a Disney Trip: Snagging Disney Clothing on the Cheap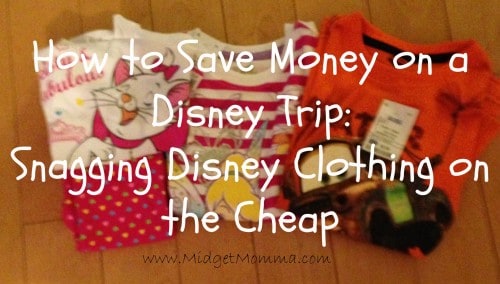 So we are heading to Disney in a few weeks for our first ever family vacation – while not just a vacation because it is the Disney Social Media Moms Celebration and Lauren will attending the conference it is our first family vacation non the less.
The other night Lauren and I were looking for Disney shirts for the kids online, we could not quite find the ones that we were looking to find. So I decided to go out and look and see if I could find Disney shirts to surprise her with on Sunday morning. We have a Ross down the street from our house and I suspected that they might have what we were looking for. So went in the store and scoured the racks looking for just one Disney shirt that I could bring home and surprise Lauren with. To my surprise they had multiple Disney shirts – while they had quite a bit for the girls, for my son it was a bit more challenging for me to find one, but I did!
The prices of the shirts were much lower then I expected, I thought I was going to be paying at least $10 for a shirt and I was pleasantly surprised to find that they had 2 piece outfits for just $5.49!
I was able to get 1 pair of Disney Princess Pjs, 3 2 piece Disney outfits and 3 Disney shirts for just $39! Awesome price since all of the tags said the regular price was $10- $24!
Other places that you can save money on Disney clothing that I have found are
ThredUp– An online used clothing store that you get a FREE $10 credit just for signing up. – We were able to find a few cute shirts for our Disney trip here as well but since it is an online used consignment store it is based on what people have sent in and the selection of Disney shirts is dependent on that.
The Disney Store clearance section tends to have great deals as well – but the sizes are not always in stock for what you are looking for.
Amazon– I also checked out Amazon and found that they have some good prices on Disney Shirts- but you do have to look through the selection that they have.