Whether you're shopping for your dad, husband, or brother, we've got the best ideas for men's holiday gifts! From personalized gifts to tech essentials and more.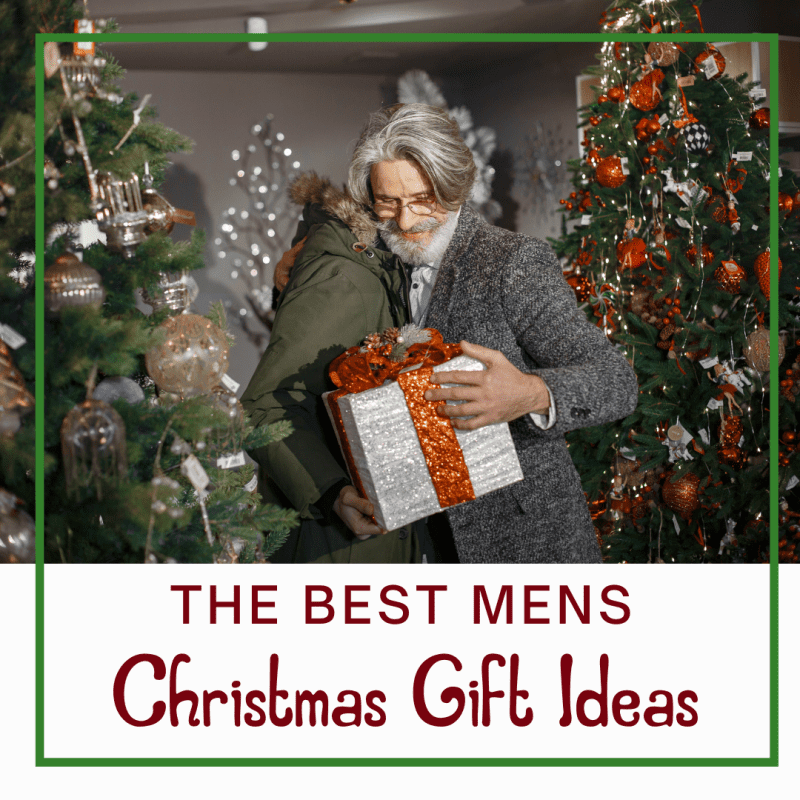 What's the best gift to give a man? Choose from awesome holiday gifts for men like clothing, accessories, grooming, electronics, and more.
Holiday Gifts for Men
If you're struggling to find the perfect gift for the hard-to-please man in your life, look no further. We've selected our favorite gifts for him.
When you want that 6-inch classic look even on your casual days, this is the boot for you. Come on, throw on those jeans with a pair of Convoy Fleece WR and you'll be ready to take on whatever comes your way.
Named the overall best hiking shirt by Field and Stream, the Flume is a blend of Tencel (made from trees!) and spandex.  Tencel is naturally wicking, naturally odor-resistant, thermo-regulating, and crazy comfortable.
The perfect baselayer for hiking, climbing, skiing, or just staying warm on a cool day.
The Dad's Bucket List is more than just a few ideas on things dads can do with their kids. There are 100 cards with creative and engaging ideas.
They are split into 3 major themes: love, life, and laughter. Some are designed to show a more gentle, connected side. Some are fun activities and silliness. There are also dividers inside so you can sort to-do, doing, and done.
This is a great gift for dads that want to do more than the daily norms and build lasting memories outside of family vacations.
No planning required - just draw a card (or a few) and get started. For cards that require time or materials not on hand, either place in Doing and commit to getting started ASAP or place back in To-Do and choose another card.
Dad can pick privately or allow children to be involved in the selection as part of the fun!
The Beardscape Pro includes the original gray Beardscape trimmer and all of our best accessories. The large case is designed to perfectly hold every accessory in its place. Now everything you need for your clippers has a home. 
The Pro version also includes the Zero blade which is one of the closest cutting blades available on a trimmer. Our professional barber customers asked for a case that would hold all guards and accessories, and they also needed a blade that could cut at a zero-gap to make the Beardscape perfect for men's haircuts.
These are the upgrades that make this version suitable for the professional.
This leather duffel bag is gorgeous, durable, and useful. It is about 21.5" x 11" x 11", making it perfect for a variety of uses.
Use it as a high-quality mini-vacation bag, for weekend trips, sporting events, as a gym bag, or to keep a spare set of clothes & shoes when on the go a lot.
Because it is handmade from soft and smooth leather, it will age well and as long as cared for properly, will last a very long time.
Men deserve bouquets too! The ones in my house prefer the edible sort from Manly Man Co though!
We tried out a mixed dozen in a pint glass vase. I loved that the "broquet" was vacuum sealed with an oxygen absorber.
They also carry beef stick bouquets, bacon bouquets, bacon roses, and even bacon-scented wrapping paper!
Photo Credit: technigadgets.net
Technigadgets carries a wide range of stylish sunglasses. Their collections are a bit vintage and have a steampunk vibe. They won't break the bank like expensive designer sunglasses but are still trendy and fun!
Win your white elephant gift exchange with this fun Banana Phone in serious gift packaging!
Perfect Wireless Handset, Crystal Clear Audio, Connects to iPhone and Android Devices, Full Voice Assistant Capabilities
Noise isolating custom-designed earbuds delivers deep powerful bass, natural mids and sparkling highs. exceptional aural clarity provides expansive audio for enjoyment of your game's audio realism.
Customize your sound settings via the EPOS Gaming Suite. Change sound profile between Gaming, Movies, Music and Flat for the best fit, or create your own sound profile.
The H6PRO Series is for the gamer seeking full game immersion or that​ extra competitive edge to your game.
The H6PRO Closed is designed to deliver exceptional hi-fidelity performance with an audio signature that's controlled, powerful, and focused, whereas the H6PRO Open delivers exceptional hi-fidelity performance with an audio signature that's expansive and open.