Air fryer salmon is a healthier, easier way to cook your favorite seafood dish. With just a few simple ingredients and about 10 minutes from start to finish, this air fryer salmon recipe is perfect for a weeknight meal. Serve with a side of veggies and rice for a complete easy weeknight meal.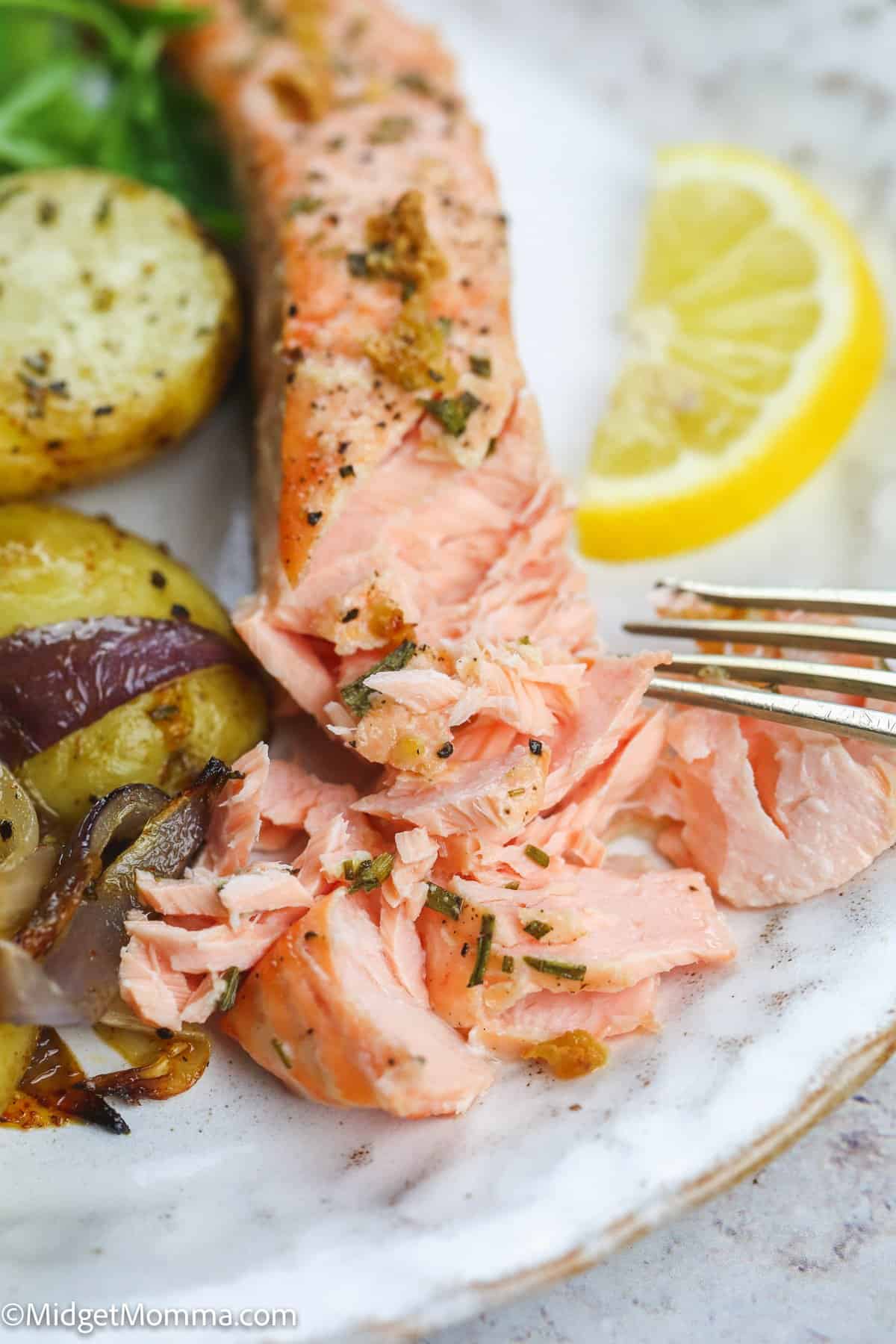 Air Fryer Salmon
Air Fryer Salmon is one of the healthiest ways to cook salmon because you are not adding a lot of oil or butter. It's low in calories, low in carbs, and high in protein, making it the perfect meal for people who are looking to stay fit and healthy. This easy recipe takes only a few minutes of prep and then it cooks in the air fryer. Perfect for a busy weeknight where you want dinner on the table with ease while having a delicious meal.
We love salmon in our house. For years I have always made baked salmon, which is super easy to do. Then I got my air fryer and of course, had to test out one of our favorite seafood in it. I came up with this delicious salmon recipe and it was a huge hit with all of my kids. This healthy meal has become a staple in our house, and with simple seasonings, I can make this salmon dinner on a busy night and know that everyone in the house is going to enjoy the meal.
This recipe is so easy to follow that anyone can make it – even if you've never cooked salmon before. You only need a few simple ingredients, and your air fryer does all the work for you. In the end, you have flaky salmon that is full of flavor for a meal that everyone will love. I love this new way of cooking salmon and it takes much less time compared to baking salmon in the oven.
Easy Seafood Recipes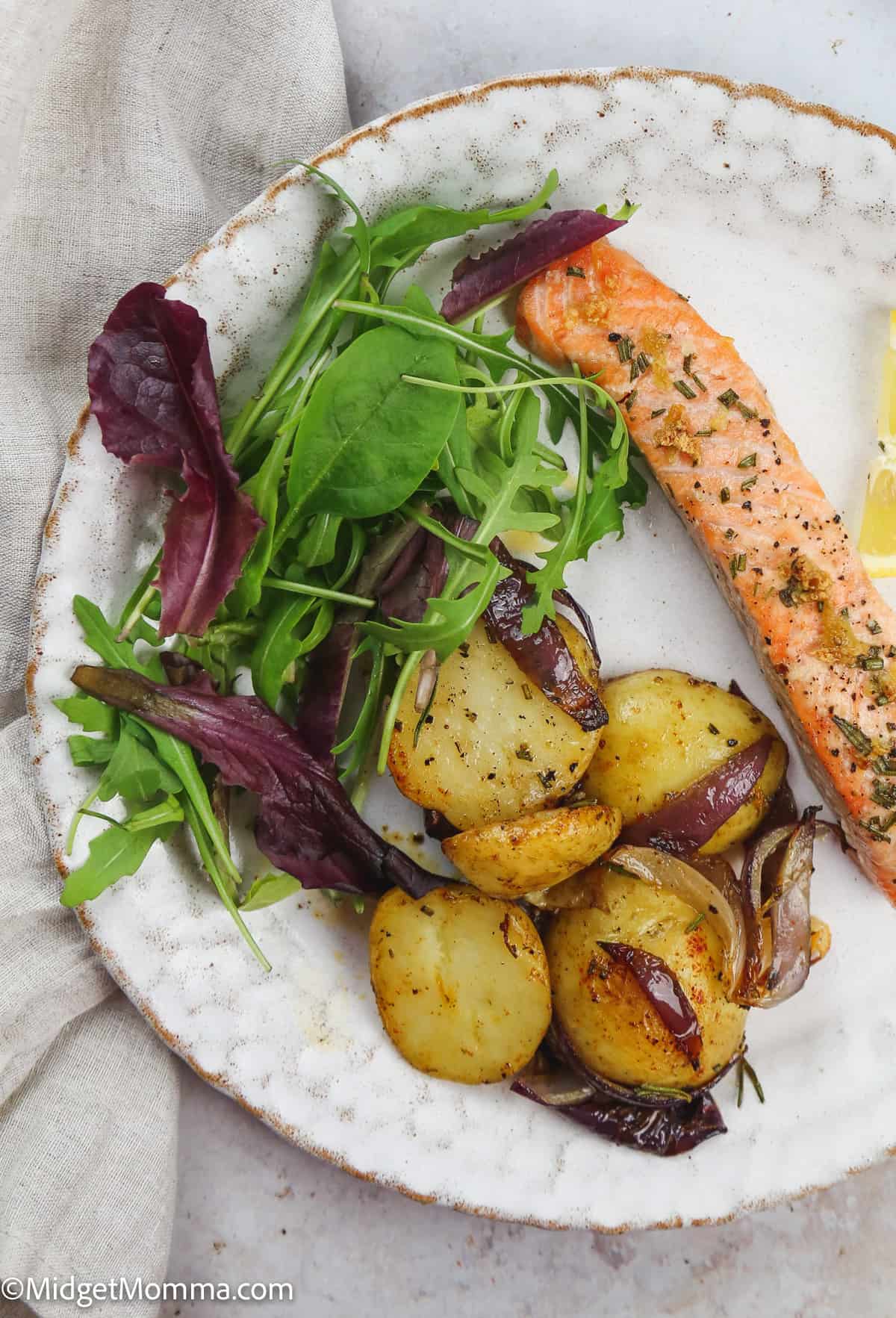 Why cook salmon in an air fryer?
There are a few reasons why cooking salmon in an air fryer is such a great idea. First, when you cook it in the air fryer, you are going to have the most succulent piece of salmon you have ever tasted.
Another reason why air fryer salmon is a great option is that it is healthy. You are able to cook it with very little oil, which means that it's low in calories and won't make you feel heavy or bloated.
It's so much quicker and easier than traditional methods of cooking salmon. You don't have to babysit your dish while it cooks – just pop it in the air fryer and walk away!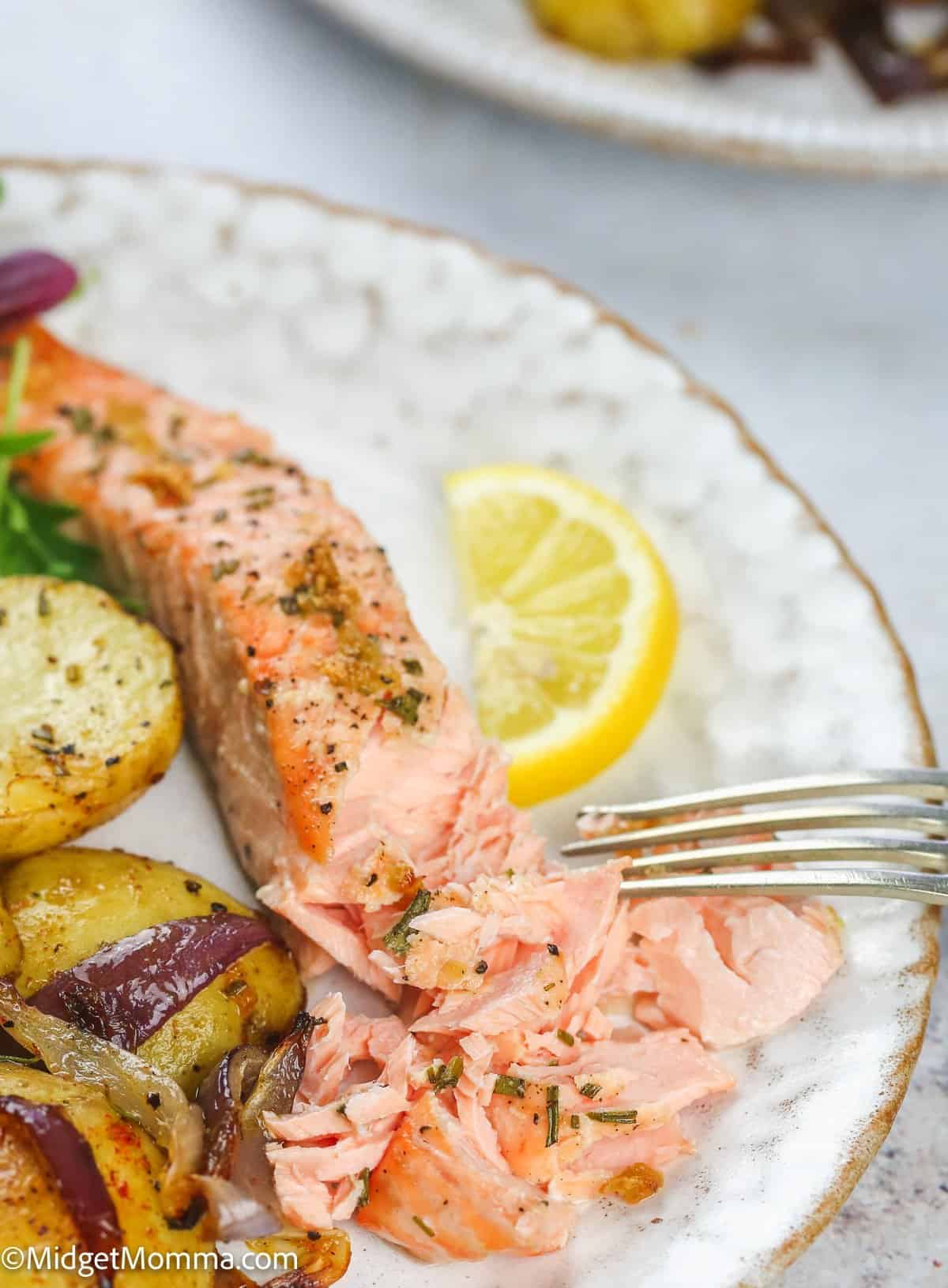 How to Store Leftovers
If you happen to have any leftovers after making this recipe, you can store them in the refrigerator for up to 3 days. It is important to store them in an airtight container.
How to reheat salmon
To reheat, simply place it in a pan over medium-high heat and cook until fully warmed through, or reheat it in the air fryer.
To reheat the salmon in the air fryer, place it on the air fryer basket and cook at 400 degrees Fahrenheit for 3-5 minutes or until heated through.
You can also reheat salmon in the microwave, just place it on a plate and heat for 45 seconds to one minute depending on how much you are heating up.
How to Meal Prep with this Recipe
If you want to meal prep with this recipe, I would recommend cooking the salmon ahead of time and then storing it in individual airtight containers in the refrigerator. Then, when you're ready to eat, you can quickly reheat it in the air fryer or on the stove.
You could also meal prep the vegetables that you plan on eating with your dinner. I would recommend roasting them in the oven ahead of time so they're ready to go when you are.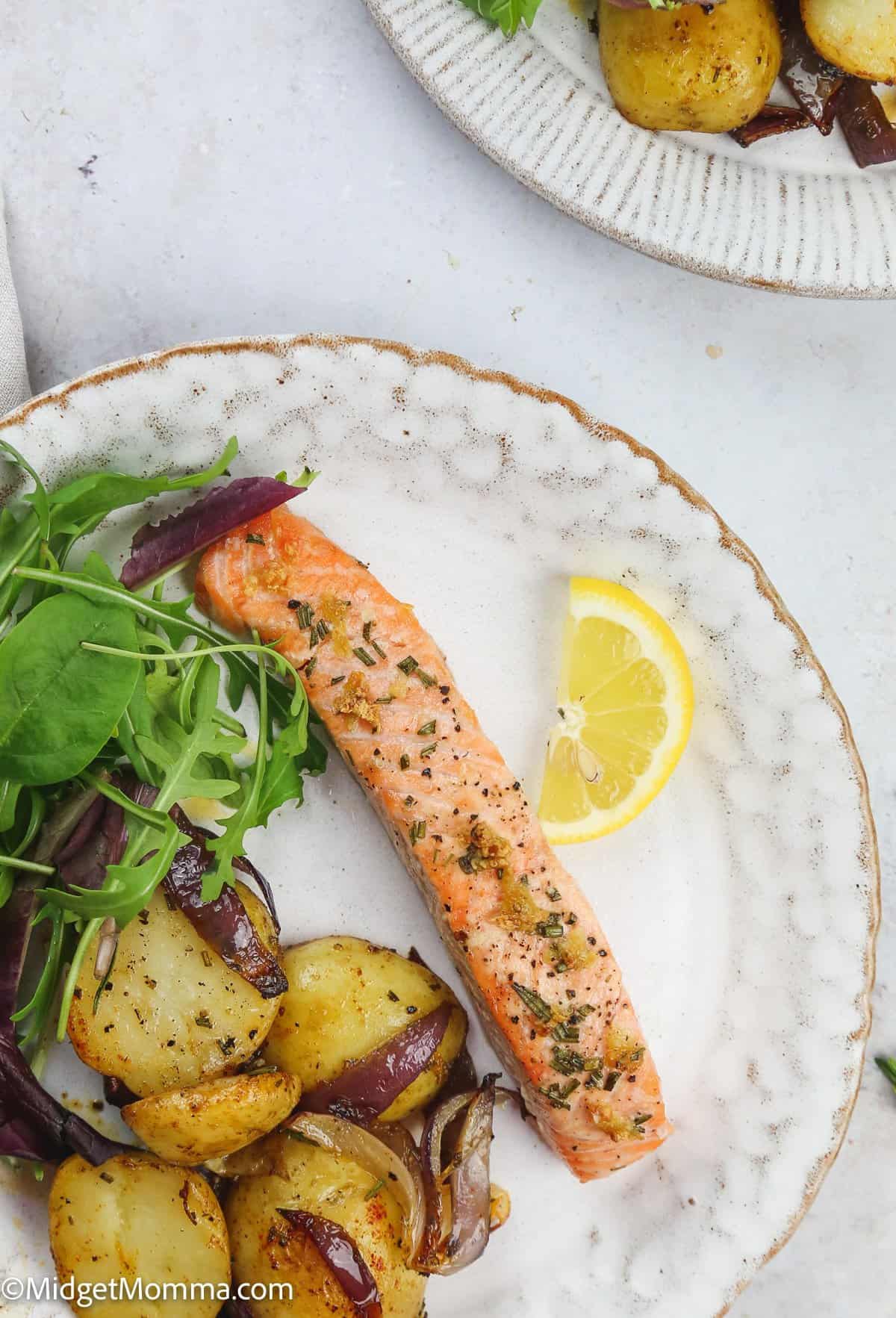 Tips for Making Salmon in the Air Fryer
Make sure to pat your salmon dry before adding it to the air fryer. You want to minimize any excess moisture so that the salmon has a nice crispy crust when it comes out of the air fryer.
Preheat your air fryer before adding anything to it – this will help ensure that you get a nice crispy crust on your salmon.
Do not overcrowd the basket. If possible, cook the salmon in batches so that there is plenty of room for air to circulate.
If you want to add even more flavor to your salmon, try marinating it in a few different herbs or spices before cooking it. This will take the dish up a notch and make it taste amazing.
Add vegetables, such as broccoli or asparagus, to the air fryer along with your salmon for a complete meal.
If you prefer, you can cook the salmon in an oiled pan on the stove instead of in the air fryer. Just be sure to cook it until it's
If it has the skin-on, make sure to place it in the air fryer basket skin side up. This will help ensure that the skin gets nice and crispy.
Brush the fish with a little bit of olive oil before cooking.
Make sure the pieces are about the same size. This ensures even cooking and prevents some from being underdone or others being over done.
What type of salmon can I use for this recipe?
I use whatever salmon I am able to find on sale at the grocery store. You can all types of salmon for this easy healthy dinner. You can use sockeye salmon, coho salmon, Atlantic salmon, and king salmon. My family much prefers thicker fillets, so I always look for a thick cut of salmon when I am going to be making this.
Can I use frozen Salmon?
I prefer to use fresh salmon, if you are using frozen salmon then you will need to thaw it completely before cooking it in the air fryer.
Do I need to remove salmon skin?
You can remove the skin if you want to, however it is a pain to remove and I find it easier to remove the skin after it is cooked so I leave the skin on when we are air frying ours. After it is done cooking the skin comes off easily when we are serving it.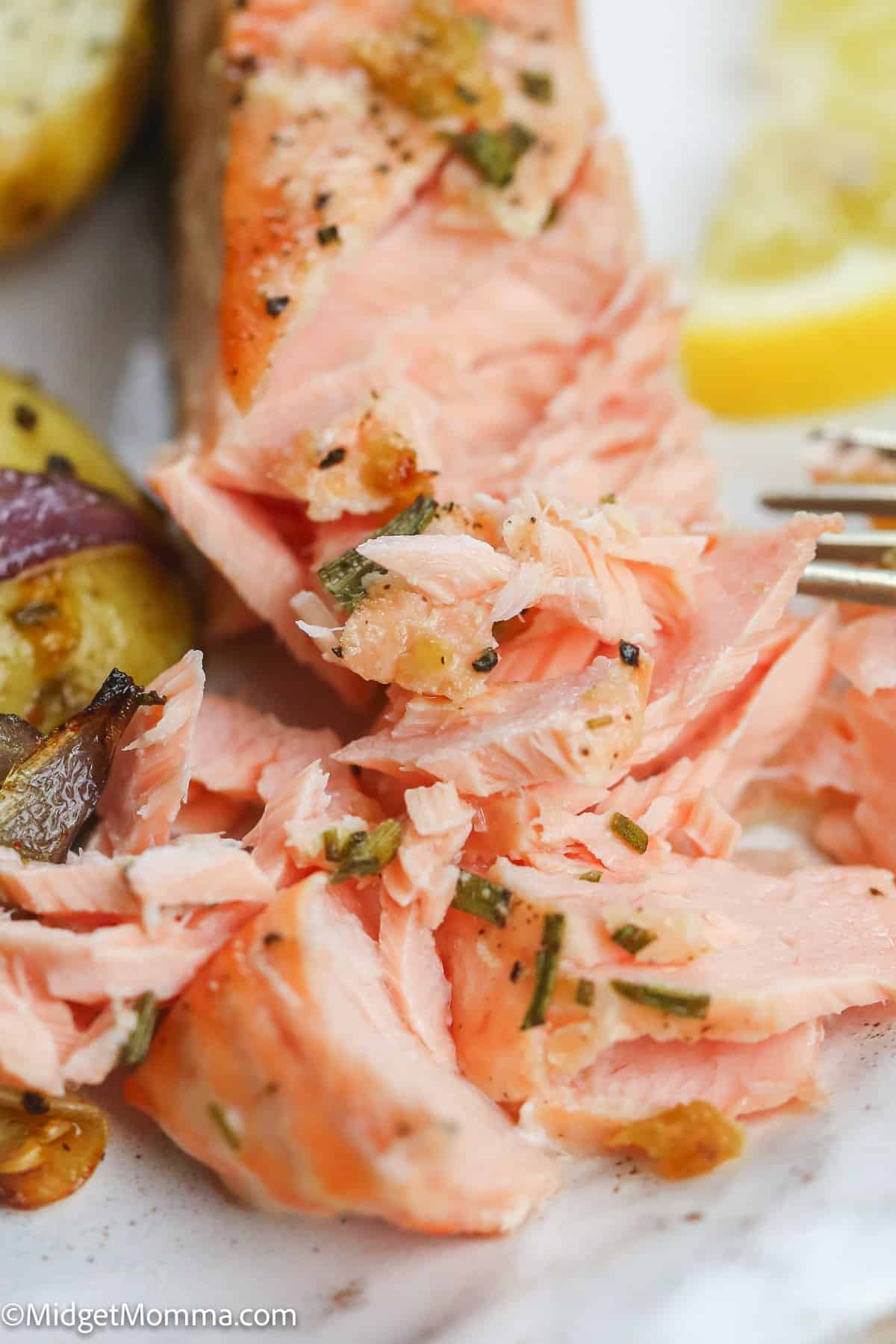 How to Know When Salmon is Done Cooking in the Air Fryer?
Check the thickest part of your baked salmon to see if the fish is opaque and the salmon flakes easily. This is best done by testing the thickest part of the salmon. If you want to go with the temperature method, the FDA recommends cooking fish to an internal temperature of 145°F.
What is the white stuff that oozes out of salmon when baked in the oven?
The white stuff that comes out of salmon when it is baked is a coagulated protein known as albumin, it is completely harmless and there is nothing to worry about if your salmon has it when it is baked.
How long does it take to Cook salmon in an Air Fryer?
Depending on the thickness of the salmon it can take a couple of minutes longer than this recipe calls for. The cook time of 7 minutes is based on a 1 inch thick piece of salmon. If it is thicker then you may need to cook it for 8-9 minutes.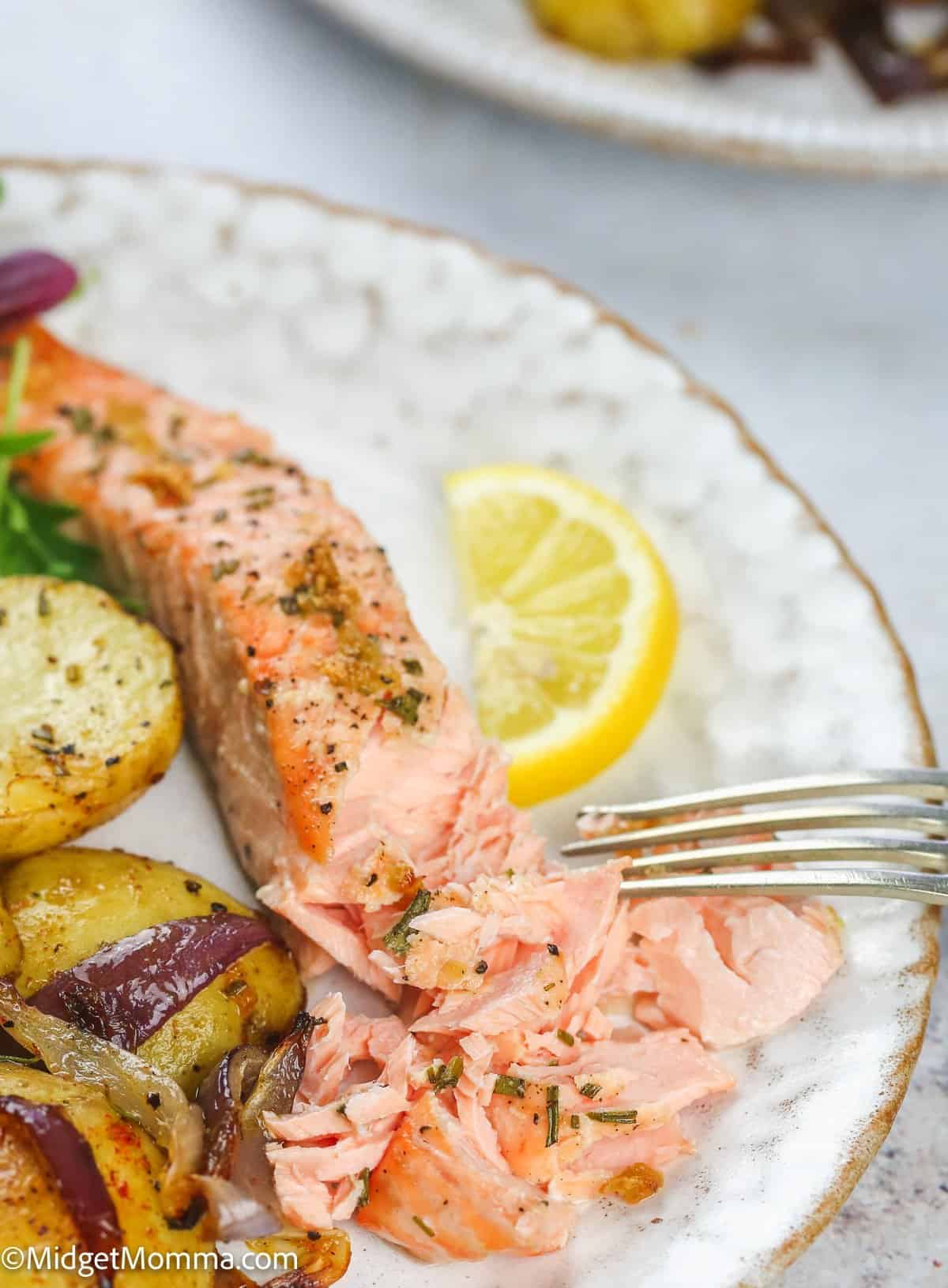 What to serve with Air Fryer salmon
There are lots of side dishes that pair well with air fryer cooked salmon. Normally I serve salmon with rice and a green veggie. We normally stick with broccoli or green beans but just about any veggies, steamed, baked, or sauteed pairs well with salmon. If you are looking for veggie side dish recipes, check out some of our favorite sides.
When it comes to the rice, I serve what I have on hand. Sometimes it is brown rice, sometimes I make baked rice, sometimes garlic rice and sometimes I pull a bag of frozen rice out of the freezer and heat it up. If you are looking for rice recipes, check out some of our favorites!
What is the best Air Fryer?
There are many different air fryers out there, amongst our team of foodies our favorites are the Cuisinart Air Fryer and convection oven combo, Power XL Pro and the Ninja Foodi 9-in-One. If you don't have either of them you can use the air fryer you have, but if you are looking to get started with cooking food in an air fryer then our suggestion is that you want to get one of those.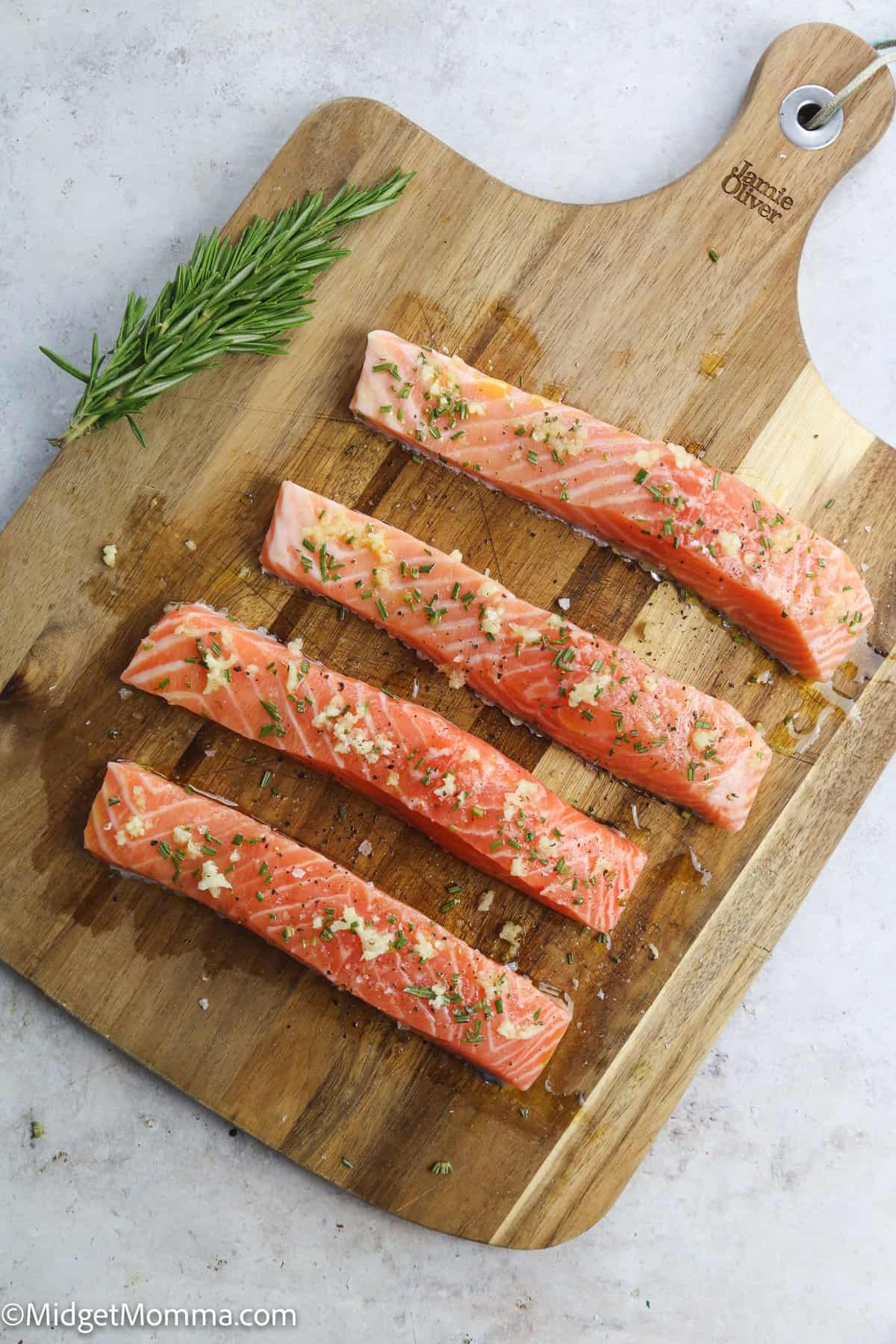 Air Fryer Salmon Ingredients
4 (6 oz)
salmon filets – about 1 inch thick
1 tablespoon olive oil
2 cloves garlic, smashed
1 teaspoon chopped fresh rosemary
pinch of Salt
pinch of black pepper
How to Make Air Fryer Salmon
Preheat the air fryer to 400F.
Pat dry the salmon fillets with paper towels.
In a small bowl, combine the olive oil with the garlic, rosemary, salt, and pepper. Spoon or brush the mixture on the outside of the salmon.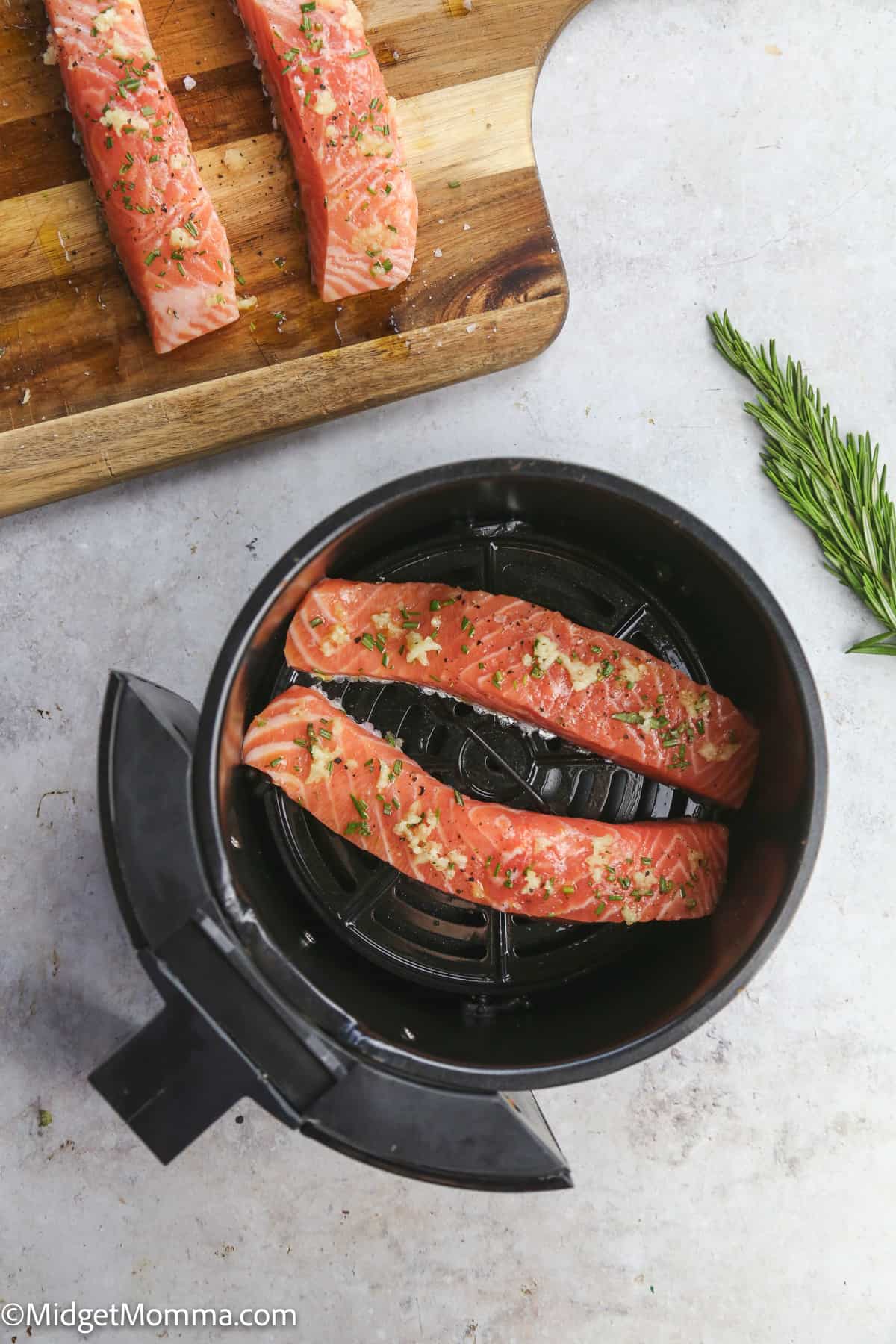 Place the fish in the air fryer skin side down (in batches if needed) in the preheated air fryer.
Cook for 7 minutes.
Easy Air Fryer Recipes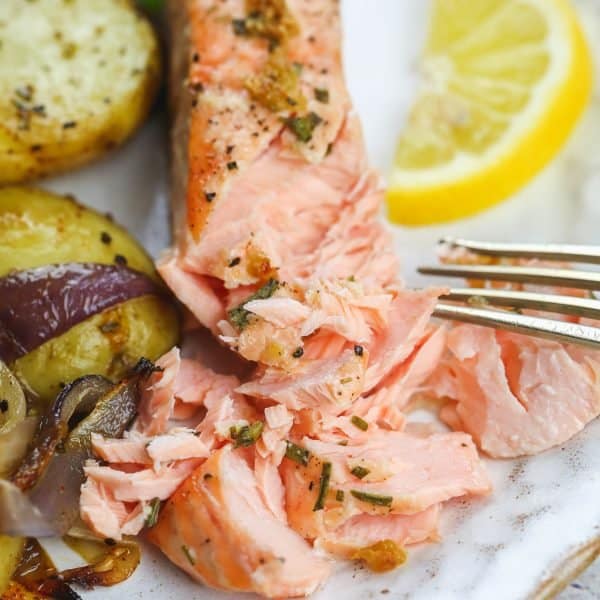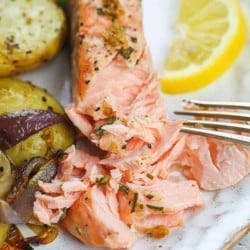 Air Fryer Salmon
Servings
Air fryer salmon is a healthier, easier way to cook your favorite seafood dish. With just a few simple ingredients and about 15 minutes from start to finish, you'll have a delicious, healthy meal in no time!
Ingredients
Instructions
Preheat the air fryer to 400F.

Pat dry the salmon fillets with paper towels.

In a small bowl, combine the olive oil with the garlic, salt and pepper. Spoon or brush the mixture all over the salmon.

Place the fish in the air fryer skin side down (in batches if needed), and air fry for 7 minutes. 8-9 minutes for a thicker salmon.
Calories: 275kcal | Carbohydrates: 1g | Protein: 34g | Fat: 14g | Saturated Fat: 2g | Polyunsaturated Fat: 5g | Monounsaturated Fat: 6g | Cholesterol: 94mg | Sodium: 75mg | Potassium: 840mg | Fiber: 1g | Sugar: 1g | Vitamin A: 68IU | Vitamin C: 1mg | Calcium: 23mg | Iron: 1mg
air fryer samon
Dinner
Join the newsletter
Subscribe to get our latest recipes right in your inbox every time we post a new one!