Homemade Flavored Lip Gloss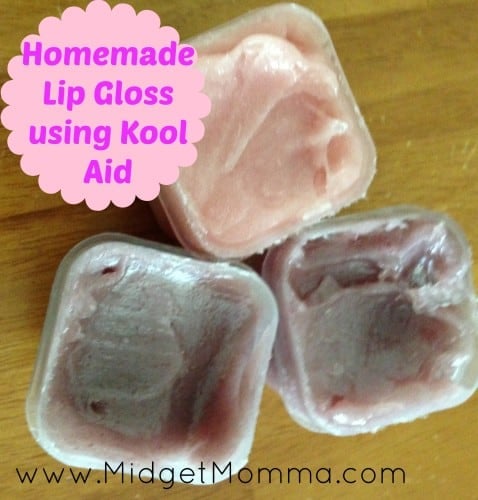 Looking for something fun to do with the kids? Make some easy homemade flavored Lipgloss! This is budget friendly, fun and my kids loved it!
Ingredients for homemade flavored lipgloss
1 large tub Vaseline
kool aid packets
Directions for homemade lip gloss
Melt 1/2 cup Vaseline in microwave for 50 seconds in a glass bowl (I used a pyrex measuring cup)
Mix in 1 packet of your choice of flavor kool aid
Spoon mixture into a small plastic container with a lid
Put in fridge for 1-2 hours to harden
Tada! Homemade flavored lip gloss!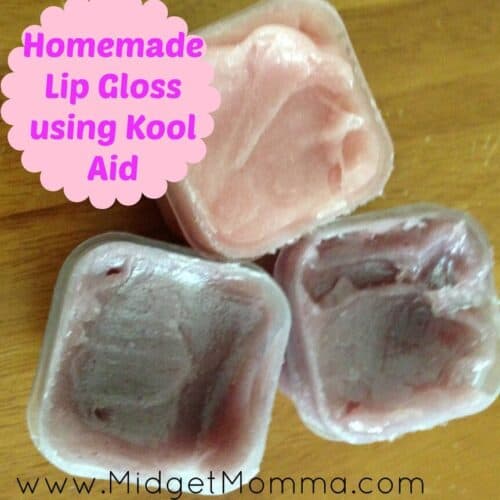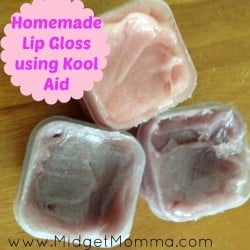 Homemade Flavored Lip Gloss
Ingredients
Kool Aid Powered packets
vaseline
Instructions
Melt 1/2 cup Vaseline in microwave for 50 seconds in a glass bowl (I used a pyrex measuring cup)

Mix in 1 packet of your choice of flavor kool aid

Spoon mixture into a small plastic container with a lid

Put in fridge for 1-2 hours to harden