I can't pass up a great deal on home delivery service meals. Every time I see them I have to try them, so when I saw that I could get $48 worth the meals from Martha And Marley Spoon I jumped on it. It also gives me the chance to let you guys know what we think about the services. So here is my 100% honest Marley Spoon Review to help you.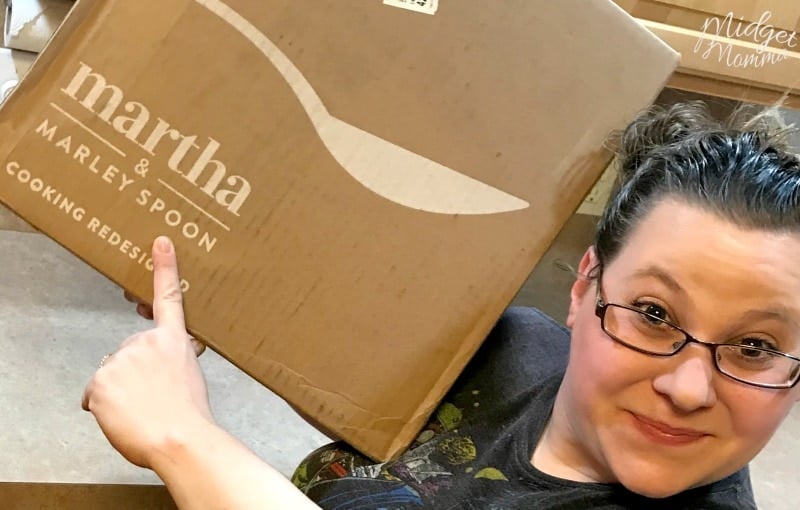 With the Martha and Marley Spoon coupon  you get $30 off your first order with them, making it just $18 for 2 2 person meals. You can pick between a variety of different settings for your boxes, no matter which one you choose, if you use this link you will get $30 off your first box.
You can select from 2 person meals or 3-4 person meals. Then you can select if you want 2,3 or 4 meals for the week in your weekly box.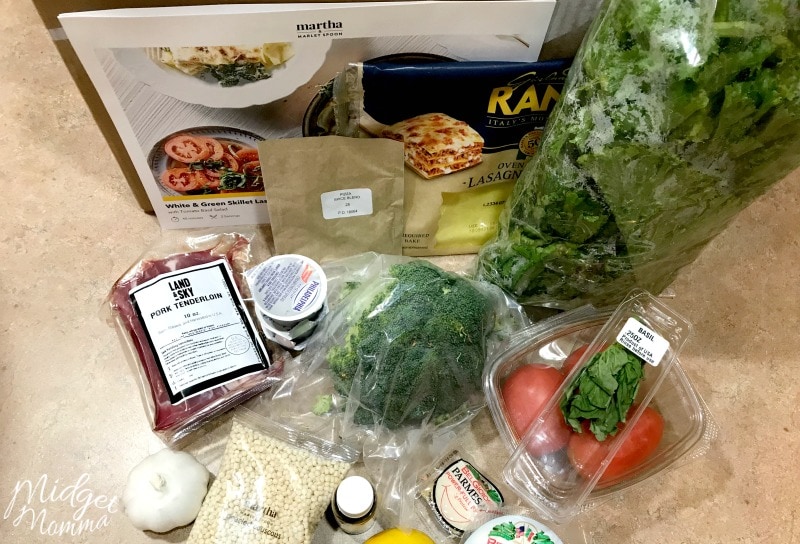 Martha and Marley Spoon Meal Service Delivery Review
I knew I was going to be making both meals on the same night to do our test run for this Martha and Marley Spoon review, so I went with the 2 meals for 2 people option, which costs $18 with the $30 off. We selected the Parmesan and Herb Pork Roast with Broccoli Farro Salad and the White & Green Skillet Lasagna with Tomato Basil Salad.
Our box arrived and I was super excited, I did a facebook live sharing what was in our box (You can see my Martha and Marley Spoon unboxing here), the meals we were trying and then put the ingredients in the fridge until the next day when we were going to make them. I made these meals the day after doing our unboxing.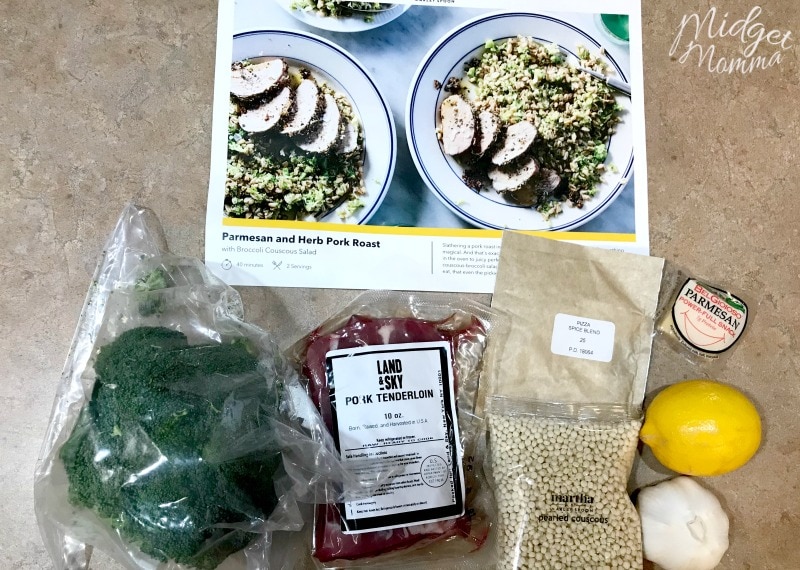 I also must add in that my kids are not picky eaters, they eat everything from sushi to steak, to really anything under the sun. The only 2 things we have found over the years that my kids don't like are : 1 doesn't like mushrooms and 2 don't like raw spinach (Cooked yes, raw no). So having them be my taste testers was easy since they are easy to please.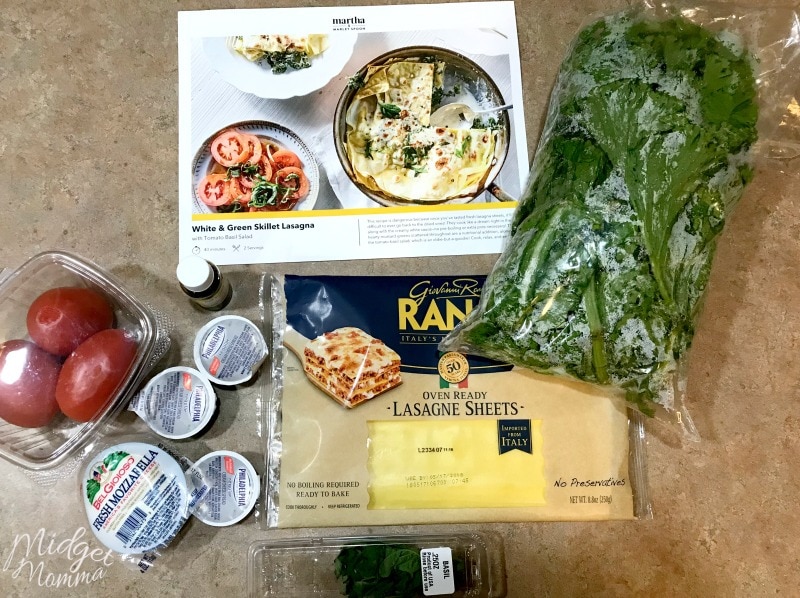 Marley Spoon Review
Ingredients:
All of the ingredients were still fresh when I went to cook everything. It was good to know that even after going thru the mail and the next day everything was totally fresh still. I would say you are good to go for letting the foods wait a few days before cooking them. All of the ingredients come labeled and packaged so you know what you are using and the items are fresh.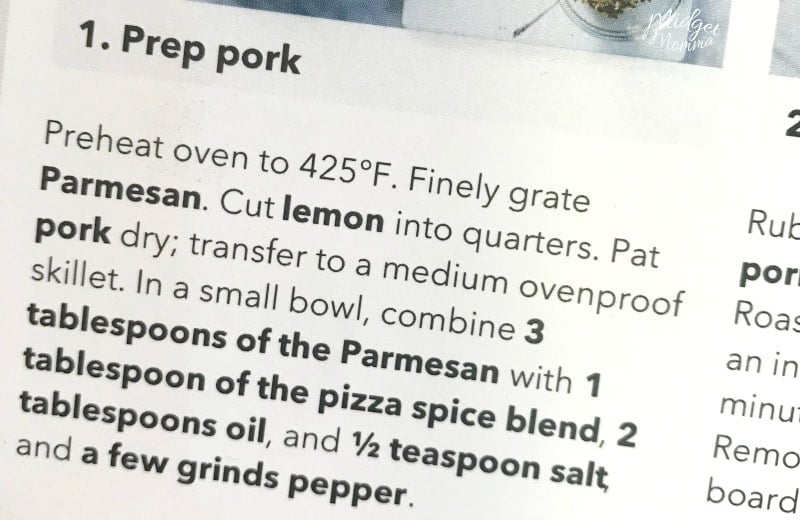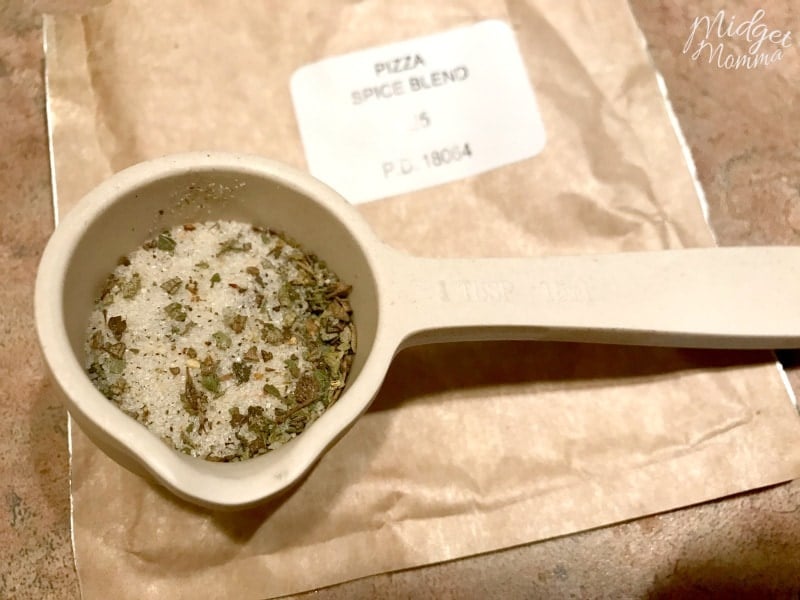 We ran into one problem though with the ingredients, the directions for the one meal called for 1 tablespoon of the pizza seasoning (which they provided) however when I went to measure the pizza seasoning it was not a full tablespoon that was provided.
The pork recipe also did not include enough lemons per what the directions told me to use. (It said cut lemon in quarters, bake one 1/4 and then squeeze the rest but then later on said to use extra lemon slices but there were not any extras).
Both of the recipes called for Olive Oil, which was not provided. For us that was fine because I have it on hand at all times however since it was a needed ingredient for the tomato salad, the pork and the couscous salad I would have liked them to include it.
I also must add that the recipe I ordered on the site was Parmesan and Herb Pork Roast with Broccoli Farro Salad however we received Parmesan and Herb Pork Roast with Broccoli couscous Salad – not a huge difference for us however it could be for some people.
Prep:
For the most part the prep was easy, open a few packages and get out my cooking supplies. Now I would have liked to see the cheeses already be shredded since that would have taken a bunch of time off of the prep for both dishes.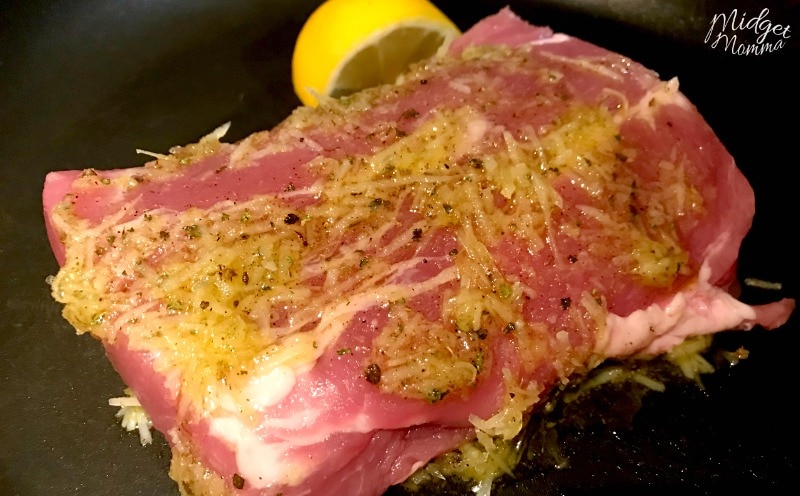 Directions:
For me I expect clear directions in a package like this, I cook all the time and I create recipes so I know how to cook. However boxes like this I would be buying for ease of cooking, or for someone who is wanting a fancy type meal at home instead of going out so I expect the directions to be easy to follow.
Our lasagna dish had very easy to follow instructions. Everything was clear on which order to do things and what needed to go where.
The pork dish was a bit confusing with prepping things like the lemon and then not telling you to set things aside. Which left me wondering if I should juice it into a separate bowl or not. It would have been better stated at the end of the recipe instructions when the lemon juice was actually needed instead of at the begging. So I highly suggest reading all the instructions that they send with it upfront and then a few times over just to make sure you don't miss anything.
Cooking:
The lasagna dish used a pot, a pan, a whisk, a spoon, a cuttingboard and a cheese grater. So this dishes from making it were not overwhelming at all. Cooking took just as long as they said it would on the directions. Cooking everything after prep was easy.
The Pork dish needed 2 pans, a pot, a spoon, a cutting board and a cheese grater. That is one more dish then I normally like to use when making a meal however for a fancy meal it is worth the extra dishes. Cooking everything was easy, the cook time was a bit off for the pork in the oven, but that could have been my oven taking longer to cook.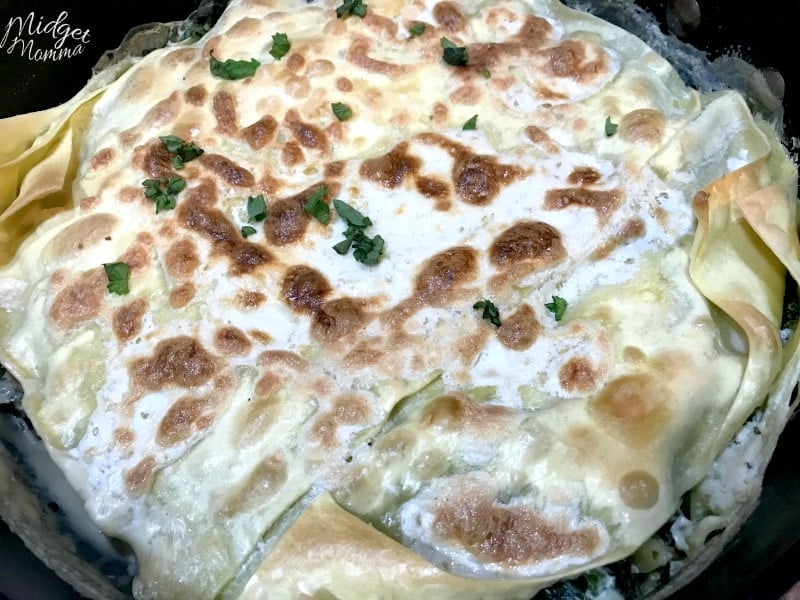 Taste:
Before I start on the taste, I am going to say again that no one in my house is picky, we all eat everything and my kids are always my taste testers when I create recipes. They give me the good, the bad and the ugly on anything I make. Which is important to me because when I create recipes I don't want to be sharing something that tastes gross. They also know I need the full honesty from them when trying things so I can share the experience with all of you.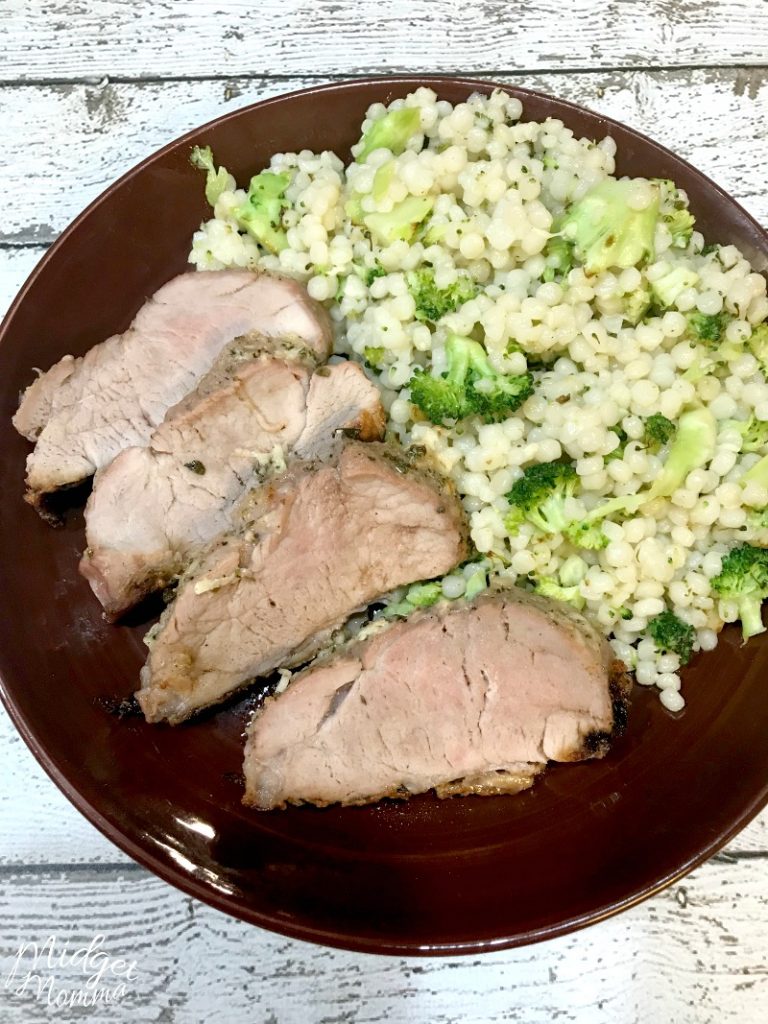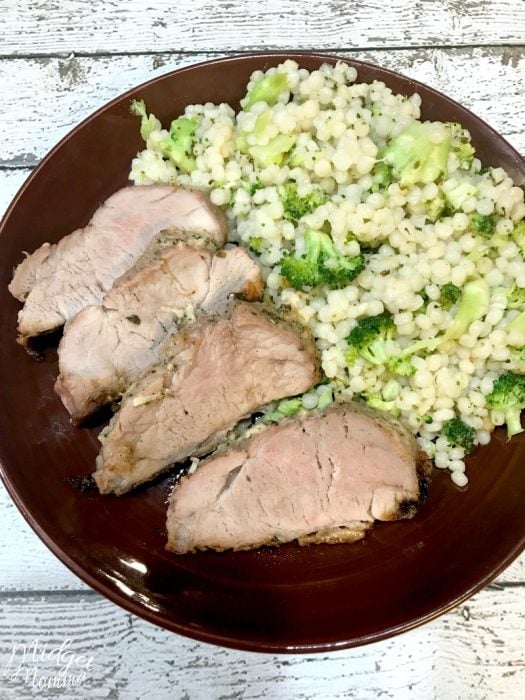 White & Green Skillet Lasagna with Tomato Basil Salad: 
The lasagna was a big flop for the kids and myself. The sauce was made with cream cheese and water, and it was VERY bland. The mustard greens were over powering and after the first bite, if they were able to manage swallowing it (which only 2 kids did) that was all they touched of it. Tom on the other hand said, "it wasn't bad but he wouldn't request I make it again". Aside from the mustard grass flavors, more mozzarella would have been great as well to add to the lasagna.
The Tomato Basil Salad was good, the tomatoes were fresh, although we would have liked to see mozzarella cheese included in the salad. Everyone ate every bite of this one.
We would have also liked to see more basil included in the meal delivery kit, because once we put the required amount in the Tomato Basil Salad there was not quite enough to top all of the lasagna.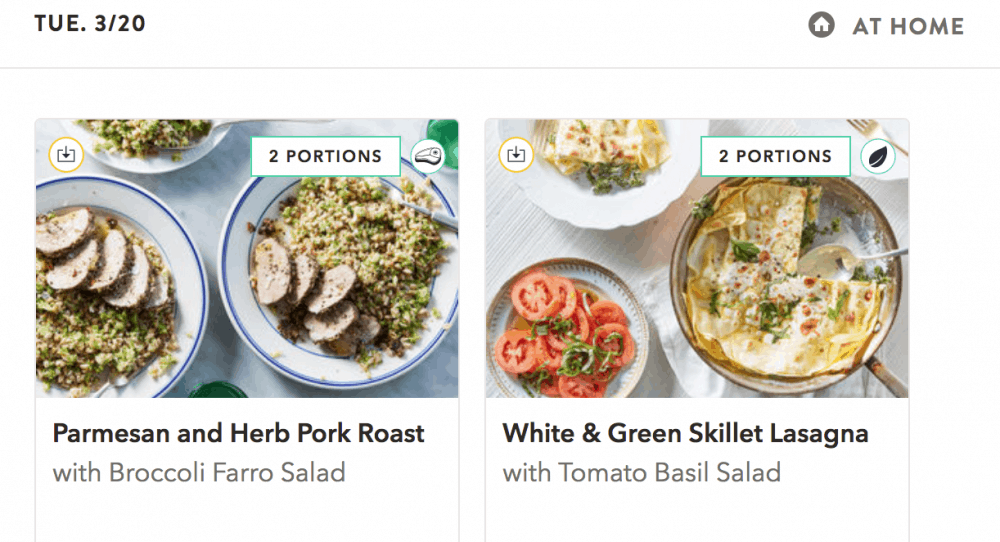 Parmesan and Herb Pork Roast with Broccoli Farro Salad 
With the Parmesan and Herb Pork Roast with Broccoli Farro Salad we ended up with Parmesan and Herb Pork Roast with Broccoli Couscous Salad, as we were sent couscous and not Farro.
The Parmesan and Herb Pork Roast once I cooked it a few minutes past the cooking time was done and the flavors were amazing. Everyone cleared their plates of the pork and said they would like this meat again soon.
The Broccoli Couscous Salad was also amazing, everyone cleared their plates. This one was one they said they would totally eat again.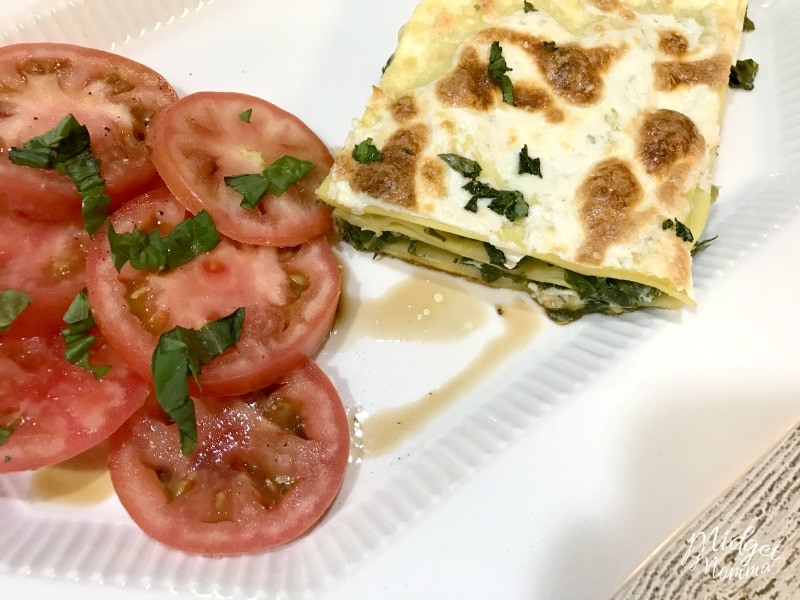 Portion Sizes of Martha and Marley Spoon Delivery Meals:
I ordered 2, 2 person meals to make. So technically 4 meals and all 6 of us (2 adults, 1 13 year old, 1 11 year old, 1 8 year old and 1 18 month old) were able to be full with the meals including when we skipped eating the lasagna.
The Parmesan and Herb Pork Roast and Broccoli Couscous Salad
TheBroccoli Couscous Salad made ALOT – everyone was able to have 1 serving and then each of the kids had another helping of it. The pork while it looks small in the package would be enough for 2 people easily.In general with that meal and 2 people eating it you are going to have left overs of the Broccoli Couscous Salad.
White & Green Skillet Lasagna with Tomato Basil Salad 
The White & Green Skillet Lasagna while we did not like it, would have made enough for 4 people. It was HUGE! If 2 people were eating it there would be left overs. The tomato basil salad would have plenty for the meal but you would not have any leftovers.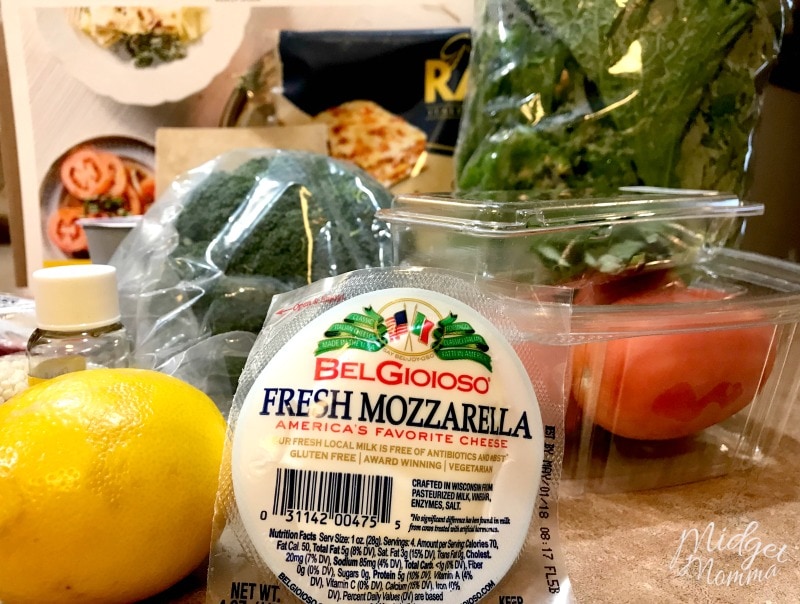 Our overall opinions:
The Good:
For $18 shipped I am ok with what we got, the one gross meal makes it go from being happy to ok. However if both meals tasted like the pork meal did then I would be extremely happy. The portion sizes are large so that is a plus.
Would I pay $48 for these 2 meals? No I wouldn't. However with Marley Spoon you can get your first box here for $18 and I would say that it is still a good deal, just stay away from the lasagna. Then you can use a Marley Spoon Referral, which will give you $30 to give to a friend after your first box arrives, so they can get one for $18 and you will get $30 off another box. Then use that $30 to pay $18 again.
I think the idea of them and the way things are packaged is awesome. I like how the meal ingredients were in bags so you had no confusion as to what items went for what meal.
Ordering and picking out your meals is really easy. If you want to skip a week that is really easy to, it is literally one click of a button that says "skip this week" in your account.
The Bad:
Simple for this one is that the lasagna was gross, well according to everyone except my husband and none of us are picky eaters. This can be preference of taste which is why I put it under bad, instead of ugly. However we eat everything so finding something we don't like is hard to do.
I would have liked the ingredients, like the cheese to already be shredded for me.
The regular price with out the discount I would not pay. I think it is to costly for what you get. Now if they were to fix the stuff that was wrong I would change my answer because everything was fresh, you could taste the freshness but for $24 a meal for 2 people I want to be able to open ingredients, have minimal prep when it comes to shredding things and have it easy, no stress cooking.
The Ugly:
Not the right amount of ingredients (not the right measurable amount of pizza seasoning, could have used more mozzarella and needed more lemons). Hard to understand instructions for the one meal – which for me was a pain to figure out but not impossible, someone who is not skilled in the kitchen could have a very hard time and get very stressed out. However the one meal that had difficult directions ended up being the one that we liked the most.
My biggest thing for the ugly is that not the proper amount of ingredients was sent. If I have a list that I am cooking from not having what they say they are sending is not good.
Also having a different meal sent then what was ordered. While it was ok for us, it might not be for someone else if they have an allergy to something.
How to Order Martha and Marley Spoon
If you are wanting to try Marley Spoon you can head on over HERE and get $30 off your first order, making a 2 person, 2 meal box just $18 shipped.
You can use the $30 off any size box you are ordering.
You can see the full Martha and Marley Spoon Menu here so you know what options you will have for when you place your order.