This Starbucks Frappuccino Slime is a fun no borax slime recipe that the kids and moms will love because well hello Starbucks! LOL! For this Starbucks Frappuccino Slime you are going to have to "torture" yourself and drink a Starbucks Frappuccino! Sorry Moms! 😉
I know, I know, I don't need to apologize because you are thanking me for forcing you to drink one to be the best mom ever and let your kids make this DIY slime without borax! Plus do you see how amazing it looks in the bottle! Oh yes!
Slime Recipe without Borax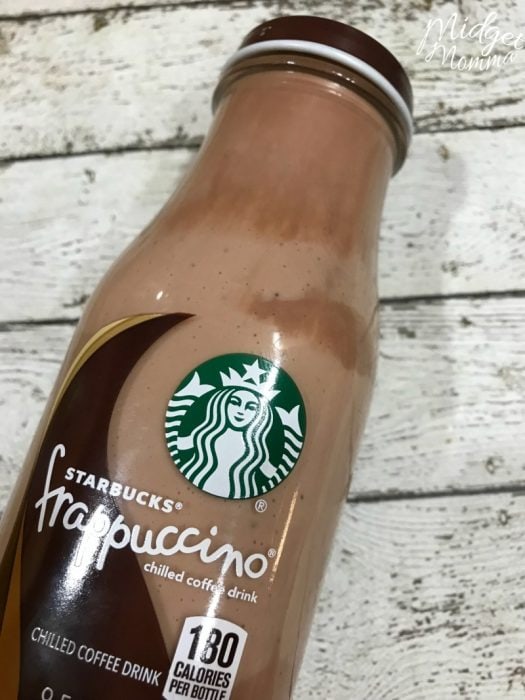 McKenzie had a lot of fun creating this slime recipe with contact solution and glue to resemble her favorite Starbucks Drink. She told me that since I won't let her have a Starbucks Frappuccino daily that the next best thing was making a Starbucks Frappuccino slime that she could play with!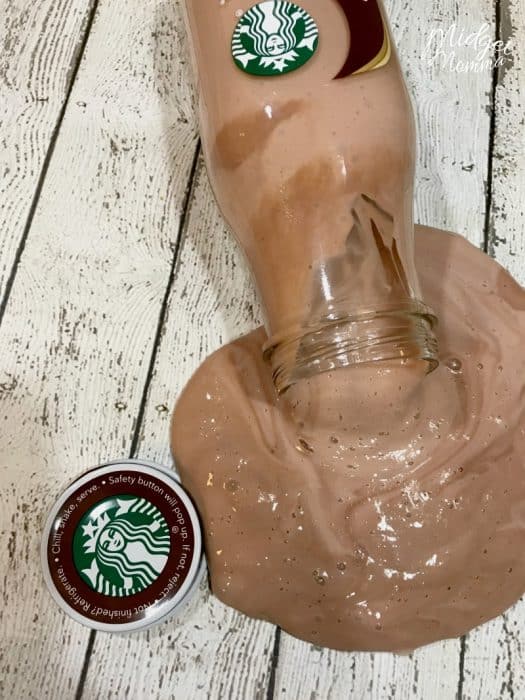 This Starbucks Frappuccino Slime is runny but not sticky. You can totally pour it from any container easily and just enjoy letting it run thru your fingers.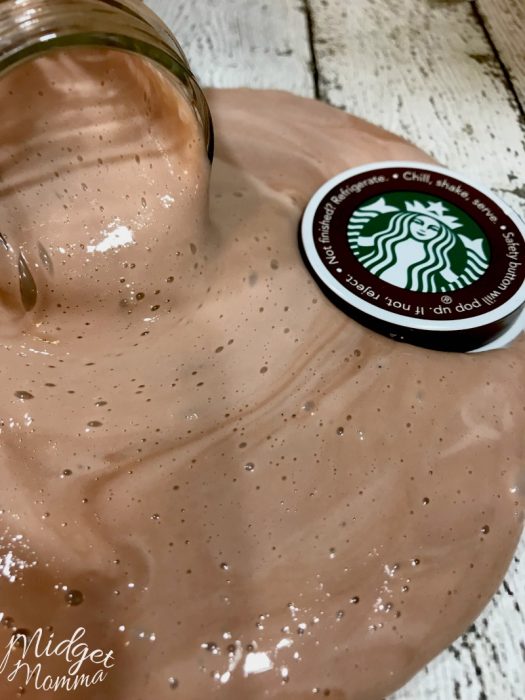 This easy to make slime recipe uses a few more ingredients then a lot of slime recipes, but that makes it a smooth slime that is so much fun to run thru your hands.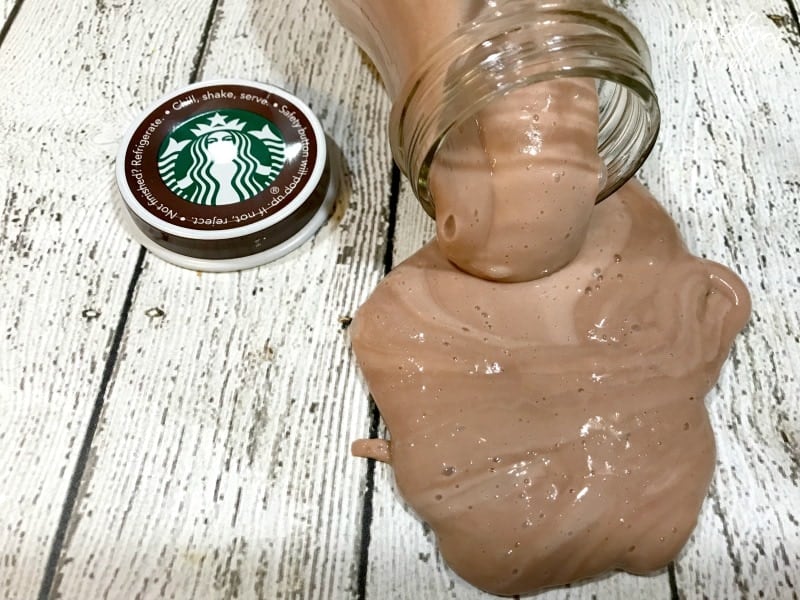 This Starbucks Frappuccino Slime is a slime recipe without borax or cornstarch and you probably have most of the ingredients needed on hand at home already! It is so easy to make too and if you are worried about using borax you don't have to be with this slime recipe! This is as elmer's glue slime recipe without borax that comes out amazing. As my kids say "It is so satisfying" to have this slime run thru their finger!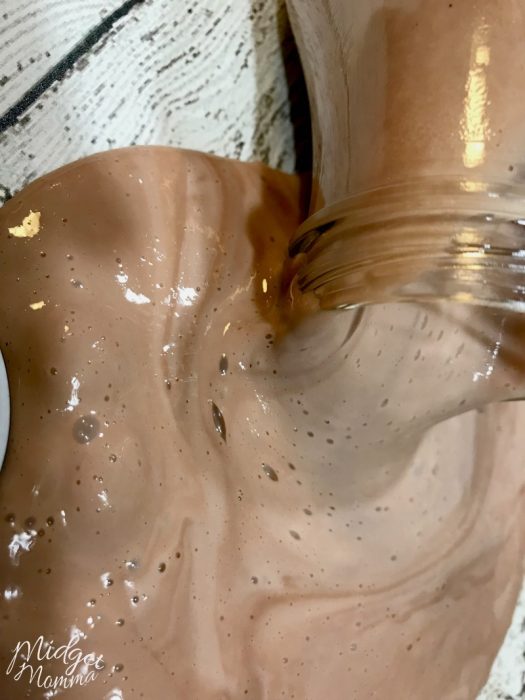 How to Make slime without Borax
Starbucks Frappuccino Slime Ingredients:
1 Cup white glue
1 cup shaving cream
5 pumps foaming hand soap
1 tablespoon clear hand soap
4 pumps hand lotion
1 teaspoon baking soda
Saline solution
Washable Brown craft Paint
1 empty Starbucks Frappuccino bottle
How to make Starbucks Frappuccino Slime
Grab a large bowl and add in your glue. Then add in your shaving cream, lotion, foam soap, hand soap, baking soda and mix well.
Then add your saline solution, add a little bit at a time until you get to your desired slime consistency.
Split your slime into 6 equal piles.
Combine 3 piles of slime to make one pile. Then combine 2 of the original slime piles to make one and leave the last slime section by itself.
Get your large portion of slime and use brown pain to make it dark brown.
Use brown paint with your medium sized pile of slime and make it a shade lighter then your first one.
Get your last section of slime and use brown paint to make that darker then the darkest one you have.
Gently combine all the slimes so the colors oooze together without fully mixing.
Get your Starbucks Frappuccino bottle and pour your slime in!
You can store your slime in the Starbucks Frappuccino bottle and use it for playing too!
Want more Slime Recipes? Check these out!
Looking for even more fun to have with the kids? Check these out! 
Join the newsletter
Subscribe to get our latest content by email.
This post may contain affiliate links. Please read my disclosure policy here