Every year in the spring Epcot throws one of my favorite festivals, the Flower and Garden Festival. If you are looking to attend then this is the list of Disney Flower And Garden Festival Food you have to try! The Disney Flower And Garden Festival Food is amazing! The Flower and Garden Festival is not just filled with tasty food, it is also beautiful!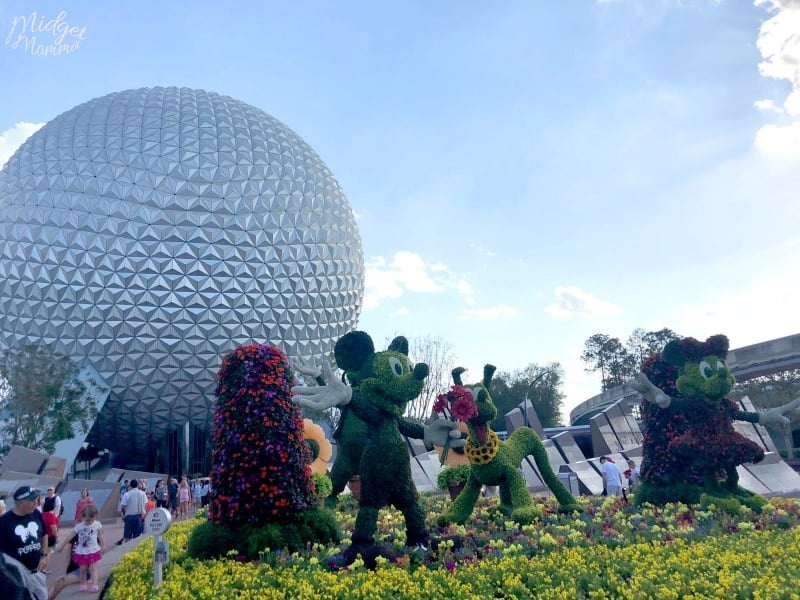 There is definitely something for everyone at Disney's Flower And Garden Festival! My kids are entertained by all the beautiful Disney topiaries, my husband by the large variety of beer and I am by all the outdoor kitchens.
As I said, I am there for the food! 😉
Where to find Disney Flower And Garden Festival Food
The Disney Flower And Garden Festival is held in Epcot. While you are walking around you will be see the different Disney Flower And Garden Festival Foods that you can try. In each pavilion you will find different foods that are specific to that country. Each one has a small building set up with tapas style food options.
We went to the festival on opening day and tasked myself to try as many food options as I could. Crazy? Maybe however who else is going to try all the Disney Flower And Garden Festival Food and let you know the best ones to get.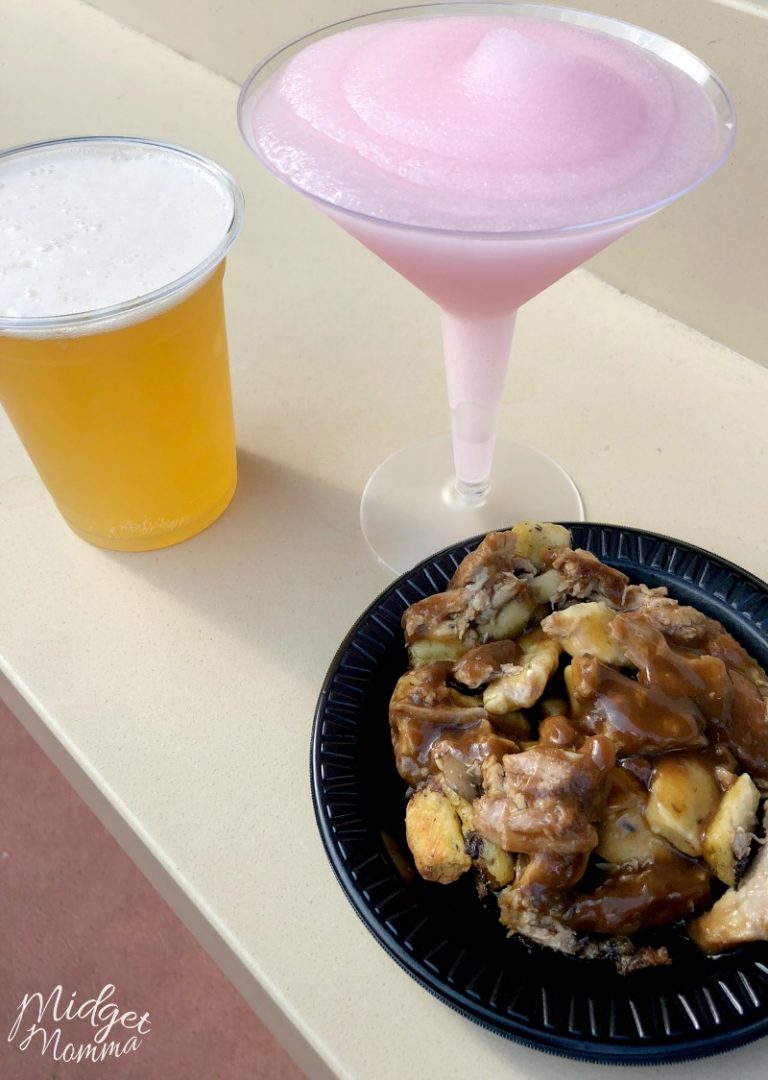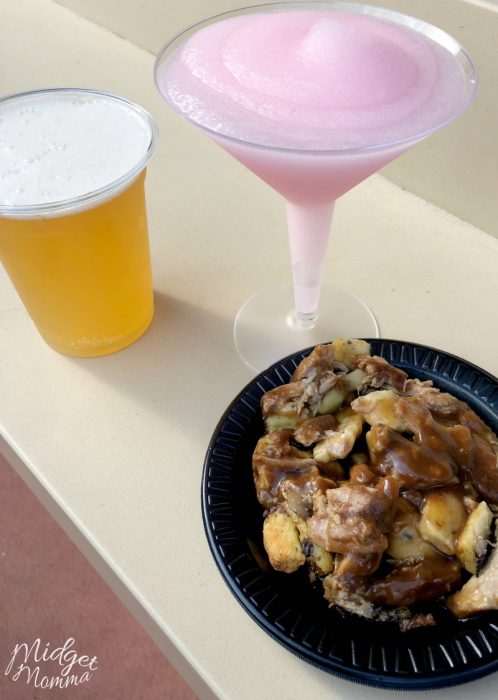 Use Disney Dining Plan for Eating Around the Flower Festival
If you are on the Disney Dining Plan then you can use your snack credits for any of the Disney Garden Festival food booths. I suggest planning ahead and using table service meals on days you are not in Epcot for the festival and also saving a bunch of snack credits as well to use.
Unfortunately I was not able to get around to each booth and try all of the Disney Flower And Garden Festival Food. All though I made it to most! So this list of Disney Flower And Garden Festival Food that you have try is based on the Disney Flower And Garden Festival Food that I loved.
If you have have gone and have a favorite Disney Flower And Garden Festival Food that you think deserves a mention please share it in the comments with us! We are always looking for more foods to try!
Disney Flower And Garden Festival Food
(That you MUST try!)
Canard Confit Aux Gnocchi à la Parisienne: Braised Duck Confit with Parisian Gnocchi at Fleur De Lys $5.75
Fleur De Lys is located in the French pavilion. The braised duck was so amazing that my husband and I both agreed this was the best food we had in all of the parks! We ended up going back and waiting in the long line again to get another plate of these as well as another rose slushy for me.
Toasted Pretzel Bread topped with Black Forest Ham and Melted Gruyère Cheese at Bauernmarket Farmers Market $5.00
Bauernmarket Farmers Market is located in the Germany pavilion. The menu here was so amazing we ended up get one of each of the food items. The potato pancakes were really good but they just couldn't outshine this amazing cheese filled pretzels. They were warm and gooey with a great texture from the chunks of ham.

Beef Brisket Burnt Ends Hash with White Cheddar Fondue and Pickled Jalapeños at The Smoke House $6.50
The Smoke House is located in the American pavilion. Oh yah BURN ENDS!!!! If you have never had burn end you are really in for a treat. They are just full of flavor with this crunchy almost jerky texture. Now top off something that tastes amazing on its own with a white cheddar fondue and you end up with a winning combination.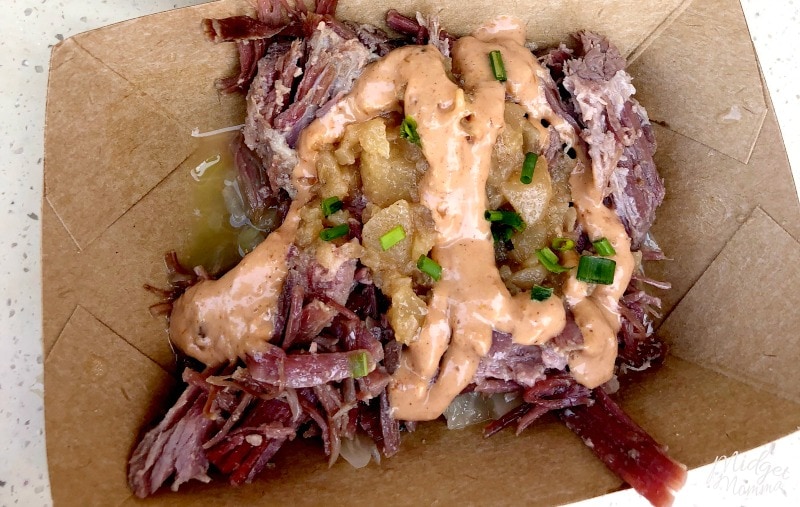 Pear Cider-brined Shredded Corned Beef with Braised Cabbage and Branston Dressing with Pears at Cider House $10.50
The Cider House is located in the UK pavilion. This was the first food we had tried at the festival and man we were off to a great start. I wasn't really looking forward to this one because corned beef is just okay to me. Yet I couldn't put this one down! The pears added this beautiful sweetness to the saltiness of the corned beef. While you are at the cider house don't forget to pick up the House-made Potato and Cheddar Cheese Biscuit with Smoked Salmon Tartare.
Spicy Blackened Shrimp and Stone-ground Cheddar Cheese Grits with Brown Gravy and Local Sweet Corn Relish at Flordia Fresh $6.75
Flordia Fresh is located between the France and Morocco pavilions. These were recommended to me by one of the cast members who was working at one of the kids gardens. She told me that everytime she comes with her husband they have to make a stop for these grits. She was right this grits are some of the best grits I have ever had but far warning these do have a bit of spice to them.
La Vie en Rose Frozen Slushy: Grey Goose Orange, St. Germain Liqueur, White and Red Cranberry Juice at Fleur De Lys $10.75
While you are at Fleur De Lys getting your duck make sure you pick one of these yummy slushies to wash it down.
Looking for more Disney Vacation tips? Check these out!