The travel sharing economy has really taken off in the last couple years, making it possible to rent almost anything from locals when you reach your destination. A trip to Disney can be expensive and hard to manage when you are on a tight budget, but when you use travel sharing it might make it possible to slash your costs down by a lot. With so many safety nets and insurance put in place, these options are a great tool to use for your travel plans and might make things so much more convenient.
Make sure you also check out these other ways to save on a Disney Vacation:
Things you can get for FREE at Disney World
How to Save Money on Food at Disney World
Travel sharing Disney Vacation Savings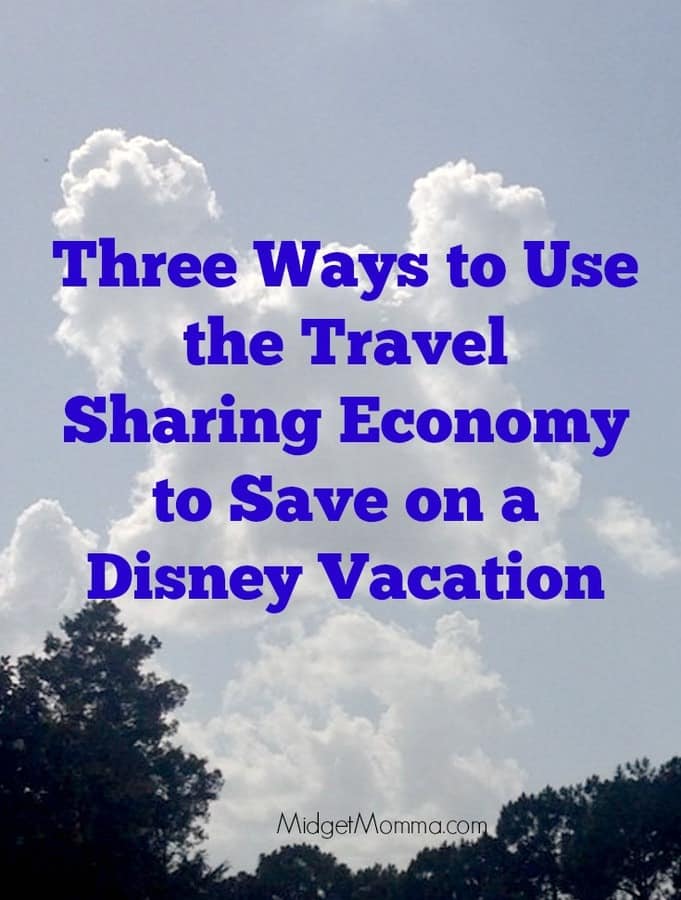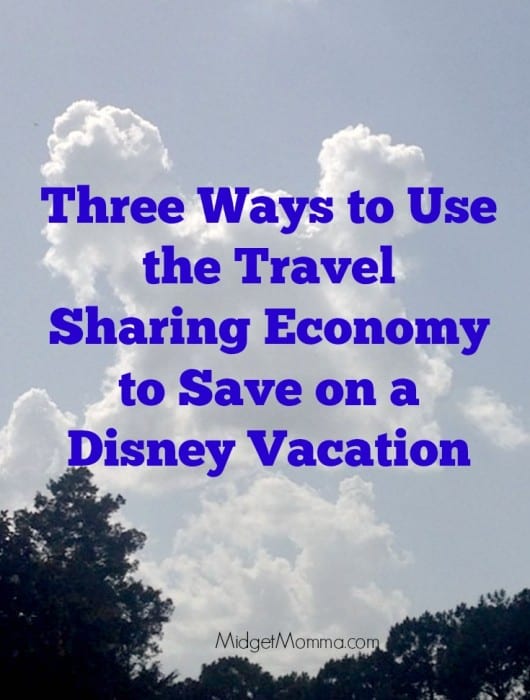 Three ways the travel sharing economy can help you save on a Disney vacation
Daily or Weekly Home Rentals
There are several very reputable sites that make it easy to rent a place by the day or week while you are on vacation. Airbnb, HomeAway, and VRBO are just a few of the more popular sites where people list their rental properties, vacation homes, and even hotel accommodations in order for folks vacationing in the area to take advantage of. These rentals come in all sizes, with everything from budget rates to luxury home options. There are hundreds of options right in the Disney area, around Orlando and as far out as either coast, so it really depends on where you want to be, what you want to spend, and how much space you need. This travel sharing economy option helps you save money when you have a large party, can give you a place to cook and save money on food, and really be a home away from home.
Catch a Ride or Grab a Loaner
There are several ways to use travel sharing to save money on transportation, especially if you are staying with a friend, family, or off Disney property. Uber and Lyft are all over the place, easy to call up and get a ride for a huge discount, especially when compared to taxis or drivers. With this option you don't need to pay for parking at Disney, but will have to pay for each and every trip around Orlando, which is pretty spread out. Another option is a newer ride sharing program where people loan out their private vehicles to renters by the day, week, or month. Both of these options have their benefits and really depend on how often you plan on driving around, the length of time you are going to be at Disney and how many people you would need to accommodate.
Caring for the Family Pet
So many families choose to travel with their family pets these days, or even if they don't you need to find a safe place for your pet to stay while you are gone. Travel sharing economy has stepped in to help families make this easy and comfortable too. Rover.com, DogVacay.com and housesitting sites are popular with pet owners that want in house boarding, or to find somewhere for their pet to stay while they are vacationing. Bring your pup with, and enjoy your Disney stay knowing they are well cared for and will be more comfortable than a long kennel stay.