How To Save Money on Food At Disney World. These easy tips will help you save money on food at Disney World! That means you have even more room to budget for the other fun stuff that you want to do!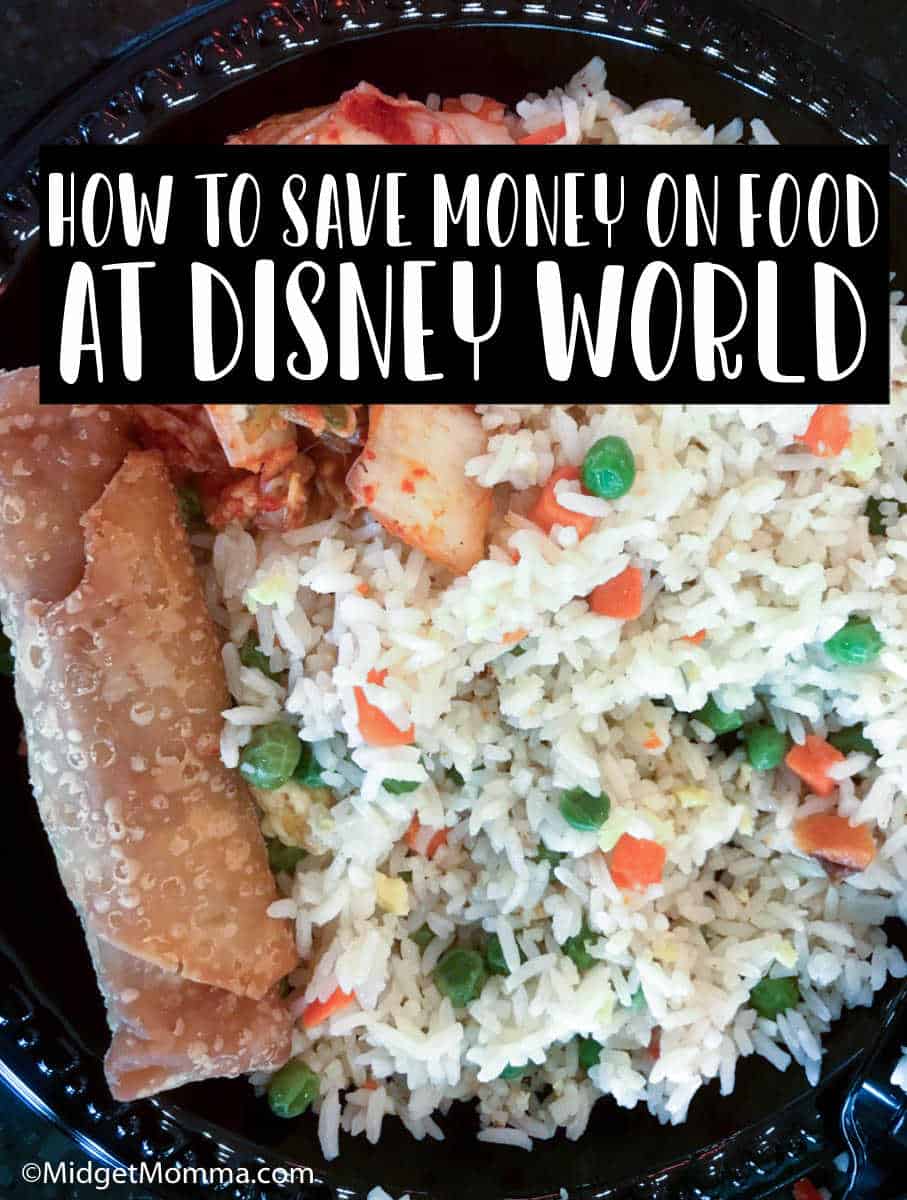 How To Save Money on Food At Disney World
Is a Disney vacation in your dreams and you sit there and total what the cost is going to be and groan because it looks like it is not going to be in the budget? Food costs at Disney Parks can be a huge expense, especially if you are eating every meal in the park and at a sit down restaurant but if you know how to save money on food at Disney World you will save a TON of money and a lot of stress!
I love Disney and just because you are on a budget doesn't mean you can not make your families dreams of going to Disney come true. It just takes a little bit more work, including knowing how to save money on food at Disney but i guarantee you that it does not take away from the magic of going to Disney.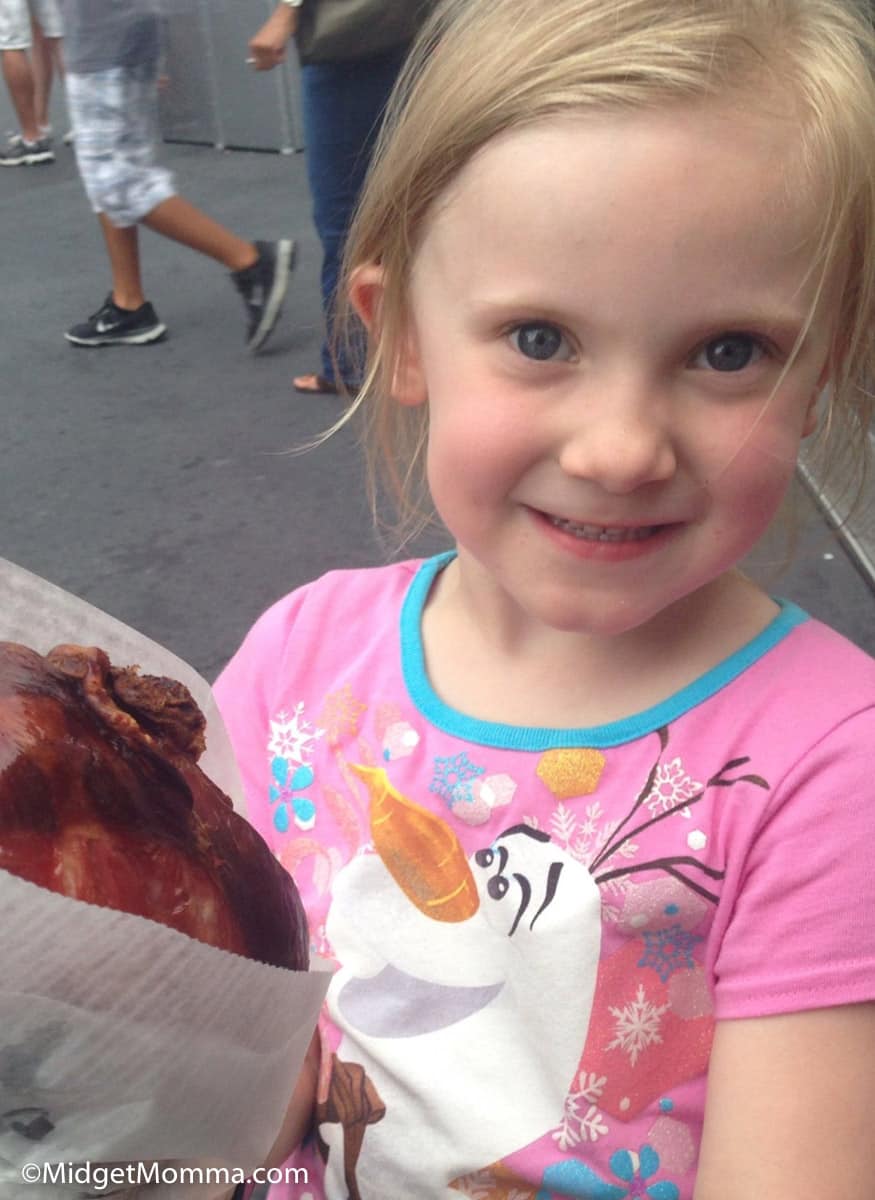 How much should I budget for food at Disney World?
How much you should budget for food is dependent on how you and your family likes to eat. If you are wanting to have a sit down meal every meal then it is going to cost more then if you are having a quick service meal. You can cut down the cost by eating breakfast in the room and then other meals in the parks.
Best Ways To Save Money on Food At Disney World
With a few tips and tricks on how to save money on food at Disney Parks you can save money on food at Disney quite easily.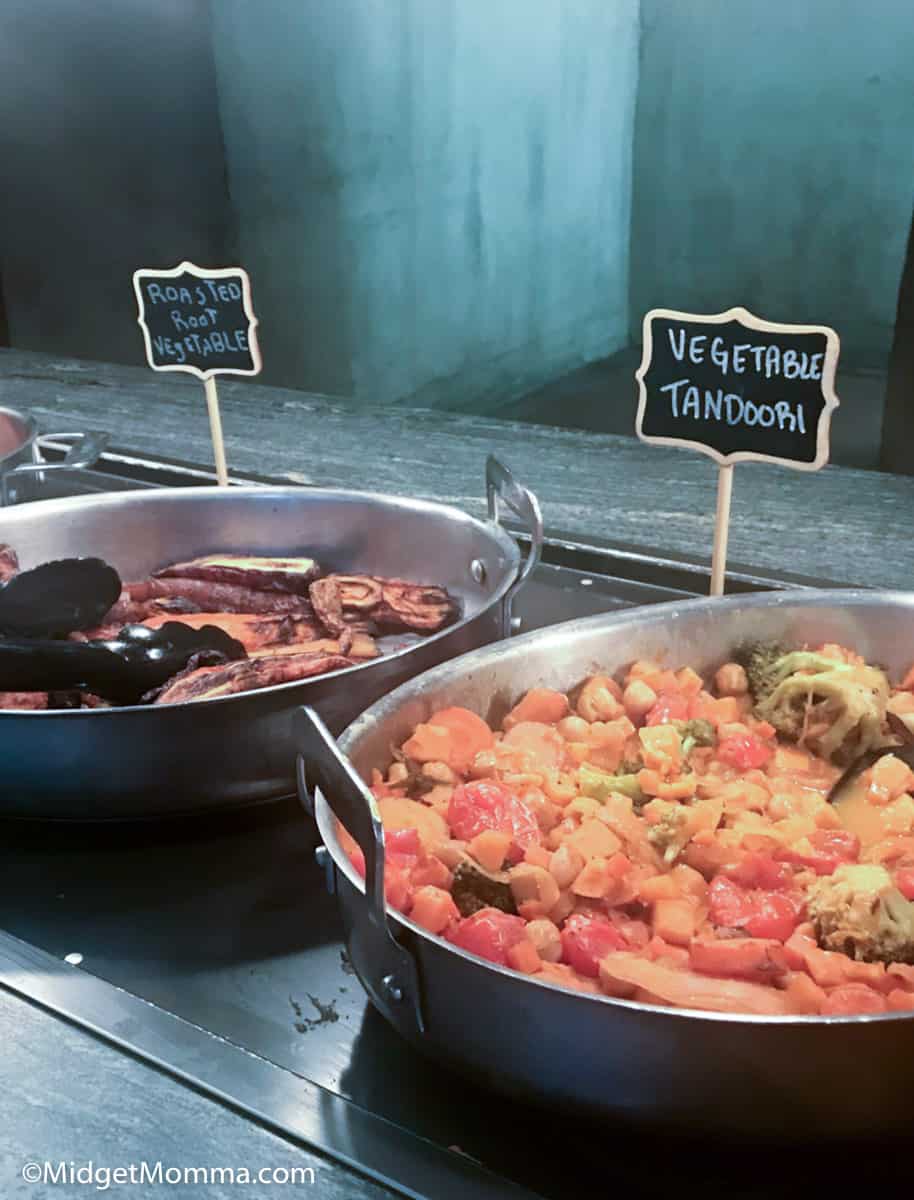 Skip the Dining Plan
Unless you are getting the dining plan for free (which they offer at times) skip it. For adults, it is $60 a day (which is anyone 10 years old or older) and for kids is $20 a day for the plan that gets you 1 sit-down meal, 1 quick service meal, 1 snack, and a refillable cup. You will get 1 of each meal each day on the Dining plan but unless you want to do character dinners or they are offering it for free there are many other cheaper alternatives to eating at Disney Parks.
Not everyone will agree that this is how to save money on food at Disney Parks, but unless you are going at a time when they are offering the FREE Dining plan, for me it is on my list of things for how to save money on food at Disney Parks.
Eat breakfast in your hotel room
All resorts at Disney except for the value ones have minifridges and coffee machines. I suggest you spend the few extra bucks to go to a moderate resort instead of the value ones, especially if you have more then 4 in your family. The value rooms can only have 4 people in a room and they don't all have mini fridges and coffee makers.
Even if you are flying you can make it so you eat breakfast in the room. You can order off Amazon and have the items delivered to your room, or bring an extra suitcase and put the food items in there and use that as the suitcase you bring home your souvenirs home in.
You can easily pack apples, poptarts, dry cereal (you can get milk at the resort shops and bring plastic spoons and bowls), granola bars, fruit cups, muffins, bagels, and bring things like peanut butter and jelly (in plastic containers) with you in your luggage and then keep them in the fridge. Also things like Milk juice boxes and juice boxes you can order from amazon and have them shipped to your room so you have them for breakfast time.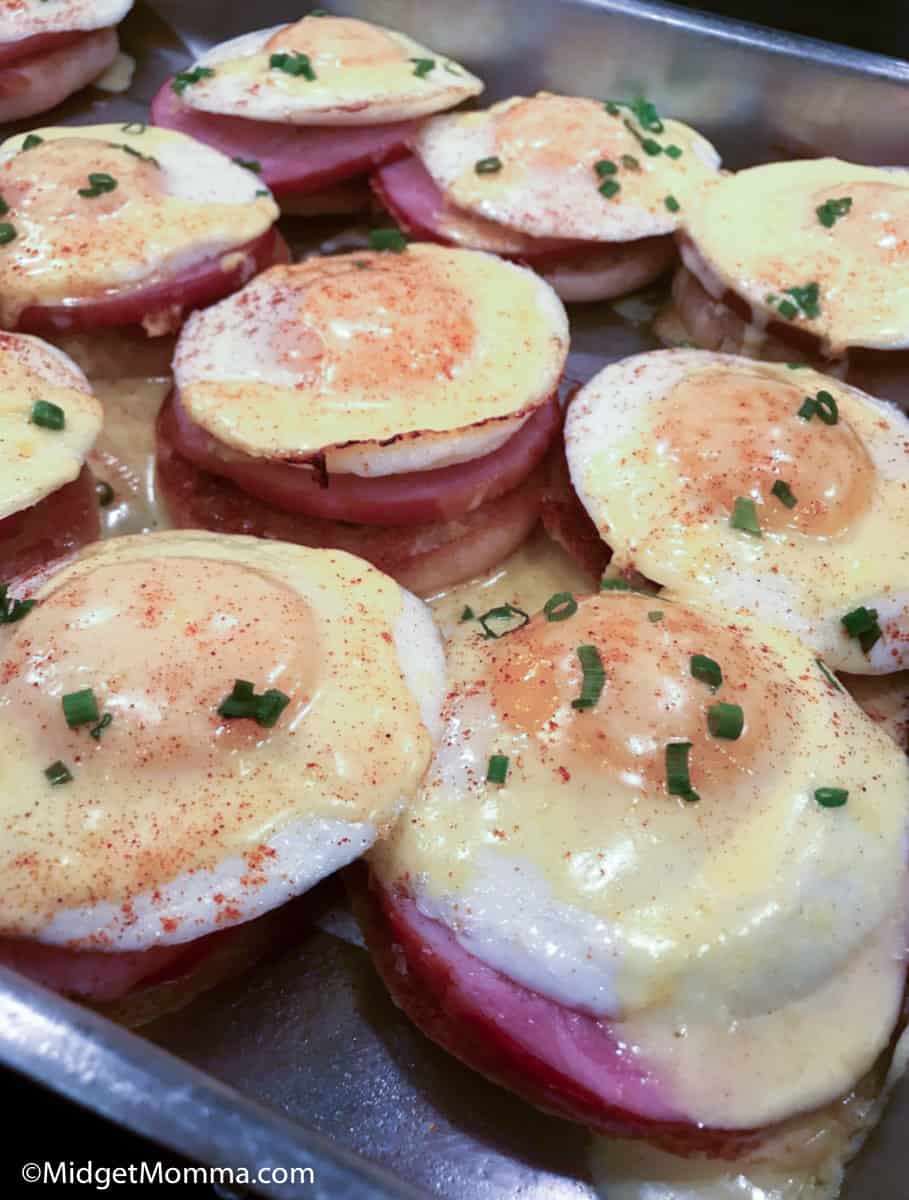 Change when you eat your biggest meal
Eat breakfast in your hotel room, then eat your biggest meal at lunch time and then have a small meal for dinner and the snacks you have brought with you. Lunch time is cheaper always for meals so eating the biggest meal during the cheaper time is an easy way to save money.
If you are early risers eating breakfast in the room, then hitting up somewhere for a breakfast-type meal right before it switches to lunchtime (breakfast is cheaper than lunch) and then doing dinner early at the normal lunch times (as close to dinner time as you can get) and then having a snack later on after you eat your third meal is another option for cutting costs. Yes you are technically eating 2 breakfast-type meals but hey everyone is eating and having full bellies.
Eat at Quick Service Locations
When people hear eating on the go as a how to save money at Disney Parks many think, walking while eating. You don't have to be walking to eat on the go, but you are going to find that you can get many of the same meals at quick-service places while you are on the go that are the same as you get at the sit-down places but they cost a lot less.
Split Meals
When eating at sit-down and quick-serve places you can split meals. You can order an adult meal for $12 or so at a quick serve and spit it between two kids instead of 2 kids meals that will cost you about $8 each.
With splitting meals (and this idea drives hubby crazy but it works well) many places offer a double cheeseburger meal for a few bucks more, you can ask them for an extra bun and many times they give it to you for no charge. Then just take one burger patty off the first bun and put it on the other one. Since most of the time there is a condiment set up there is still the ability to put toppings on both burgers. Then you can share the fries.
If people in your group are big eaters this won't work well. But if you have kids who eat more than a kids meal but not enough for an adult meal then they each have their own burger and it costs a few dollars more than paying for 2 full meals.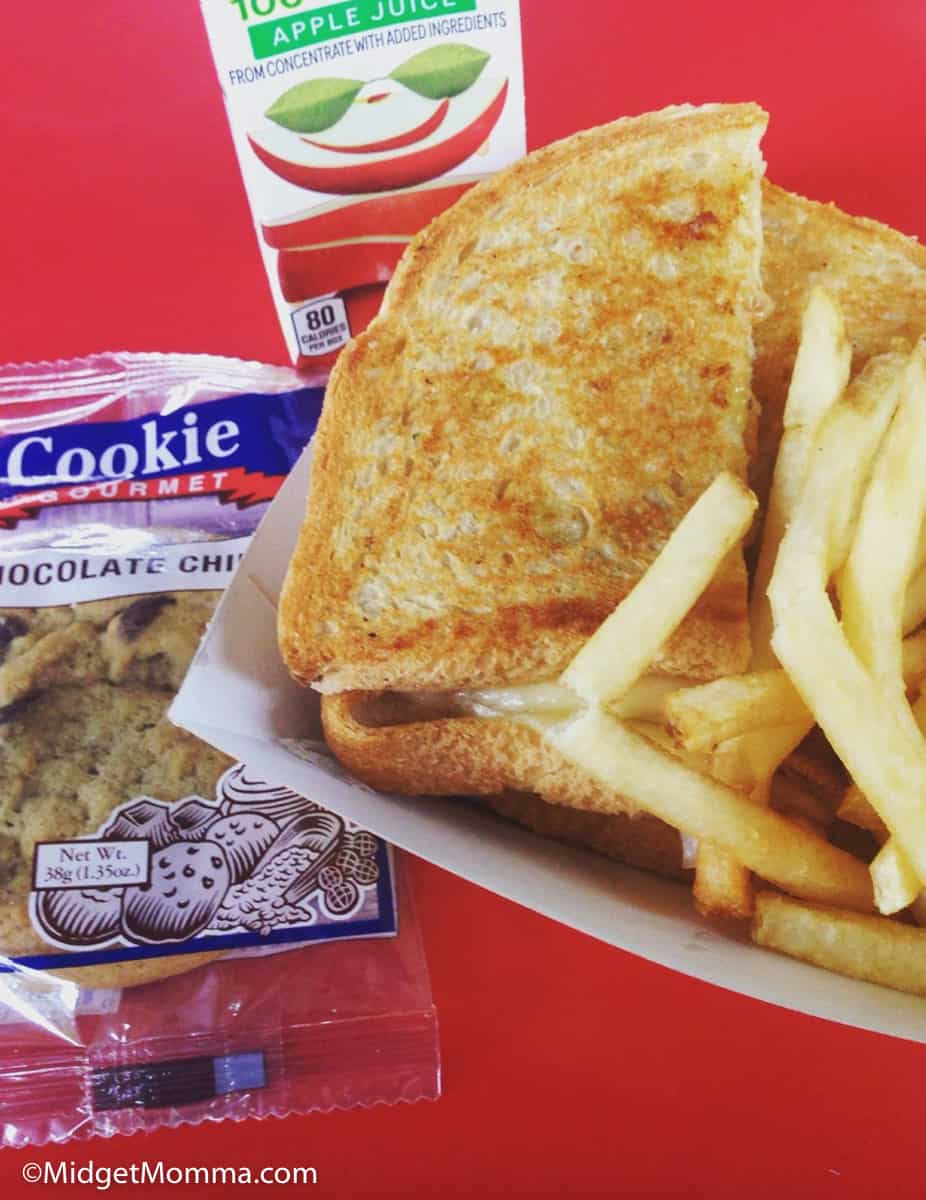 Eat Kids Meals
If buying meals for adults the amount of food is not that much different but the cost is. You can get kids' meals for $8 each or you can buy a cheap adult meal at $12 and have basically the same amount of food.
Oh and just a little tip- if the kid's meal comes with a plastic container (like one of ours came with a shovel and a pail) you can save $1.50 by asking for it without the plastic container and just getting the food!
Save Money on Soda and Coffee at Disney Parks
With my list on how to save money on food at Disney Parks, I suggest drinking the free water but if soda of coffee is a must (aside from what is in your resort room) buy the Refillable mug.
For use of it for up to 14 days (with unlimited refills each day) you will pay $17.99. You can refill it with soda, lemonade, and coffee along with many other beverages. Just look for the refill stations where you can refill them. They also have other price options; $8.99 for 1 day, $11.99 for 2 days, and $14.99 for 3 days. The mugs have a card in them that the machine reads so once your days are up the refill stations will not dispense into that mug any longer.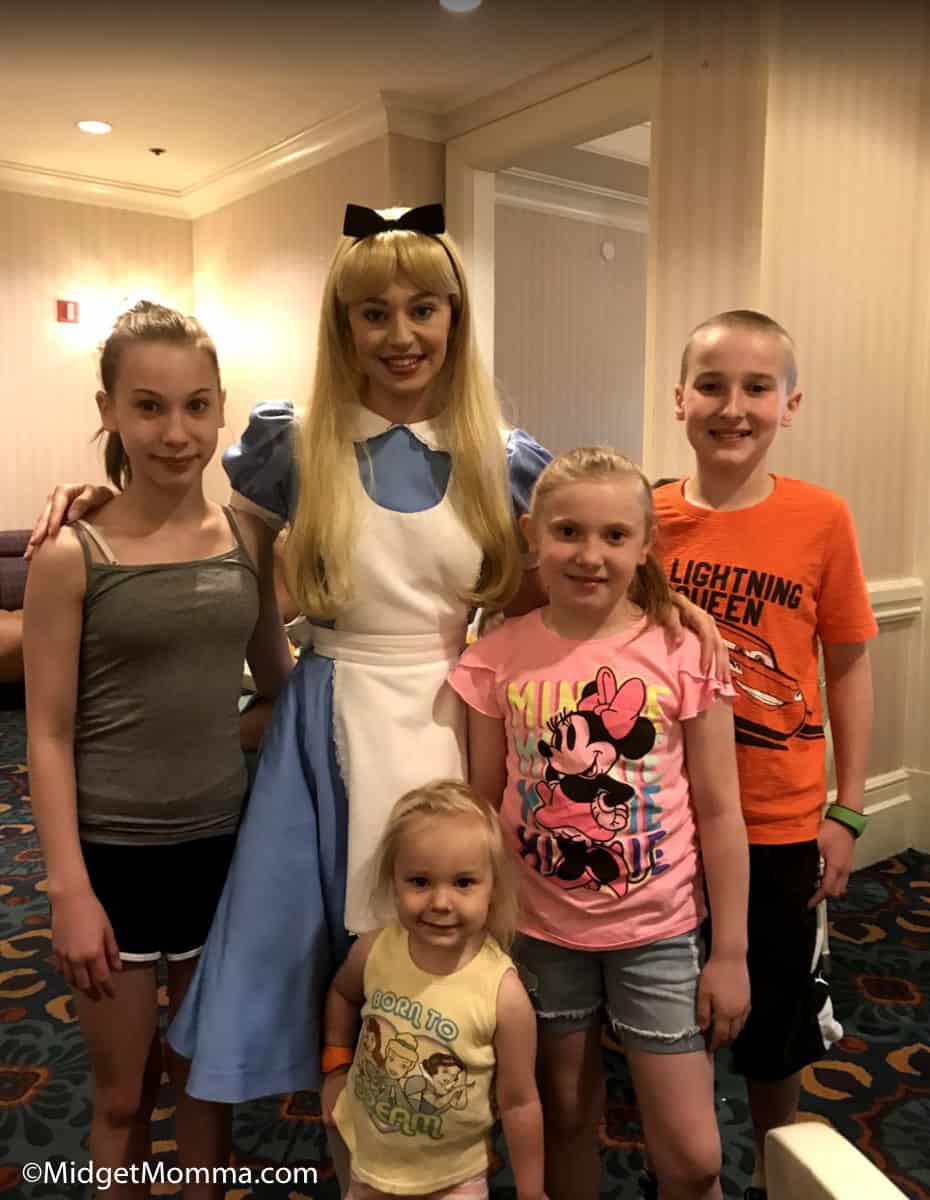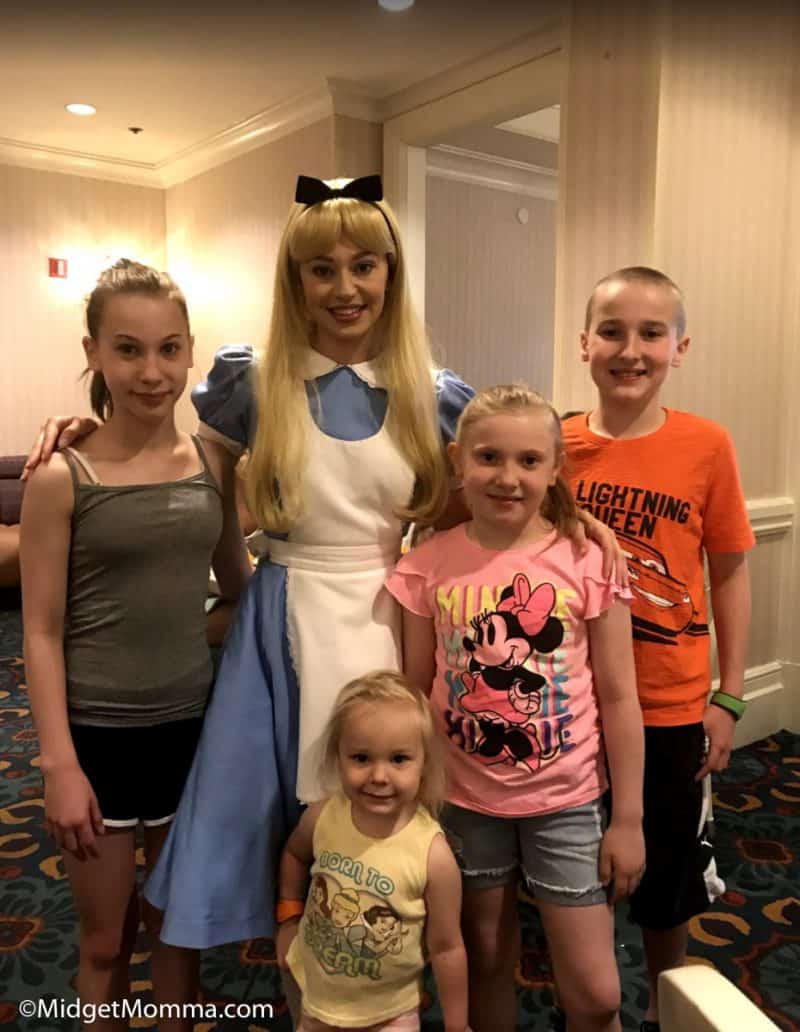 Character Meals
When you are thinking about how to save money on food at Disney Parks you might not think about character meals. If you are doing a Character meal, go for the breakfast ones. They are much cheaper than the dinner meals and they still have the same characters.
Did you know you can use Disney Gift Cards on Character meals? You can save even more this way too! You can get Discounted Disney gift cards at Raise.com, Sam's club offers $150 worth the Disney Gift Cards for just $142, Bjs has $100 Disney gift cards for just $94.99!
Bring snacks into the park
Disney Parks allow you to bring food into the park so you can pack things like fruit cups, applesauce cups or the squeeze pouches, granola bars, beef jerky, pita bread (dipped in the single-serve peanut butter cups), crackers, fruit strips, and fruit snacks, and many other easy options that you can stick in your backpack. Many people don't know about this and this is a super easy thing to do and you want to know about it if you are wanting to know how to save money on food at Disney Parks.
Drink water
Disney gives FREE ice water in the park, you just have to go to the quick-service counter and ask for a cup of ice water and they will give it to you free of charge. You can also bring your water bottle (we like our Disney Water bottles that we use at home and when we are at the parks) and refill it in the park. You will pay $2.50 for a bottle of soda or water and $3 for a cup of soda at the stands.
A secret I learned from Disney Cast members is the water at Starbucks is not only FREE but they filter the water on-site just like bottled water companies do, so you are getting FREE Bottled water, they just put it in a Starbucks cup! Which the Starbucks cup also has Disney designs on it so it's a win-win, saving money at Disney Parks and getting some Disney magic at the same time!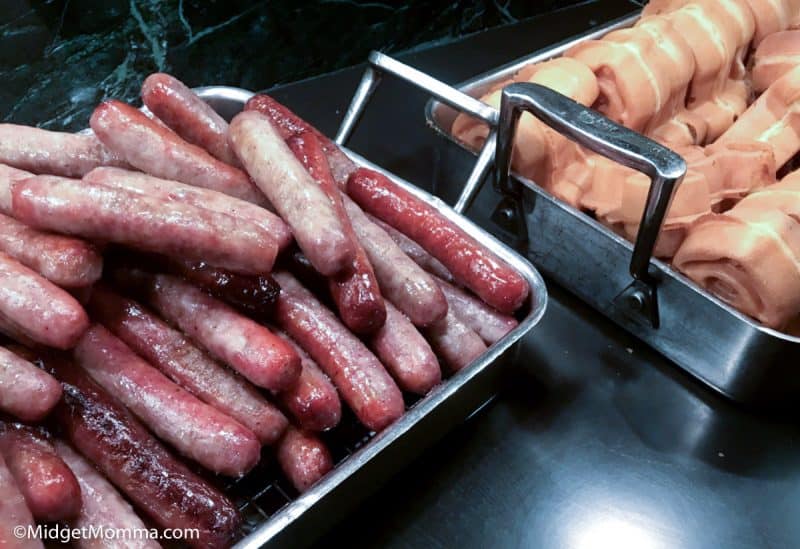 Eat at Buffets
Eating at buffets if you have big eaters is a great way to save money at Disney on food. The buffets at Disney have plenty of options and have main dishes and desserts to pick from. We have not found a buffet that wasn't awesome when we have been at Disney. Plus kids under 3 eat for free too!
Plan
The biggest tip of all on how to save money on food at Disney Parks, is planning how you are going to save money when you are in the parks. Get everyone on board, have them help you pick out the snacks they want to bring, the types of granola bars, and fruit cups they want to have.
If everyone has something they enjoy for breakfast then no one will mind eating in the room instead of eating at a restaurant. Knowing what types of food you want to eat, you can find a lot of information about the places to eat at Disney so you can easily find the cheaper places to eat.
Planning and knowing when people will normally be hungry and working around that will help you save from having to stop and buy things at times that you didn't plan on it. This is also when keeping enough snacks in your backpack is important, if someone is hungry and it is not when you planned on having a meal you can hand them a snack (or 2) and they will be good till the next meal.
Use Discounted Gift Cards
There are also some restaurants in the Disney Parks and at Disney Springs that you can get gift cards for before your trip. If you head on over to Raise.comyou can grab discounted Disney Parks gift cards and discounted restaurant gift cards to use. Plus when you go here and use this link you will get an additional $5 off your first purchase and you can use coupon code RAISE75AF to get $5 off a $75 purchase
Gift Cards to buy to Save money on Food at Disney
I am always findinig deals on gift cards for places that are at Disney World. There are a lot of restaurants at Disney Springs that you can buy and save money and eat there instead of eating in the parks.
$50 Rainforest Cafe for around $35 with the discounted rate, $5 off coupon code and the $5 off your first purchase.
If you are going to the movies then you can get a $50 AMC theater gift card for around $35 with the discounted rate, $5 off coupon code and the $5 off your first purchase.
I hope these tips on how to save money on food at Disney Parks helps you while you are on your fun Disney Magic adventure in the Disney Parks!
Where to Order Food that Can be deliviered to Disney Resorts
Ordering food online and having it delivered to your room is a great option for bringing food to you and it is much cheaper then eating all your meals at the park, it will help you with how to save money on food at Disney Parks. You can order food on Amazon and have it shipped to your room and there is a place called Garden Grocer where you can order food and they will deliver it to your resort room. The good thing about Garden Grocer is you can get things you can not get on Amazon like milk, cold cuts, cream cheese ect.
Money Saving Disney Tips
Don't miss these other awesome posts that will help you Save Money at Disney World