When we were in Disney World this past May I made it my mission to uncover Secret Disney World Tips from Disney Cast members themselves to help all of you with your trips and with planning. Now they are all somewhat random tips but all tips to help you make your magical disney vacation even more magical with these secret disney tips from Disney cast members.
Disney Tips and Tricks you HAVE to know about!
Cheap Eats at Disney World
Secret Disney World Tips from Disney Cast members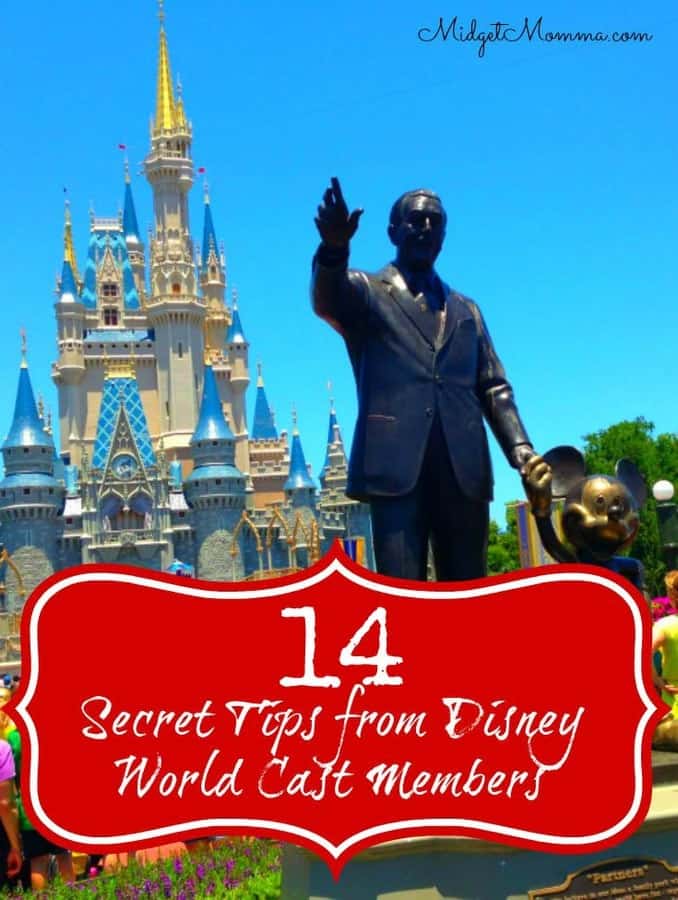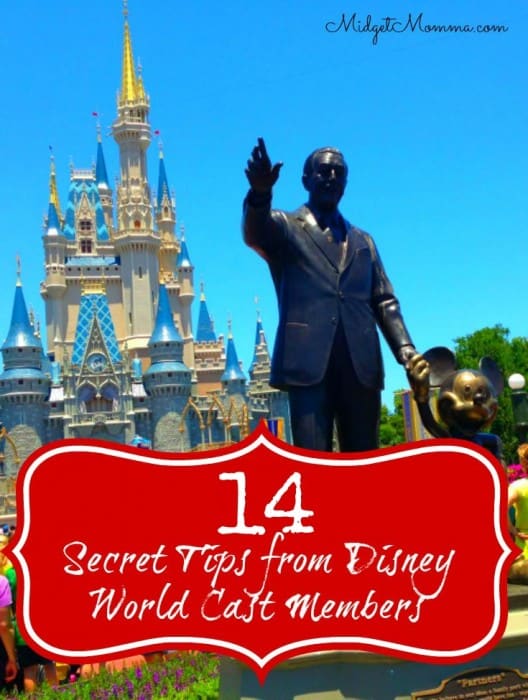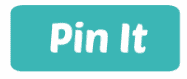 Secret Disney World Tips from Disney Cast members
1. This Secret Disney World Tips from Disney Cast members will make it so you can save a nice chunk of money! Water is FREE in the parks at any counter service that has a soda they serve in a cup, however Starbucks has FREE water too and it is filtered on site just like the bottled water you would buy in the park for $2.50 a bottle. So you can get the FREE water at Starbucks that is the same as the bottled water if you are not a fan of tap water. I however don't mind the tap water, and asked for it at every counter service place we went to. Plus another tip for water, they will give you it in a small cup if you do not ask for a larger size, so always ask for the large cup of ice water when ordering it.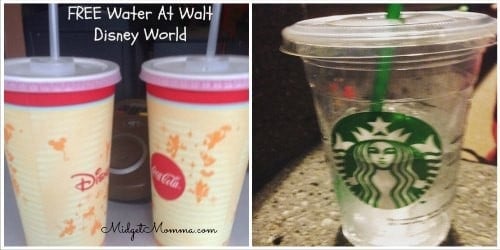 2. Most adult meals can be made into kids meals. If you have kids like mine who are wanting to eat more then just chicken nuggets or peanut butter and jelly and you do not want to pay the adult meal price, ask them to substitute the adult meal item for the kids meal main item and you will pay the kids meal price. Plus you will get the sides of applesauce, carrots, fries or a cookie (choice of 2) and a drink as well. Plus I was told by cast members that they don't care if adults order the kids meals so you can save money buy asking for an adult meal main meal, as a kids meal and order it even if you are an adult! That is a lot of savings since kids meals are $5-$6 and adult meals are $8-10 (at quick service places) and with an adult meal you don't get a drink. This Secret Disney World Tips from Disney Cast members will make it so you can save a nice chunk of money!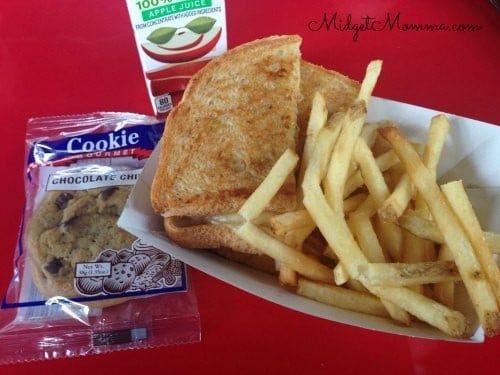 3. Star Wars weekends only happen in May and June each year, which is also when the Star Wars characters come out as well. However the 2 days before the first Star Wars weekend you can see the Star Wars characters in Hollywood Studios because they have to practice. They won't have the professional Disney photographers with them, but the cast members with them will take pictures for you with your camera and the characters will sign the autograph books. We learned this when we saw Princess Leia outside of Star Tours on Wednesday (which was 2 days before the first Star Wars weekend started). You will not know which ones you will see, they will be random but just keep your eye out for them and when you see them head to them. The line was short for us, only 5 other people in line and the cast member told us that it is always that way. So if you are wanting to get photos with the Star Wars characters and not deal with the craziness of Star Wars Weekend this is the way to do it.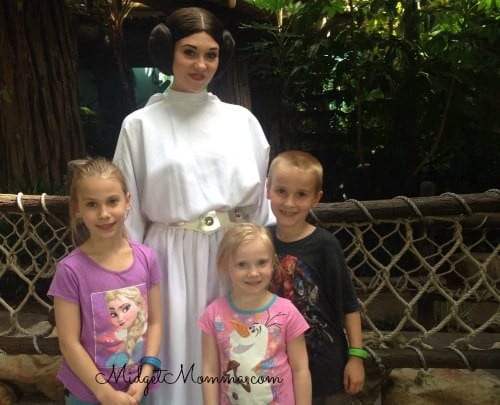 4. If you are a Star Wars fan then this Secret Disney World Tips from Disney Cast members is going to be the ultimate Secret Disney World Tips from Disney Cast members for you! Speaking of Star Wars weekends, the character meals are a BIG thing during those weekends and yes they do come with a higher price tag then the other character meals but we did one as our splurge and did the Jedi Mickey Dinner and the excitement of the kids was well worth it. (Look for my post on that meal coming soon). But the Star Wars Character meals start the week before Star Wars weekends start so again you can beat the crowd and get a meal with the characters. What they don't openly tell you is that you have 90 minutes to spend at the dinner even if you are done eating. So you can eat (which ours was a buffet so there was quite a bit of eating done by everyone) and then you can still stay for just hanging out with the characters and they won't kick you out. I was also told that they won't kick you out kick you out but more so suggest that it is time for more people to come in but that on the days that are not technical Star Wars weekend days you can spend just about as long as you want in there because they are not as booked as they are on the Star Wars weekend.
5. This Secret Disney World Tips from Disney Cast members will save you a lot of time on the rides. Most rides that are HOT rides only have a 5-10 minute wait time the last hour the park is open (or during special magic hours). I tested this out a few times, and with the exception of a few rides like Mine Train and a few others ALL the hot rides had wait times of 5-10 minutes the last hour the park was open. So if you are wanting to do some of the HOT rides, stay in the park as late as you can and do them then. Make a pathway plan and plan the rides you want to hit during that time.
6. One of the coolest Secret Disney World Tips from Disney Cast members we learned about was this one! A few of the cast members that work the One Man's Dream museum and movie attraction in Hollywood Studios and are not only very knowledgable in general about Walt Disney himself but they also are able to do the voice of Goofy, Donald Duck AND all 5 of the different voices that Mickey Mouse has had (Which in case you did not know Mickey has only ever been voiced by 5 people total) So when you are in the attraction One Man's Dream look for him and ask him to share his Mickey, Goofy and Donald Impressions! I am bummed I missed getting Donald on video because all of his impressions sounded JUST like the characters!
7. Cast members are able to make a crying kid smile with doing just about anything. Say your kiddo drops the ice cream you just bought them after only taking a few bites, a cast member can replace the ice cream with no questions asked. They also carry special Disney stickers with them that they are to give to kids if they see them crying. Disney World wants everyone to have a good time so they give the cast members the ability make kids smile in different ways. This Secret Disney World Tips from Disney Cast members saved us on our first trip to Disney when our son had a melt down about turning his head and missing a few seconds of the fireworks (he was slightly tired at this point too 😉 )
8. FREE Trading cards from select cast members. This Secret Disney World Tips from Disney Cast members is one that the kids will love and they will be able to score FREE souvenirs with! Ask the cast members who drive the busses, the boats and the entrance to rides if they have the Disney trading cards. They don't tell you about them but select cast members have them on them and will give you them when you ask for them.
9. Stay at the hotel for the discounted rate you are paying instead of switching hotels. If you are staying at one hotel for part of your stay and have planned on switching to another hotel because the rate was cheaper at the other one ask at the concierge desk if they can keep the rate you were paying already to stay at that hotel instead of switching to the next hotel you were going to stay at. If they are not at the capacity they like to be at they will keep you at your discounted rate at your current hotel and then transfer your reservation so any deposit you put down on the other room goes towards the balance of what you owe. Plus you do not have to make any phone calls, they do all the leg work for you. So you will be able to stay at the first hotel you are at with the discounted price you were paying for that room with out any leg work or losing money.
10. If you schedule a Fast pass and miss it, go to the guest services of that park, they will issue you a paper fast pass that you can use to get on the ride with just walking up to it and showing the cast members at that ride.
11. At the Fantasmic! Show in Hollywood Studios the front few rows are normally empty because you will get wet, however they are the best seats and you will be able to see the show with out anyone in front of you.
12. When watching the Electrical Parade, go to the bridge by Big Thunder Railroad there is an opening right after the bridge. No one stands there and they think you are not allowed to but you are and that is where the kids and I stood to watch it. I am thankful for this tip, because the kids had a straight clear view of the parade.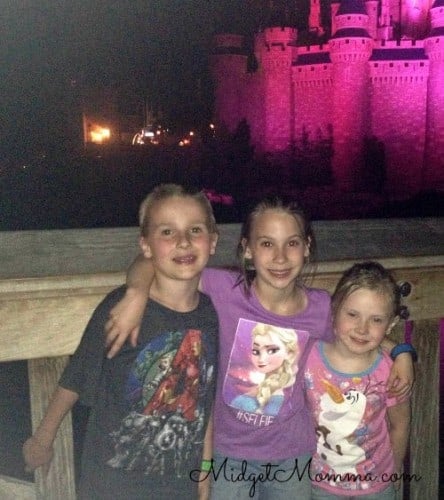 13. Watch the fireworks on the side of the castle. When watching the Fireworks instead of standing in front of the castle to see them, go over the bridge and the side of the castle. You will be able to see them really well. Plus after the fireworks everyone leaves and goes towards the entrance of the park so you can get clear shots of the castle after crowds clear out.
14. If you wait until the Park is about to close, there will be no one in the circle by the castle and you can get shots of the kids, family members and the castle with no one in your way.
I hope this list of Secret Disney World Tips from Disney Cast members helps you when you are planning your Walt Disney vacation. These Secret Disney World Tips from Disney Cast members can really help add magic to your vacation 🙂
If you are planning your Disney Vacation then you also don't want to miss Things you can get for FREE in Walt Disney World, from activities that will make the trip more magical to things that are great souvenirs, FREE things to get at Disney World and Cheap Eats at Disney World!
Join the newsletter
Subscribe to get our latest recipes right in your inbox every time we post a new one!