If you are a first timer here at MidgetMomma then you don't know about what Tom (my husband) and I call "The Great Cheeseburger Debate" (so I will explain shortly), for those who join us on the facebook page you know all about Tom not being a fan of my saving money in Disney idea and being a man wasn't fully paying attention to what I was saying to him and thought I was going to make him share his cheeseburger, I am happy to share that while in Disney Tom had not 1 but 2 cheeseburgers all to himself and he did not have to share his cheeseburger! But that debate of course started with my plan for Cheap Eats At Disney World.
Ok so for those who do not know about "The Great cheeseburger debate", I was talking to Tom about ways that we can save money on our trip to Disney World that we went on in the beginning of May. My plan was all about Cheap Eats At Disney World and I said if the kids do not want kids meals then we can get an adult meal like a cheeseburger and split it. Him being a man only heard the last half of what I said and assumed I said he was going to have to share his cheeseburger. It went on for about a day of him and I going back and forth about what was said and it was quite hilarious.
So anywho what you are all here reading this post for, Cheap Eats at Disney World! We went exploring the parks to find budget friendly foods and Cheap Eats At Disney World, weather it be snacks or main meals, our mission was to stick to a budget on our food costs while there, you can also check out my post on how to save money on food at Disney World for tips on saving money, as this post I am focusing on the cheap eats that you can get in Disney Parks!
However there is a lot of planning that goes into a Disney trip so you will also want to check out a few of these other posts to help get the most bang for your Buck at Disney!
The more rides you get on the more bang you get for your buck with your park ticket so make sure you check out 8 Ways to get on More Rides at Disney!
And you probably didn't know that there are a lot of FREE things you can get at Disney, that will help you stretch your budget! While planning your trip to you can save a lot of money by shopping at the Dollar Store for your Disney trip! 
If you want to know some major Disney Secrets, check out the Secrets about Disney that we learned from Disney Cast Members!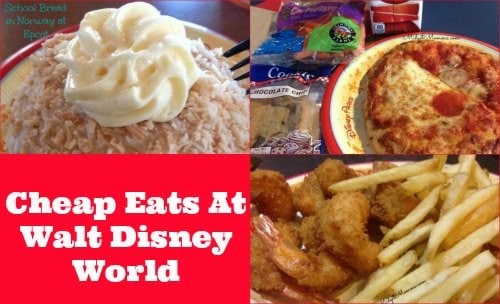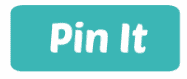 Cheap Eats at Disney World
1. Turkey Legs – First let me say that the Turkey Legs are on the top of my cheap eats at Disney World for 2 reasons, 1 the cheap eats part and 2 because they are AMAZING! They are HUGE! Tom is not a fan of turkey or chicken on a bone like this so this was all for me and the kids (and we were happy to attempt to eat his portion of it ;). My kids are 10, 8 and 5 and the can eat like it is no one's business but with the turkey legs we bought 2 of them and between the 4 of us we could not even finish them!
*** Cheap Eats at Disney World Saving Tip: If you want to get the best price on the Turkey Legs, go to Tomorrowland in Magic Kingdom, they have them for $9.85! If you are in Hollywood Studios you can get them too but you are going to pay more because they are $13! So you can save your self $4 per turkey leg by getting them while you are in Magic Kingdom! ***

2. Kids meals. – Ok so no big surprise that kids meals are cheap eats at Disney World but did you know you can take an adult main course and ask them to turn it into a kids meal? Then if you are at a quick service location adults can order kids meals! So most kids meals we saw are $5.99-$6.99 and the adult meals were $8.99-$14.99 at the quick service locations, so there is a cost savings that is obviously. BUT with a kids meal you get the main meal, 2 sides (pick from fries, applesauce, cookie and carrots) and a drink which ends up being the same amount of food as an adult quick service meal but for cheaper!
As you can see from this picture of the adult meal turned kids meal, it is still plenty of food!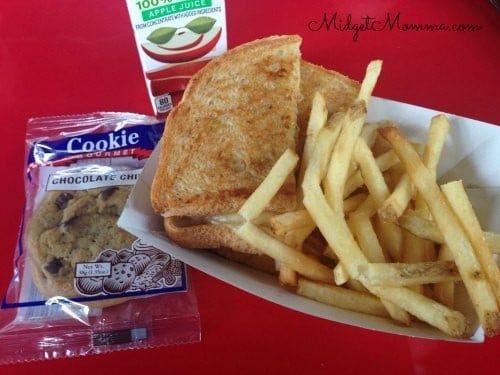 3. Pizza Planet in Hollywood Studios. – This is the kids favorite place to eat when we are at Hollywood Studios and I have no objections when the kids meals are filling and we can do a light breakfast, this for lunch and then a light dinner and everyone is happy, full and we don't break the budget 🙂 Plus for those who have been following for a while you know I LOVE Buzz and even if his restaurants wasn't a cheap eats at Disney World place I would still go there for lunch, it just would not be on this cheap eats at Disney World list 😉
The kids meals come with a personal pan pizza, 2 sides (pick from fries, applesauce, cookie and carrots) and a drink. As an adult I can not even finish this meal! So I end up bringing the cookie and carrots with us after lunch and so do the kids so its an even bigger cheap eats at Disney because for that $5.99 the kids and I get lunch and a snack for the day! The adult meal is $9.99 and gets you a Personal Pizza that is quite a bit larger then the kids meal one and a salad but it does not come with a drink.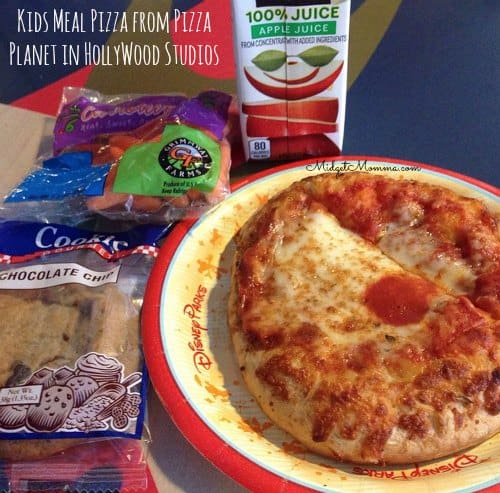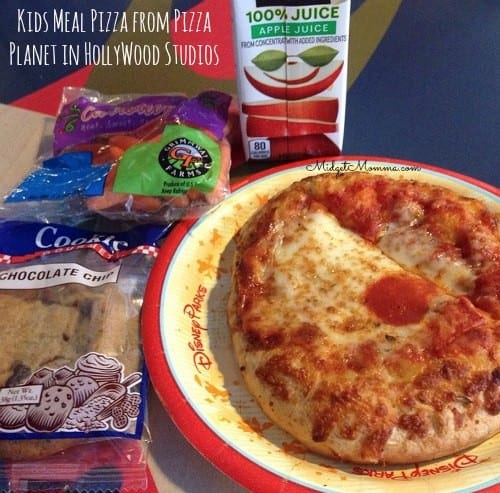 4. School Bread. – When you are in Epcot this is a MUST try treat that you will find in Norway. We had it during our Snacking around Epcot (which that post will be coming soon and a great educational experience that is fun too for the kids). It is a sweet treat but not to sweet, with a cream filling and totally amazing! It is one you do not want to miss and it is a total cheap eat at Disney at just under $4! For a snack you could probably get away with sharing it, because it is quite large.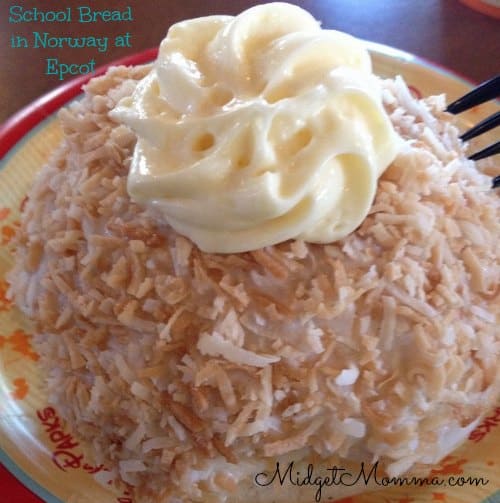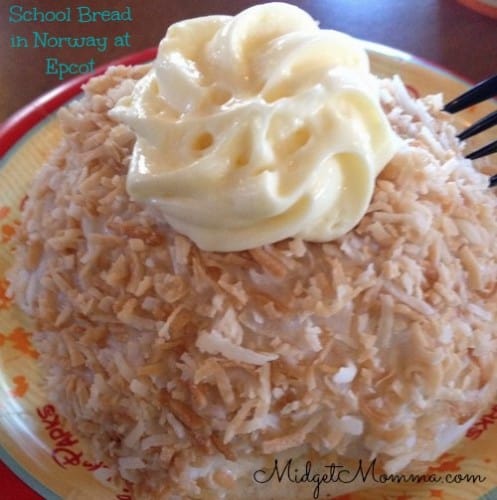 5. ABC Commissary at Hollywood Studios Shrimp Platter – Really anything in the Hollywood Studios ABC Commissary is budget friendly and lands in the cheap eats at Disney World list and is going to give you a great meal, here you find foods you find at the sit down places like New York Strip Steak,  salmon, Angus Bacon Cheeseburger and more but with everything UNDER $13!!
And the portions are quite large! You can get the Shrimp and fries platter (pictured below) for just $7.99, or opt for the fish platter that is $6.99 or get both fish and shrimp and it is just $9.99! Great price for seafood and the amount of food you get.
This meal can easily be split between 2 kids or even 2 adults depending on how much they eat! When we went all of the kids wanted seafood so we ended up getting 4 of the Seafood platters, with shrimp and fish for the 5 of us and we could have EASILY done only 3 platters because we ended up having to much food and we were all stuffed when we left and ended up needing a doggy bag to bring the rest back to our room. And this is after we had a light lunch early in the day but later then normal and planned to have a late dinner so we would all be hungry and we were all hungry and we couldn't finish it all!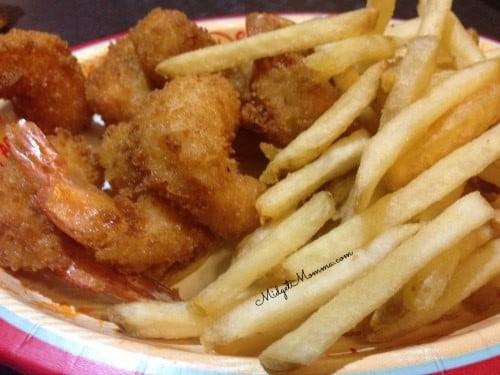 6. Water – Ok so this is not a cheap eat at Disney World, it is a FREE Eat at Disney World 🙂 Water is FREE in the parks at any counter service that has a soda they serve in a cup, however Starbucks also has FREE water too and it is filtered on site just like the bottled water you would buy in the park for $2.50 a bottle. So you can get the FREE water at Starbucks that is the same as the bottled water if you are not a fan of tap water.
Be on the look out for more posts about cheap eats at Disney World because there are more but I didn't want to overwhelm you all at once 🙂
Plus Don't miss the Things you can get for FREE in Walt Disney World, from activities that will make the trip more magical to things that are great souvenirs 🙂