There is so much to do at Disney that you want to get in as much as you can, and that includes rides. Of course when you have a group of people that means there are many rides on the to do list because everyone has rides that they want to do. If you plan your day out right you can very easily hit the rides that you want to and make everyone happy on your trip.
Disney Tips and Tricks you HAVE to know about!
Cheap Eats at Disney World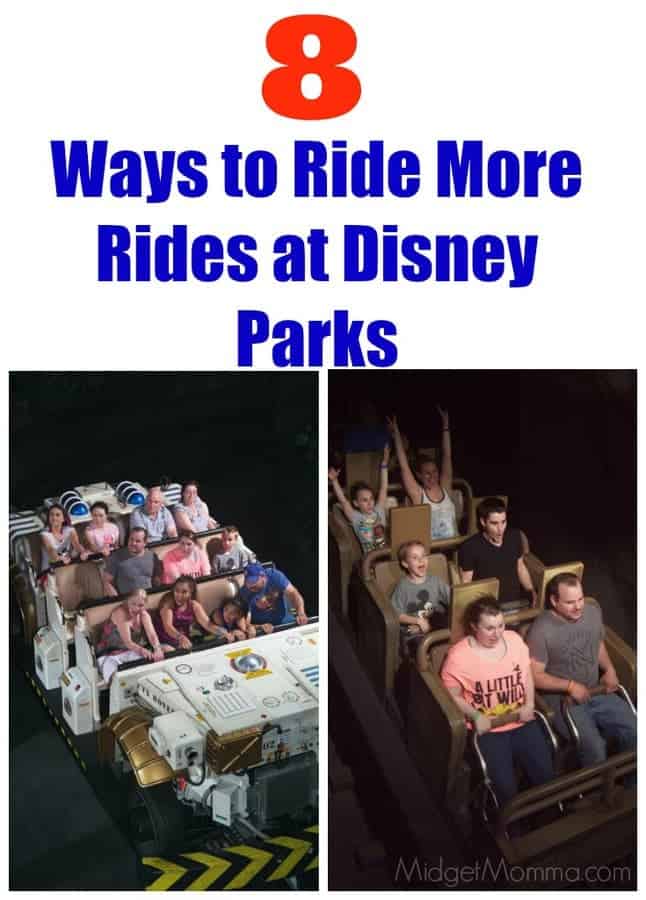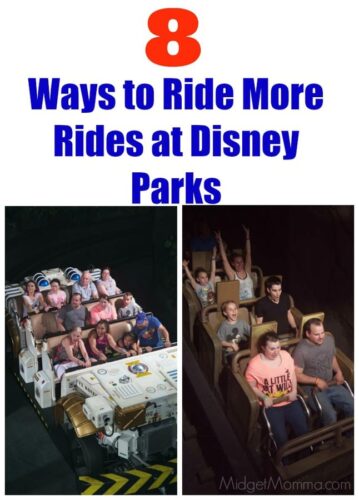 8 Ways to Ride More Rides at Disney Parks
1. Use Disney Magical Experience and book fast passes. You can book 3 fast passes a day at first and then after you use them you can book more if the rides have fast pass available. Not all rides have the fast pass option but for the popular rides use it. The fast pass means that you select a time to ride that ride and then go in the fast pass lane when it is your turn. It cuts down on your wait time drastically. You can download the app to your phone here or search the app store for Disney Experience. The app is FREE to use too!
2. When you get in the park in the morning head to the back. Most people start their day at the front of the park and work their way back, going in the opposite direction of the crowds means less wait times and more ride times for you.
3.Stay on Disney Property and take advantage of the Extra Magic Hours. Depending on the day different parks are open extra hours. The kids and I have often been able to just walk on to rides at night in Magic Kingdom because there was no wait time during the magic hours.
4. Go on rides during parade times. If there is a parade going on people are going to flock to it. This is the perfect time to get on rides.
5. Go on rides during meal times. Changing up your meal times and eat on off times (which also will give you less crowds when you are eating) but then jump on the rides. Most people eat lunch around 12-1 and dinner from 4-6. This is when we jump on rides and we make our meals times later and save time in lines and wait times for eating.
6. Plan your rides for the areas you are in. Magical Kingdom is a large park that is broken up in to different sections. Do all the rides in one section like Tomorrowland that you want to and then move on to the next life Frontierland instead of bouncing around from section to section spending a lot of time walking back and forth that you could use better by doing the rides in one section at a time.
7. Start in the morning and then take a mid day break. Go to the parks in the morning and then go back to your resort for a bit to relax during the hottest part of the day (between 11-3) and then go back to the park and stay late at night. People tend to start leaving around 4-5pm because they are tired and hot. This is when you have been rested up from hanging out in the AC that you will be ready to get on the rides and keep on going until the park closes!
8. Use the Disney Experience App to find out ride wait times. There is no need to walk to the actual ride to find out how long the wait time is. You can use the app and easily see the wait time and if you need to adjust your plans you can easily. You can download the app to your phone here or search the app store for Disney Experience. The app is FREE to use too!
Join the newsletter
Subscribe to get our latest recipes right in your inbox every time we post a new one!